Another weekend had passed and last Sat was the 5th consecutive birthday party i had attended. It was BS's birthday yesterday and he had his birthday party at Jogoya, a taiwan based restaurant in Starhill. It's a buffet style restaurant with a variety of food at every nook and corner of the restaurant and more than 10 counters to choose from. So u can go for as many rounds as ur stomach permits. I stopped at the 3rd round..haha. However, the price per person is pretty steep.The food is overall good, and i love their desserts the most. They have a whole variety of cakes, cookies and Haagen daz ice cream to choose from. We got the VIP room as there's a big bunch of us. More pic of the food in Jogoya, yes, food coming in the next post perhaps.hehe

Here's to Chew Beng Siang aka Mr. Watever,

Thanks for your party at Jogoya and Tiffin Bay. And the many many ode times such as in Penang when u insisted on footing our bills. Although u love to 'kutuk' me at times but i believe u only do so cz im c**e =p..haha. He is a very nice guy in class and outside of class. He is quite a easy going person, not dat fussy n picky (everytime we ask for his opinion, he will say 'anything or watever', hence his tag line). He is someone who will reali stand up for his frenz and someone u noe u can count on if u r in trouble. He is always willing to help and put odes before him. He is also Dr. TT's neurologist. Neway, Happy 21st birthday Beng Siang. Hope u have a great one and may all ur wishes come true. Frenz forever!


These nutella cupcakes are the hardwork of Chun Wai, Lou, Jing Wei and Kat..taste very good oso..i feel so happy to have such good chefs in our class =p
Lovely gers
Everyone after the cake blowing.. This is the 1st time i seen the bday boy not cutting his cake after blowing the cake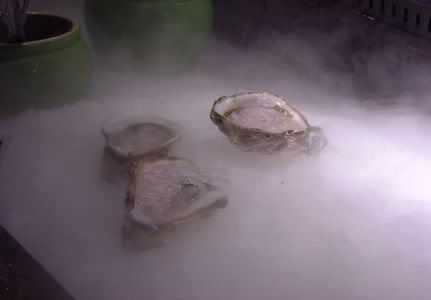 Fresh oysters
Sashimis
XO soup..the ingredients were blanched at the counter and poured into a paper pot. The hot soup broth was later laddled into the paper pot and can be kept warm by the portable table at the table
After Jogoya, we decided to move on to Tiffin Bay which is located on Explore, Starhill. It's a very cosy, fun and cheerful Jazz lounge with oversized, vibrant colored sofas and probably one of the world's largest fibre optic curtain wall casting a beautiful and warm light blanket over the lounge. We hang out der till bout 1 cz dey closes at dat time neway and enjoyed the music.
The fibre optic curtain wall
Neway, I met up with Shir on Sun. We went to Delicious at Bangsar Village for tea + early dinner with Rin Kiat. Well, we start off with their die for and extremely salivating, chocoty chocolate brownie. There are abundant walnut chunk mix in the brownie, with rich rich chocolate bathing the brownie but acceptable sweetness and vanilla ice cream on top. A reali sinful dessert.
The warm n cold combination totally gives me a sense of satisfaction as it melts in my mouth
Spaghetti Carbonara - with beef bacon, chicken chunk, oregano and cheese.. 4/5 star
Rin Kiat with his Four Cheese Macaroni..cheesy yummylicious
After Delicious, as if dats not enuf, Rin Kiat brought us to Murni mamak in SS2. I never seen a more crowded mamak den dis. The mamak shop is actuali in the middle, but tables and chairs are extended from right at the beginning of the 1st shophse till the very end of the shophse row, skipping onli a few shops in the middle such as Secret Recipe. And all the tables are full with ppl. Their drinks come in this extremely large jug, smt like dos dey use at Char Chan Teng or Kim Gary and they have nata de coco, fresh water melon slice and longans in ur drink. The 3 of us (actuali mainly Shir n me) shared their famous 'roti hawaii', which has sausage, pineapple and mince chicken inside the roti canai and mayonnaise on top. Special rite? Taste good oso.

After mamak, Shir suggested us goin to Luna bar in Pan Global Plaza. As we are both usually busy and seldom get to hang out nowadays, we decided to make full use of the opportunity we get to hang out 2gede. Luna Bar is situated rite at the rooftop of Pan Global with a swimming pool rite in the middle. The place wasnt so crowded dat night and its a pretty good place to chill. And pretty safe too i would say. We can see almost the whole KL town and even Genting from there. And the ambience is so comfortable with very pretty lightings.
Me and Shir cheers-ing wif empty wine glass..haha
The 2 guys who supposedly 'protect' us..haha