It is nearly 3 weeks now since i came back from Cambodia and Vietnam. And finally i m done with selecting from the gigantic piles of pics. Im really excited to share my whole experience backpacking both countries. Both countries left me with two different impressions and im gna share bit by bit starting from Cambodia. I know there are backlogged, but forgive me for being slow cuz class is gna start which means i will have lesser and lesser time to blog.

Seriously, i was really really looking forward doing the whole backpacking our fellow South East Asia countries. It's too bad i had to leave Laos out this time and could only do 2 countries. Our whole trip took us 12 days. We started out from KL to Phnom Penh, took a bus to Siem Reap and lastly crossing the border to Ho Chi Minh city in Vietnam from Siem Reap. To be honest, our route was a bit,ok alot salah. (wrong) It's all my fault that i did not look at the map first before booking our flights. It would had been much much more time savvy if we had flew to Siem Reap before moving to Phnom Penh and finally to Ho Chi Minh city.

We touched down at Phnom Penh International airport at around 4smt local time. And i was greeted by Napich, a friend from Phnom Penh (henceforth PP). It was really nice of him to come pick us up from the airport and subsequently around PP for the next few days we were there.


Phnom Penh International Airport
After picking us up from the airport, Napich brought us to this very cute place call
Pig Island
to try out our first food adventure in Cambodia. Seriously, the place is really call Pig Island. I was surprised at the first time i heard Napich said it, so i asked him a second time. On the third time, i asked him if it's spelt 'P-I-G' as in pig pig and he said yes. It's actually not a real island but we had to cross a short bridge to get to there and contrary to their name, there's no pigs there at all. Instead Napich said pig means diamond in Khmer and therefore Pig Island means Diamond. Pig Island is in fact a cross between a park and a fun fair. Kinda reminds me of Danga Bay in JB minus the seaside. It's recently just open so it's still very new and some construction can still be seen going on. The park is quite a pretty and romantic park so aside from jogging, a lot of Cambodian couples go there for wedding shoots. Actually i think the place had more couples hanging out although there were also kids on the rides at the fun fair.
Train ride at the fun fair
Games of toss and win.
This looks more thrilling and dizzy with that round thing spinning up and down, round and round in the air
Their ROM
The bridge we crossed to get to Pig Island
Of course, Napich other purpose of bringing us there was for us to sample a local fav snack of theirs. And their fav snack is none other than bugs. BUGS and baby frogs! There's this one particular stall near the park that Napich claimed is his fav bugs stall.
Look at them Cambodians eagerly waiting for their snacks
These creepy crawlies that you see here that are being deep fried are actually crickets.
I noticed that all of their creepy crawlies are being deep fried whole. Meaning nothing comes off. The head, neck, body, tail and legs are all intact. And by getting to eat them wholesome means erm, if the bugs had not visited the toilet before they are caught and fried, you get to eat their faeces (technically) too.
Fried Crickets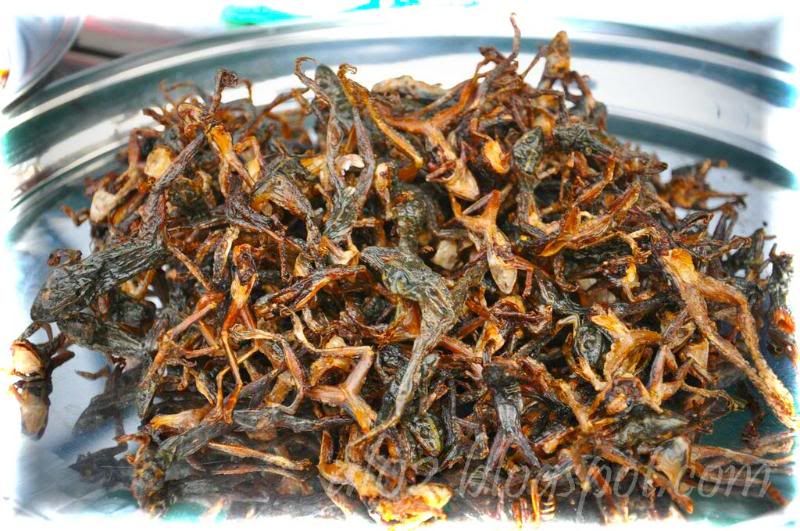 Fried baby frogs.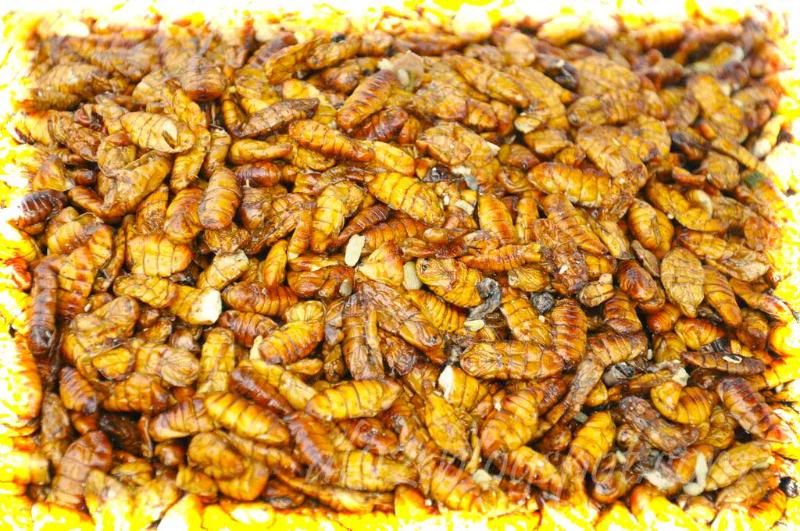 Fried worms of some sort
Fried beetles of some sort
The Cambodians love eating them bugs. It's as common for them to eat bugs as us eating pisang goreng (banana fritters). The correct way to eat your bugs and frogs is by popping them whole into your mouth and chew.
DD and his first frog

.

He said tasted like bbq pork. Very crispy and nice.
The both of them tried very extremely hard to persuade me to eat at least one of those bugs they bought particularly the frog by telling me how crispy, how it's all my own mind playing tricks on me, how im gna love it bla bla bla.
And finally, i decided to try just one cricket. Im a very normal food person and im not particularly interested to venture into unknown food or food out of the norm. But i guessed one tiny cricket shd be bearable. After all it's all part of the experience aint it. However, it took me awhile and a lot of courage putting that thing into my mouth. I started off nibbling the legs which felt like nothing really and was staring at the wings wondering if i will ever be able to eat that head off too cuz just imagined all the brain juice oozing out when the head is being chew.
After much hesitation, i decided to not think so much of brain juice and faeces and popped that little cricket into my mouth and within seconds, im done with my first ever cricket in my life. Phew! Truth is, it doesnt taste that bad. It's quite crispy and crunchy and it tasted like prawn shells with salt. They continued prompting me to take a second one. Seeing the first wasnt so bad, i decided to down a second one. Wrong choice!! The second one prolly had faeces in it cuz it tasted very bad. The minute i bite it, there was this very smelly taste if that makes sense. Even after drinking 2 bottles of water, the smelly taste still lingers. And that wraps up my bugs eating adventure in Cambodia. No more bugs for the rest of the days. Or perhaps ever. I heard Cambodians also eat tarantula but all the while i was there, i did not see any tho. None the less, for the more brave hearted or food adventurous, i think you should def try out bugs eating if you visit Cambodia next time.
I will end my post with a vid of me eating that cricket, the second one. Enjoy. :)