Finally went to try the DOUBLE GCB burger from McDonald's. It's like everyday when DD drove past the McD near the bus station, i will see the Double GCB smiling brightly to me. In case any of you have no idea of what GCB is all about, it's the latest burger to join the happy food burger family. G practically stands for anything, from Great to Grilled to Gaga to whatever imaginable beginning with the letter 'G'. I fell in love with the GCB the 1st time i had it cuz unlike all the other McD burgers, the patty here is grilled. So supposedly healthier than the fried ones rite? hehe. Besides they used the chicken thigh which makes the patty real tender and juicy with each bite.

Previously there's only the single GCB but in conjunction with the Ramadan month, they actually came up with the double one. Double the juiciness, double the yum. I realized 2 years ago, they had the McShakers fries for the Ramadan menu and now they have this.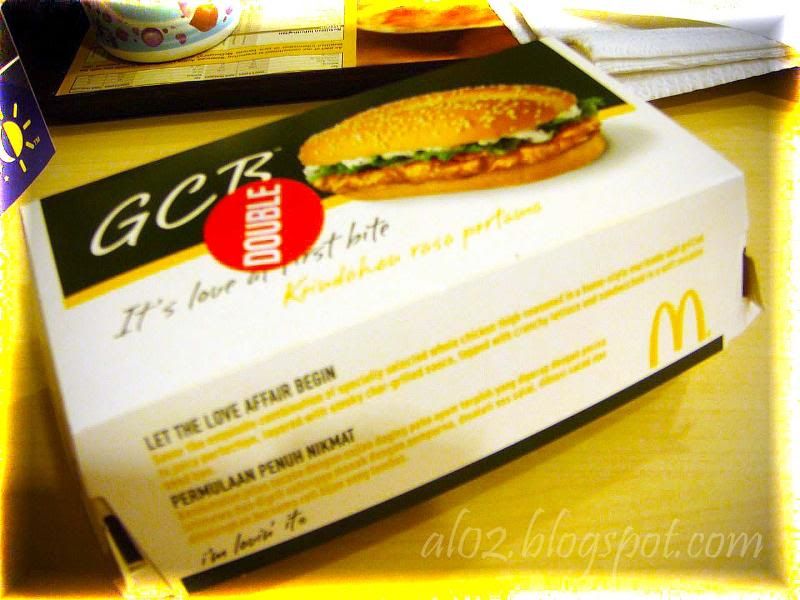 In Turtle Land (Kuala Terengganu), the McD's are only open from 3 pm onwards during the Ramadan month. And as expected, if you are there during the break fast period, confirm will be full house one. So its either you go way earlier or way later. But anyway, we went to McD around our usual dinner time last nite which also means it's our fellow Muslim friends buka puasa (break fast) time, so not only was the whole of McD full house (but we still managed to find a place where we sat from before they buka puasa right up till McD became empty.. hahaha), all the fries were actually sold out! Poor J was so disappointed. Instead of fries, they substituted them with apple pie instead.
The Double GCB with two juicy patties. Now i feel happy and satisfied. The double GCB was really really yummy. I'm sure to miss it when McD takes them down from the menu after the Hari Raya. So, we have about 2 weeks before Hari Raya, which means only about 2 weeks more for you all who have not try it to go try. Double GCB, such love. :)