Final year had started. Aside from the new computerized system the hosp had currently launched and new lcd screens in the Ortho OT which in my opinion makes our learning process easier cuz we no longer had to crowd around surgeons and doctors and nurses just to try to catch a glimpse of that little tendon or ligament they are cutting or whatever, everything else has been pretty much a routine; BST, ward rounds, clinics, OTs, seminar presentations, case write ups.

So back to more of Cambodia. After our very unusual snack, we head on to our very first meal in Cambodia. Im excited of course, to sample Khmer meals as Khmer meals are not nearly as popular as Jap or Italian meals here in Malaysia. Wait, in fact i dont think there's any place that sells Khmer food here in Malaysia (not that i had ever came across) which is quite a pity cuz i find Khmer food pretty good and i do have cravings for them like now. It was really good to have a friend around cuz he took us mostly to places off the beaten track, hence we had a chance to try more local food at more reasonable prices.


Rong Doeung Khmer restaurant
Scanning through their menu.. Seriously, everything sounds good but we couldnt order all cause of those bugs and Coke that's still swimming in our stomach.
Finally, Napich picked 3 of Khmer most famous dish out of the menu and it was definitely 3 super super delicious dish.
This is my fav Khmer dish. It's called Amok. Amok actually means crazy in Malay slang, but the only crazy thing bout the Khmer Amok is that it is crazily superb. I fell in love with it at first contact. It's actually fish (or u can choose chicken/beef/pork but trust me, fish is the best to go with with) cooked in their very own curry paste. I dno what kinda curry powder or coconut milk or spices they use, but it just taste totally different from any curry i ever had, none the less super SUPERB.
Our second dish - Lok Lac. Which is actually stir fried beef with oyster sauce. The egg is add on i think. This is another very good Khmer dish. The beef is really tender and best eaten with the special sauce they provide to go with the beef.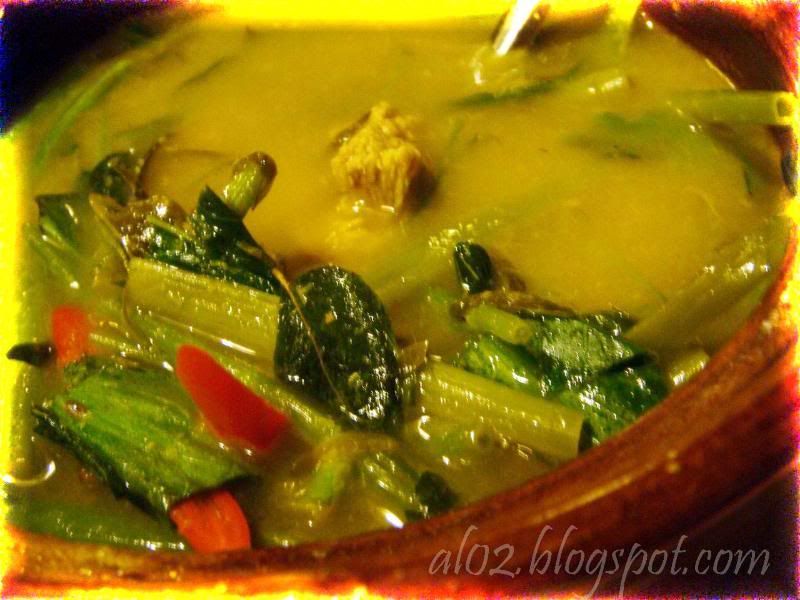 Our last dish is actually a soup. It's called Majew Groeung cooked with beef, curry leaves and their very own Khmer paste. The soup is kinda sourish sweet with a tad spicy which sums up to be excellent.
I really love these 3 dishes a lot that i had plenty of them for my coming days in Cambodia. We had a real fantastic meal all thanks to Napich and it's enough to activate my saliva gland right now just oogling at the 3 superb Khmer dishes above. *ah stomach rumbles*
Till my next update, happy salivating imagining the goodness of my amok, lok lac and majew groeung. :)