I think the world ought to know about this. Or at least hear about it.
When i visited Cambodia, i really wanted to make a trip to at least one of the many NGOs aim at helping out the underprivileged children in the country. I just felt that a trip to Cambodia will not be truly complete if all we did was tread the beaten tracks and tourist spots.
Hence, on day 2 in Phnom Penh, Napich brought us to this NGO, about 5 km away from PP city called
Pour un Sourire d'Enfant
(henceforth PSE). From the name,i think it's quite obvious that the founder of this place are French, no?
Entrance of PSE
Just a little introduction about PSE i like to share so we will all know more bout it. PSE is actually a vocational training centre that provides food, health and protection to children, in their case little scavengers a chance to live a better life and future by sending them to school and giving them vocational training.
The thing is, sadly in Cambodia, up until now, there are still a lot of them living in poverty. And children are the ones that are made to work to provide bread and butter to the whole family instead of the adult. Children, as young as 4-5 years old are force to work instead of being send to schools like the bulk of majority of us here in Malaysia. All these children, without education and skills can only become little scavengers at dumpsites; picking up rubbish to sell for a meagre pay or to source the dumpsite for leftovers, often rotten food to fill their empty stomach. At the dumpsite, they not only have to compete with each other for the garbage, cuz like they said plastics can sell for higher prices than wood (u get what i mean), they had to compete with middlemen from Vietnam who actually already purchased all the 'better value' garbage from the garbage men.
They are also at risk of being run over by the bull dozers that send garbage to the dumpsite and in fact, they told me quite a number of them had lost their lives due to that. Not only that, when they failed to bring sufficient money home at the end of the day, they will be chase out of the house to go back to the dumpsite to continue searching for 'valuable' garbage until they had enough to let their alcoholic father (most) purchased their booze. Family problems are a pretty common sight; alcoholic, abusive father and gamblers being the most stereotyped. Often left stranded hungry and homeless, these children are malnourished and does not know how to care for their personal hygiene at all.
There are many more horrible situations that these scavengers had to go through; the fear, the uncertainty, the depression, the lack of love etc etc. All these were told to me personally by those ex-little scavengers themselves who are now studying/living at the centre.
This is C, our guide for the day. Now a French law undergrad, he was a scavenger himself and he shared lots of his personal experience with us. This is basically a simplified chart of the development of PSE. From the very beginning where their 'papa and mama' (a French couple) found them at the dumpsite to the PSE today.
A coalition between the French and Spain gov. From little scavengers to becoming undergrads today. Those that did not make it to university will be train with a skill at the centre, those that make it are all doing pretty well, in medical, law and engineering school now.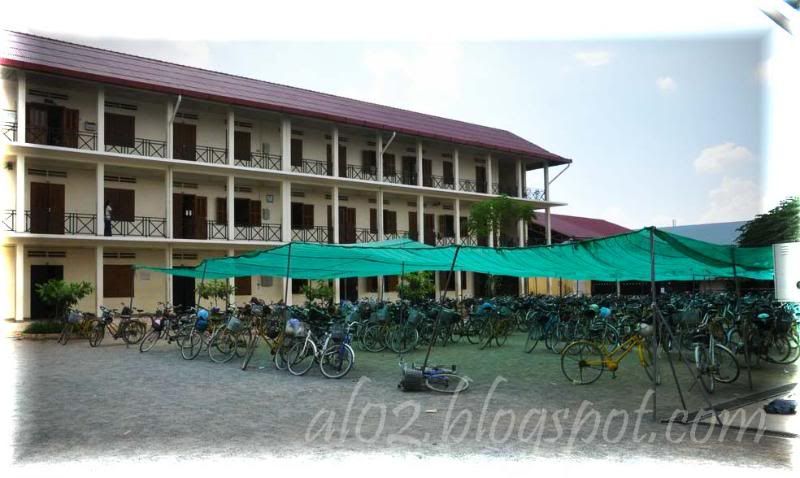 As PSE currently have more than 2000 children under them, part of the children will be send to state schools (like our gov sch) throughout the city and they are all provided with bicycles as their mode of trasnport. What i was quite surprised to hear tho was that PSE actually had to contribute in some forms such as construction of classrooms, libraries, toilets, infirmaries etc in those state schools in order for the children to be accepted into their sch. Like so corrupted only.
It's mandatory to wear a helmet to ride a bicycle or motorcycle in Cambodia and students are no exception. PSE policy - no helmet, no bicycle.
At PSE, they have classes for children right from Grade 1 up to Grade 12 (primary to secondary). They even have a 2 level a yr system (means like do Primary 1 and 2 in one yr) and classes for the special children.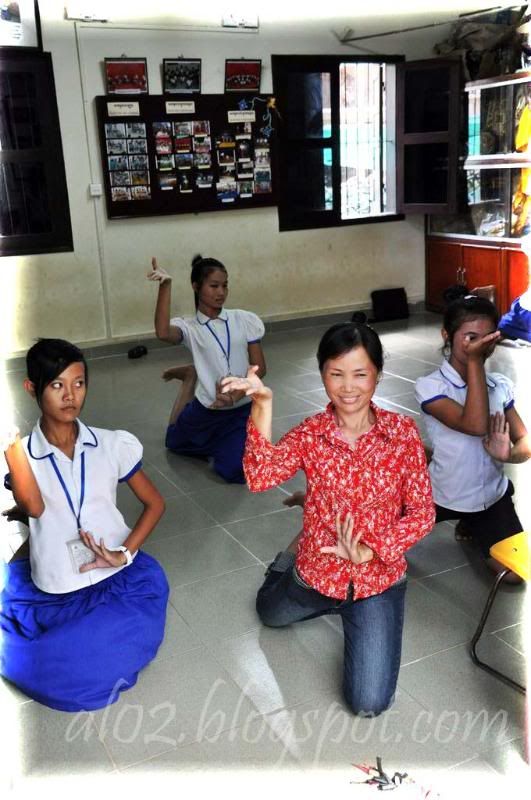 Other than studying, they actually have lots of other extra curricular activities like learning their famous Apsara dance.
All these girls are super friendly and cute. They thought that i am from Korea. haha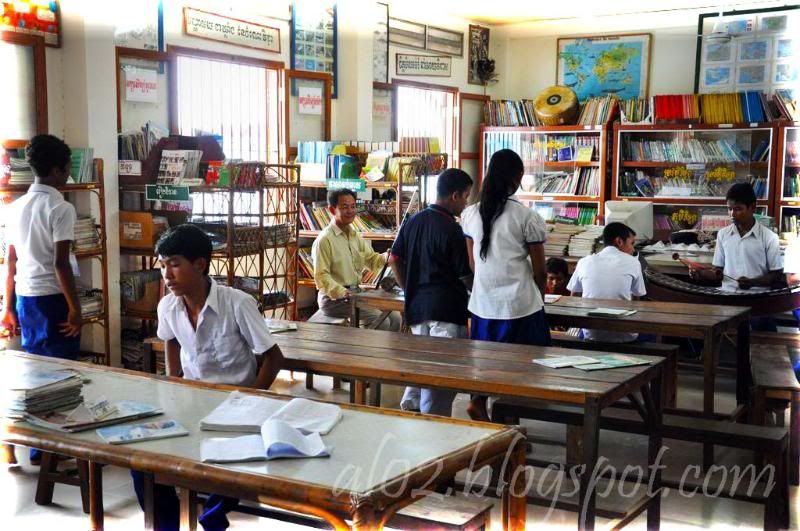 Their library
Computer lab where they are taught to use Microsoft Word, Excel and to go online.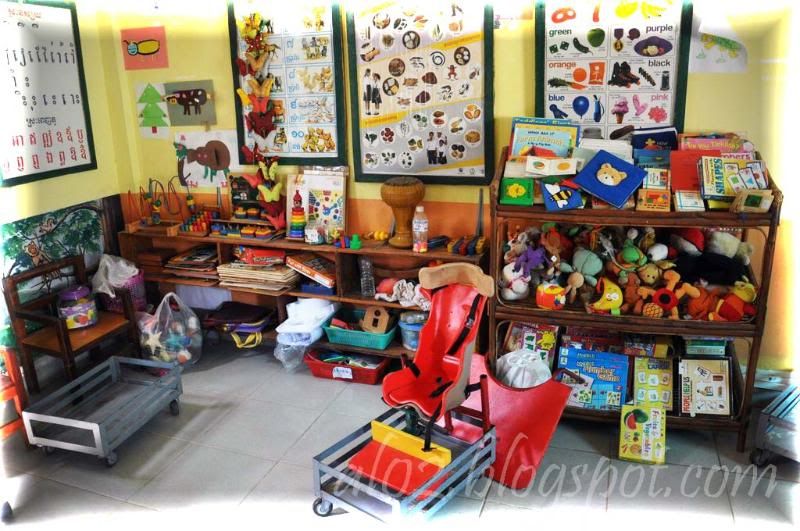 Toys for the special children
They even have hairdressing and beauty care classes which i was really excited to find out. Im gna blog more bout their hairdressing and beauty care school next time. hehe
The infirmary
This is the student hostel. These students are from the construction, electrical, agriculture classes. They are constructing their very own garden and huts and drains etc. Really good work, putting theory into practice.
The other block
The children at sports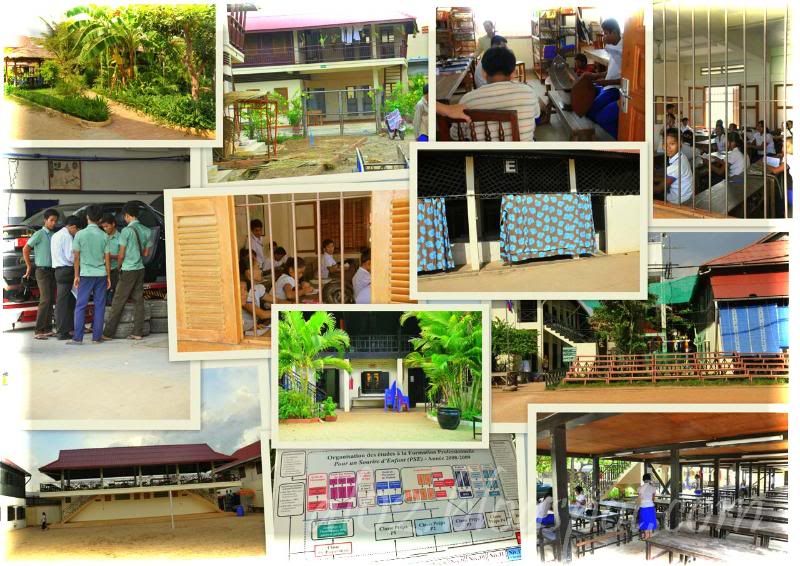 Random shots of PSE
Their souvenir shop.. The handicrafts are made by students of PSE themselves and all proceeds goes back to the school as well.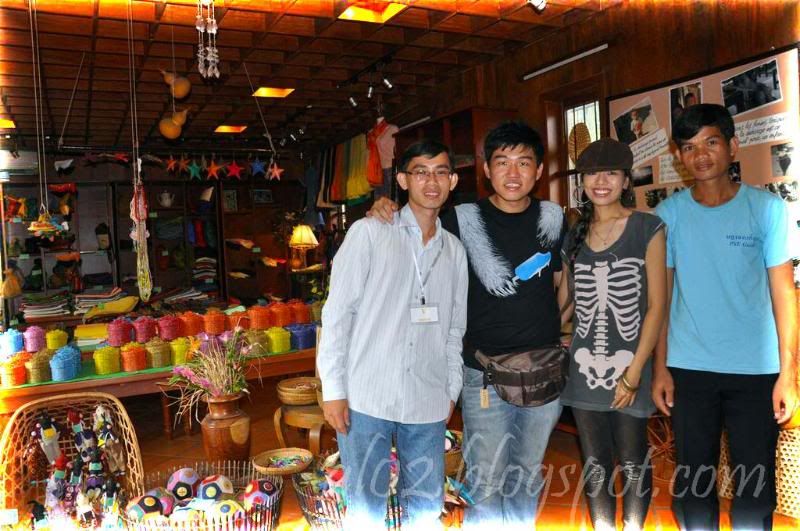 Must really thank Napich for bringing us there and C for bringing us around
Their papa and mama
Somehow the visit to PSE made me feel not only more thankful than before but in some sense, guilty of wasting food, playing truant or even lil things like sometimes taking people close to me for granted. It was really really heartwarming to see how PSE had helped and is still helping all these children achieve a better life and securing a better future. PSE truly transformed their bleak future into a bright one, giving them hope, strength and love to live on. Of course, all this cannot be achieved without support and sponsorship from all the kind and generous people around the world. Im not doing any paid advertorial for PSE or anything of that sort just in case any of you might be mistaken, but im just sincerely enthralled by all these lives that they touched and the many more they can touch. It was really a wonderful sight to see how all these children are so eager to attend sch it puts all who plays truant or complain about school to shame. It was even more encouraging to see how united they are, living as one tight happy family. Like few hundred/thousand of people living under the same roof for years and never once fought. Impressive not?
Anyway if you all are interested to find out more about PSE or even to sponsor a child, you can check them out
here
. :)
Lastly, 2 short videos to end the post. One is the PSE students practicing their local musical instruments and the other is me trying to converse to that little girl with Down Syndrome with my extremely limited Khmer. Thank God there's C as the translator. Next time if you all go PP, can drop by to visit them also. They are all super friendly and nice one. And i think it's def a very rewarding experience visiting PSE. :)