is the name of a shopping mall in Phnom Penh. Although it's 4 storey high, it's pretty much hidden among the many shophouses lining the streets of PP. Right now, it is the only shopping mall in the whole of Phnom Penh but i saw some construction going on for a new mall somewhere near where i stayed so i guess soon there are going to be more malls in PP. But seriously, if u ask me, im not particularly interested to visit malls while im traveling cuz i will prefer to shop in the markets. haha. Well, of course there are exceptions. Malls are good places to kill time during scorching hot afternoons or rainy days when going to the markets are inconvenient. Or like when things sold in the malls are actually of cheaper prices than the ones in the markets. Or if the malls carries labels that cannot be found in Malaysia. Or to watch a movie.


Spot Sorya Shopping Mall (the one pointed by the yellow arrow)
The interior of Sorya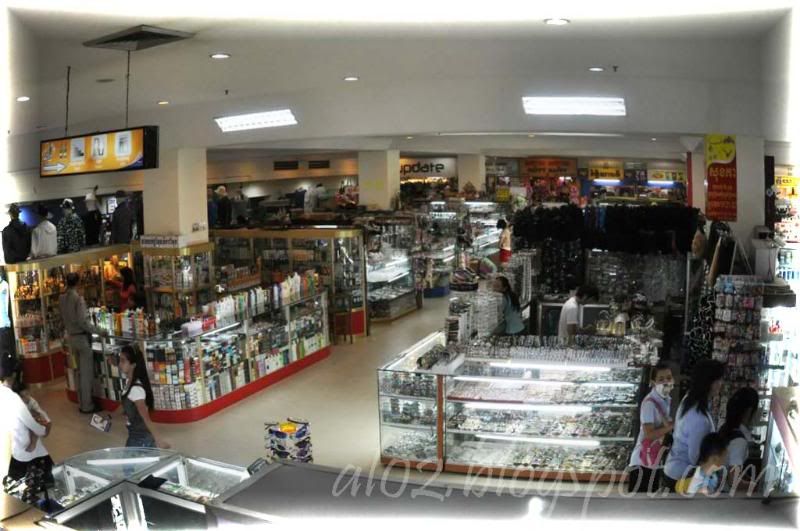 There's actually this entire row of shops that sells nothing but footwear, footwear and more footwear. From 4 inches high heels to wedges to ballerina flats to sandals to imitation Converse shoes. However, every shop seems to be selling similar designs which is kind of repetitive.
Their food court that uses the coupon system
Besides being the only shopping mall in PP, Sorya also houses the only cinema in the whole of PP. Yes, movie buffers, this is the only place in the whole of PP, Cambodia to be exact (i don rmb seeing any cinema in Siem Reap) that has a cinema. Satu-satunya cinema. Actually the Cambodians have a more special way of watching movies together which is prolly how they compensate the lack of cinemas. Next time i will post the pic. hehe.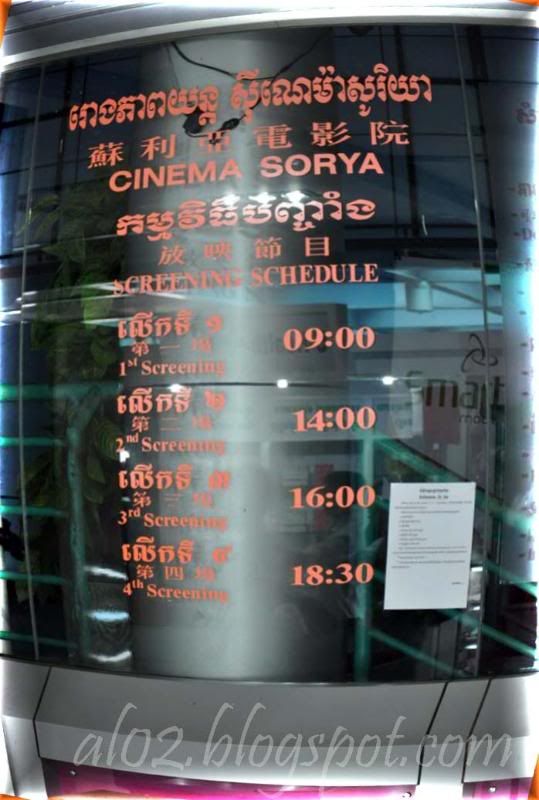 4 screening time a day. There's no such thing as midnight movie there.
We tot of watching a movie but all the movies they played were local horror movies. There's no Hollywood movies whatsoever.





Walking a little further ahead, there's an arcade and a roller blading circuit. But what actually caught my attention was a red squarish looking thing the Cambodians called their 4D cinema. It's really interesting because i had never seen a cinema this small.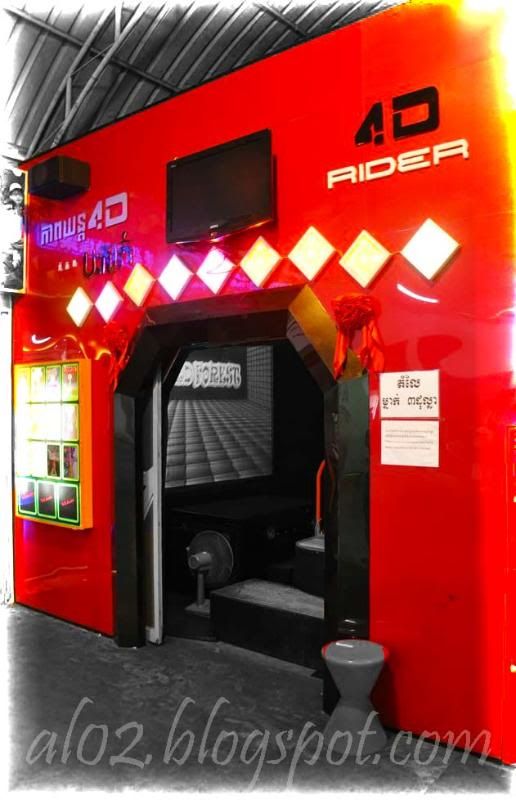 Their 4D cinema
To make things even more interesting, there's a screen outside the cinema that actually shows what's going on inside. So while you are enjoying your movie inside, screaming, laughing or crying, everyone else on the outside can see your every moves.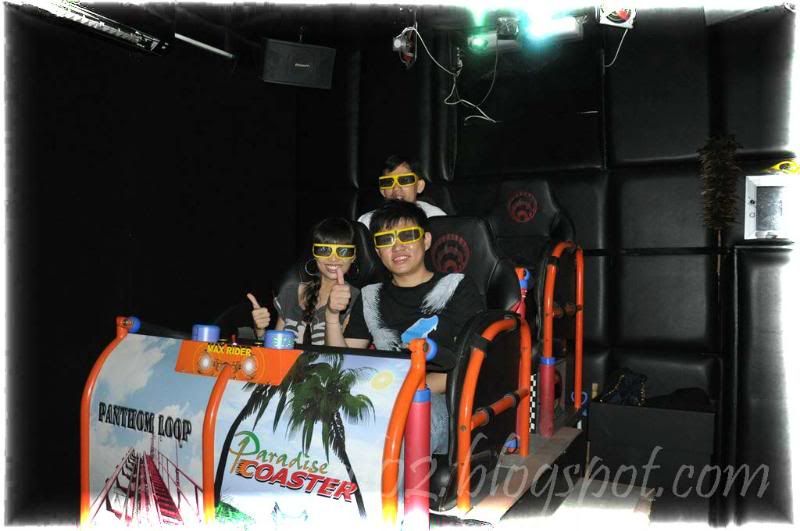 And maximally, it's only up to 4 person per session. So if you are the 5th person, pls wait an hour for your turn. Just kidding. Fortunately, each movie session is only 10 minutes. Actually it's more to like the 3D (or izit 4D?I forgot Genting got 4D anot) movie we had in Genting, not really a movie movie with storylines and all.
Again, it's all horror movies up for selection. Maybe they were celebrating Halloween or the Hungry Ghost Festival early. Napich wasnt keen initially but we managed to persuade him to watch it with us for the very first time in his life. haha. So together, we went bumping through cemeteries, knocking into ghouls, flying in the sky and sliding down tunnels.
None the less it was a ten good minutes. We screamed when there's all these bats flying out from the huge pumpkin mouth into our direction and laughed as we were rocked up and down the bumpy tunnel. For USD 3 per person, it's quite ok to experience a local horror 4D movie and honestly, it's not that scary la. At least i managed to keep my eyes open throughout the whole ten minutes. :)
PS : The conversion rate was USD 1 to RM 3.3 when i was in Cambodia.