As we all know, Perhentian Island is divided into Perhentian Besar and Kecil. (Big and Small Perhentian). Perhentian Besar is cheaper to go but relatively less happening. Perhentian Kecil is more expensive but apparently more happening and beautiful. Hence usually, a 3 days 2 nights Perhentian Kecil island package will cost at least RM 300 per person. That too is subjected to factors like the number of individuals, season and holidays. Before going to Perhentian, i tried googling for accomodations on the island and while most accomodations alone are pretty affordable, they do not include meals and snorkeling trips. Any package that comes with accomodations, meals and snorkeling trips costs at least RM 350 ( for 2 person package and we went in August which is consider the peak season for island visiting). So, considering transportation charges etc, we need to spend at least RM 400 per person for a simple island getaway. That certainly was kinda out of our budget.

So, we decided to take the risk and not book any of the island package available online. And that was probably a wise decision we made cuz we managed to save so much more. And as i said in my previous post, Perhentian Kecil is like a backpackers island. You can def spend less than RM 150 for 3 days 2 nights on this island. (revealed at the end of post. hehe). For the budget travelers, you can just hop onto the island, stay in any budget accomodation, budget food are readily available and book your snorkeling/diving trips from the many boatmen there. In fact, there are so many boatmen offering snorkeling and fun diving trips that the prices are all quite reasonable due to the competitiveness and you can take your time to choose the one that suits ur time and interest the most.

There are a few accomodations on the island that offer rooms for as low as RM 15 a night (walk in rate) for their dorms and RM 40 a night (walk in rate) for their rooms. Prior booking rate for the rooms are higher, RM 80++ per room.


The place we stay is call Tropicana Inn which is facing the Long Beach. Like everything budgeted, only the basics are provided. Of course as long as they are clean, i dont actually mind. For such low rates, the rooms are comfortable enough for 2 nights sleep; there's the bed, mosquito net, fan and shower. There's no water heater (but trust me the island sun is especially merciless and generous you wont need that), air con (might be a bigger problem for people who cant stand heat) and there's cut off time for electricities usage.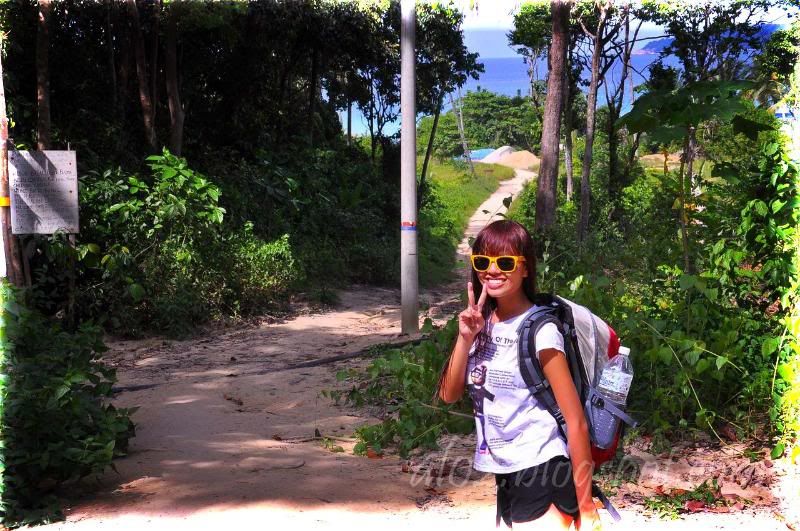 It is actually smacked right in the middle between the Long and 'short' beach. It is about 10-15 minutes walk to the Long Beach below.
I bumped into a few monitor lizards around here and that stretch of jungle track was definitely not inviting at night cuz it's pitch dark. But the friendly staff, cheap rates and it's relatively short distance to the Long Beach are definitely attractive.
Foodwise, meals on islands are always more expensive. But at Perhentian Kecil, you can find a plate of fried rice for as low as RM 7 and buffet dinner for RM 15.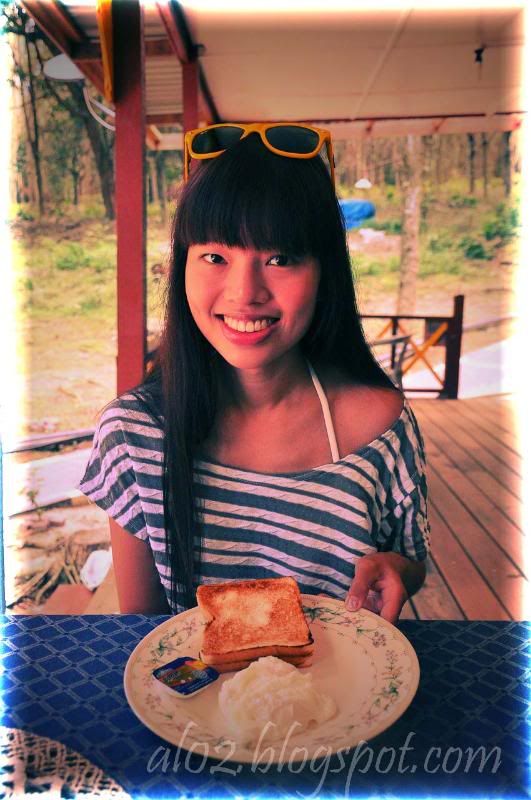 There's this cafe call Ewan Cafe that sells these affordable meals. A breakfast set like this consisting of poach and toast is RM 6-7 (cant remember exactly how much). And it tasted pretty good too.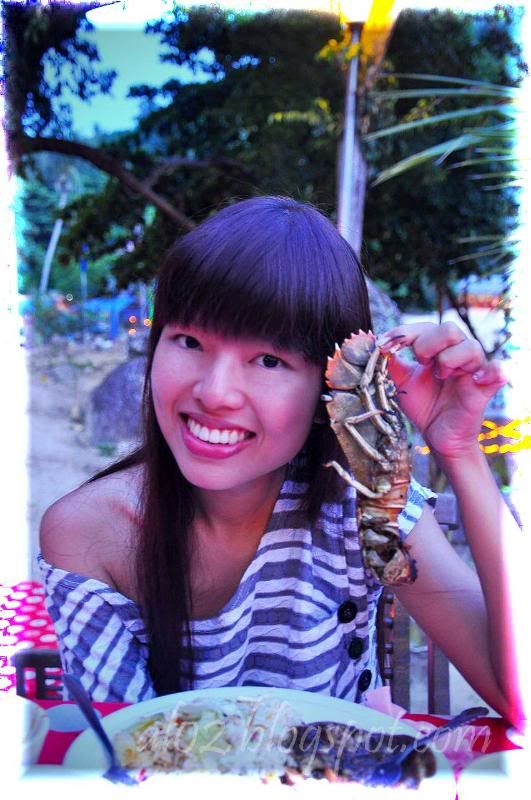 Buffet dinner at Sharila for RM 15 per person. BBQ seafood and chicken are available for top up but it's RM 15 per item. The buffet selections are not extensive and it's more like a vegetarian buffet, but remember, this is for people on budget that still wants a piece of paradise. The mash potatoes are my fav here and they even have live music to entertain us.
We took our snorkeling package with Tropicana and our 9 spots package that include Rawa and Susu Dara island was RM 100 per pax. However, if you dont feel like swimming so much, you can always opt for boatmen and package that offers less spots for cheaper prices.
Basically, if you go freelance like us, how much you spend depends totally on how much you eat and how much snorkeling/ diving you want to do. :)
I hope this helps anyone who do not want to burn a big hole in their pocket but yet still wanna enjoy the beautiful island. :)
PS : Water taxi is a must to get to Perhentian Kecil cuz whatever boat u take will only take you until you are about 100 m from the shore. Then a water taxi will come to pick you up at a charge of RM 2 one way.
PSS : You can actually skip the water taxi if you dont have any luggage or have waterproof bag because 100 m from the shore is only at about your chest level. :)
PSSS : Dont forget insect repellants especially mosquito repellants and torchlight. Very handy.