As it was the end of our super hectic Surgery rotation last weekend, me and the big 4 decided to do some destressing by making a road trip down to Kuantan. We decided to do a little detour to Sungai Lembing for our breakfast as Sungai Lembing is just about 30 km (30-45 minutes) from Kuantan town.

This time round, our intention was purely to go indulge in those huge cheap bowls of yong tau foos and home-made 'shan shui' (mountain water) noodles and beancurds/taufu. Hence, we only set off at about 6am from KT and reached about 8.30am. Apparently everyone at Sungai Lembing practices 'early to bed, early to rise, makes a man healthy and wise'. It's like by 8.30am, the famous morning market in the middle of the town where the most famous mountain water noodles are sold were already beginning to empty out. Those who climb Panaroma Hill for the sunrise had long long time ago descended and finished their breakfast. We had wanted to go to the Rainbow waterfall (as we miss out on that the last time) but to catch the rainbow means we will have to be at Sungai Lembing by 6.30am. Everything starts real early here.

Aside from the famous noodles and beancurds, the other famous food here is the tomato mee or ketchup mee. It's really not as simple as just frying the noodles in tomato sauce. Maybe it's due to the texture of the noodles, maybe it's due to the fact the ingredient in making the noodles are different (maybe mountain water really makes a different?hehe) or maybe it's just because the cook is good, but whatever it is, the tomato mee is awe the awesome as well.


The stall that we tried the previous time which is supposedly the most famous one was not open that day. But we found this other stall at the back of the market that also sells the same stuff - 'shan shui' noodles with yong tau foo and beancurds. And similarly, you can have it dry, with soup or with curry. Tastewise, i find this stall pretty good too. Not much difference from the previous one. And pricewise, same CHEAP and portion same HUGE. FFTT said the curry here is even better than Hoi Yin!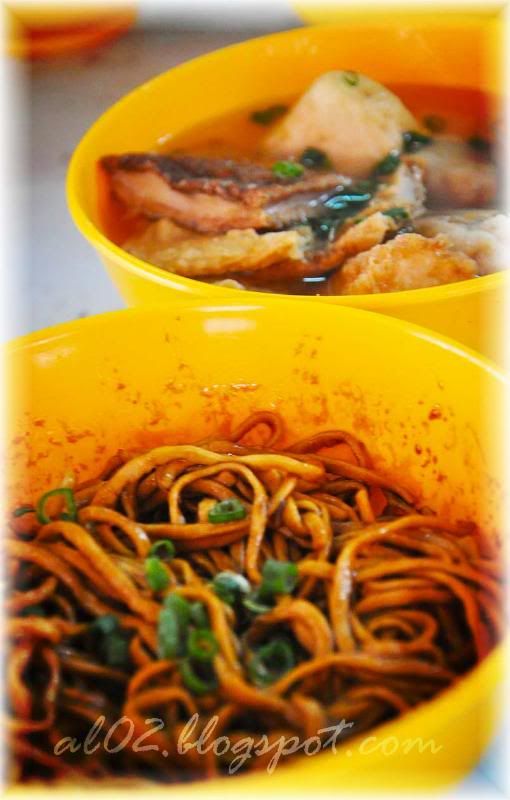 Ta-da - the very the famous fresh home-made mountain water/shan shui noodle in kicap with my super the duper huge bowl of yong tau foo
This is just like the tip of the iceberg. There are still many items hidden below. I think there's easily 7-10 varieties of yong tau foo, each of them huge and fat. And guess what? This bowl of yong tau foo and noodle only cost me RM 3.70. Like cheapest yong tau foo ever can.
Glistening mountain water/shan shui beancurds/taufu. The sticky gravy is the bomb. Super good ok when you eat the beancurd with the gravy. And the beancurd is so super fresh and smooth. Each piece of this beancurd (with meat in between them) is only RM 0.60. Cheap till can die.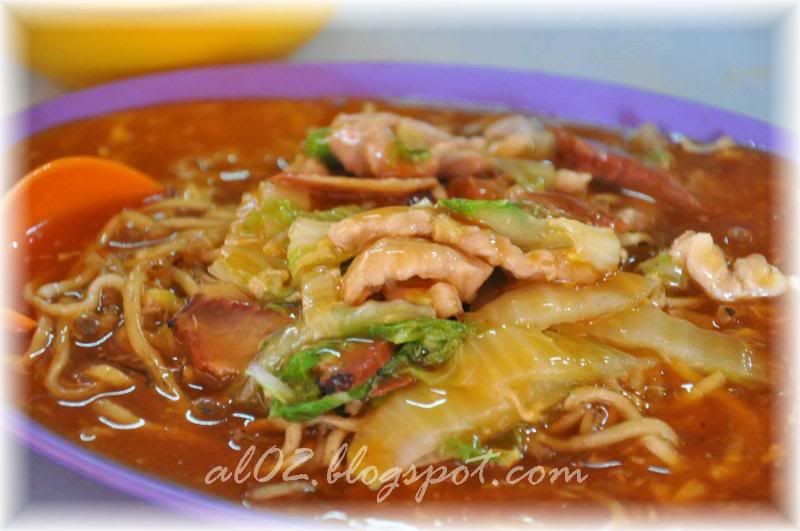 The tomato mee. It's just as good as the rest of the stuff. Yum.
The stall that sells us the noodles and yong tau foo also sells char siew (bbq pork) and it's also like the cheapest char siew ever. I know i keep emphasizing on the word 'cheap' but i cant help it cuz it's really really cheap. I mean seriously tell me where else in Malaysia sells such awesome food this cheap. I want to know also. :p Sorry, forgot to take pic of that but it's basically a bowl of freshly cut char siew (bowl the size of a small rice in a Chinese restaurant) for only RM 2. I'm quite particular about my char siew so despite it being really fresh, i find it so-so only. But the big 4 all complimented it and they claimed it was really good.
As the other 3 guys have never been to Sungai Lembing, DD played the tour guide and brought them around the small tranquil town for some 'shopping'. (like buying home 1kg of the famous Sungai Lembing noodle and coconut biscuits).
The very cute petrol station at Sungai Lembing. Don't play play, it's Shell k.
The big 4 and mua. I think everyone still got the sleepy face.. hahaha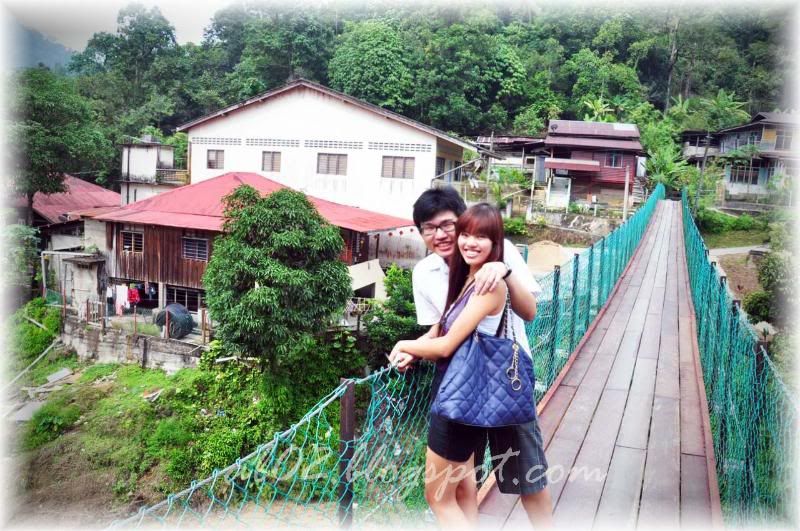 At the hanging bridge of Sungai Lembing
It was definitely worth the detour to Sungai Lembing for breakfast because our stomach was definitely one happy stomach that morning with so so much of awe the awesome food swimming in them. I cant help but wonder what will happen to this little tranquil, unique town once all the older generation pass on. I hope they continue to maintain their uniqueness, tranquilness and cheapness cuz i think those are major attractions in themselves. :)