After our very satisfying brekkie at Sungai Lembing, we head on to Kuantan for our movie marathon and of course, food. I wasn't that hungry honestly, but i guess when you are traveling with 4 big guys with high metabolic rate, you just can't escape on hunting for the best food around; from chicken rice to shark and satay. After purchasing our movie tickets, (The Other Guys and Red. Btw, Red is just awesome. Although the plot is nothing new, but it's def a good slapstick comedy movie that kept us entertained throughout. Bruce Willis, altho promoted to the 'grandpa' level is still as Die Hard as ever) it's time for lunch. We wanted to try something local, but not those that we had already tried during our previous trip to Kuantan, so after a quick google on my phone, we found this recommended shop. ( I don't subscribe to any plans so it's RM 5 for one day of internet from Digi.. not very cheap but it's really useful to have internet especially while traveling in not so familiar places)

Lunch :

Chicken rice! hehe. There's actually quite a few recommendations that popped up on google but in the end we all voted for chicken rice. This chicken rice shop is said to be the best in Kuantan and according to a newspaper article in the shop, it was once awarded the 2nd best chicken rice shop in the whole of Malaysia. Wow, impressive no? We shall find out soon how good they really are in comparison with our dearest Chuan Kee in Kuala Terengganu where some claim is the origin of all Hainanese chicken rice in Malaysia.


The chicken - in my personal opinion i think the roasted chicken are not really tender. It's kinda hard actually and it's not that ripe (can still see blood streaks). And it's also pretty salty.
The rice - I kinda like the rice for it's fragrant ginger-aroma taste. Oh, and i like the soup too.
They also have curry wild boar. Erm, im not a fan of wild boar, so the only thing i ate are the potatoes.
Overall, it's not super good but at least it is pretty okay. Quite worth a visit for something local in Kuantan.
New Capital Chicken Rice,
59, Jalan Bukit Ubi,
Kuantan 25200
Pahang
After our movies, we were supposed to look for this seafood restaurant at Padang Lalang but alas, after we reached Padang Lalang, some of the locals told us that the seafood restaurant had moved to another area. Hence we settled for this Chinese restaurant also at Padang Lalang called Mei Hiong (which is also endorsed by 8TV Ho Chak). The specialty of this restaurant is that they sells

shark

meat and steam stingray! I had been playing Hungry Shark a lot on my phone lately whenever i have to wait ; wait for food, wait for lecturer, wait for specialist, wait for DD, wait for anyone, wait for anything), so now it's us eating the shark and not the other way round. haha.
Personally, i don't encouraged the consumption of shark fins and rightfully speaking, shark meats too. But there are few hundred species of sharks and the ones that are endangered/ threatened and currently being protected are only about 17 species and are mainly those hunt in the deep sea for their fins. But sharks sold in restaurant like this are mainly the small species ones that are not in the list of protected species.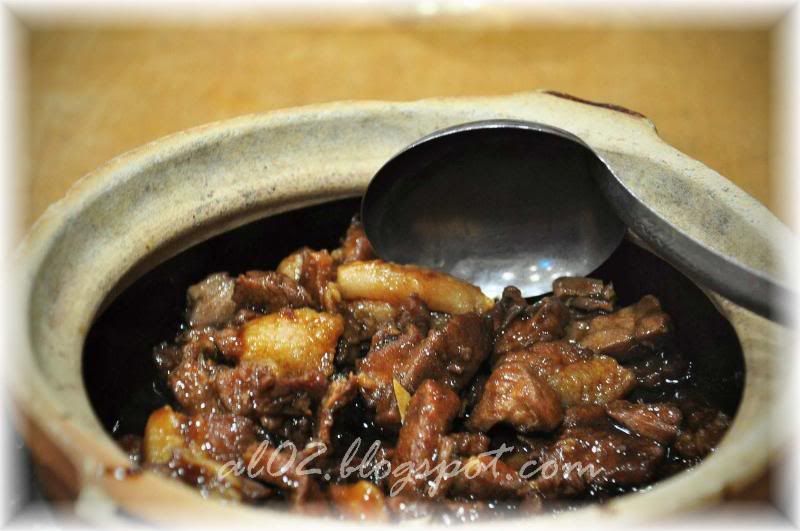 Braised pork with salted fish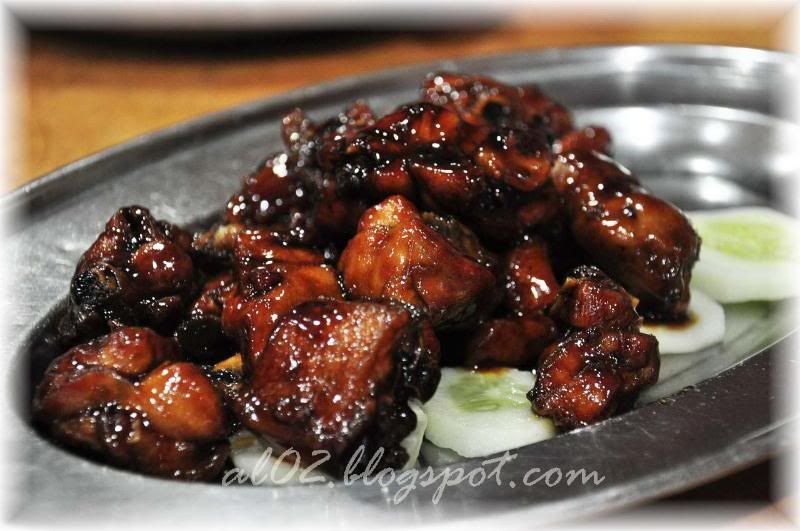 Fried chicken with honey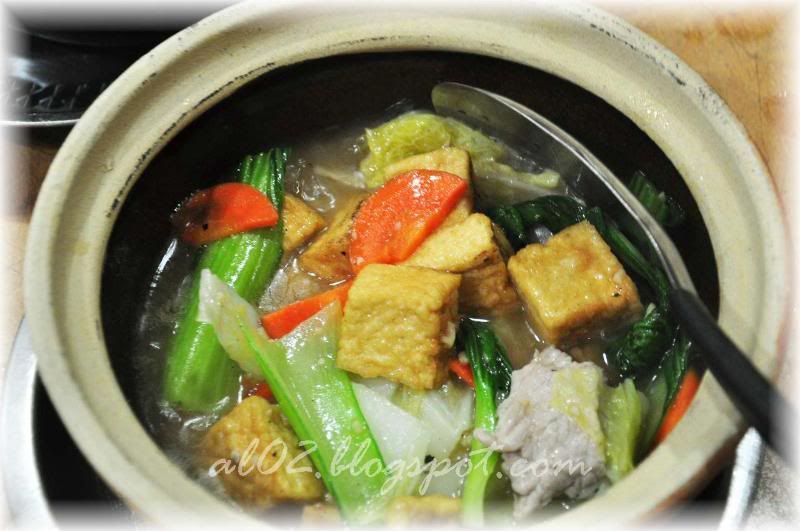 Claypot beancurds/ taufu
Fried potato leaves with belacan
Lastly, the chef's recommendation - Stir Fried Chilli Sharks meat. If you ask me, i think it tasted like any other fish. A bit more tender and juicy but does not warrant the encouragement of mass sharks consumption.
Overall, the food are all pretty decent and tasty. I rate it like 7.5/10. haha. Besides, if you are interested to try something a little unusual like sharks and steam stingray, then this will be the place to go. The portion is a bit small though (which gave us excuses to go for supper. hehe)
No. 52b, Jalan Tanjung Api,
The perfect way to end the day will be having some real good satay for supper. It's not like KT do not have satay, its just that there are no real good ones. But Zul Satay of Kuantan is definitely one strong contender to Kajang Restaurant Malaysia satay (my no.1 satay). Satay is a local Malay dish where meat are put on skewers and barbequed. We all agreed that the satay there was really really good. Super yum.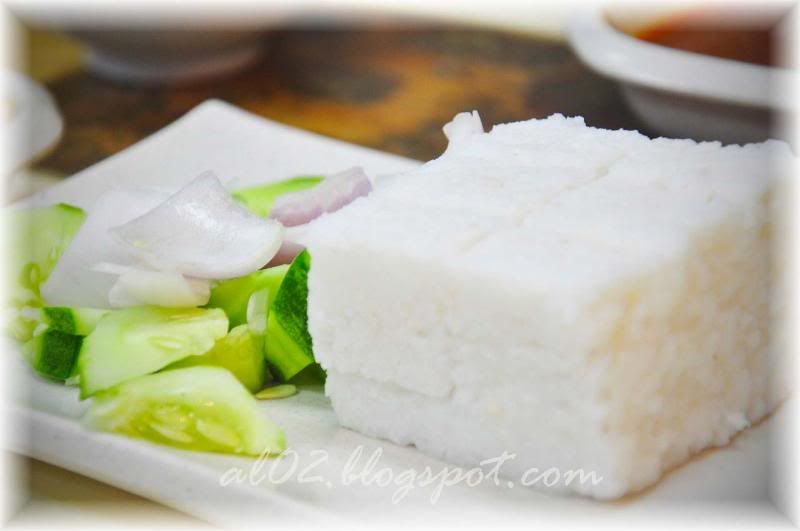 Side dishes that compliment satay well - Nasi himpit/ ketupat with cucmbers and onions. RM 2 per plate and RM 1 for a plate of cucumbers and onions.
Aside from the normal chicken and beef satay, they also have rabbit, deer and mutton satay. And this is the 'bebola ikan'/ fishballs satay which is really keopok lekor moulded into round shapes put on skewers. Nothing much to shout about this as it felt like eating keropok lekor balls only. RM 0.40 per stick.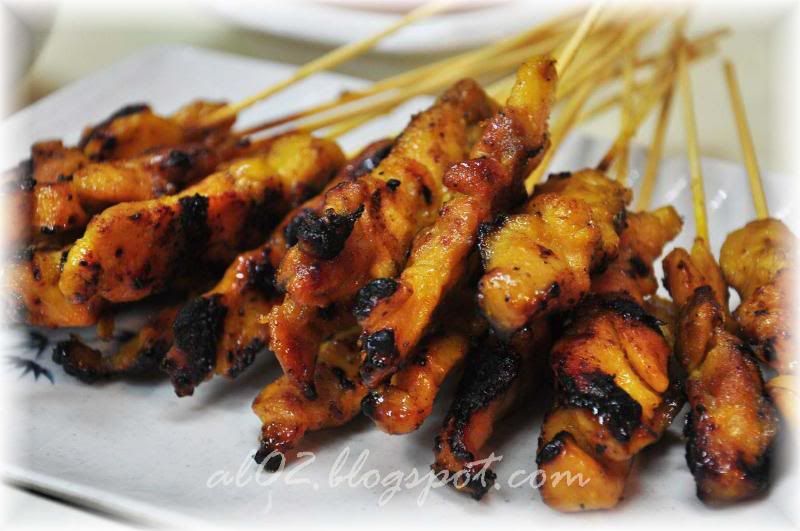 These carcinogenic chicken satay is awe the awesome. Super good. I really love how the whole stick is nothing but chunky meat and no fat. The meat is simply good and barbequed really well. RM 0.60 a stick.
And of course, no good satay will be complete without good groundnut sauce. Their sauce is the bomb. It just makes the satay perfect. Love how it is thick just right, spicy just right and sweeten just right. It's so good i think i can literally drink them.
They also got nasi lemak which is pretty delicious too. RM 2.50 per plate.
Enjoying a satay moment
I think among everything we ate that day, i love my breakfast and supper the most.. hahaha. It was definitely a good destressing road trip. On top of that, we have a super good meal to start the day and super good food to end the day. Perfect. :)
Terminal Satay Zul,
A-2600, Jalan Alor Akar,
25250, Kuantan
Pahang
Tel : 09-568 7859
Of course, Kuantan has many more good food to be explore but well, that will leaves more reason for visits next time, no? :)
Disclaimer : I wasn't paid to do this review and all review is based on yours truly personal point of view only. Hence, thy is not responsible for any discrepancy in taste or opinion. :)