Say yay yay yay cuz it's the end of my Surgery rotation today. :) Surgery rotation is definitely one of the most hectic rotation. *letting off sigh of relieve now*

Anyways, i realized i have a habit of taking double, triple, quadruple and even quintuples shots of a same scene (food etc) which might be probably why we managed to end up with more than 6000 pictures from a 10 days trip. Well other than those once-in-a-lifetime or blue moon moments, i truly advocate for at least a double shots for everything else. I will tell you why in a bit. (i mean for people like me who are not pro photographers)

I know sometimes it can get really annoying especially when we felt like we had been posing and smiling for eternity for the camera so once the photographer snap, we cant wait to 'unpose' and just 'relax' (flashing that million dollar smile to the camera for a period of time can get daunting). Then the photographer ask for another shot, we pose and smile again but the photographer takes time to adjust the camera, lightings, angle bla bla bla which seems like forever before he/she snaps. In normal circumstances (photoshoot and camwhoring excluded), i think most people will only be patient enough to pose twice in the same exact pose for the camera. And from what i observe, by the 3rd request, most people will just tell you 'It's ok. We dont want to take anymore. We had two shots already.' I mean fair enough, for certain people who are camera shy, two shots might be a lot already.

So why the need to take more than one shot of the exact same thing and if possible similar pose too? The reason is because we are not pro like the pros, we cannot assure that every single photo that we take will turn out to be ok. I mean i dont think anyone can really assure that each shot they take will be a perfect (perfect here means like not blur or if shot of people then everyone shd at least be seen or looking at the camera with eyes OPEN) one rite? There's always a high possibility of a photo turning out to be blur, someone not ready, someone closing their eyes, over expose, under expose or sometimes even with a thumb or finger shadow (all these are very common when you are handling a camera you are unfamiliar with or someone else's is handling your camera) on the first shot.

These photos are clear cuz there are taken with Mr. Self-timer on tripod but you will see what i mean. :)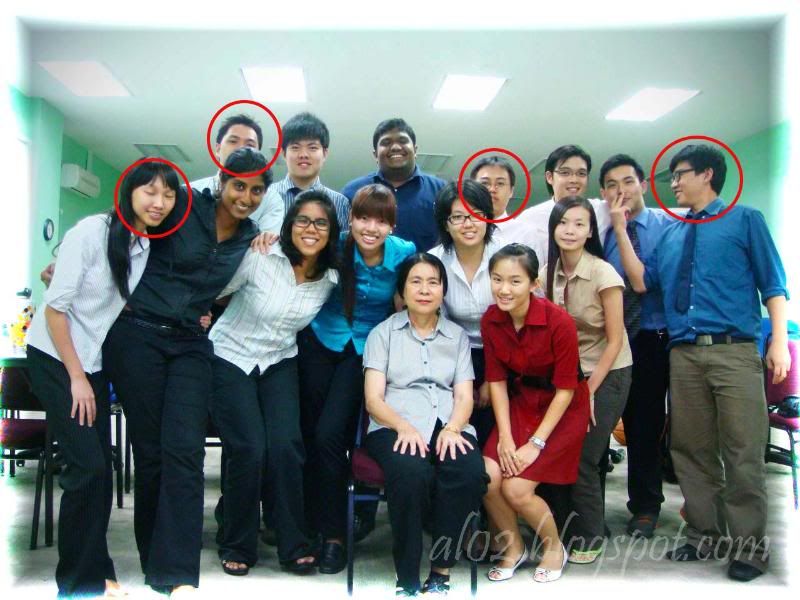 Take 1 - Note those that have their heads circle in red. They are either partially block, not looking at the camera or have their eyes close
Take 2 - Better but oops, K's eyes are close this time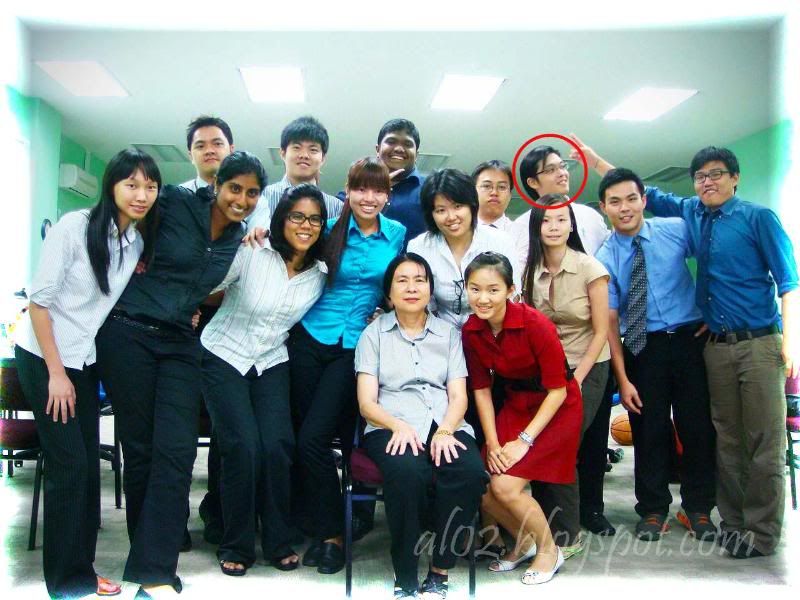 Take 3 - Arghhhh... now H is the one not looking at the camera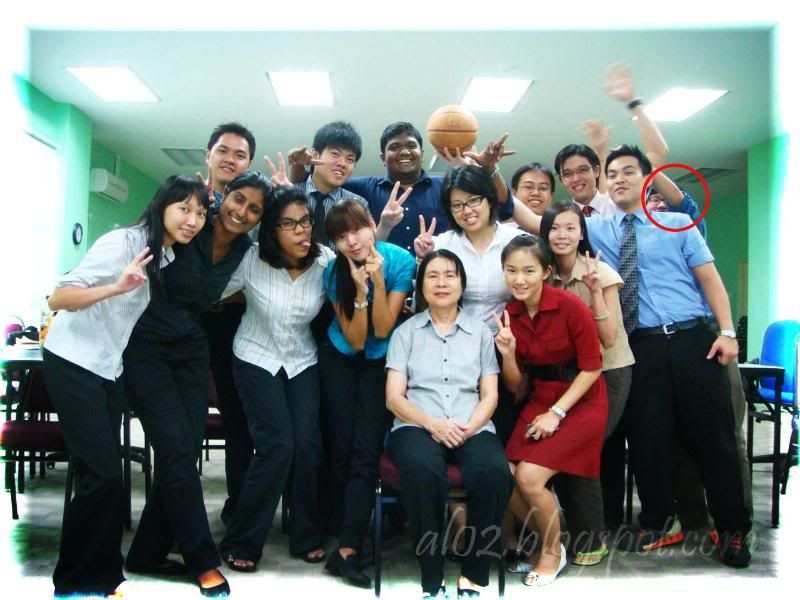 Take 4- DD where are you?????
So you see, even after four shots, there's not one perfect, nice group picture where everyone can be seen with their eyes open. I may be anal bout this but that's because i believe that one of the reason we take photos is because we want to freeze up this part of our memory, so why bother taking photos if you are gonna do it haphazardly. I mean yes, it's sometimes amusing to look back at the photos and see the 'defects' and laugh it over, but im sure we also want at least some nice ones for keepsake.
Luckily, thanks to my very wonderful current assistant, PS, we can has a perfect group photo too! :) (but no, that does not mean we shd rely on PS for perfect group pics all the time. Cuz not all photos can be PS so perfectly too)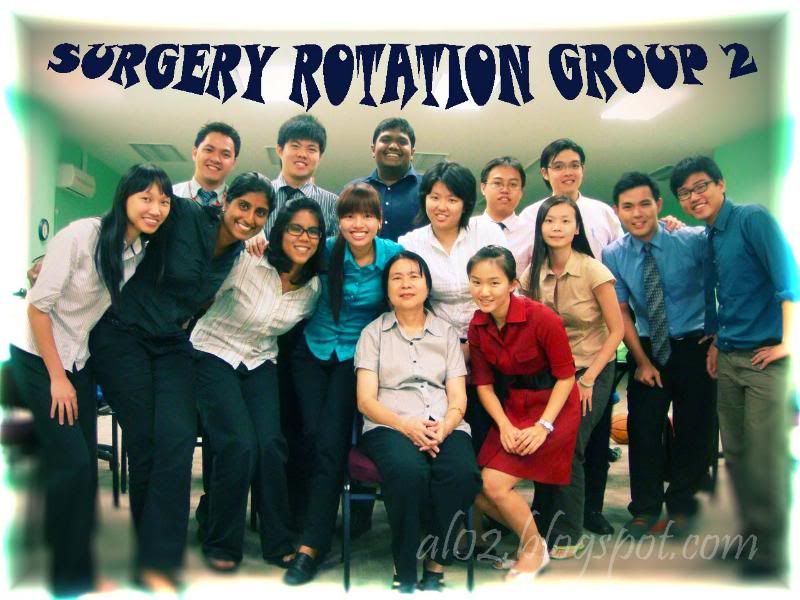 A perfect group picture means everyone can be seen clearly, eyes open and ready for the camera
Take 1 with Dr.M - Spot the spoiler(s).. hahaha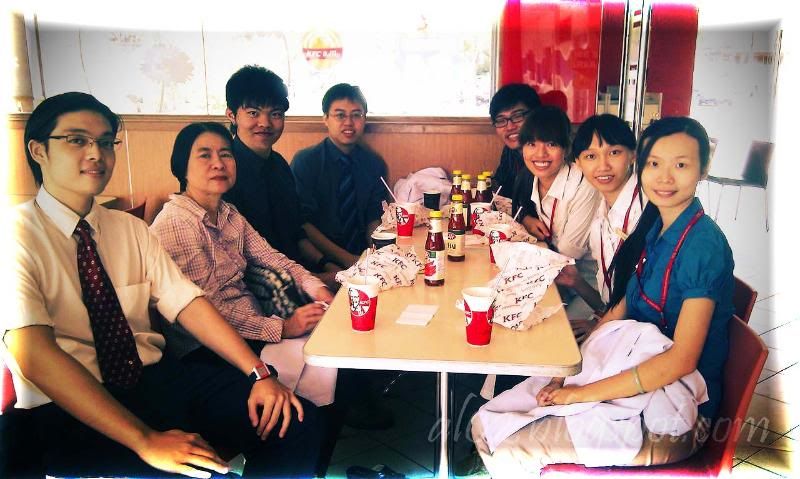 Because we had a super long prolong bst one of the days, Prof K generously bought us breakfast at KFC. This is the second shot actualy. The first shot was blur.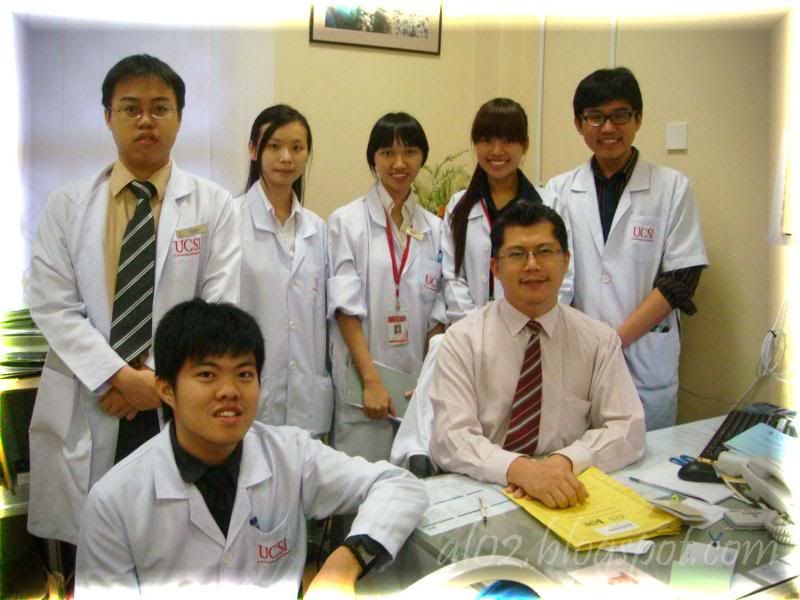 With one of my fav hosp specialist. This is also a second shot.
So yeah, the next time we hang out and if i ask for more than one shot, i hope you guys will be patient with me. hehe. It's all for the sake of a good photo. *wink* :)