Guangzhou definitely is full of the 16th Asian Game in their atmosphere right now. Which I supposed is a good thing for us tourist because that means security is tighter and we feel more safe wandering the streets of Guangzhou. Besides, they were having the rehearsal for the opening ceremony on the day we arrived, hence almost every corner we turned, every few kms we walked, there will either be volunteers for the Asian Game in their prominent green and white jersey stationed to offer lost tourist directions or policemen standing guard.


Volunteers are mainly stationed at busy/peak areas such as the airport or train stations. Alas, most of them time, most of these volunteers are as lost themselves as us when it comes to giving directions to places other than the game venues.
Policemen patrolling the streets especially at areas near the game venues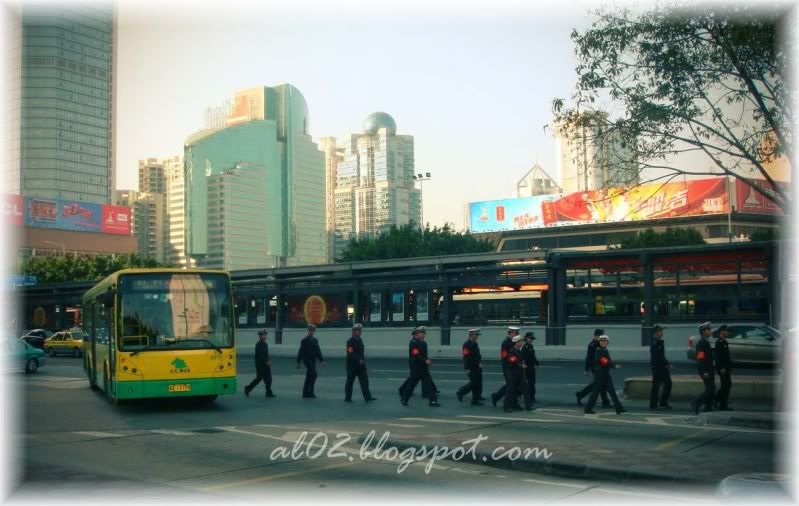 The public security officers are also involved
The Asian Game fever is everywhere in Guangzhou. Even at the airport, well-wishers can scribbler their wishes for the athletes, for the Game, for Guangzhou, for your country, anything at all on this special wall. Maybe you can look out for mine if you are there during the Asian Game. :p
In bookshops too one can write their well wishes.
Of course, there is no lack of the 5 mascots of the Game.
We decided to make our way to Haixinsha to catch the rehearsal as we were told there will be fireworks and such and the stadium is one magnificent architecture. And since the hype is all about the Asian Game right now and we were tempted by the fireworks, we might as well be there to soak up the atmosphere.
Outfit for the day. It wasn't that cold seriously, something like Genting temperature if you know what i mean.
We took a metro to Zhujiang New Town and walked towards Haixinsha. The whole road had been closed just for pedestrian.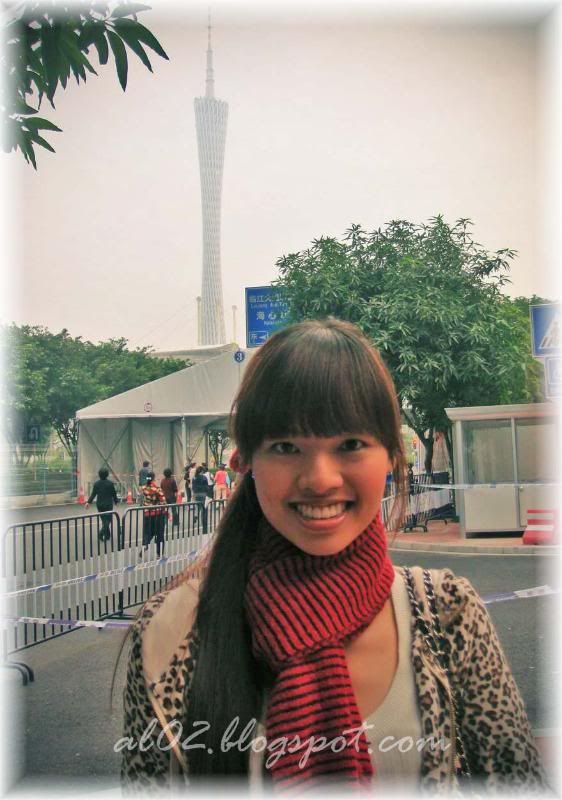 Guangzhou tower in the day. The fireworks display will be at the Guangzhou tower later at night.
It's only after we reached Haixinsha we found out that we need tickets to be able to enter the stadium area and watch the whole rehearsal and fireworks up close. Else there is a barricade and we can only watched from afar. The only comfort was knowing that we weren't the only ones. There were hundreds, perhaps thousands others who were also stuck like us not knowing that we had to purchase the tickets one month beforehand online.
As we still had some time to spare before night fell, we decided to explore the area for food as we had not eaten anything the whole day since we arrived. If one walks about100m from Haixinsha, one will realized that there is no food outlets or eateries at all. In fact, the only place that has something edible to offer is a 7-11. Boy, it seemed we werent the only hungry ones. There were like hundreds of other hungry human and everyone was snatching everything off the rack; from cup noodles to buns to fish balls on sticks. Mum made a wise decision by pulling me away from 7-11 and told me to walk further down the street as she said it was not worth fighting with the huge bunch of sweaty, temper raising people over a bowl of cup noodle that we can readily purchased in Malaysia. How smart indeed. For anode 100m or so down the street, there are so many more eateries, all at reasonable prices.
Decided to settle for beef noodle at this shop call Lanzhou Niu Rou La Mian.
Price at only RMB (renminbi) 6, the portion is not only huge, but is also one of the best beef noodle i had ever eaten. It's so good can die for.
The only minus point was that the amount of beef wasn't abundant enough.
After finishing our beef noodle, we walked samore and came across this corn juice stall. They have corn juice with all the other kind of fruit mixes like pumpkin corn juice, mango corn juice, banana corn juice, kiwi corn juice etc etc. It has a very refreshing taste.
Unlike in our Singapore-Malaysia region where we find chicken rice readily, in Guangzhou, one can find goose rice readily. We tried the goose rice. Tasted like duck if you ask me, only that it has less duck taste and smell if that makes sense.
It's too bad we couldnt stay till the Asian Game start. Else we could had gone and support our local team.
Finally we were back at the stadium. There were plenty and plenty of people there that night that it was like a case of human squeeze human all the time and we can hardly breathe. Cant imagine the amount of people that will be there tomoro night during the official opening ceremony.
Guangzhou tower at night. The tower will change color all the time one. Very very pretty even when look from afar.
After what seems like eternity, finally the fireworks went off. To be honest, i was disappointed because the fireworks only went of for like pathetically a few seconds. I mean i know it wont be as long as the real thing but well, i expectedly it to be longer at least. I can sense the disappointment in everyone around me too as everyone had expected something a little longer granted we all had stood there and waited for hours.
I guess that left all of us in suspense which only means we all can catch the real thing live tomorrow through telecast. It is said to be the longest ever fireworks display. Meanwhile, enjoy this rehearsal version. :)