'R' 'S' and 'S' are 3 innocent little alphabets on their own. But put together with the word 'Feed', they are definitely as complicated as it can be as they always make me dizzy in the head. Like ok, RSS stands for 'Really Simple Syndication' but really, whatever does 'Really Simple Syndication' really means or how does it work?
Err.. RSS feed, how do you work?
Recently, I was told that RSS is actually something really simple. It sounds like a mouthful of words but really, it's nothing but a label. It enables one to get news feeds and updates on any topics that one is interested in fast and easy. With RSS, we dont have to keep checking or be on a lookout of the latest updates. It will deliver the headline, short summary and also a link back to the full text whenever an RSS news feed is updated.
Well, you might argue that it's similar to subscribing to a newsletter but i guess this is where the difference is. You know we have to give out our name and email address when subscribing to a newsletter right? But by using the RSS feed in iTalk Whoa!, one will not need to do so. Hence, there will be no more spams or overflooding of emails. Privacy is more assured. All we need is an iTalk Whoa! account and we will get all updates automatically.
Other than subscribing to a newsletter, usually, i like to bookmark pages i find useful or interesting too. But with iTalk Whoa! RSS feed, this is no longer necessary. On top of that, if you a content owner or publisher, you can distribute your contents without it being send to the junk folder.
Ok, enough words. Let's see how we can configure RSS feeds on our iTalk Whoa! account now. :)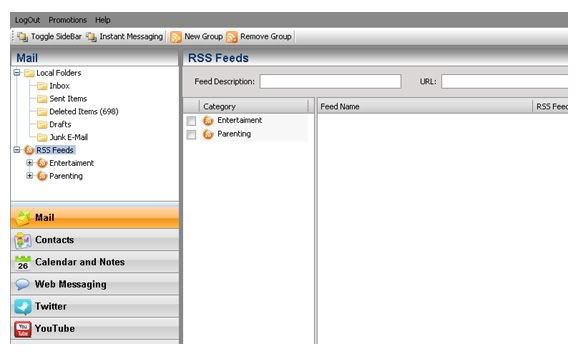 Select the RSS feeds under Mail panel.
Click on New Group to create a new category or group.
A pop up box [ RSSFeed Category Name] will appear and you can put any name for the new group you are creating. Eg you can key in 'News'. Once you are done, click on the [Add] button.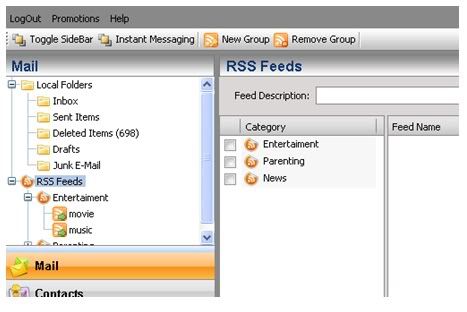 If you notice, automatically the News Feed will appear in the current Category panel.
Now, to input any info into the newly created News Category, just search for any RSS news that interest you. Eg go to

The Star

homepage.

Scroll down to the end of the webpage until you see the above image. The RSS icon is on the right most side. Click on it.
In fact, you can input any RSS into your iTalk Whoa! from any website as long as they have the RSS icon. You can get your RSS feeds from any other newspapers, entertainment, PC or even personal websites like my blog. hehe. :)
These are the links for RSS feeds in The Star newspaper. Simply just choose any topic that
interest you. Eg if sports is your thing, then select Sports under

News

.
Right click on the RSS icon besides the Sports News and select 'Copy link location'.
Next, go back to your iTalk Whoa! account. Highlight the 'News' icon, type 'Sport' in Feed Description and paste the url copied previously.
The Sport RSS url will appear. Click 'Add New' button.
The Sport RSS will appear in the Feed Name box.
To view all RSS feeds for sport, just click on Sport under News at the Mail panel. All the Sports highlight will be display in split second and with a simple click on any link, you can read/ view full story of the day.
With this step by step explanation, now RSS doesnt seem like such a complicating freak to me anymore. And it's actually quite simple to create and add RSS feeds. You can try RSS Feeds with your iTalk Whoa! too. :)
PS : Sometimes the link may not appear immediately. So, please wait for a few secs for the link to appear. Or you can log out and log in again to your account to view the newly added link.