Is technically the direct translation of 'Shangxiajiu Lu' which is like the most popular and happening street in Guangzhou. It is a must visit place in GZ basically. Trust the Chinese people to come up with the quirkiest name for their streets and name of dishes. It's a super long street that is close for pedestrians only albeit the fact that cars and buses are still allow in some part of the street.

Our day 2 was spent entirely exploring this street that is famous not only for shopping (apparels) but food. Most of the people we met in Guangzhou told us that this is the place to come to look for tasty, local Guangzhou food and snacks. The nearest metro station is Changshou Lu, so after getting off from there, we walked southwards to get to our destination. The walk was about 15-20 minutes but even before we got to Shangxiajiu Lu, we had started shopping because every shop was selling clothes for ridiculously cheap prices. By cheap, I mean at least half the price from what we would had to otherwise pay in Malaysia.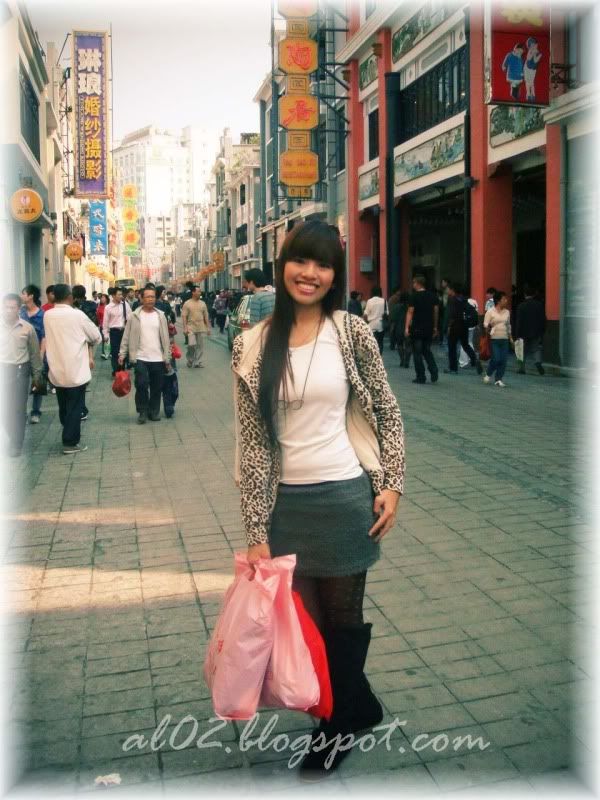 At the beginning of Shangxiajiu Lu. We reached there at about 11am and by the time we reached the end of the street, it was already night. That was how ridiculously long the street was. So, if you saw something you like, JUST BUY it. There were a few stuff that i saw and thought I would considered first because I was afraid I would see the same item being sold at lower prices later on. But after much considerations and when I finally decided I really wanted to buy those stuff, we were way past the shops and too late for turning back. *fried my life* Don't bother thinking of comparing prices between shops because
1) Once you passed a shop, it is unlikely you will turn back as your legs will not allow you to do so
2) There are too many stores and shops to explore and you don't have enough time at all (unless you are staying nearby and plan to spend days just exploring this one street)
3) Most of the shops are actually repetitive and a lot of them sellls almost similar stuff at similar prices. Just that some might have the colors/ designs you want and not the others (like in my case. They just don't have the exact color/design I want anymore -_-)
The only consolation for not practicing 'JUST BUY it' was finding out that the exact same item that you had missed buying earlier was sold at a lower price at later shops. Like there is this shoe shop that sells this boot for RM 120 but I found out later all the other shops are selling it for only RM 60. Super happy that I had not paid an extra RM 60. haha.
Most of the popular restaurants as reviewed on the internet are located along this street but we only managed to try one for lunch because the rest of the time was spent on shopping. I did not even took much pictures cuz there was just no time for pic snapping. Somehow I guessed my hunger centre got suppressed automatically by the shopping endorphins.
Lunch was at Nanxin restaurant. As it was also the weekend, the whole restaurant was super duper packed till the point that everyone had to share their table with everyone else. I was practically sitting elbow to elbow with the person next to me.
Mum's shrimp dumpling wantan noodle soup. The shrimp dumplings are huge. The noodles is equally springy and good.
My 'Niu San Xin Mian'. I seriously do not know what it is but almost everyone at the restaurant had a bowl of this and the lady opposite me told me it is the best selling and must-try dish so I foolishly ordered forgotting to ask what it exactly was and assuming it was normal beef (niu is beef) noodle soup.
But IMHO, it was like one of the worst thing I had eaten in my entire life. Everyone else might be enjoying it but me and mum found it repulsing. We nearly threw up trying to chomp down those beef. The beef does not taste like normal beef at all. In fact it is way too chewy and I felt like I was chewing lao fong gummy bears. Then there's something else that belongs to the cow that looks smoother than the 'lao fong gummy bears' texture beef and was obsessively gooey too. These stuff dont even taste like beef if you ask me. I highly suspect it was some internal organs of the cow that I had unknowingly ate. Tskk, thinking about it is enough to make me refrain from beef for at least a while now.
Anyway, what Nanxin is really famous for are their DESSERTS. I truly agree with that. Their desserts are fantastic. This bowl of guilingao with red beans is awesome. Besides guilingao is good for the body too. And it takes away the bad aftertaste of the weird beef.
Their most famous dessert - the Shuang Pi Nai or Double Skin milk. It's actually steam milk with egg whites. Thank God this was really awesome. One of the must try if you ever go to Guangzhou.
The other dessert they are famous for is the steam ginger milk which we were too full to try. Next time maybe. hehe.
Seriously, there were many more stalls that sells snacks along this street especially at night when they truly comes alive like bbq squid dip in chilli powder, alot of fried stuffs and this gooey jelly like kuih. But as I said, I just walked past most of them without even stopping to take pic cuz we had to save time for more shopping.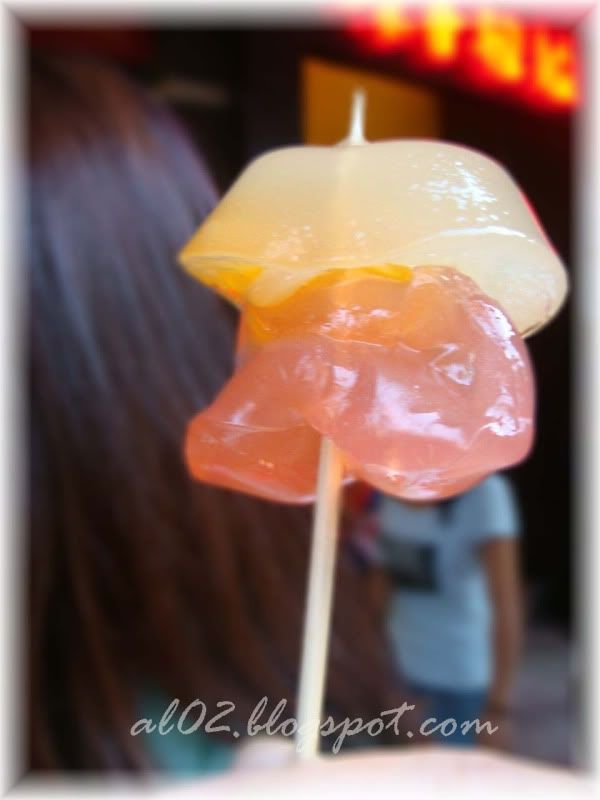 The gooey jelly like kuih - persimmon and grape flavours
The stall that sells them. They are basically placed in dishes like cui kueh and after scooping them out, poked onto the stick.
Chicks and peaches mooncakes. How adorable.
Most of the shops here sells clothes that are more to the current Jap and Korean fashion. Some say HK too but I'm not too sure about that. However, because winter is approaching, all they are selling are winter stuff! If only Malaysia has winter. All their winter wear are really fashionable, nice and cheap. Not like those few boring varieties that Malaysia has to offer at some overrated prices. They have so many chio faux fur winter coats, marshmallow jackets, nordic pattern ponchos, dresses, cardis and even scarfs. The nordic pattern is selling like crazy there. You can get a nordic poncho for only RM 20-30. Cheap like mad. (online blogshop here sells them for at least RM 60). Maybe one of the thing I regret is not buying any of the beautiful faux fur or nordic poncho but then again, who wears thick poncho in hot and humid Malaysia?? And what if by the time I get to go to a winter country it is already out of fashion? And I was in such a rush the whole day I couldnt even think properly whether to get anot. Like before I fin registering an item, something else was registering itself in my brain already. I was planning to get one for my friend who is visiting a cold country next mth but also tak sempat buy. T_T
We found this shop that sells lots of beautiful cheongsam at only 80 yuan one. That is like only RM 40 one. They were clearing away all their summer cheongsams because they are taking in winter cheongsams now so it was such a steal for us. And all their cheongsams are ridiculously pretty. Had such impulse to buy all of them cuz all of them looks so good . And the salesgirl was super friendly. Friendly people makes me wants to spend more usually so business ppl, always rmb - be friendly to your customers. They will spend more seriously.
There's also a lot of shops that sells shoes. And a lot of boots. I was like in boots wonderland each time i enter a shoe shop. Such joy just looking and trying them on. From short ankle boots to knee length ones; from laced up army type ones to furry ones to the ones with studs, lace and diamonds, they have them all. Why Malaysia dont have boots like that?? I really had very strong urge to buy many pairs of them but because I'm reminded that
1) I wont get to wear much of them in Malaysia not only because it is hot here but because I'm in KT all the time and what are the reasons to dress up in boots in KT ( I mean they are but it's like 1%)
2) They are pretty huge and heavy so it's a hassle to carry them, walk around and transport back to Msia
3) I dont have enough money T_T
*now in kinda-regret mode I did not get that laced up army one. Oh and that one with the faux fur. And that pink ankle one. And that red mid calf one. And that knee length khaki color one. Or the one with the faux diamond et al*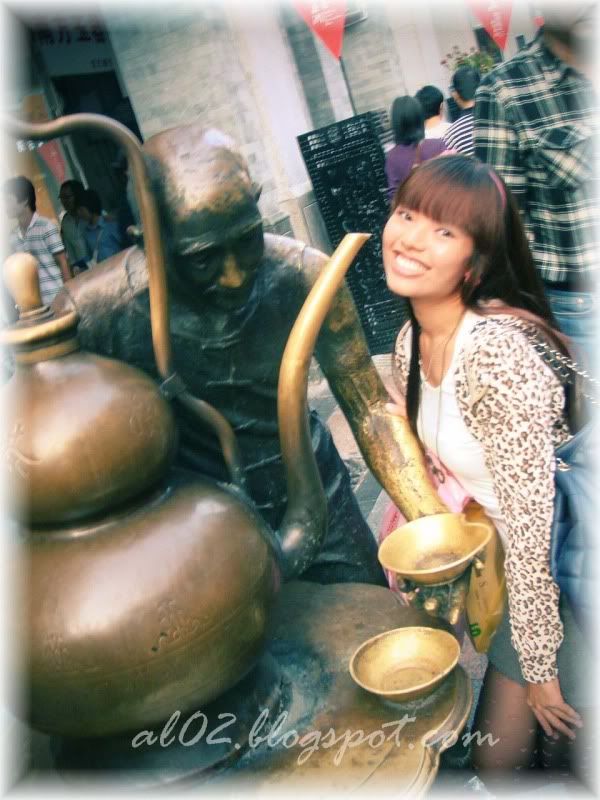 Random pic at Up Down 9 Street
Trumpet blowing man in a chicken cast
After a lot of walking, we were both tempted by this manicurist who approached and offered us manicure and simple nail art. Whats more for only RM 5. We agreed instanstaneously because our legs felt like they could used some break while our fingers got pampered. Irony as it may be, I seemed to be doing manicure in every other country that I went this year except in Malaysia itself.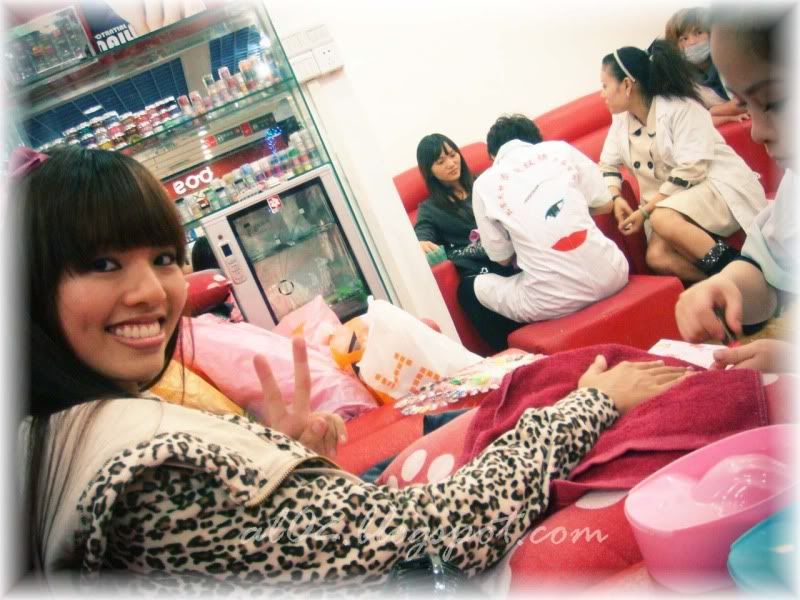 Getting my fingers pampered. They do acrylic nails for only RM 20. All ten nails! Omg, why so cheap one? I want those pretty acrylic nails too! But I didn't do because I cannot have long nails. *sad case of a med student life* Besides, I do not want to shock my lecturers with their so called 'monster' nails. Look at those plastic bags there. Among some of our steals so far. Actually 90% of them are mine. *guilty*
After manicure and nail art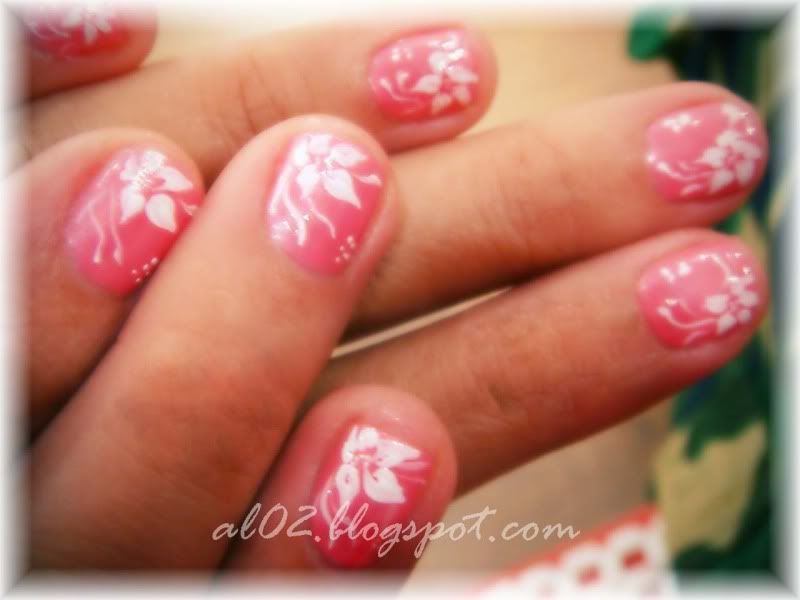 Look at how short my nails are. @@ I choosed pink although it is not my fav color but I was feeling girlish and in a mood for a sweet color.
Mum's. I think they look pretty.
By the time we finished our manicure session and exited from the mall
,
it was already dark. Guangzhou turns dark at 6pm in autumn. We exited at somewhere prolly near the end of the street and were greeted by huge brightly lit neon light malls all around, one of them being Liwan Plaza.
The place reminded me of Shinjuku in Tokyo with all their neon light buildings blinking in harmony. Unfortunately, there was no time to check out any of those malls.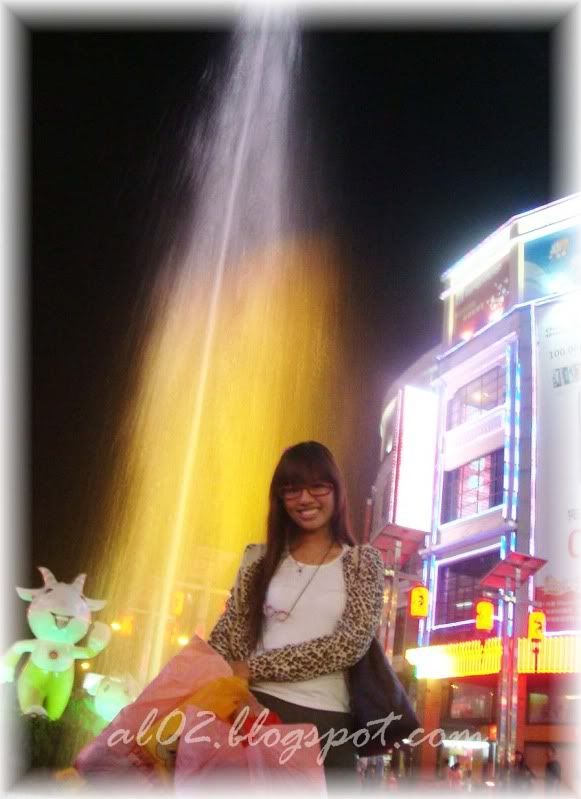 And suddenly the fountain came alive spurting water high up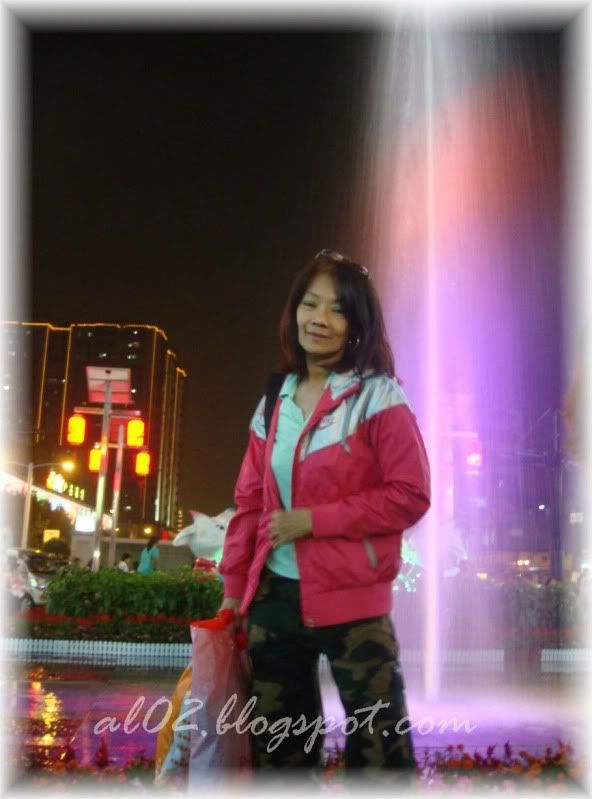 Look at how the color changes. Sooooooooo pretty
See I didn't lie when I said it takes almost an entire day to walked from one end of the street to the other. As it might be a little crazy to walk all the way back again the whole street to get to Changshou Lu metro station (it will take another half a day), we decided to walk to the next nearest metro station near the end of Shangxiajiu which is Ximenkou. The locals told us that it is just a 15-20 minutes walk but they bluff one. Walking along Renmin Lu towards the metro station, there are also many shops selling stuff that I believe you can nicely spend another half a day just shopping there. But because it was getting late, we did no shopping. Still we felt like we had walked for eternity before we finally saw the light at the end of the tunnel (the metro station). It was a good 30-40 minutes walk at least. And 30-40 minutes with armful loads and an exhausted body felt like eternity. The locals must be sprinting towards the metro station with 15-20 minutes.
Altogether we spent nearly an odd 10 hours shopping and walking that day. I'm really proud of mum for being my shopping partner. I wouldnt know how I could had managed without her. *loves* Thank God we have very good hand and fingers muscles, else I do not know how we survived carrying so many stuff walking a super long street for so many hours. Note to self, bring a kalung guni trolley bag next time on a shopping-intended vacation. If I had a trolley bag this time, I believed I would had at least bought a few more pairs of boots/shoes/winter coats. We were exhausted at the end of the day due to overworking of our limbs muscle and dehydration but it was worth it with all the bargains we managed to steal. Things here are def cheaper than other parts of GZ but then again, the quality might not be as good. And while things in shops are usually fix price, you shd try to bargain when buying from stalls.
Another point worth noting is, China is actually on this green policy nowadays. Which means that shops are not allow to give out plastic bags to customers for free if not they risk getting fine. If anyone insist on a plastic bag, a minimal fee will be charge like in Penang. I know there's so many plastic bags you see in all my pictures above, but we truly did not know that and all the shops just gave us plastic bags without telling us about their new policy. Like so fail rite. Why cant they just tell us that their gov had implemented this policy. When we found out about the policy later on, it hit us that no wonder no one else seems to be lugging that much plastic bags around. So yes it's a good move by China and pls do bring your own shopping bag in future alrite? :)