Bonjour! (decided to insert some French word since I'll be blogging about French dining :p ) How was Noel everyone? Its 2 days post Christmas and 4 days before the end of 2010. This is certainly a very exciting time of the year. I hope all you had a merry peaceful Christmas. Im finally back smelling the sweet smell of home. And by home, I mean back here in good old JB and not KT. hehe. This was the first Christmas Human Torch (decided to give DD a new name on my blog :p) and I celebrated together (outside KT), so we kinda wanted to try something different. In the end, we decided to go for French fine dining at Le Bouchon in Changkat Bukit Bintang. As it was Christmas eve, they only had the Christmas dinner set menu and we couldn't go ala carte.


To start off, they gave us some complimentary bread which were soft and warm, pastries and cookies with olive paste. I'm not 100% sure if it's olive but it tasted very much like olive though.
First up is Amuse Bouche which is Fin De Clair Oysters with Caviar Sherbet (caviar hidden under sherbet)
Then it was the Pan Seared Foie Gras and Caramelized Figs served with Burgundy wine glaze. For the record, I ate foie gras for the very first time in my life that night. I never thought I will be able to put that piece of alcoholic fattened goose liver into my mouth but I did. And surprised surprised, the taste and smell is actually bearable, if not good ( I don't expect anything bizarre to taste good one. And bizarre food to me is anything outside chicken meat, fish, beef, duck meat and vegetables) It had a very rich creamy texture, almost like eating peanut butter.
Lobster Consomne - clear broth of lobster bouillon paired with Pike fish quenelle
Raspberry Sorbet with Petit Vegetables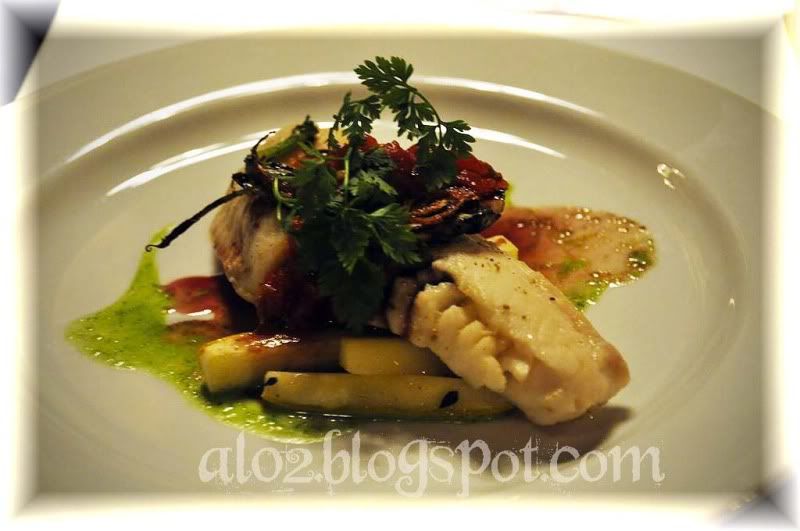 My main course for the night - Poach Sablefish served along with roasted zucchini, sweet tomato, grilled fennel, asparagus puree, Anna potatoes and laced with port wine reduction
Human torch went for the veal instead. He had Sauted Slice Veal with Porcini mushroom served with grilled artichokes heart, tomato confit and Roesti Potato with chive's sour cream
My fav part of the meal - desserts. :) Cheese Souffle and Wild Berries paired with a glass of Poirre William. I didn't like the Poirre William though.
Assorted Non-Pasteurized French Cheeses paired with a glass of Fine Ruby Port Vino. Among the cheeses was the blue cheese which Human Torch really love despite it's distintive smell.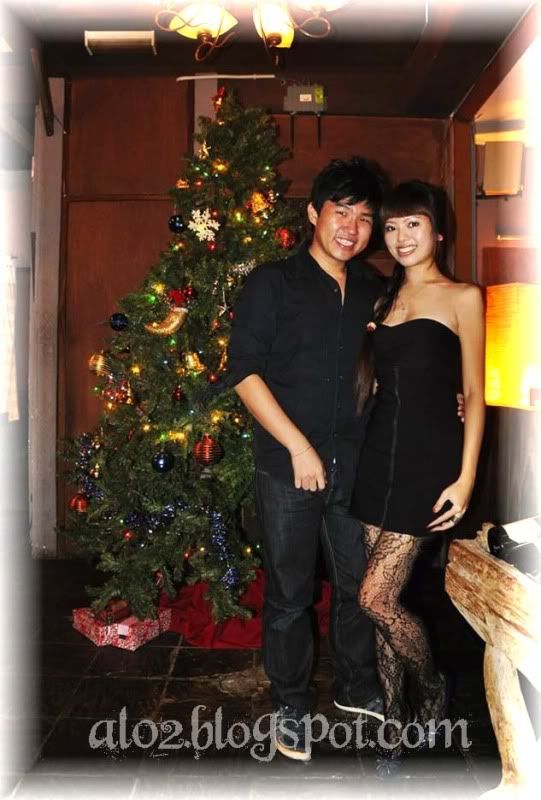 I seriously fitted into that dress better last year. T_T
Honestly, I wont comment much on the food because I'm not a French cuisine connoisseur but if you ask me, I find the food mediocre only. Sure, they have some good French delicacies but nothing absolutely seven heaven or that makes my palate craves for more; perhaps because French delicacies are never really my favourite to start with. I also realized that fine dining comes small (as in the portion of food are all small) with some fancy-sounding names. The overall ambience was not too bad, with everyone speaking only in hush hush, yellow warm lights illuminating the restaurant, traditional brick walls, wine bottles lining the room and even a fireplace with logs minus the fire. The staffs too are pretty friendly and attentive. Generally, it was still a great dining experience and I definitely had a
bon diner
with Human Torch. :)
Le Bouchon Brasserie,
14 & 16, Changkat Bukit Bintang,
50200 Kuala Lumpur
Tel : 016-976 0868
Disclaimer : This is not a paid advertorial or review. The blogger is not responsible for any discrepancy. Thank you. :)