I'm feeling really excited right now. Christmas is in 1 day time and I'm going to KL again in a few hours. I nv celebrated Christmas in KL because every other year, I'll be back home in my hometown, so although I had a few plans in mind on what to do on Christmas eve already, but KL-reans, what do you all usually do on Christmas eve? (erm besides playing with foam at Bkt Bintang) Christmas is always one of my fav time of the year and it always makes me feel all jolly molly, warm and fuzzy. I know maybe a lot of ppl out there is silently hating the snow but being a snow virgin, I must admit, I still fantasize much about a white Christmas and eating turkey, log cakes and fresh gingerbread by the fireplace with a chimney with Christmas carols playing softly and anticipating the arrival of the jolly fat man with his presents, reindeers and elfs. Ok, the last bit is probably only in fairytales but who knows, maybe someday my fantasy might just come true. But anyway, turkeys, Santa and presents are not the only reason why I love Christmas. If you are a Christian, you will rejoice because this is the day that Jesus is born. If you are a non-Christian, this is indeed the season where everyone else is also jolly molly and there's lots of sharing, caring, loving and even forgiving going around.

Now usually in KL, there will be plenty of Christmas decos around especially in the malls so if you have been shopping around for Christmas gifts, definitely you'll have realized them. It is actually quite interesting to see how creative the malls are each year and we always like to give our own verdict of which mall have the best deco each year. haha. For a few years, Mid Valley had always been my favorite. But I think this year, I actually like Pavilion one more because they have fake white Christmas trees. #bias

Just a summary of whatI did in KL 2 weeks ago.


@ Pavilion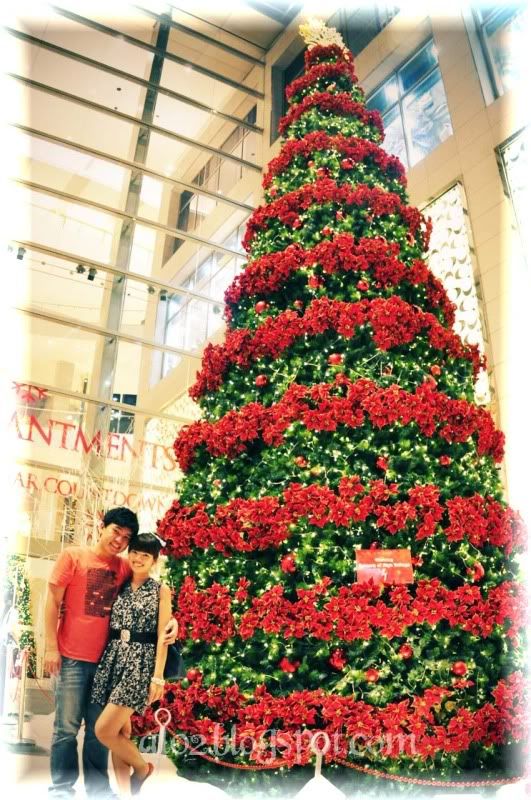 Also at Pavilion
This is my bear pal no.1- Fatty. This year, Mid Val is invaded by plenty of life size bears and toy soldiers which is quite a refreshing twist to the usual Christmas trees only. So many people were swarming those bears, hugging them, playing with them, camwhoring with them etc. Actually I dont think they are just life size. They are definitely larger than life and I think they might just give me a heart attack if someone had placed them unknowingly in my house.
Bear pal no.2 - Snowy
Bear pal no.3 - Biggy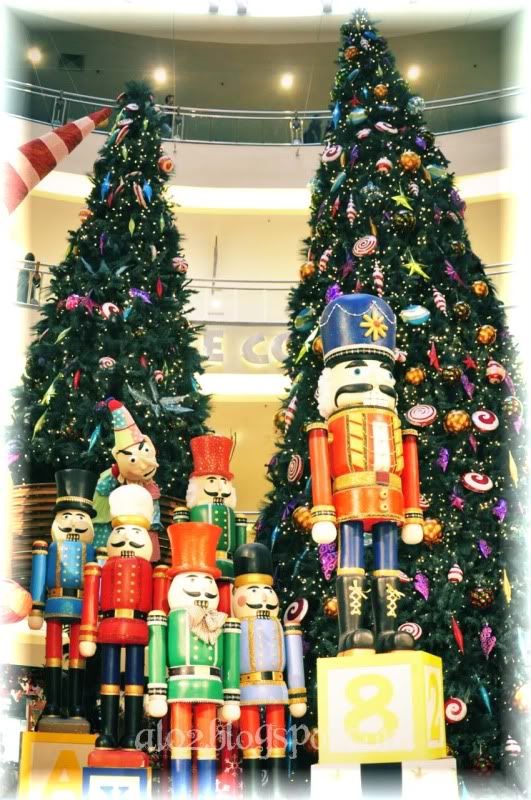 Toy soldiers at attention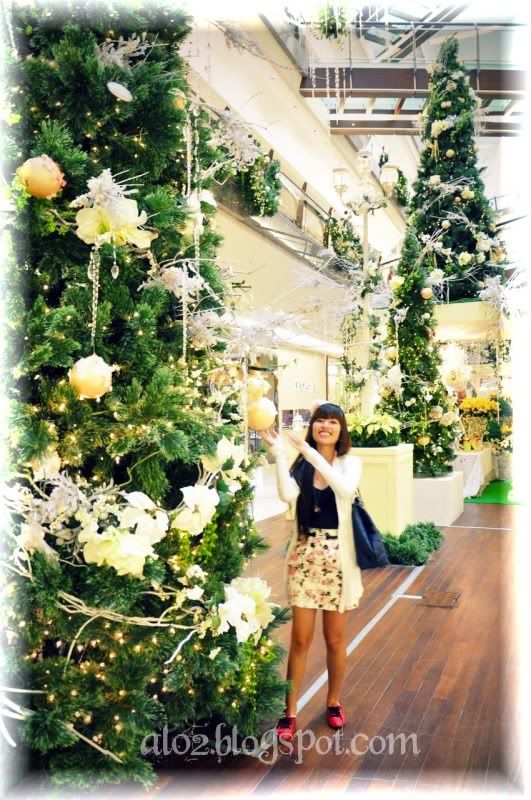 A very candid pic at Gardens
A very failed max Rapunzel imitation pose cuz my hair is not as long as her yet. haha. We also watched a few movies but my fav is Rapunzel among all. And you guys should watch it in 3D because the effects are very beautiful in 3D.
Also met up with some of my coursemates who were down in KL for their forensic posting then.
Had one of my fav sushi in town - Sushi Zanmai
There were a few warehouse sales when we were down in KL over the weekend. DD and BH loots of gundams from the Litt Tak warehouse sales. I nearly fainted when I saw all that. Believe me, this is just the tip of the iceberg of their recent surge of Gundam/toy mania.
I'm never a fan of Crocs but I realized their designs are getting better and better these days. So, I might just get me self a pair someday. Anyhoos, I went to the Crocs warehouse sales too and it was absolutely crazy. There were so many people, everyone was dragging boxes and practically grabbing the shoes as though the shoes were free. Sizes ran out super fast and obviously only extreme sizes were left so lucky all extreme sizes ppl.
I had been to a few warehouse sales in KL before and I must say, each warehouse sales were crazy, be it the recent Litt Tak, Crocs or previous ones. I will never believe our country is actually in recession now or the world economy is having recession or there's economy downturn or whatever if not because I know them from the news because in every single warehouse sales in KL, there will be mountain of people and they will be grabbing all the items as though they were free. The nicer looking items are usually the ones that finish first and in the end, only the ugliest of the lot are left and even that might have people grabbing them. And although the warehouse sales are usually for a few days, don't expect to find anything your size even if you are 3 hours late. These people are so eager and hunger for the sales that they will be there right when the door open and start their grabbing session. It's almost like going for war. You better get your shield and arrows ready the next time you want to go to a warehouse sales.
Now that we have finish the shopping, movies and decos, it's time to move on to my other fav, food.
*The following contain some non-halal food, so viewer's discretion advised.*
Xiao Long Baos - one of my fav comfort food. Managed to satisfy my cravings for them at Din Tai Fung. Oh yummy yummy.
Din Tai Fung also have the mini version of the xiao long baos which they called baby xiao long baos.
To be honest, I preferred the adult ones more to the baby ones because the bigger ones have more soup in them and has a thinner, more translucent skin. The smaller ones on the other hand tasted drier and the skin thicker.
I'm not a fish head lover but this fish head noodle have me falling head over heels for them. Actually it's just the soup. I think I had never tasted better fish noodle soup before. Their soup is rich and thick and has a very wonderful combination of milky sweet, minimal sourish and saltiness taste to them. Absolutely love the soup and I think I can just drink the soup for every single day of my life without getting sick of it. Well, I'm just saying but it's really good. The fish and noodles are also not too bad themselves but the soup is the bomb.
Win Soon Cafe,
46, Jln Kuchai Maju 9,
Off Jln Kuchai Lama,
Kuala Lumpur
Tel : 03-7981 9287
At the other end of the shophouse on the same row as Win Soon Cafe is this quite famous pan mee shop call Jojo Little Kitchen.
One of their top seller is this dry siew yok pan mee. I must say I'm surprised at how lean and crispy their siew yok is with minimal fat. I can see why it is one of their top seller.
Their other top seller is this chilli pan mee. Now when it comes to chilli pan mee, I always thought the Madam Chiam one in Connaught is quite good, but this is even better seriously. Much more flavorful. And they do have a wide selection of pan mee. All very innovative pan mee version like century egg pan mee, pork chop pan mee, chicken feet pan mee etc.
Jojo Little Kitchen,
30, Jln Kuchai Maju 9,
Off Jln Kuchai Lama,
Kuala Lumpur
Tel : 03-79871090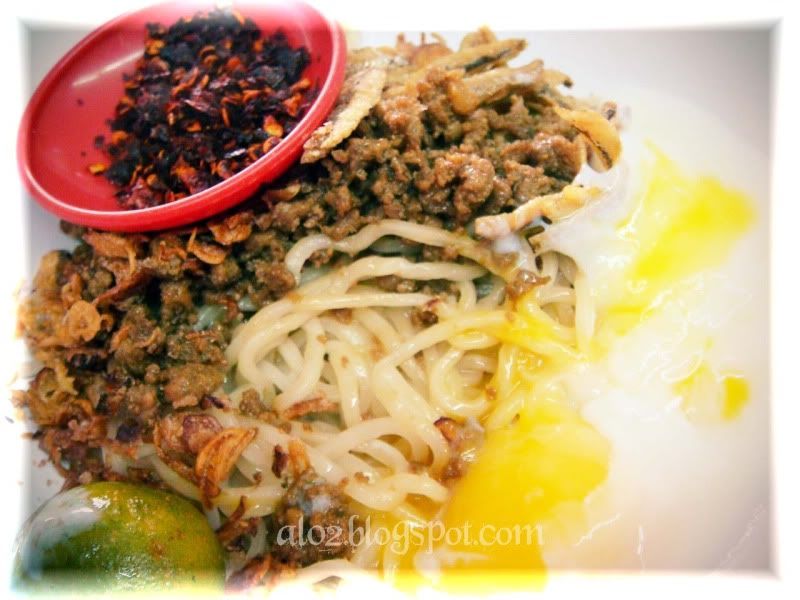 This Madam Chiam aka Mei Yee pan mee used to be of my fav chili pan mee but I tink they have now met their fair bit of competitor and is losing out in terms of flavor and attitude. Both shops allow customers to add as much chili flakes and sambal as they like and they have the same ingredients. But in terms of choices, Madam Chiam has less variety of pan mee but has other type of noodles like the curry noddles etc. Nonetheless, some say here is better so I guess each to their own palate. hehe.
Madam Chiam Curry Noodle House,
2, Jln Cerdik,
Tmn Connaught,
Cheras, Kuala Lumpur
Tel : 0162107559
One of my all time fav KL food is 'kai wo pao'. It is actually like a loh mai kai (glutinous rice cooked with dark sauce, chicken, mushrooms, onions) and egg covered in pao with some char siew at the top. Whatever it is, it tasted very good and is one of my must-have whenever I go have dim sum at this restaurant.
The filling of kai wo pao. Like super yummy can. *ah drools
Clan Restaurant,
140, Jln Radin Anum,
Sri Petaling,
Kuala Lumpur
Tel : 019-3825455
That pretty much sums up my very jolly weekend in KL. Lastly, I will like to wish all of you a very Merry Happy Christmas in advance. Enjoy the last minute shopping, the food, the companion, the spirit and of course, the holidays. Tis' is truly the season to be jolly. *christmas carols play* :)