My very first post of the year. haha. The past 2 days had certainly been pretty eventful for me. Very quickly,we are already the 3rd day into the brand new year where most students will be back in school and working people starts working. But lucky me got another week off. *bliss* I hope all of you had had a wonderful long weekend ushering away 2010 and welcoming 2011. :)

Well, I guessed as we ushered away the past year, it only make sense that we also usher away or let go of any unhappy past or grudges and leaves any negativity behind as we embrace a whole new year with new hope. Like whats the point of partying/celebrating away when at the end of the day, you are back to one square one? Still hating ppl, still being negative, still being selfish, still being racist, still being unethical bla bla bla. I noe seriously easier said than done. After all, its like if throughout the whole year you have been hating someone, what makes anyone think that fact is gna change just because the year is about to end and we are suppose to leaves all negativity behind?

I guess whether you like or dislike anyone is in fact, all in your mentality only. So someone might annoyed you and you might not like the person. But if you refuse to open yourself up to give the person another chance, without realizing, you will end up focusing on all the negative/bad points of that person only and your dislike towards him/her will just balloon so much so that you are blinded from seeing his/her good points anymore.It can be difficult especially if the person you dislike had hurt u or whatever, but I realized only if its because we keep thinking of the hurt the person had caused or the annoying things they had done that makes one unable to open up their heart to find forgiveness and stop looking at the negative side of the person. Of course, Im not saying you have to start loving all ur enemies (altho that will be a very good thing), but well just stop hating.

Ok ok, I don wna be such a nag on my first post itself. Just got this sudden emotional inspiration. :p Anyhoos, I spent my new year weekend hanging out with my some ex high sch mates and family. Its great being able to do a little catch up with everyone especially some of them whom I had not seen for 8 years and when you get to spend time with people you love who also want to spend time with you and enjoy your company. :)


I have known these girls for at least more than 10 years now. It's amazing how we are still able to constantly meet up despite everybody (them actualy cz most of them are working now) crazy schedule.
When we think about ourselves 5 years from now.
Family time :)
I have known them for more than 15 years now but I have not seen them ever since graduation from high sch (like 7,8 years). So it was really awesome that we get to meet and catch up finally.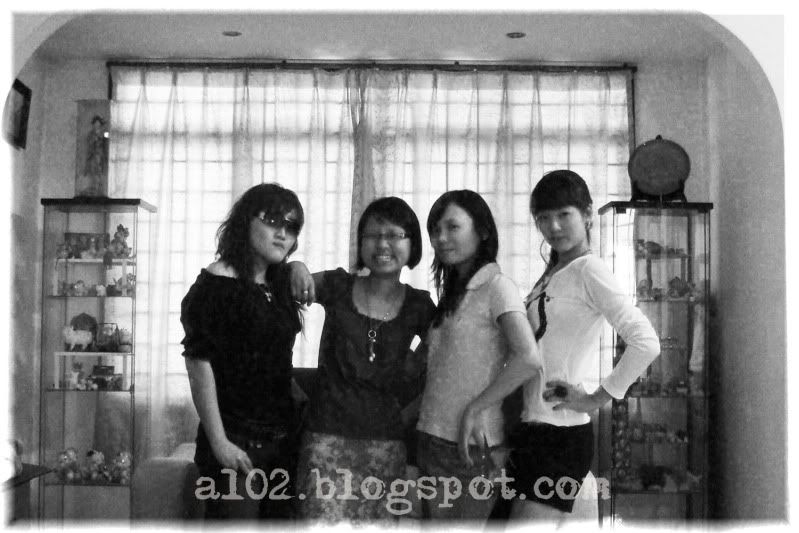 Trying to be cool/mafia-like hahaha
With another bunch of close friends whom I have also know for more than 10 years at least.
It's awesome that we can all still maintain our friendship of more than 10 years and everyone still takes the effort to keep in touch and meet up every now and then. It's awesome because we watch each other grow up and have gone through so much together. May there be many more meet ups and catch up in the year 2011. :)