*warning : non-halal post ahead*
Is seriously very good. Even to a fussy pork lover like me. A few weeks ago when Human Torch and I were in KL, we decided to go try out this restaurant after fftt K recommended it to us and last Christmas, we had another met up with some of our friends there. Hence, this is a combined review from both of our visits there.
Mr and Mrs Pig head. haha.
Appetizer : Baked Portabello Mushroom with bacon and cheese. My mum will never imagine I would ever give a thumb up to this or anything associated with mushroom for that matter as me and mushroom are just never meant to be. (me dislike mushroom la) But this mushroom is not like any mushroom I had tried. It's crispy and slightly crunchy on the outside at first bite and as you chew further, the sweet juice from the mushroom will ooze out slowly tantalizing your tastebuds. Of course, the bacon and cheese helps perfect the whole sensation. (I may not be that good at describing it but in short, it's super yum that this is the only mushroom I will say yes to)
Mixed platter - A combination of grilled pork belly and grilled pork rib accompanied with homemade mashed potatoes and coleslaw. Both the pork belly and prok rib is amazingly succulent and tender. So so yum can.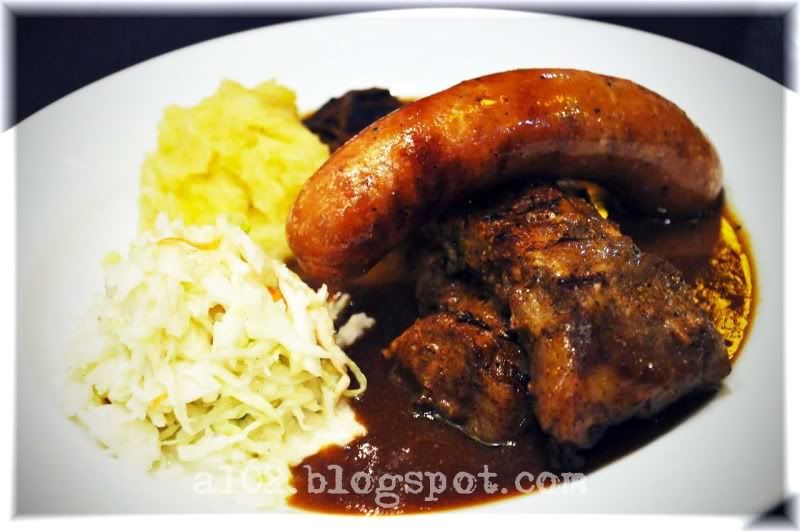 Trio platter - It's similar to the mixed platter, the only difference being this has an added pork chorizo sausage. Two words - Super yum.
Grilled sausage platter - A combination of 4 types of sausages; pork chorizo, spicy Hungarian, chicken chorizo and garlic oriental served with fries. However, mine was served with mash potatoes as I'm trying to reduce my intake of fries these days. Honestly, I can't differentiate between the 4 starlets except for the chicken one which tasted like chicken of course. :p The sausages are all real fat, juicy and superbly delicious.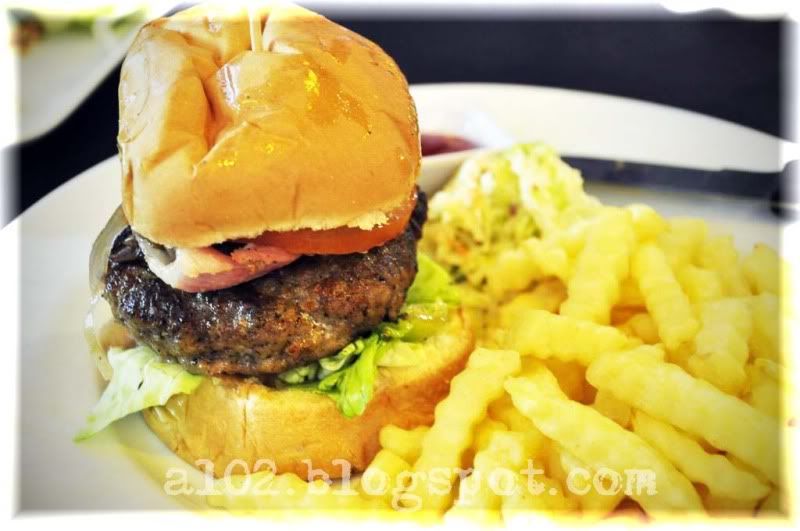 Pork burger - I find these the least satisfying because that small (albeit the fact it's quite a thick piece of meat) piece of pork in between the bread are certainly not enough to satisfy the palate especially with each bite into those pork, it'll def leaves you wanting for more. I find the pork less juicy here too.
Bacon spaghetti - The bacon is just as promising as the rest. It's sauteed just right and the tinge of spiceness further adds flavor to the spaghetti.
Stewed cinnamon apple - The combination of the sweet and cold ice cream with the warm fresh stewed apple top with cinnamon juice adds a perfect end to the delicious meal.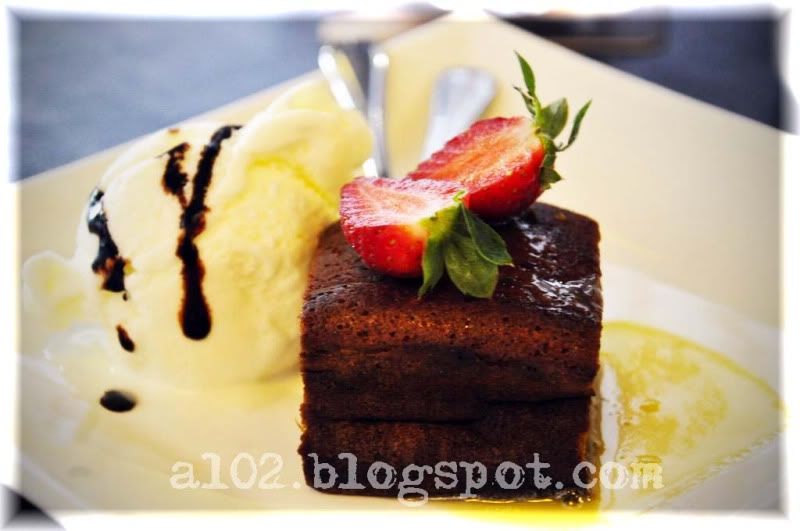 During Christmas, they had this Christmas special and this is their Christmas special cake. Although it looked very much like brownie, but it's not really as chocolatety as brownie. A bit less sweet, has a more fluffy texture and goes well with ice cream too.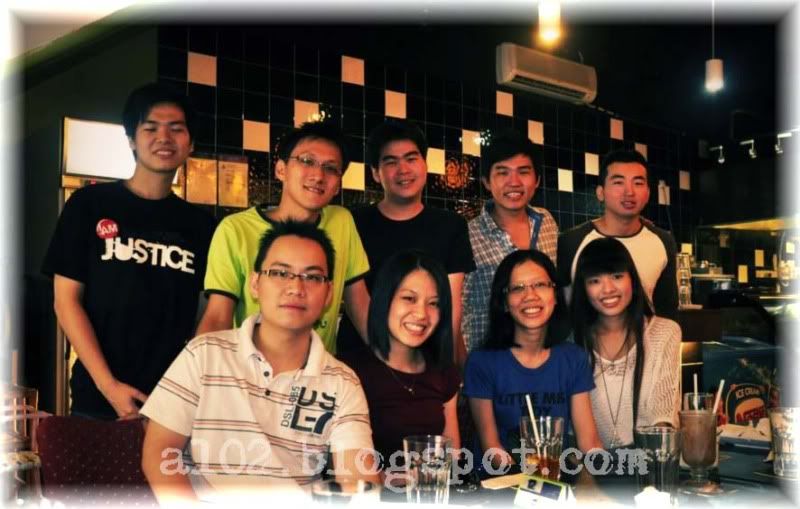 Belly Good is def on my list of one of my fav place to go for a good pork meal. It leaves my belly very happy and palates dancing in joy at the end of each meal. Besides, their cosy ambience makes the place even more welcoming. Quoting Belly Good, it's really the pork lover's paradise. :)
Belly Good (previously known as Wendy's Bistro),
20, Jln PJS 8/18, Sunway Mentari,
Petaling Jaya, 46150,
Selangor
Tel: 03-56301699
Disclaimer : This is an unpaid food review/advertorial. All recommendations are based on my POV only, hence any discrepancy in taste/opinions is very much regretted. :)