And perhaps the whole Malaysia. Yes, another foodie post. I come up with this conclusion after trying the best char siew pau the Penangites have to offer, the best the people of Ipoh proudly promoted (particularly Penang and Ipoh because both of these places are the apparent food paradise of Malaysia) and some of the 'best' ones from KL. I admit that although their char siew paus are indeed pretty good, they still fail to beat this strong contender of theirs from Johor. I will talk about this oh-so-excellent char siew pau (steamed bun with pork fillings) in a bit, so don't cheat and scroll right to the end now. :) Just to share something happy, it's really encouraging to know that @angryjedi featured my blog in his @oneadayproject blog spotlight because of my previous food posts.☺

Honestly, dim sum is not something that is very popular among the Johoreans. Somehow people in the southern region don't seem to fancy dim sum much and unlike KL, Penang or Ipoh, finding a good dim sum restaurant especially in JB can be quite a daunting task. However fortunately, I still managed to find one good dim sum restaurant that can certainly satisfy my dim sum (more specifically char siew pau) cravings whenever im back home. Tuck some 45 mins drive away from downtown JB (the restaurant is actually located in Kulai), this gem is certainly worth driving all the way up to. This particular shop is a night dim sum shop that only opens after 6pm every day but usually in 3 hours time, all their dim sums and paus (if not all, then will only left the not so popular items) will be sold out already. It's that good business.

Their two most popular item is none other than the char siew pau (can really die for!) and da pau (big pau) that really sells like hot cakes. A lot of customers (even Singaporeans) who eat there usually will also take away the paus and each time, everyone will take away like 5-20 paus at least (explains why the paus sold out fast). They also have other paus like peanut, red bean paste, kaya etc which are not too bad themselves. Dim sum wise, their selections are pretty limited and aside from their siew mai, fried stuffed beancurd and fishballs which I like, I think the rest are just pretty ok.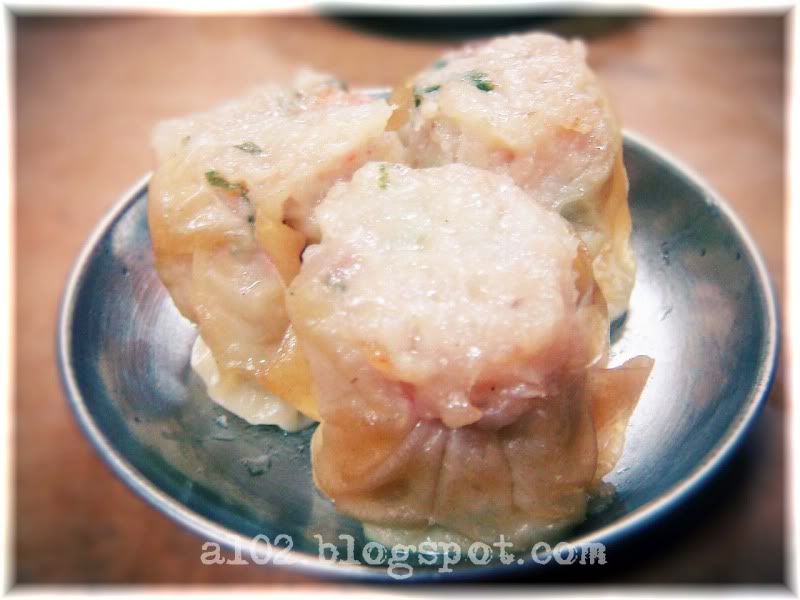 The siew mai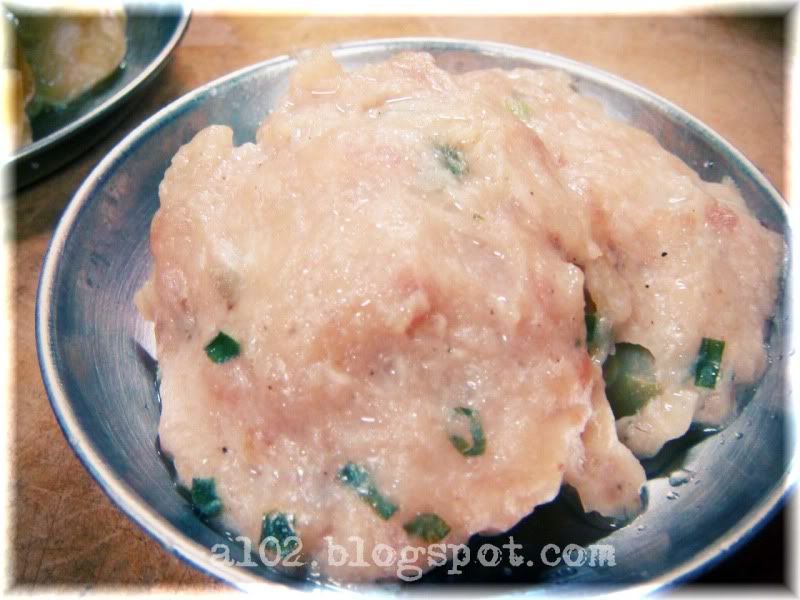 Some steam pork thingy with onions
Fried fishballs - a little salty though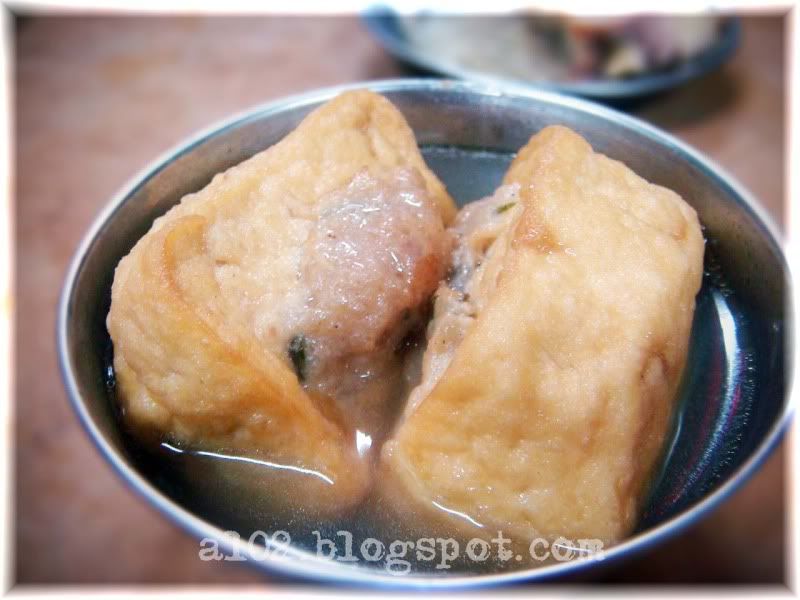 Fried stuffed beancurd. Oh I really love the stuffed porky. This is very good too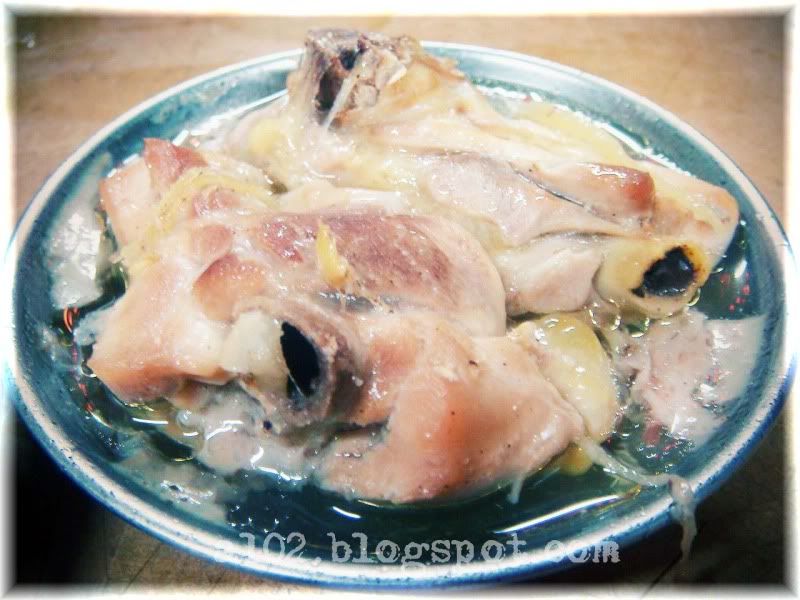 Steam chicken
Lor mai kai which is really glutinous rice cook with chicken, pork and mushroom. This is pretty good also. More healthy because not very oily
And now, for the 2 best sellers *drum roll pls*
Their signature Da pau. (big pau). I think it's half the size of my face at least.
Normally, the fillings of a da pau (big pau) consist of chicken, pork, mushroom and egg. The bomb for this pau will be the juice that you see oozing in the picture above. And another awesome thing is that they only use lean pork and chicken so no disgusting fat. Simply delish I tell you. This one ought to win the best Da pau/dai pau/big pau/pau besar title.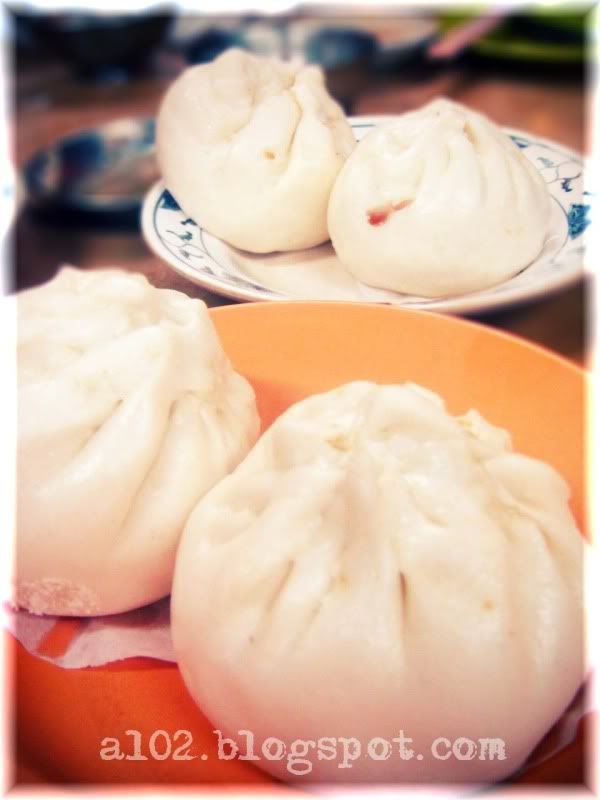 Ta-da! The champion of all

char siew paus

! I'm not exaggerating and I don't care if you are sick of hearing me saying it so many times, but for the 100th time, this is the BEST and my most ♥ char siew pau possibly in this world. The pau is not exactly small, quite standard pau size but I can easily eat like 3-4 each time.
Look at the fillings. *drools* In case you cant make them out, they are lean char siews (no/minimal fat hurray!!) cut into tiny bits and pieces cook with sesame seed in their very own secret sauce to make it very scrumptious. The pau itself is fluffy and the fillings are neither too dry nor too 'wet'. It's just simply perfect. Super mad ♥ :)
Just thinking of it is enough to make my stomach rumbles with hunger right now. I wonder what is their secret of making such good pau. I wanna learn it too! hehe.Well, of course if any of you thinks that you have a better contender to my most love char siew pau (steam bun with pork fillings) or even da pau/big pau, you are most welcome to let me know because I can't wait to go check it out to see if they can beat my champion. :)
Chop Pun Heong,
681-6, Jln Raya,
81000 Kulai,
Johor
Tel : 07- 6631279 (highly recommended to call and reserve the paus if you are going late)
Disclaimer : This is an unpaid food review/advertorial. All recommendations are based on my POV only, hence any discrepancy in taste or opinion is very much regretted.