*Warning : Non-halal post ahead*
So while we were down in KL a few weeks ago, I had this sudden craving for American food and remembering how one of my friend once raved about the 'dog food' from this restaurant on his fb, I suggested Human Torch and BH to check out this place together. I mean like seriously, I sometimes find my pet dog food tempting but never would had thought that the human will ever be eating the same food as our beloved four-legged pals. But maybe the Americans do thats why Betty's sells them. hehe!
Anyway, it was after lunch time by the time we finally found the place, so the restaurant was pretty empty and the food came real fast (which was a relieved to our growling stomach). Of course, you can guess the first thing I ordered.*wink*
The DOG FOOD - Ok pls do not kill me. It's never my intention to mislead you. Trust me, its not worth it if you go to jail because of this. *puppy eyes* The 'dog food' is in fact fries drenched in gravy with melted cheese on top. It is called 'dog food' only because it is served on a plate that looks like the plate that is typically use to served our four-legged pals food. Eat it while it's hot else when the fries turn all soggy, it would not taste good anymore.
6 pieces of Pig-in-a-blanket - Oven-cooked pork cocktail sausages wrapped in bacon. The sweet sausages with the saltish bacon popped just right in the mouth.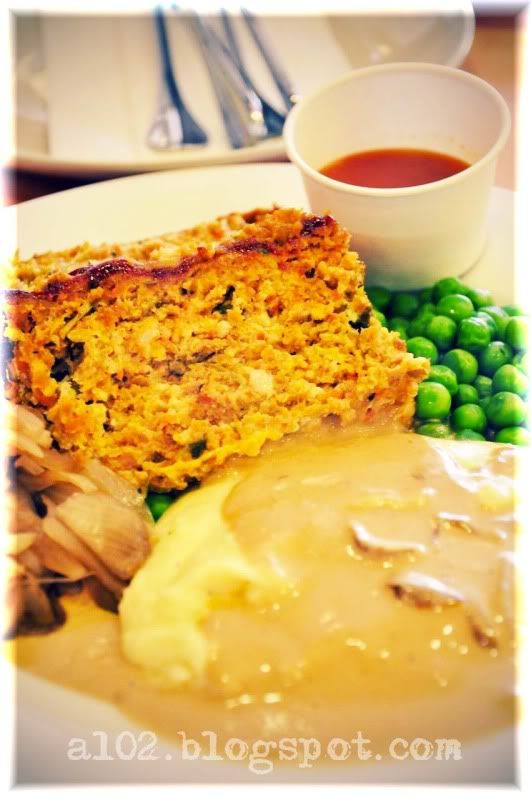 Classical meatloaf - Classical Mid-west style pork meatloaf with their very own beer-based dip. That piece of meatloaf may look small, but it is quite filling indeed. Tastewise, I find it pretty average only. Not too much to my liking.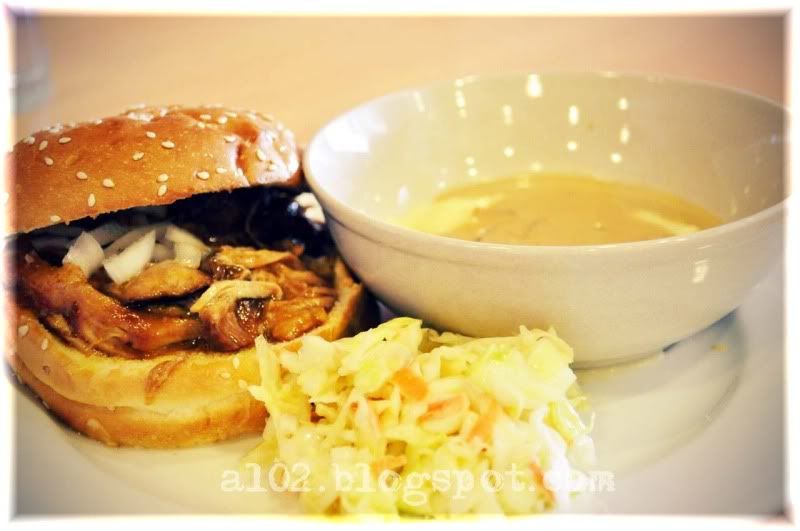 Pulled-pork burger - In between the burger bun is roasted pork braised with Betty's special sauce. The pork is roasted and braised until they are really soft and juicy. And they are nice enough to swap the fries with mash potatoes for me even though they initially say they can't. Seriously, the mash potatoes is super awesome. It's those kind that melts straight in the mouth. I'm totally in love with their mash potatoes.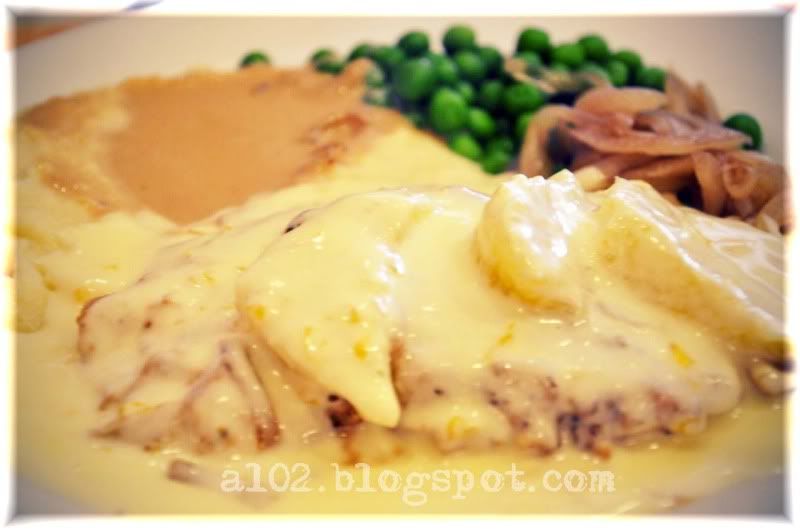 Pork Chop with Orange Cream - I must say the pork chop is excellently pan fried. And the orange cream complimented it pretty well. I feared it will be too weird but it turned out very good.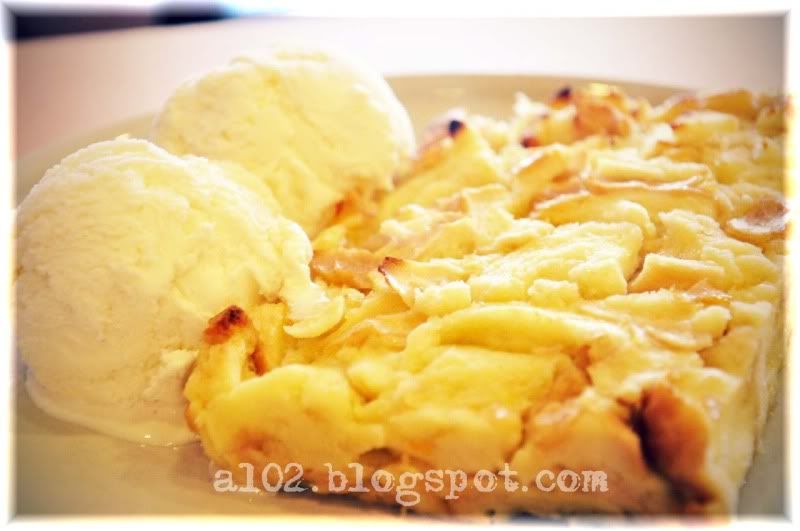 Bread pudding with vanilla ice cream - Honestly the bread pudding is quite average also. Nothing much to shout about.
We definitely had a good lunch there and although I believe the real American portion will be way larger, I think Betty's Kitchen is worth a visit especially for their dog food and pork chop. :)
Betty's Midwest Kitchen,
A-G-40, Jln PJU 1/43,
Aman Suria Damansara,
47301 Petaling Jaya
Tel : 03- 7880 0196
http://www.midwestkitchen.com.my
Disclaimer : This is an unpaid review/advertorial. All recommendations are based on my POV hence any discrepancy in taste/opinions is very much regretted. :)