Since my past few posts had been about food, I'm gna continue making all of you hungry by reading this one too *bad*. I'm actually not so bad one, like intentionally want to make all of you hungry and eat more and grow fat, it's just that most of my brain juice have been flowing in the direction of work and pending work ever since I returned to Moldyland last Sat. (no more turtleland cuz I swear I see more mold than turtle here) hence I am lazy to think of intelligent issue to talk about or whatever that requires more brain effort. I'm still procrastinating over my special study module (most distasteful assignment ever) and my 4 cwu aka reports (took 2 days to nearly finished 1. Everything else seems much more interesting #fail) and I have an upcoming test this coming Sunday. T_T But I want to keep up with my #oneaday #oneaweek, so today Im gna share about my New Year's eve dinner. (well, NY was just 13 days ago ;p)

This is the second year I had Korean for New Year's eve. I was craving for Korean food especially when it was raining cats and dogs all day and the thought of juicy bbq pork and hot ginseng chicken soup simply entices me. How nice if I was really in Korea instead eating Korean food by the ski mountain, drinking soju and feel those fluffy white snow *dream*. I really miss Korea. I wouldnt mind if any airline/tour/advertising company wanna sponsor me to Korea for New Year this year. *cough hint cough*

But honestly, my NY's eve dinner was really funtastic even though it was raining instead of snowing and we were eating in a restaurant by the busy street and not the ski mountain. In recent years, JB had a sudden influx of Korean migrates followed by the rise of many Korean restaurants around that sprout like mushrooms after rain. This Korean restaurant that we went to is open and run by a Korean family, so we still can have authentic Korean food despite the fact that we are 54321 miles away from Korea. And because it was a spontaneous decision, we did not make any reservation and was supposed to queue and wait for a table. However, the boss is such a nice man and not wanting us to wait, he opened up his function room (which can fit like 30-50 person with karaoke set) especially for us. The 4 of us plus a couple, so it was like the 6 of us had an entire floor all to ourselves with karaoke and we could sang all we want. Super shiok. :)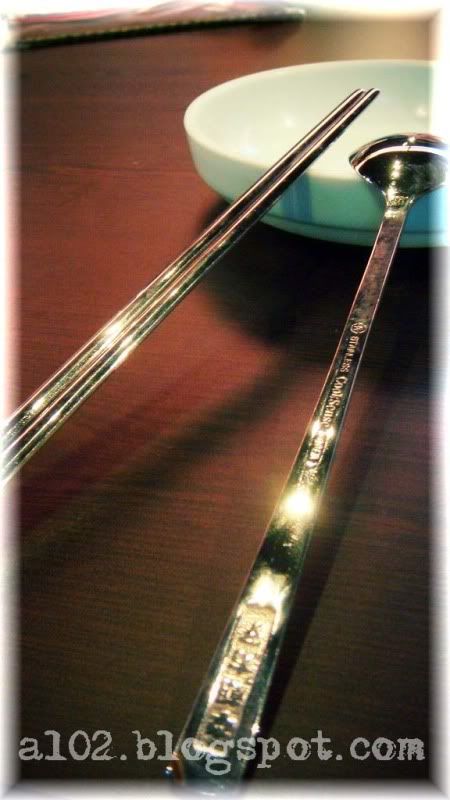 Metal cutleries makes it felt really like in Korea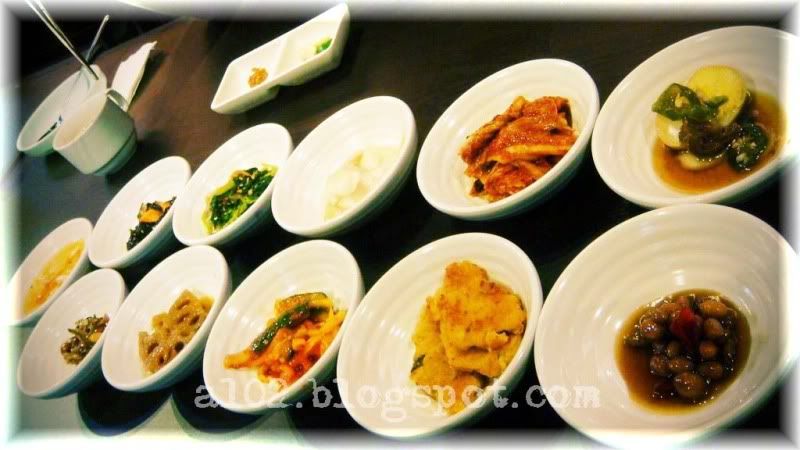 The side dishes. I realized although all Korean restaurants will have kimchi (duh) as one of these side dish, the rest of the side dish may vary from restaurants to restaurants. The peanuts was quite delicious that I accidentally ate almost the whole plate of it. (Im not supposed to be eating peanuts recently because of certain vain reason)
Fried vermicelli with pork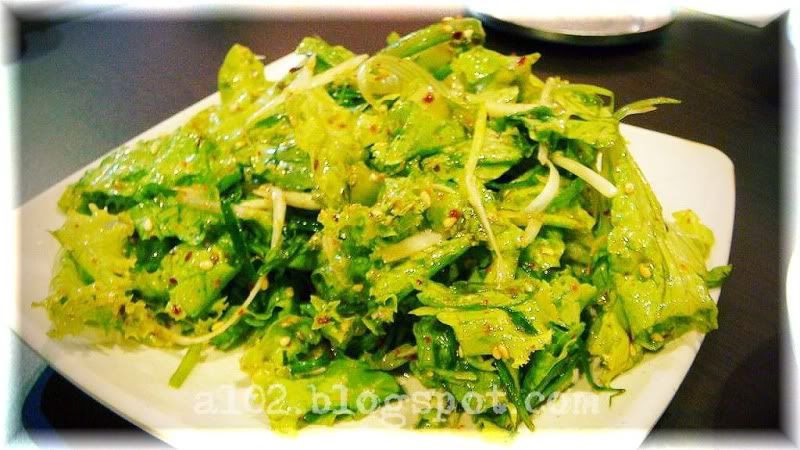 Fried lettuce with bean sprouts with a tinge if spiciness
Kim chi pancake
Ginseng chicken soup
Fresh leaf lettuce - to wrap those juicy pork in. When eaten together, the plain taste of the lettuce will balance the salty or sweet taste of pork perfectly.
The bbq pork - The first batch. I think it will be more fun doing the bbq ourselves but since we were seated at a table without the pit, they pre-bbqed our pork before serving it to us nicely on a plate.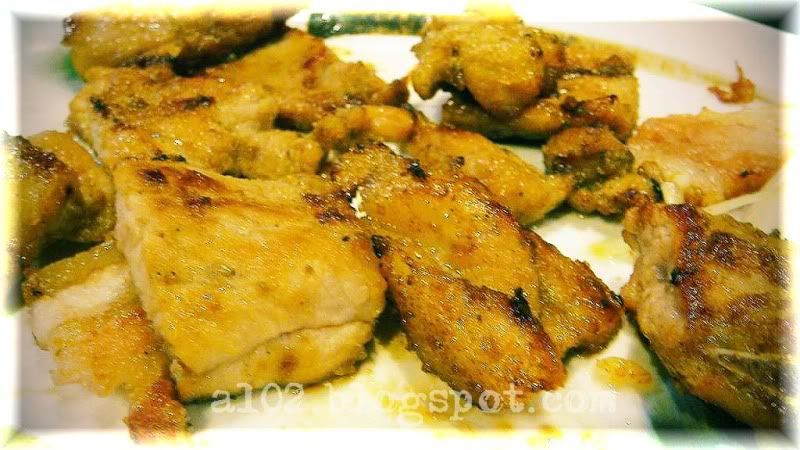 The second batch - It was a mountain actually but only after halfway eating through, this pic was taken. The second batch one seemed to be glazed with honey because it tasted more sweet than the first.
Honestly, I think the food was really good that night. All of them except the ginseng chicken soup (which turned out to be quite a disappointment because the ginseng smell and taste wasnt strong enough) was really delicious. The pork especially was very succulent, juicy and sweet. And the best part, it's not even that expensive to be eating there. For all of these, we paid like less than RM 150 for 4 person. Max ♥ this restaurant. (I ♥ my ♥ icon hahaha.. finally knows how to insert them ♥) :)
Kim Chi and BBQ Korean Restaurant,
24, Jln Perang,
Taman Pelangi,
80400 Johor Bahru
Tel : 07-3331700/017-724 4903
Disclaimer : This is an unpaid food review/advertorial. All recommendations are based on my POV only, hence any discrepancy in taste or opinion is very much regretted. :)