Is one of the new restaurant at KSL City in JB here. Contrary to it's name, this restaurant does not sell any bugs at all. Sorry to disappoint all of you bug lovers but I really do not think that you will ever get to eat bugs in Malaysia. But you can go Cambodia if you want to. hehe. I went there the other day with my bunch of darlings to celebrate both SL and JY's birthday. Such beautiful coincidence that the both of them are born on the same day, same year, same hospital and went to the same primary and secondary school! How amazing is that. I wish I knew someone who was born on the same day, time, year, hosp and went to the same sch that I did.


The first thing I noticed after I sat down was the table. The whole table is scribbled with Italian words. Not that I know what they all mean but I find them really cool.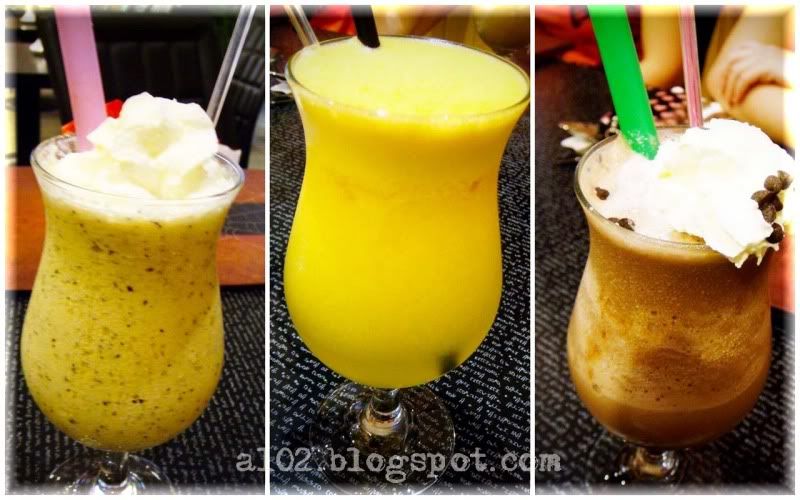 Drinks : Passion fruit shake RM 8.95, orange juice RM 7.95 and pure chocolate RM 8.95. SL said her passion fruit was good but I think my orange juice had nothing much to shout about. (maybe because I can make better one myself at home.. hahaha!)
Lin Con Gamberie

.

RM 18.95. I love this. Really good can. The fettucinis were cooked just right, nicely seasoned and the prawns were really fresh and juicy.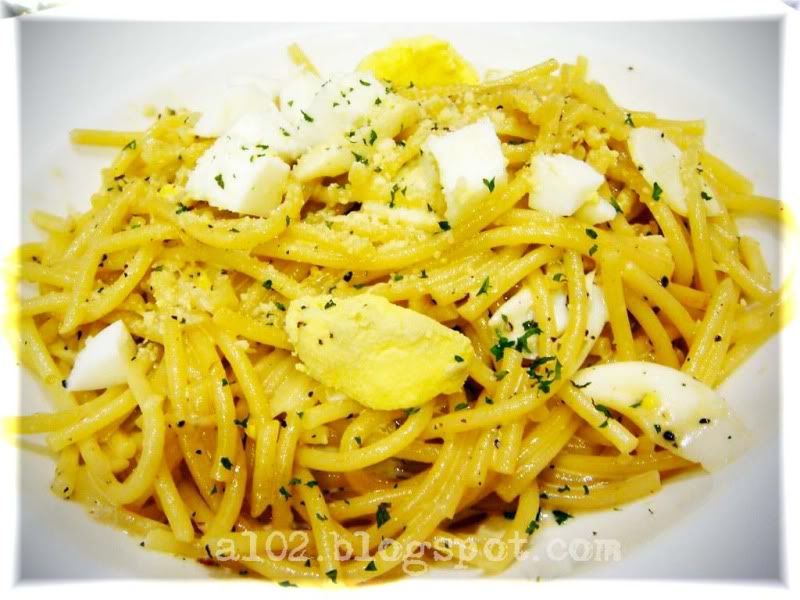 ST kid's meal- Kid Eggy Spaghetti. RM 6.95. In case you all wonder why my dear friend goes for the kid's meal, it's because she's vegetarian and this was one of the few things on menu that suited her.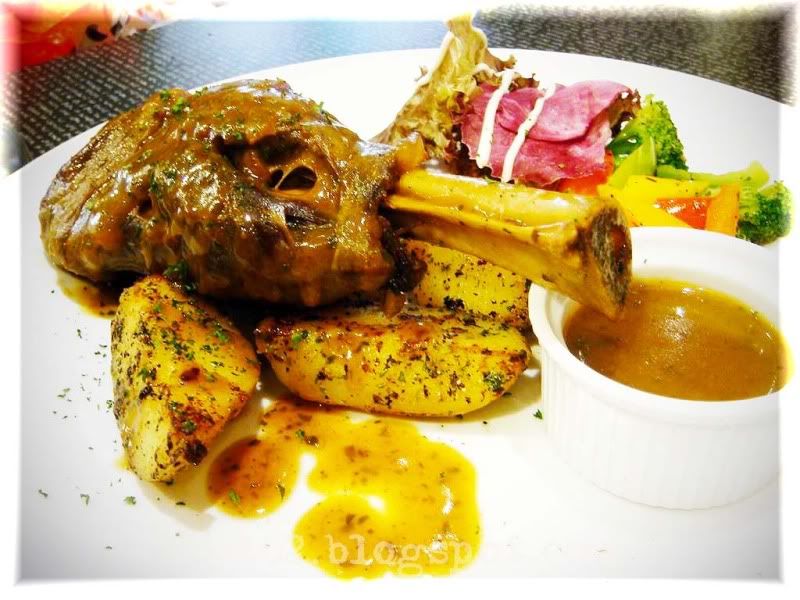 The Italian Braised Lamb which smelled really good. RM 34.95.
Four Season pizza. RM 17.95. I didn't tried it but Shee Li and JY said pretty good. Can be shared between 2-3 person.
Creme Caramal. RM 9.95. This tasted kinda average to me only. Maybe because I didn't like the apples and oranges that went with it.
Chocolate Fondant. RM 11.95. It is quite okay and even had a tinge of wine but I will tink it'll be even better if the chocolate taste was richer (fussy fussy me! haha)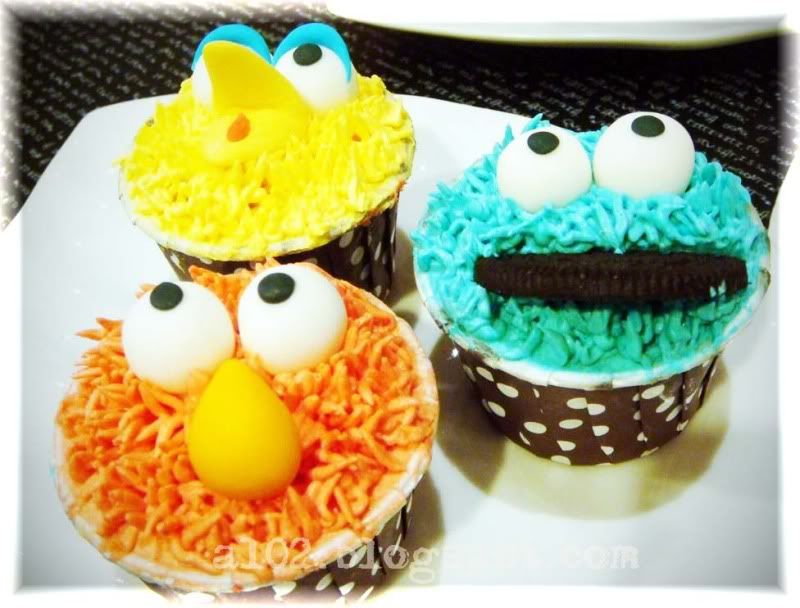 The girls birthday cupcakes. They look so cute it's almost unbearable to eat them. The restaurant is really nice too cuz they gave us new plates and clean up our table for us.
The pretty birthday girls.
One with the 4th Jan angels
This is SL trying to twitpic the table too but reception was quite bad at where we sat so we failed like so many times.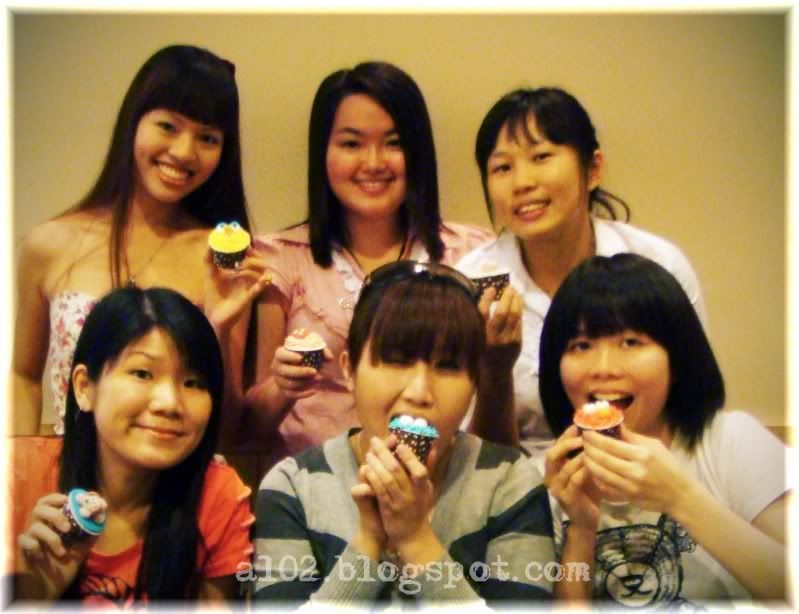 Nom nom nom nom (SL cant wait! haha)
As usual, we chatted and laughed and probably nominated ourselves as the noisiest of the lot in the whole restaurant but I had a fantastic time. From KSL, we then moved on to PP where I got to meet my tumei, R who cant joined us for lunch.
Me : Oh no we had outgrown this beautiful cheongsams!
R : Dont worry, we can take the magic portion like Alice in Wonderland and shrink. Then we can fit into them. haha.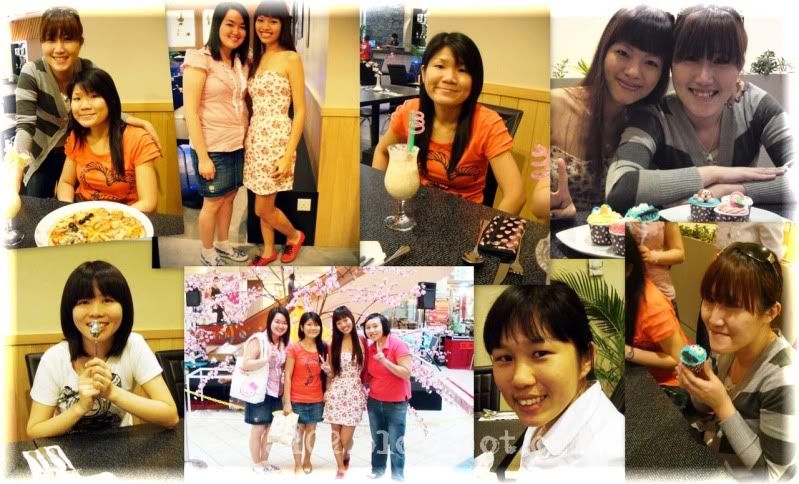 Random snippet of the day
Overall, I find Taste Bug's a pretty good place to have meals simply because the staff are all quite nice, they have cool tables and their food quite good. Their menu is like super extensive too and believe me, we had quite a hard time choosing what to eat because everything looks so yummeh. Will def go back for more. hehe.
And happy birthday once again to the 2 birthday angels. Hope you girls had a fantastico time and be prettier and prettier as days goes by! :)
Taste Bug's Restaurant and Cafe,
LG-41 & 42, KSL City,
33, Jln Seladang,
Taman Abad, 80250
Johor Bahru
Disclaimer : This is an unpaid food review/ advertorial. All recommendations are based on the blogger's personal point of view only, hence the blogger is not responsible for any discrepancy in taste/opinion. :)