After almost 4 weeks (1 week of Forensic in KL and CNY break included) of living out of the suitcase, finally I'm back home here in KT. Living out of a suitcase can be really exhausting especially when you have to pack, unpack, repack, unpack, repack... yeah you get the drift. I mean undeniably it was fun having a change of environment, staying in a different place and acquired different experience from different hospitals, but at the same time, I guessed I still miss home. And in this case, as crazy and as unbelievable as I may sound, I was missing my KT home while I was in Dungun. (Because Dungun nearer to KT) After all, nowhere in this world beats home isnt that. Doesnt matter if it's my 1st home, 2nd home or 3rd home. The comfort of being surrounded by things and people you are so familiar with, being in your own room, your own bed, pillow, comforter, toilet etc is simply bliss.

But don't get me wrong. My 2 weeks district hospital rotation in Dungun wasn't bad or anything. It's seems to be quite nice actually to work in a district hospital as the workload is not that heavy and the patients respect the doctors even more. The hospital is not very big, just equipped with the basic necessities and all complicated cases will be referred to HSNZ. In fact, if not for the lack of good/reasonably average Chinese food, I think most of us wouldnt had mind staying in Dungun instead of KT. After all, Dungun and Kuala Terengganu are still part of Moldyland with not much variation in culture and customs. Both places lack shopping malls and cinemas just the same. However, Dungun has Pizza Hut delivery which KT dont and Dungun is just 30 minutes away from Mesra Mall which you can at least go for some minimal entertainment.

Our uni subsidized one homestay for our 2 weeks rotation there (Rumah Ros) and all 14 of us were living under one roof, very harmoniously if I may add. hehe. We were living on the second storey of the house with 4 spacious rooms, 3 washrooms, 1 living hall, 1 dining hall, 1 kitchen and a very big compound. We didn't have wifi or internet access in the house but it was alright because as much as we always think that we cant live without internet, truth is we all can. Ok, maybe not total cut off from the internet. I still have my data plan and Kr had a broadband which we all took turned to use, so I wasnt totally cut off the virtual world. The rest of our time there was spent sleeping, pigging out on CNY cookies, strolling by the beach, playing computer games (the guys were having a good time with their dota), playing card games like Monopoly Deal (totally addictive), watching movies or whatever on the laptop internetless, doing presentations or preparing for bst.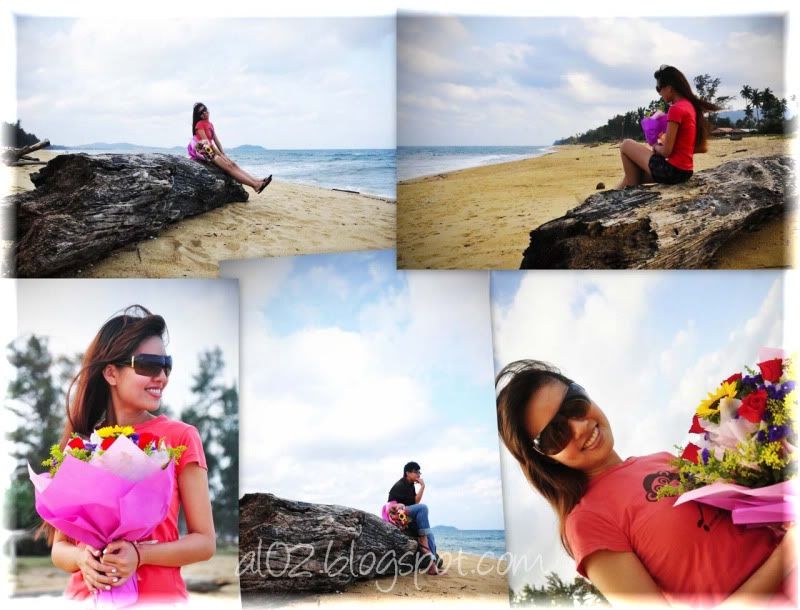 They have a very beautiful stretch of beach at the back of our house so me and Human Torch went there for a stroll on Valentine's day. My Valentine's this year was really special. It was celebrated in Dungun together with all my groupmates and because it was also H's birthday, we were also celebrating his birthday for him.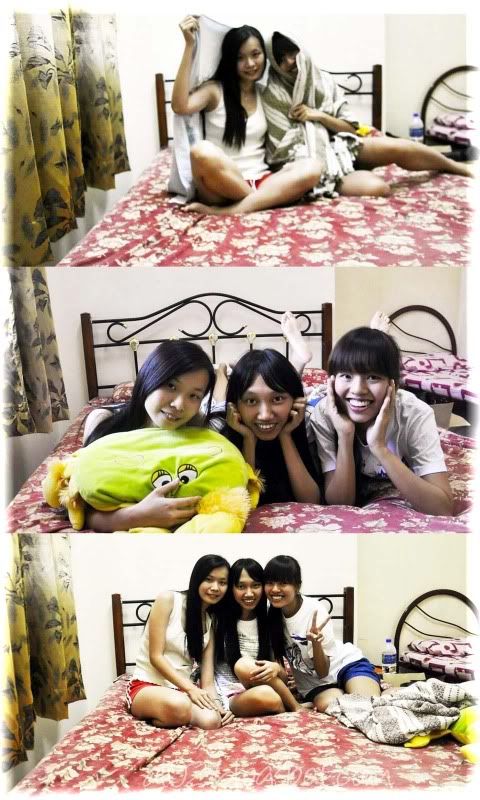 My roomies for the 2 weeks.
We all did bbq on Valentine's Day. Chickens, seafood and sausages were among the must have bbq stuff for the night. Honestly, seafood is freaking freaking CHEAP in Dungun. We bought like freaking lots of squids, stingrays, chicken fish and 2 other fishes and ate so much bbq-ed seafood till no one wanted to eat the seafood anymore but each of us only paid like RM 2.80 for the seafood!! Chicken was a little tougher to find but we finally bought ours at a mini hypermarket called Nirvana. We also tried looking for marshmallows but sadly we couldnt find any marshmallows around at all. So sad dont Dungun people eat marshmallows.
Sharing the love on Valentine's together. :)
Also celebrated H's birthday.
Rumah Ros - our house in Dungun
Last Tuesday also happened to be a holiday, so we went down to Kemaman for breakfast before heading back to Mesra Mall (the most happening mall in Moldyland already and it's in Kerteh).
Outfit for the day - grandmama top, scallop skirt and vintage bag.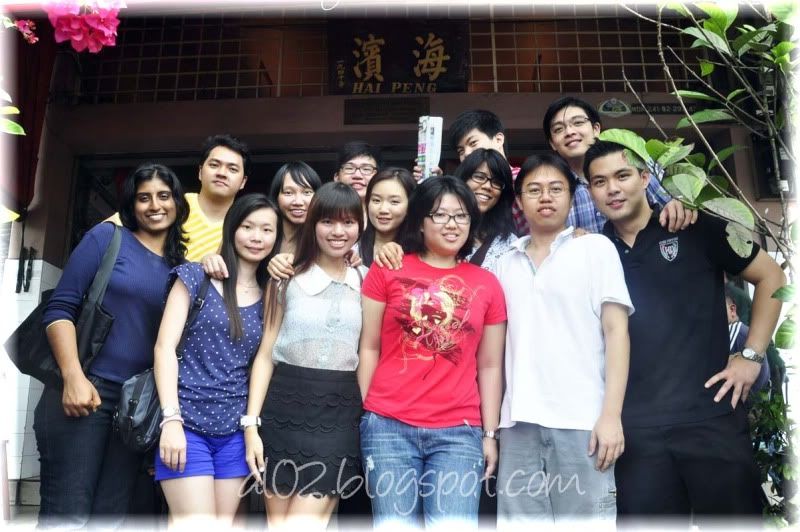 Breakfast at Hai Peng kopitiam, the most famous kopitiam in the east coast. I love their banana peanut butter toast with honey and half boiled egg. Nasi lemak was quite good too.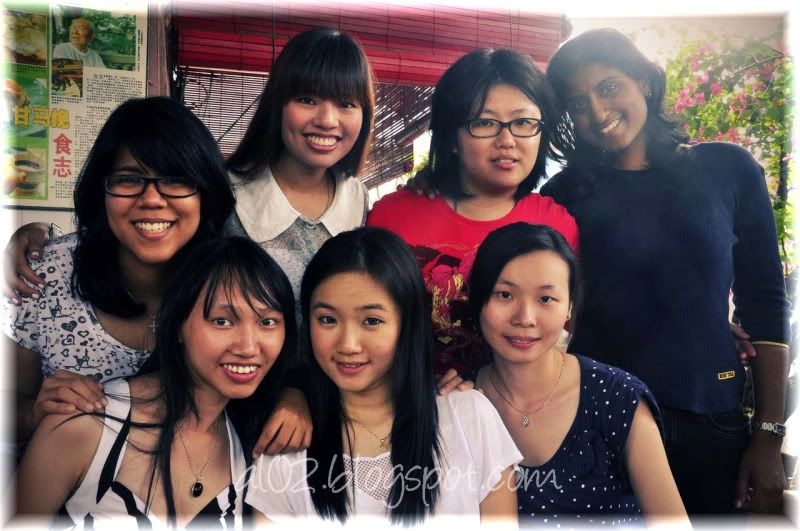 Girls in my group
We reached Mesra Mall near noon but because it was Maulidur Rasul, the cinema was closed and would opened only after 4.30pm. Mesra Mall is just a one storey mall. Nonetheless, impressively enough, they do have a cinema, an arcade, a pool centre, a bowling centre and a futsal court. And they have brands like Envee, Body Shop, Toys 'R' Us, Big Apple Donut and Burger King as their tenants. The next best thing in a place like Moldyland I suppose. So since we couldnt watched any movie, we killed time by playing bowling instead. And also arcade games like the Shooter (the basketball one) which me and Human Torch created our new high score there. haha.
A very nice rose frame, perfect for a couple shot. Actually not necessary have to couple, as long as it is anyone you love. Best friends, family etc
In the end, we drove down again to Kemaman (30 mins from Mesra Mall) for dinner. We wanted to try the famous stuffed crab of Kemaman.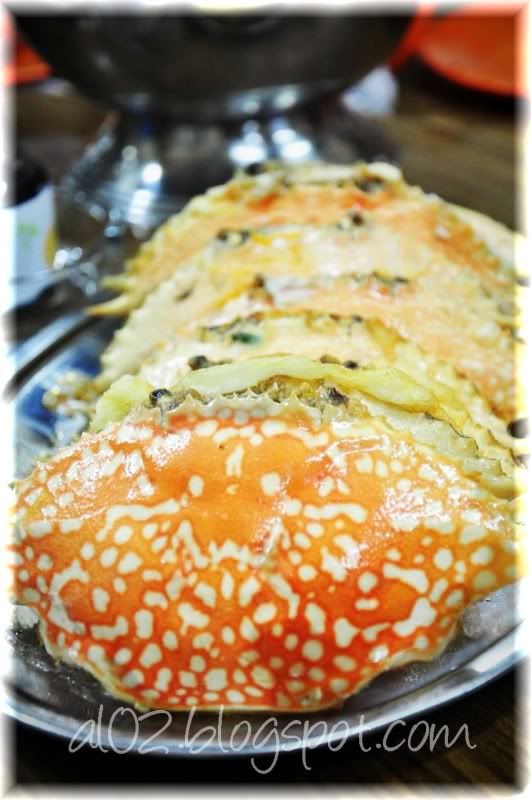 Woohooo... crabby times XD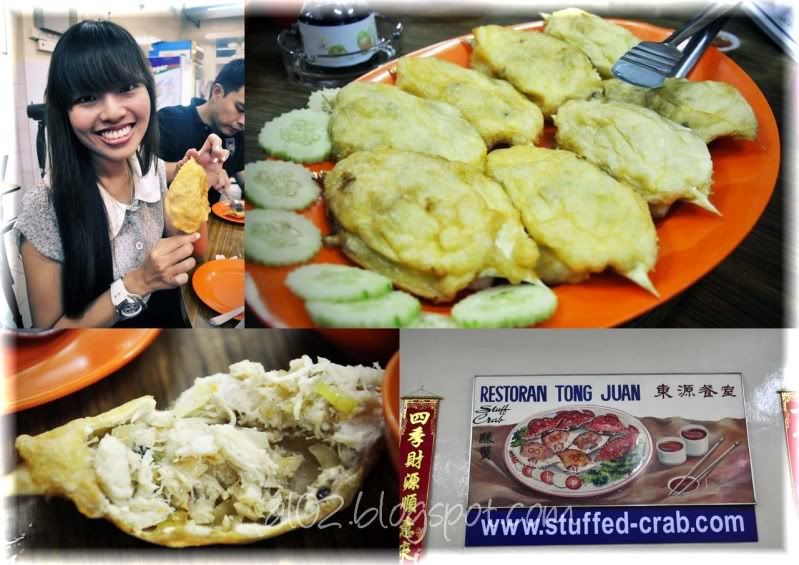 Stuffed crab at Restaurant Tong Juan. RM 7 per crab. Supposedly the most famous stuffed crab restaurant in Kemaman/Chukai. Unlike the KT one, the real stuffed crab is stuffed with mainly crab meat goodiness. The one in KT is stuffed literally with 80% pork and 20% meat and is RM 10 one.
Honestly speaking, I wasnt looking forward much to being a fortnight away in Dungun initially but it turned out, those 2 weeks there had been one of my best experience and memory so far in my 3 years here in Moldyland. Although we were literally living in a kampung with no internet, has goats eating from our garbage bin (instead of dogs) and cows, chicken and geese crossing the road, I had a very wonderful time living with my groupmates and spending time together getting to know some of them whom I had previously don't really know so well better. (little secrets that only revealed when you stay with someone. haha) :)