No, Im not talking about the Korean drama that stars Rain and Song Hye Kyo although that was like the Korean drama that had since got me addicted to Korean dramas. The Fullhouse I'm talking about in this post is a lifestyle store and cafe that I went to while I was down in KL 2 fortnights ago. I'm not sure if they are inspired by the movie anot, but their concept is certainly to mimic a modern day full sized house where customers eating in them will feel right at home.

We know there are several Fullhouse branches around KL, but we decided to check the one at Sunway Giza out simply because we had never been to Sunway Giza previously. I thought we could do some shopping after lunch but turn out, Sunway Giza is not much of a shopping place. Most of the shops are actually restaurants, 2 storeys high, huge and all. So, it's not surprising that Fullhouse is also a double storey cafe that gives off a very relax and kawaii atmosphere. I dont know why but whenever I think of Fullhouse, I link them to the word cutesy. Maybe because I really find the way they decorate their restaurant and the whole concept cute.


The exterior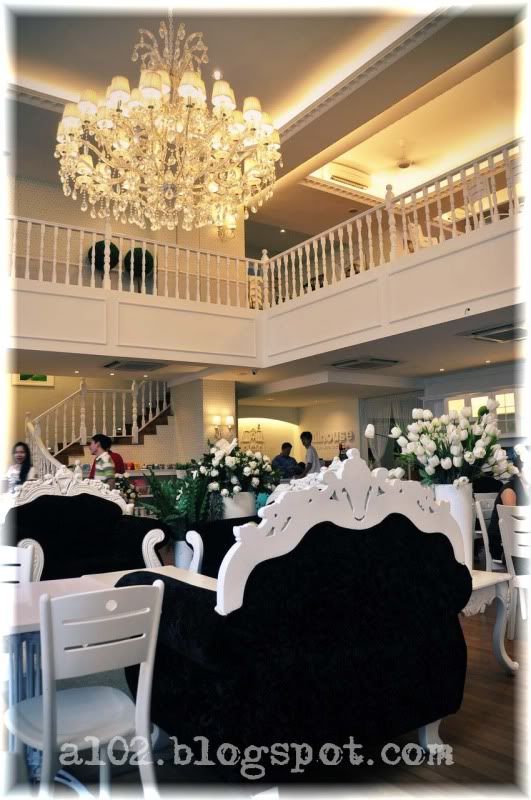 The interior.. Chandeliers! Dont they feel like a very nice home. haha
Aside from food, they also sell candies, accessories, clothes and alot of other itsy-cutesy stuff.
The itsy-cutesy stuff corner. It felt like the bride's corner. Lol.
Among the accessories they sell.
This is actually their boutique. The boutique resembles a bedroom; complete with bed, clothes rail, wardrobe and dressing table.
More girly and cute accessories.
My dream is to cycle around in a bicycle like this in a quaint neighbourhood without having to worry about perverts or robbers or thieves, just with the birds chirping and the sun rising. haha
After exploring the whole cafe, we finally were ready to tuck in.
Felt like having something chocolatety that day so I tried their peppermint chocolate blended which was quite good. I expected it to be extremely sweet but it wasn't. At least you dont get like 'jelak' fast and the sweet chocolate was balanced by the minty peppermint.
Human Torch's latte. He said tasted quite normal only. The only unique thing was the coffee art. Lol.
Their menu is somewhat different from what other normal cafe has to offer because I think they fuse Western and Chinese style together. Like they have chicken chop with the chinese mushroom. I just thought it's kinda weird fusing Western and Chinese like that. It reminds me very much of my mum fusion of spagthetti with anchovies cooked the Chinese style when I was younger. -_-"'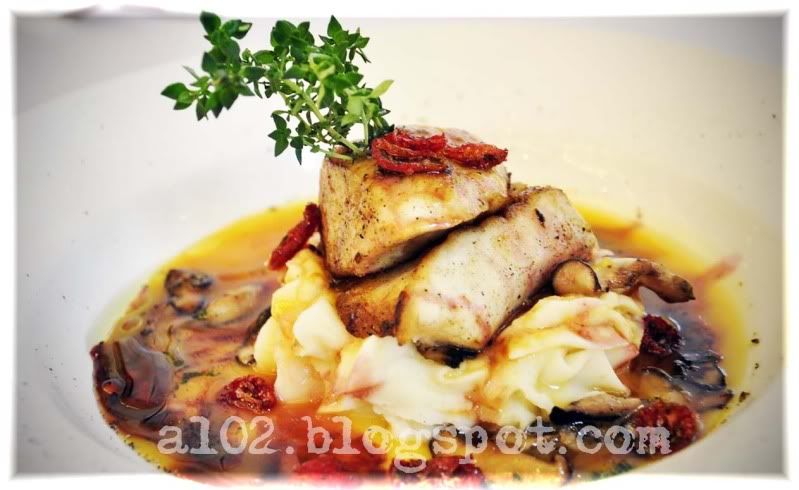 My Smooties Fruities Fish - girlled fish with mash potatoes served with wolfberries, red dates and cranberry sauce. See what I mean? By fruit, they dont serve it with apples or orange or tomatoes but wolfberries.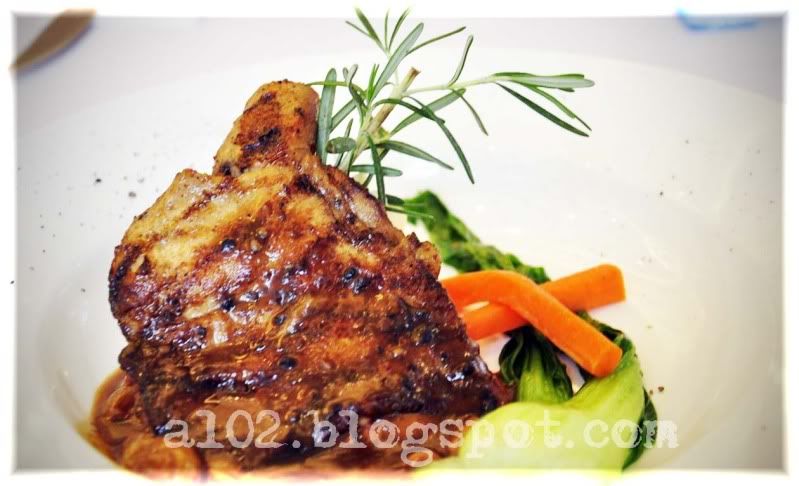 Their grilled chicken chop is served with some sort of Chinese vegetables (I think its the Chinese mustard green) instead of the usual coleslaw.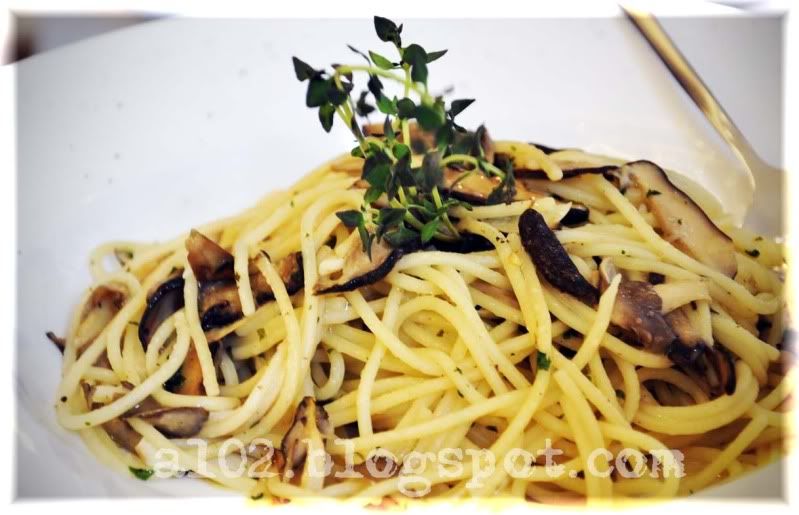 BH's and MW's shared an Al Funghi spaghetti which is spaghetti with chinese mushroom.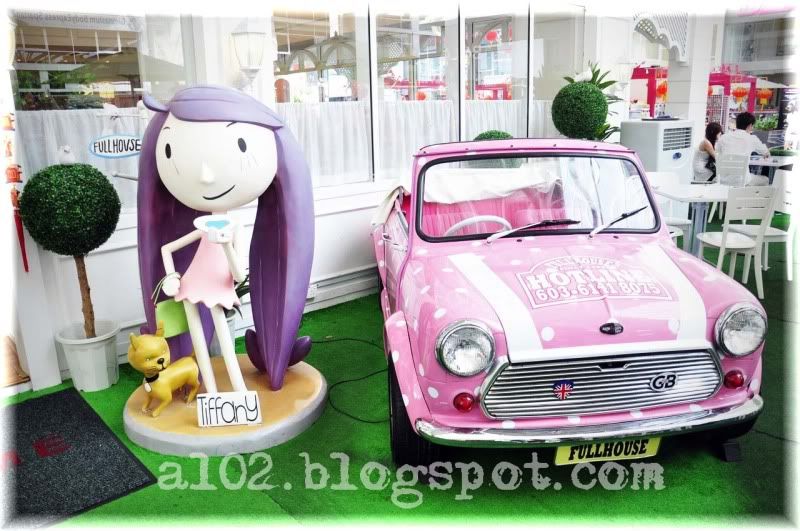 Absolutely

♥

the mini. So vintage and cute.
There's this random stall right outside the cafe that sells all these Chinesey stuff and I find their umbrella so gorgeous. It would had went perfectly with my cheongsam, no?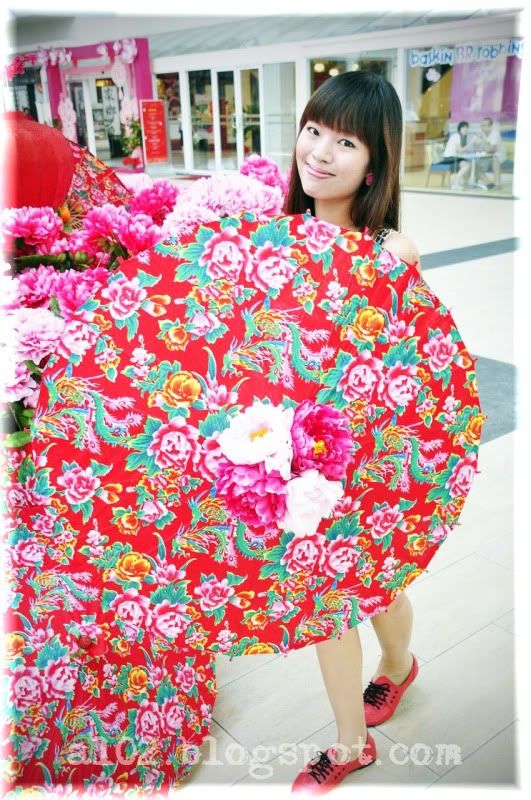 Look, there's even carnations at the top of the umbrella. ♥
Overall, I didn't quite like the food maybe because I still find Western and Chinese fusion kinda weird. Nonetheless, honestly speaking, albeit the fusion, I find the food still okay, in fact it's a very refreshing variation to the palate. But I really ♥ the concept of the restaurant. It's really a nice place to just go chillax with friends and enjoy their relaxing and 'feel good' atmosphere. :)
Fullhouse Lifestyle Store and Cafe,
Sunway Giza Mall,
C-2 Giza Sunway Mall,
Jln PJU 5/14, PJU 5,
Kota Damansara 47810
Petaling Jaya
Tel : 03-7885 0836
Dsiclaimer : This is an unpaid food review/advertorial. All recommendations are based on my POV only, hence any discrepancy in taste/ opinion is very much regretted. :)