Happy Chinese New Year lovelies! Gong Xi Fa Cai! Gong Hei Fatt Choy! The clock just struck twelve not too long ago signaling the end of the year of the powerful tiger and the beginning of the year of the gentle cute rabbit. There had been some massive fireworks and firecrackers going off outside my house for some good 30 minutes from like 7 different locations. Super CNY mood! haha.

Anyways, these are the people; BFFs, friends and bloggers who had been keeping me very occupied for the last 2 weeks which explains my disappearance and lack of update here.


The Forensic team of Hosp Serdang
I was down in KL for a week for my Forensic rotation and it was the perfect opprotunity to not only do some CNY shopping but also to meet up with my friends and blogger friends. While it was cool inhaling in the air of urbanisation and enjoy the happening lifestyle of KL, working in KL can be a real pain. I was up at about 630-7.00am everyday because we had to be at the hospital by 8am. And that considering from the place I stayed to the hosp was without jam and only needs about 20 minutes. Then we had to be at the hosp for the whole day regardless if there's any case or not and could only leave at 5pm. Hence, usually after dinner, I will be too exhausted to be doing anything else except sleeping.
I think we were very lucky because for the one week we were at Hosp Serdang, we were exposed to quite a variety of cases that ranged from MVA to suicide to drowning to murder and even bones of an abortus. I really enjoyed the 5 days there even though all we do at times was just waiting. Definitely better than being stuck in some crazy super hectic rotation.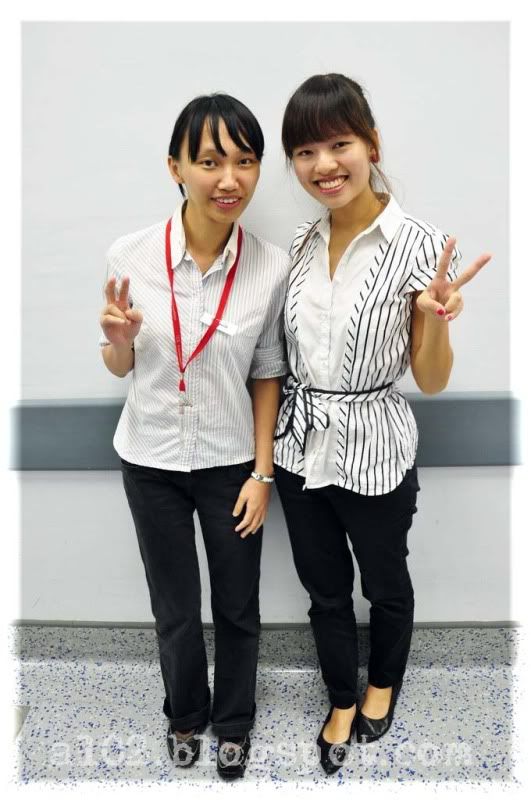 My beloved host for the week. Thank you Suk Kuan for being such a lovely and nice host. :)
It's quite a coincidence but had a mini reminiscence of AMSC at Rakuzen with the UKM peeps.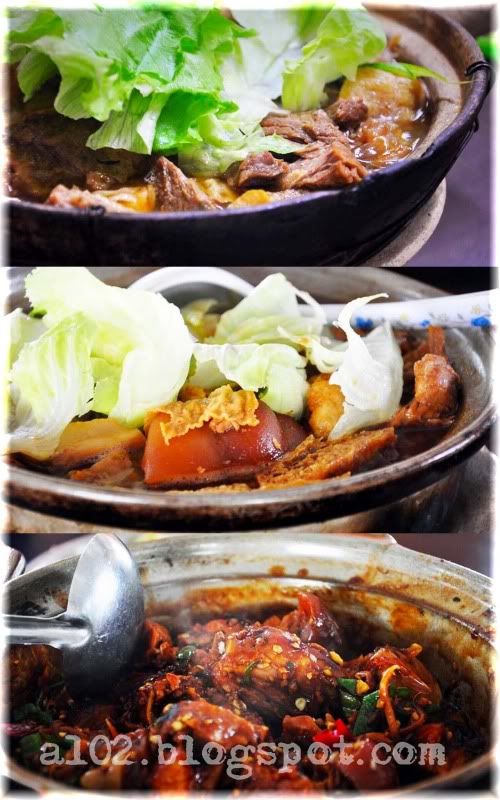 Double combo bak kut teh at Klang. Dissatisfied with the wet bak kut teh from Weng Hiong, we proceeded to Ye Xiang for another round of wet and dry ones.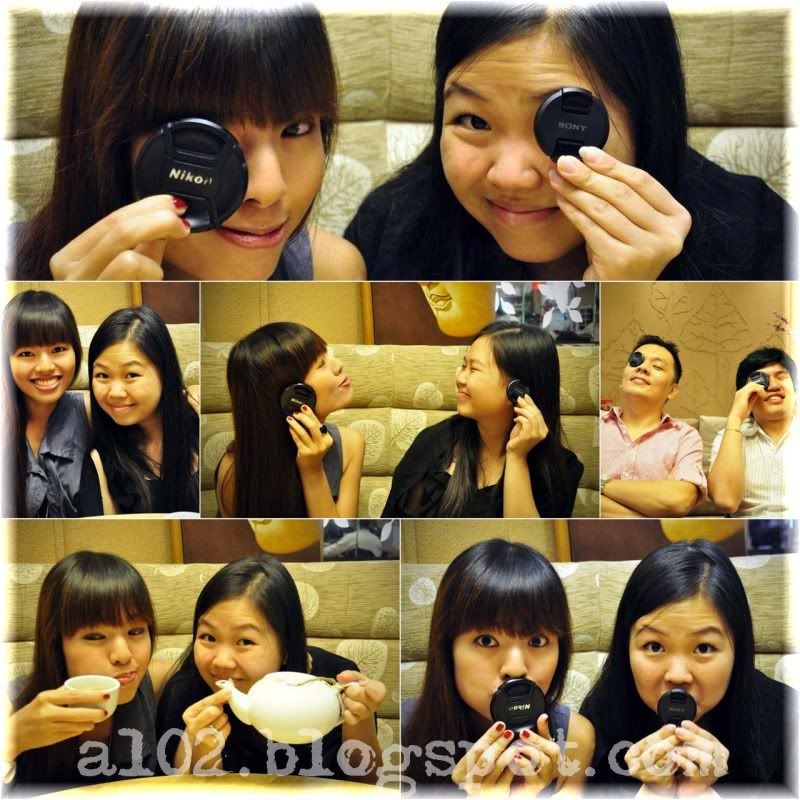 Another of my darling - Michie and her hubbie at One U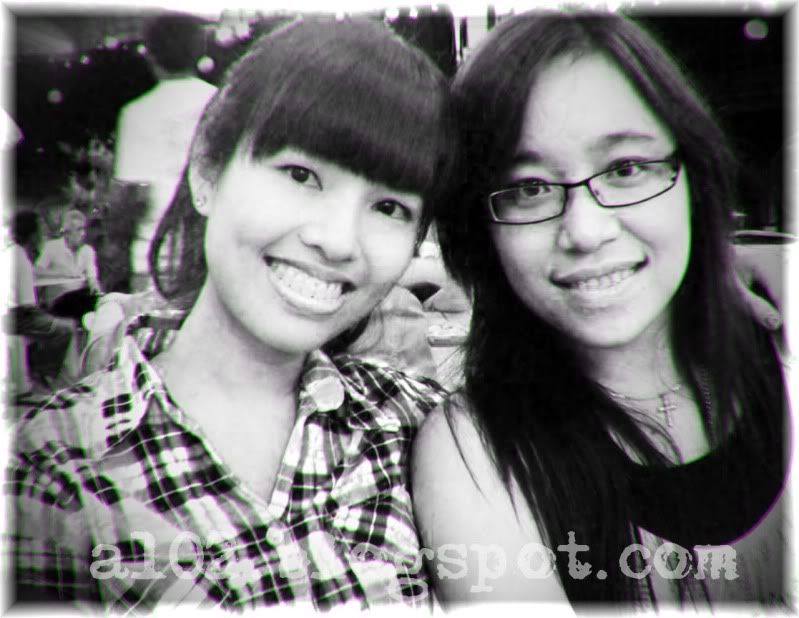 This is one of the bubbliest, cutest and nicest girl I ever know. We can talk practically anything under the sun. If not because I was too exhausted, I don't think we can ever stop talking! haha
Pork Knuckle of Munich at IOI Boulevard. So huge and yummy.
Digging into our pork knuckle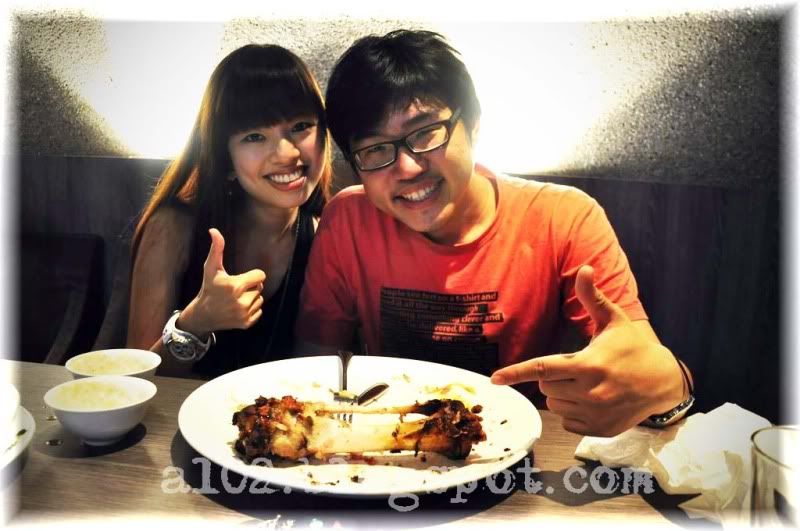 After 'cleaning' it up, left nothing but the bone. hehe
At Munich with most of my groupmates. Vic super emo that day hence the very emo face but thats another story altogether.
Chili's with Ed and Jessie
We have so many similarities it's gives me goosebumps sometimes. hahaha! Kidding. She's another bubbly girl whom can talk everything under the sun with me.
Finally managed to catch up with some blogger friends. The lovely Ave and Mr.Tehtarikmemoir
The very shy-at-first-but-actually-quite-talkative Kian Fai and Suresh hammie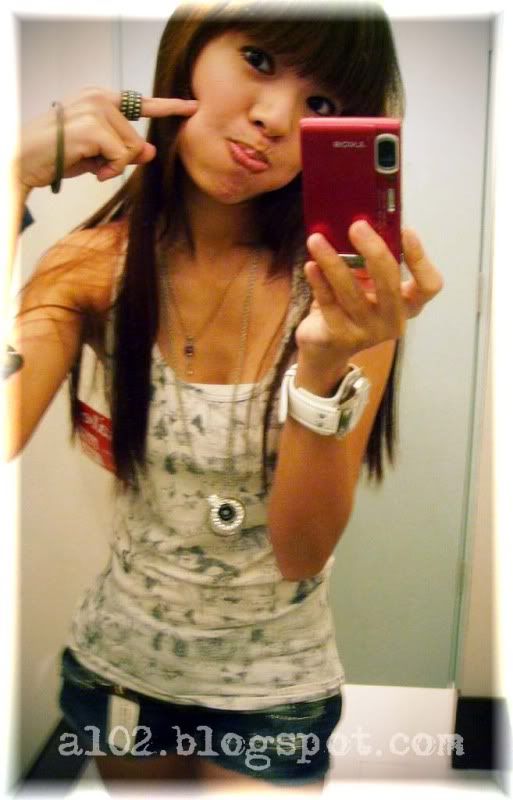 From the fitting rooms :)
On another note, my BFFs are back from UK finally. Like after 2-3 years of not seeing them, we finally got to meet up last Mon night for dinner with the other darjeelings. It was a pretty huge reunion with 18 girls chatting, laughing and taking pics happily.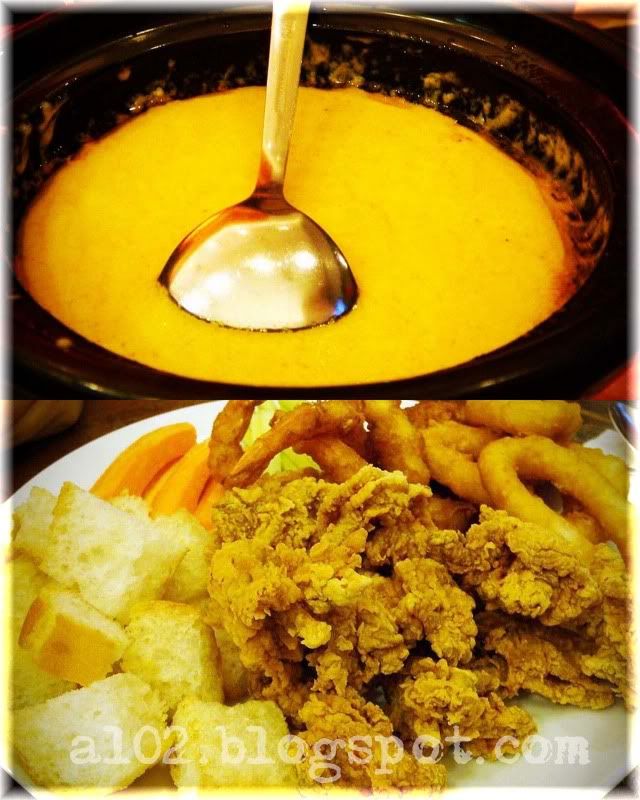 Curry fondue - my first time trying and I gotta say, I find it kind of weird cuz the curry doesnt really taste like curry but overall, still not too bad.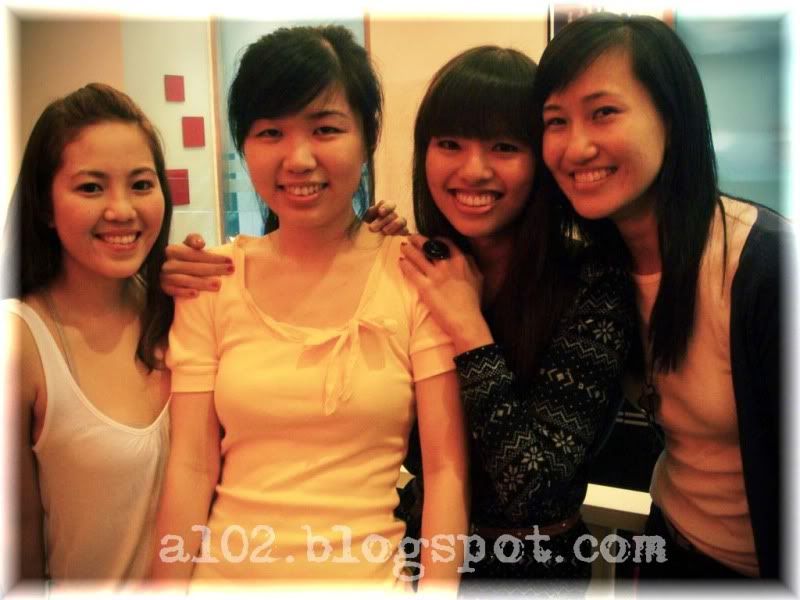 My St. John babes. The kind of bond we shared can never be replaced. :) It's too bad Wen was stuck in a jam and Kit had to leave early if not we could have a complete no. 1-5 pic
The very lovable-by-all Chloe
Pangi who had to travel through mines and undergrounds and Mun Mun who had to cross thick jungles and sea to meet up with us. (inside joke)
My hair is so long can be camwhoring prop too. lol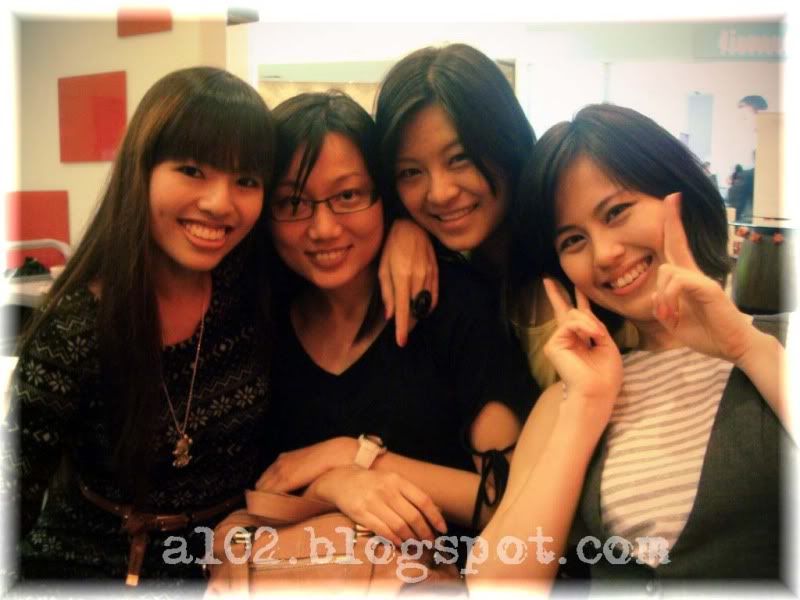 The very busy HC (2nd from left) who just got back from work.
The 18th girl to arrive - my once-upon-a-time twin (2nd from left)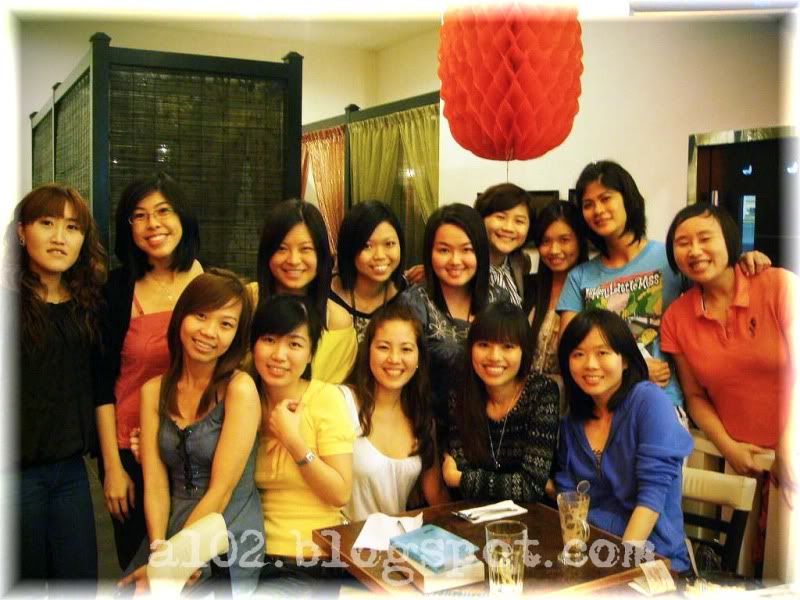 We had numerous group shots. Spot the difference! hahaha
It's always very fun and memorable meeting up with all these girls because they always make me felt like we just left school not too long ago. Like we are just a bunch of 18 year olds just graduated from high school. Everyone is still so young, still so them if that makes sense and of course prettier!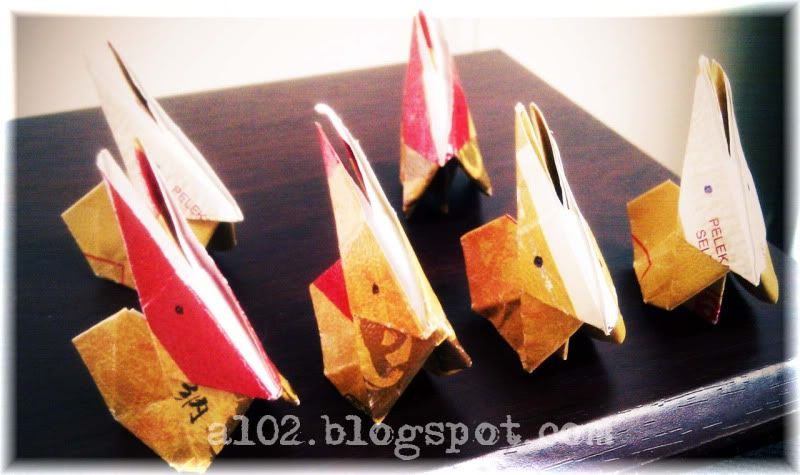 That's about it. Still got a lot of things to tell but till my next update, with much love, to all my friends and readers, have a very prosperous and joyful rabbit year ahead. Enjoy eating, enjoy playing, enjoy drinking but at the same time stay safe and stay healthy. :)