I wish time could just freeze right now. The seconds hand of the clock is ticking way too fast and tomorrow we will be starting our final rotation already. In fact it will be my very last rotation as a medical student. And to top it all, it is not one that I'm particularly looking forward to. It's known to be the worst rotation so far and as optimistic as I tried to be, seeing the timetable last week is enough to send me into my first episode of brain death.

It's time like this when I think of holidays, where memories of holidays will cheer me up and resuscitate my dying neurons. I know my travelogue are way way way behind time. I'm trying to catch up and finish blogging about them but I had a feeling it's gonna take another few more months with all the crazy hectic schedule and *horror music pls* final exam coming up. So I hope all of you wont mind my super delayed travelogues and enjoy reading them as much as I enjoy sharing them. I like to finish off my travelogue for Guangzhou first, so tonight I'm gna blogged about the last place mum and I went in Guangzhou last November.

*to refresh memories, click here* So after having our McD, we decided to leave Gangding and moved on to somewhere else and the next thing we knew, we were at Tianhe Plaza (recommended by the hotel manager). Tianhe Plaza is seriously like our Pavilion. Honestly, I was quite disappointed when I stepped into Tianhe Plaza and realized it's quite a posh shopping mall. Not a good place for shopping if you ask me because the purpose of shopping while traveling is to buy things that cannot be found back in your home country or it has to be cheaper than in your home country right? So to step into a shopping mall only to find familiar brands and selling at same or even more expensive prices than Malaysia is like having my shopping dreams shattered.


Gold medal for being the no.1 procrastinator. Or the no.1 super delayed travelogue blogger. :p
I think mum could sense my disappointment so she sweetly suggested that we looked for a nice place to chill and enjoy desserts instead of rushing around shopping. So we found this dessert corner (cant remember the name now) inside the mall and literally sat the whole afternoon there chilling and people watching which is actually one of the things I enjoy doing a lot when traveling (given enough time).
It's always enjoyable to watch how the locals behave and as we sat there, I realized the people who were seated around us and eating are definitely of a different class and level to those that we met yesterday at Up Down Nine Street. Those shoppers here are definitely of the richer and upper class of Guangzhou and it's obvious from the way they dress, talk and carry themselves. There was an adolescent couple that was sitting in front of me and it's quite interesting also to see how adolescent couple in China behave in comparison to adolescent couple here.
A huge bowl of associated fruits dessert to satisfy our dehydrating body. It costs about 36 renminbi. (RM 18)
They gave us milk to add on to the fruits but I personally like my fruits without milk. I was wearing this nordic dress that I super ♥ .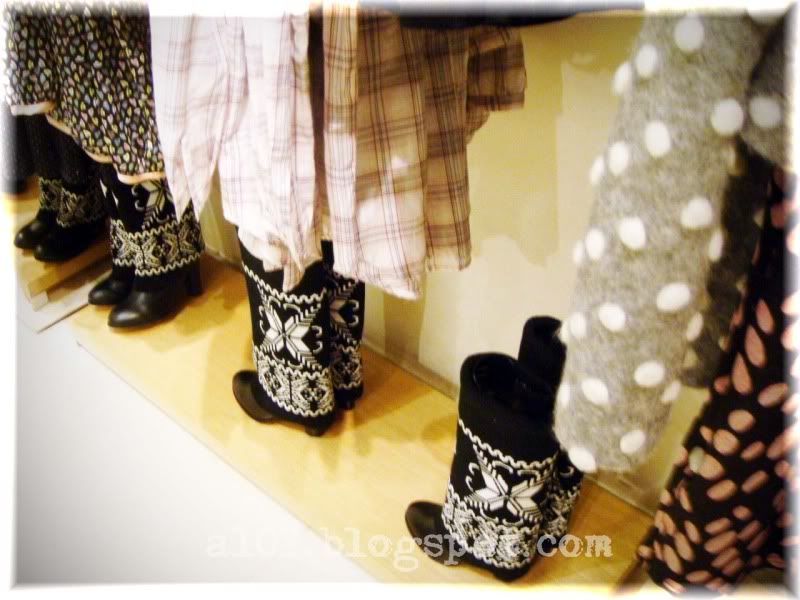 We did walked around a bit in the mall and this particular boutique was selling everything nordic! Even the leg warmers around the boots also in nordic. (that was when nordic was so in and Malaysia still has like super limited nordic stuff.. consequence of delayed update. Whats fashionable is probably not even fashionable anymore.tsk tsk)
After spending some good time having dessert, I decided to give it one last shot at shopping. I was desperate to look for the Asian Game mascot plush toys, so we found ourselves on the metro once again heading to Beijing Lu this time. I think Guangzhou people either has super feet, are all sprinters or they just like to bluff us about distance. To get to Beijing Lu, the nearest metro station is Gongyuanqian and according to the locals, it is only a 5-10 minutes walk away. But according to our legs and me was walking at moderate fast speed, it is about 15-20 minutes. I chose to belive my legs. Never believe the Guangzhou people time-distance estimation. Kena bluff twice already. (read here for the first time we got bluff)
Beijing Lu is another one stretch of street closed only for pedestrians, only thing is that it is way shorter than Up Down Nine Street with shops lining both side of the street mainly selling clothes from brands like Giordano, Bossini, Uniqlo (the clothes they sell are exactly the same as Uniqlo KL one), Anta Sports (their very popular and branded sportswear) and many other familiar brands that we can find back here in Malaysia. I think Beijing Lu is more famous among foreigners and the richer locals. I personally think Up Down Nine Street (
Shangxiajiu Lu)
is still the best place to shop in Guangzhou. I didn't bought much stuff there mainly because it was also night already but my happiest find would be the Asian Game mascots. Thank God I finally found them.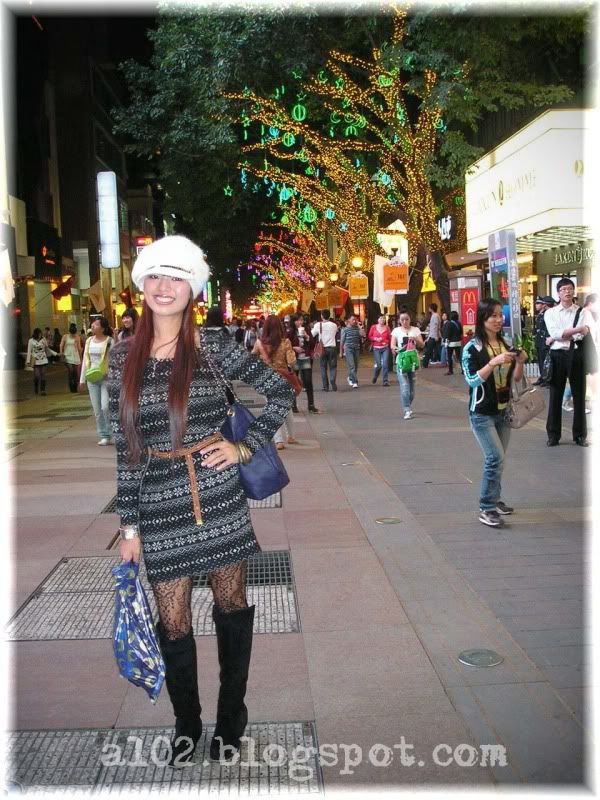 Had dinner at one of the many restaurants along the street. This is one whole bowl of pork shrimp dumplings. We had two bowls of this and we almost couldn't finished it.
My beloved mum who accompanied me shopping all the way. She's the best seriously.

♥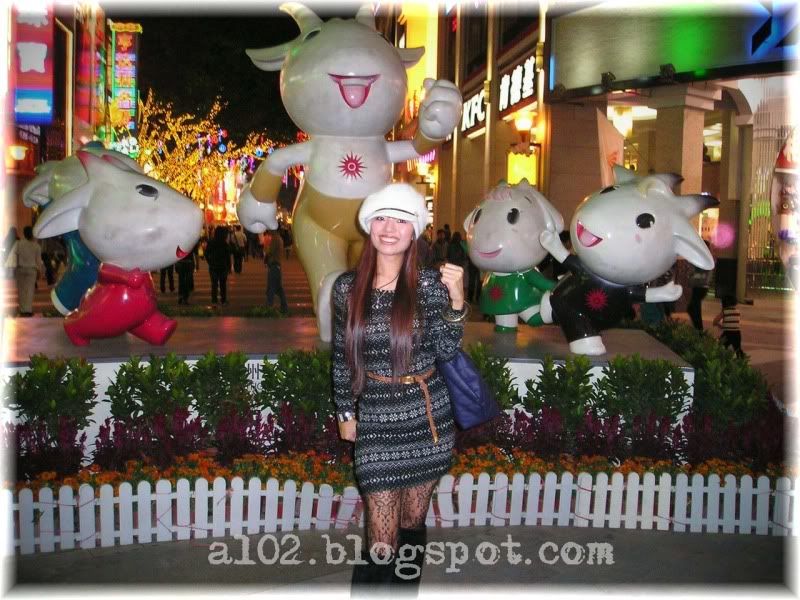 Very familiar pic, no? haha
We definitely had a very long day and we did a lot of walking mainly because everytime we asked, the locals will tell us that our destination are just a few mins walk which always turned out to be more than what they had told us. But on the bright side, we managed to cover more places on foot. Our feet are definitely the most amazing for bringing us around. Nonetheless, it was our last night in Guangzhou so all the walking was worth it to get the things we wanted and to explore a little more places. Well, my final post on Guangzhou (which Im really excited about) will be up next, so do stay tuned. :)