I cannot believe that I had just gotten a phone call from a celebrity! I almost jumped when my phone rang and upon picking it up, to hear that it was the bubbly, chubby, multi-talented Adibah Noor on the other side of the phone calling me to actually seek my opinion that will decide her fate.

I suddenly felt so important. *ahem* But now, you can also help to decide their fate and have Adibah Noor (or even Yuna or Pam and Van) calling you this very minute seeking your opinion as well. All you have to do is just watch the Libresse TV commercials. With more and more tv commercials becoming stale these days, this one is surely a very refreshing twist. Seriously, I had so much fun watching through all the commercials and even playing roles in them. The surprised at the end of the commercials really did amazed and impressed me. These commercials are not the usual direct ones. These are the types that will get you thinking a little and I think it's really creative for Libresse to come up with the 1st of its kind in our country, the live interactive web and mobile experience type of commercials. You all should really go watch the commercials (click here) now too and have fun being part of it and receive calls from the local celebrities.

After watching the commercials, I'm quite tempted to actually try out the Libresse sanitary products. We should always be adventurous and not afraid to try out new things because if we never try, we'll never know if we'll ever like a product, no? And Libresse is just the right brand that resonates with being adventurous and bold in experimenting with new things. I always like to experiment with varieties to know which the one that I truly like.

Their range of sanitary products are the only ones design with the concept of 'Absorption is Nothing without Fit', which simply means that their pads are design to anatomically fit our body supported by the secure fit design and deep flow channels. How cool. One of the things we girls hate when having period is leakage and the discomfort due to unfitting pads. All we want is a pad that can deliver both security and comfort keeping us confidence even during heavy flows.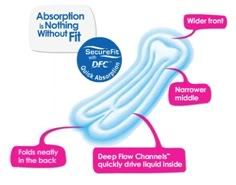 With the secure fit design, the pad is design in a way to conform to our anatomy while the
deep flow channels are meant to minimize leakage.
Libresse panty liners comes with secure fit design too.






I guess it will feel like almost not wearing any since they are so thin.