Still remember CheapskateMY? After a few weeks of anticipation, they finally launched their first deal yesterday. I was so excited to check out their first exclusive deal and look what they are offering right now on their site. I will say this is the kinda deal that kicks off my adrenaline and the kinda adventure I will really love to try out.


Offroad Pitbike Adventure! And at 47% off the usual price, it's only

RM 133

per person now! I dare say this is really one mad drop dead cheap price for offroad pitbiking. And the best part is, it's available right here in Kuala Lumpur.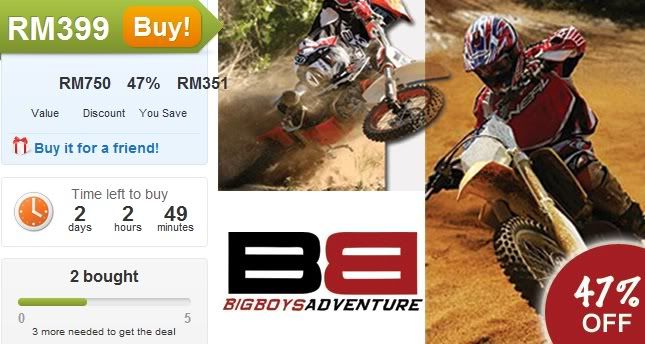 For all adrenaline (and even the non-adrenaline) junkies, this is your chance to try something new and live life on the edge. Imagine unleashing the full potential of the nimble and humble 150cc pitbike on uphills climb as steep as 45 degree. I can just picture the thrill of it.
And for all familiar pitbikers who have been longing to ride a pitbike going offroad into the jungle away from the busy city, this is your perfect opportunity.
Even if you never wrote a bike and don't know how to ride a bike for life (like me), worry not because as long as you can handle a bicycle (unlike me), the friendly blokes at Big Boys Adventure will give you free biking lessons.
After much fun of getting dirty and sweaty, imagine stopping by the scenic and refreshing Sofia Jane waterfall to cool down and relax. Besides, lunch is also provided.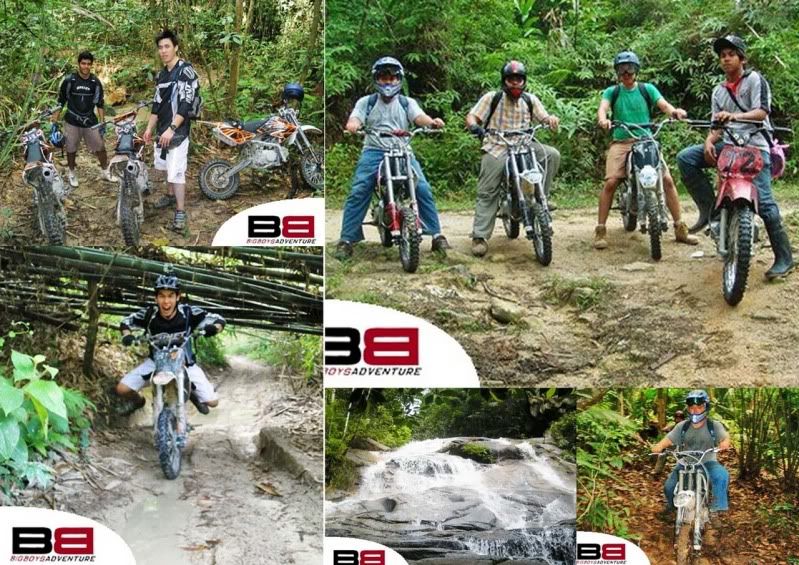 So seriously, if you are one who's constantly looking for some new and exciting adventure, one who likes adrenaline boost, one who likes to challenge yourself or simply one who just loves fun, this is definitely the thing for you.
Get your friends and family together now for a day out building teamwork, friendship, relationship and also your very own stamina as you learn how to ride fast but safe.
But you have to hurry a little because you are only left with about 2 days to get this mad awesome deal! So, quick quick, hop over to CheapskateMY and buy the deal right now. Don't miss out on this opportunity especially when the price is so drop dead cheap.

If you are not already tempted or not convinced yet, here's a video to get you some idea of what pitbiking or the fun that you will be getting yourself into is all about. Have fun adrenaline lovers! :)