Yes, a very good news to all cheapskates! We have heard and probably use this term so often, whether it's saying it out loud or whisper it over mamak talk, we Malaysians are undeniably known cheapskates. We love discounts, we love paying less for more and we love everything cheap.

Realizing that, Cheapskate (click here) is here to bring you more opportunities to experience the finer things in life without having to pay an arm and a leg for it. Putting aside formalities, job titles, company names and structures, Cheapskate is about a team of entrepreneurs who breathe, live, dream and get extremely super excited by the concept of collective buying power.

They provide access to great deals at the most exclusive places to eat, exercise, shop and relax. Think paying 50-90% lesser to enjoy and pamper yourself or your love ones at top spas, swanky restaurants and boutiques. The goal with Cheapskate is to give all of us sociable cheapskates opportunities to try cool restaurants, attractions and activities in our city, sponsored by businesses that have been approved as friends of Cheapskate. Talk about the more the merrier because the larger the member group becomes, the more businesses will join the Cheapskate network and hence the better the deals we all will get to enjoy.

And in conjunction with the launch of Cheapskate on the 23rd April 2011, they will be rewarding the ultimate cheapskate with RM 5000 in cold, hard cash! Wow, I certainly hope to win that!All you have to do is participate in the most number of referrals competition that is currently running on their site. If you are the ultimate one who brings in the most number of referrals, you win! Start registering yourself now with 5 simple steps, then get as many of your friends to sign up and voila, you are on your way to become the ultimate cheapskate.


1. Visit their homepage here.
2. Sign up by inserting your email address in the space provided and click 'submit'.
3. Next, 'like' Cheapskate on their facebook page.

4. Verify your account by clicking on the link provided in your email.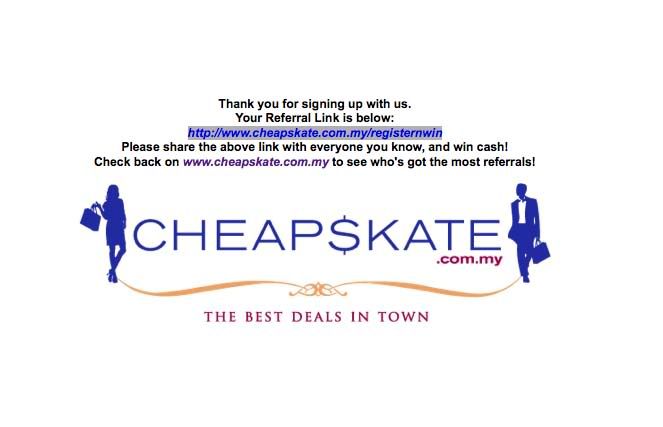 5. Upon completion of sign up, you'll receive your referral link.
That's it. As simple as that. So what are you still waiting for?
Hurry, head on to their site, register and stand a chance to win and also to ensure details of the deals are send to you once they launch. I really can't wait to check out all their exclusive deals then. So, spread the word and do watch out for this space! :)