Being a house officer (junior doctor) in Malaysia is one of the few 'privileged' occupation where we will be interview even before we graduate. Well, to be exact even before our final exam. It's exactly 10 more days to my finals. And I just had my job interview this morning. The interview was nothing stressful though I had a little flutter right before the interview especially when suddenly all my friends started talking about who the D-G is, who this minister, that minister etc is and stuff regarding the health ministry. I got too much facts to be stored in my head right now that names of ministers are one of the last things that needed to be further uploaded.

But well, for future medical students who will be going through this interview, I will say there's really nothing much to worry or stress about. The interviewers do varies from one to another, well some might ask some questions regarding the ministry but most part of it was more to a relaxing 'chit chat'. I was lucky no.4 and basically, my whole interview session was like a 5 to 10 minutes chit chat between me and my interviewers. They just ask some basic questions about myself, how do I feel about staying in Kuala Terengganu, how do I feel about being a house officer in future, some basic first aid questions etc. I think it's more to like accessing your attitude and ethics rather than your knowledge about the ministry which is very good in my opinion. The more stressful part now is knowing that you are really so close to being a house officer (technically you had even went through the interview) but yet, you have not even taken your exams! I'm not going to say anything pessimistic here but it's one of those things that felt like it's already so close but yet so far. ( I think I said a lot of this 'so close yet so far' these days but that's how I really feel of late)

Anyway, dress code for the interview is either formal or traditional wear so since I do not have any baju kurung, I just wore my normal formal wear. I had to stress that it's normal because it's nothing more than a formal top that I bought from a formal wear shop (it's from Zara but Zara sells formal wear too right) and a formal slacks I bought from MNG. There's no accessories, no belt, no high waisted, no nothing. I did not even put on any make up but I can't help it really that I look like a celebrity (thanks to my parents for giving me such good genes) so even in my most normal formal wear, I still look like a celebrity or a movie star (according to a certain 'beloved someone').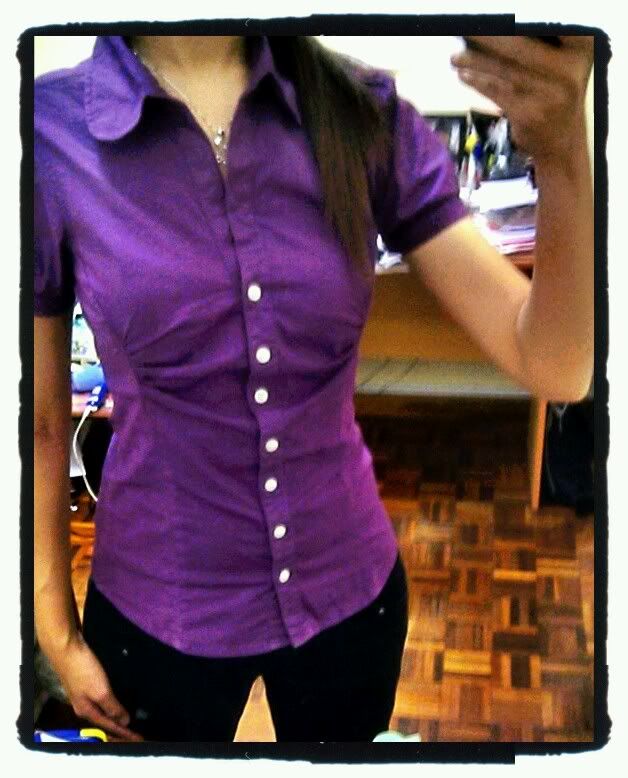 My 'celebrity' formal wear
Oh well, whatever it is, I'm just glad that the interview is over too, so now it's a full charge towards the finishing line. 10 more days, Alli. You can do it! :)