Shoot shoot! Run run! Bam bam bam bam bam!

That was how I filled my whole morning today; running, hiding and getting down and dirty shooting down 'enemies' in a game of paintball in a converted open area in Bukit Jalil.

This was my first paintball experience and seriously after lots of 'scary' stories I hear from friends who had experienced paintball, I had prepared myself to be pretty bruised all over at the end of the day but I guessed I had worried a little too much because fortunately, I had managed to escape quite unscathed with only a tiny induration at my elbow.

Nonetheless, getting hit was still painful! Even with the small pellets. They might as well just call the game painball too. I can just imagine getting hit by those huge pellets which can surely cause more severe damage and perhaps then I will end up looking more like an over tan dalmation. But overall it was good experience and definitely good fun especially when playing it with a bunch of friends who are also very sporting. I actually enjoy the kick of firing from a paintball gun especially when it hit targets. haha! And especially when the gun is not as heavy as the real ones or those in the shooting range. I think paintball is the only game that I'm willing to pay for pain. Makes me sounds much like a sadist now although I'm obviously not one but paintball is really a game of 'no pain no gain no fun'. :)


The guns.
The pellets. Looks really like Nips now don't they?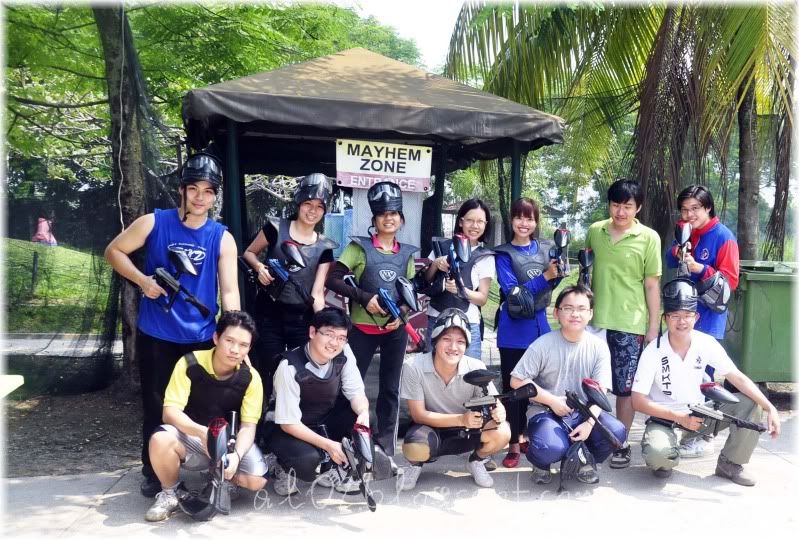 The gamers ready for action.
Okay, my bed is calling out to me already. It's been a pretty long day and tomorrow I have to go back to my uni again to settle some graduation and convocation stuff. So till then, good night everyone and have a good week ahead. :)