Means 'Hello' in Laos!

Time in Laos is an hour slower than Malaysia and we had just arrived a few hours ago at 4.30pm local time. Weather here in Laos is super hot for now so much for it's rainy season. The first thing we did was to change some Laos kip at the airport because I had read that it's the cheapest to be exchanging kip at the airport and the rate currently is RM 1 to 2200 kip. Not the best rate I must say because usually RM 1 is to about 2500 kip.

We then hopped into a cab which took us downtown to the riverfront where most of the backpacker's hostels and guesthouses aggregates and fortunately the guesthouse that I was hoping to stay in still has room available so here I am at Mixay guesthouse enjoying their free wifi service in their lobby with their tv in the background playing some super dramatic Thailand drama. Nonetheless, there are certain limitations to their wifi service such as that it's only available daily from 11.00 am to 11.00 pm and that we can only online at the guesthouse lobby.

We only had time for an evening walk by the drying up Mekong River by the riverfront just now and we settled for a local dinner at one of the stall vendors by the river. The riverfront is really pretty much like the riverfront in Phnom Penh or Gurney Drive in Penang. Shall blog about that next time. For now, I just want to say a simple hi to everyone from Vientiane.

My sim card is currently faulty, I don't know why but it can't detect any local network so I can't roam and I can't send out or receive any calls or messages. So, in a sense luckily I had decided to bring my netbook along this time hence still contactable as long as there's wifi connections which is suprisingly good here.

Gonna spend tomorrow exploring Vientiane then head up to Vang Vieng and Luang Prabang in the next few days. So till my next update, take care and have a great day world. :)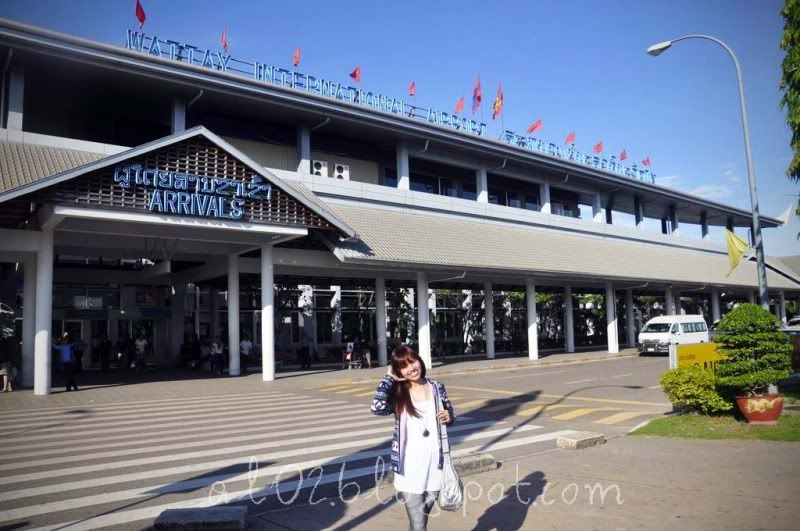 Fresh in at Wattay International Airport.
Vientiane riverfront.
Our first evening in Laos :)