HT and I finally got to try out Sage Restaurant and Wine Bar at The Gardens. After hearing so many good reviews about it and a failed attempt to booked a place there last Christmas, at last we managed to booked ourselves a table there last night. We are usually not so haute with our dinner but since we had two celebrations to call for (our belated 3rd anniversary and also our graduation from med school. We were literally eating our books on our 3rd anniversary), we decided to indulge and reward ourselves over some real fancy food in an upscale restaurant even if it means eating in small portions in a hush hush environmnent with the waiters/waitresses observing you almost every second ready to serve and assist to ensure you have a very pleasant dining experience. Honestly, I think I will be more comfortable eating without having anyone observing me from the side all the time but well, that's part of the fine dining experience, so I'm not complaining.

The restaurant was kinda empty on a weeknight and I personally prefer it like that. The waiter and waitress serving us last night were very attentive, so attentive it kinda gave me the goosebumps. We were seated by the window and I totally love watching the night view of KL while enjoying our dinner.


I'm in great love with this restaurant now.
The interior of the restaurant - Classy and warm ambience.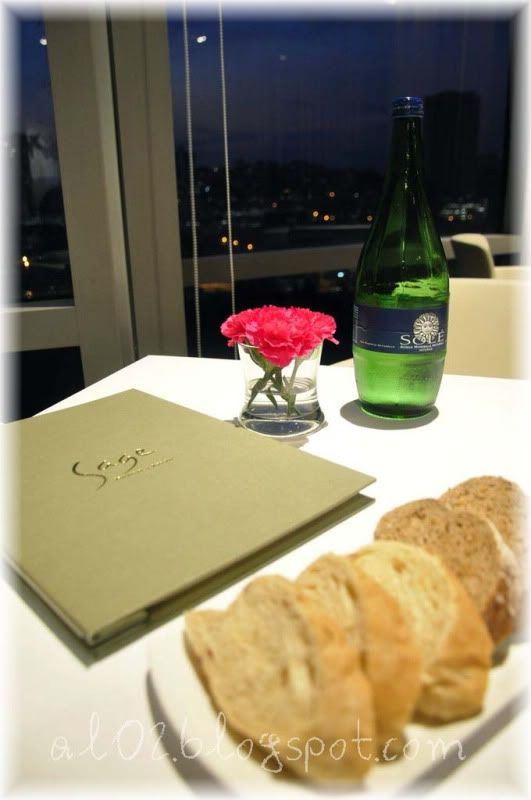 We both ordered the dinner set menus, one Sage and one Gourmet (the Gourmet set having an additional chef special of the day) and they actually had quite a good number of appetizers, main courses and desserts to choose from their ever changing menus.
Complimentary sashimi with roe to start our dinner.
Chef special of the day - cold noodle with fresh scallop.
My choice of appetizer - Royale of Maine Lobster with Sea Scallop and Yuzu citrus

.

I absolutely adore the sweetness of the lobster, scallop and the broth.
His choice of appetizer - Confit of Duck Leg with Puy Lentil and Olives. The duck leg was cooked to perfection, tender and juicy at the same time.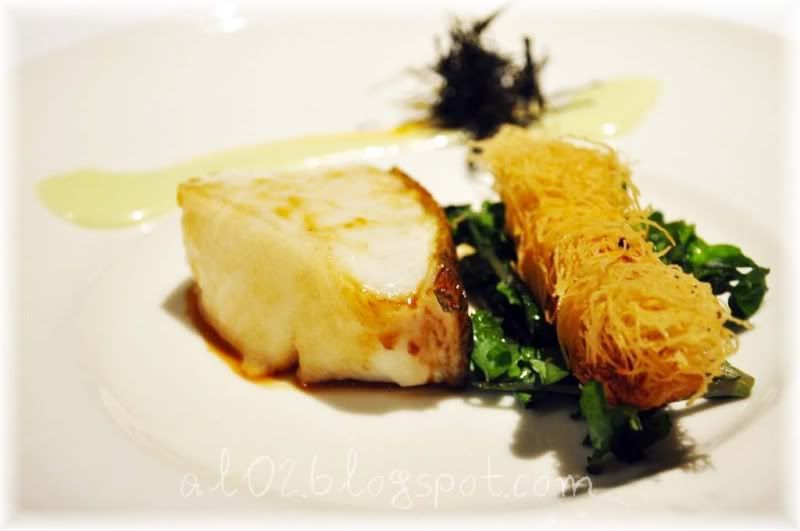 My main course - Glazed Atlantic Seabass with Kataifi Prawn and Crustacean oil. The seabass was really fresh, juicy and sweet. Every bite was simply heavenly.
His choice of main course - Risotto of Mushroom with Foie Gras and Sauce Perigueux. The risotto was very good, every mouthful mades you craves for the next almost immediately. I'm not a big fan of foie gras so I left it to HT to judge that and he said that fatty piece of liver was very succulent.
My choice of dessert - Belgian Dark Chocolate Fondant with Earl Grey Tea ice cream. This was one super sinful dessert with oozing dark rich chocolate that tantalized my tastebuds with utter sweetness. The earl grey tea ice cream was a wonderful neutralizer to an otherwise sweetness overload.
His choice of dessert- Baked Apple Strudel with Caramel ice cream. Not as sinful as the dark chocolate, this had a lighter shade of sweetness making an equally good and hearty finisher to an awesome dinner.
Us at Sage, The Gardens
Fancy names aside, the food were pure bliss. They were really really good, very much worth every single cent of our money, making us very satisfied and happy at the end of our meal. Sage definitely did not disappoint us with their good reviews and excellent quality of food, service and ambience. We were glad we made the right decision to visit Sage for our double celebrations. We both are greatly in love with the restaurant now and we certainly looks forward to going back there for more in the future. :)
Sage Restaurant and Wine Bar,
The Gardens Residence Level 6,
The Gardens, Mid Valley City,
Lingkaran Syed Putra,
59200 Kuala Lumpur
Tel : 03- 2268 1328
Website : http://www.sagekl.com
Disclaimer : This is an unpaid food review/advertorial. All recommendations are based on my POV only, hence any discrepancy in taste or opinion is very much regretted.