I'm back from Taiwan! My supposedly 11 days had been cut short to 7 days all thanks to my induction which is starting tomorrow by the way. I had to rebook my return flight, reschedule my whole itinerary and canceled on some friends in Taiwan because I decided to come back to attend the induction instead of deferring although a huge part of me was really nagging me to defer. We didn't get to go to Alishan too which was in our initial itinerary because on our second day in Taiwan, there was a huge storm that hit Alishan area and apparently the road condition there was affected greatly with news of the road up the hill being broken and not accessible by any vehicles for the time being. Nonetheless, this 7 days had nothing been short of amazing especially with both of my darlings, Kit and SY.

This time, we chosed to fly with Tiger Airways instead because at the time of booking, Tiger Airways had the cheapest fare to Taipei among all budget airlines. Besides, flying from Singapore has an added advantage to us JBreans as we do not have to waste time transiting at the airport. It took us only about an hour to get to the airport from JB.


Waiting to depart at Changi budget terminal
We arrived Taipei at about 8.30pm local time (time in Taiwan is the same as Malaysia) and we wasted no time buying our bus ticket from this local bus company call Kuo Kuong to take us to the Taipei main train station. The journey took about 45 minutes and by the time we got to Taipei main station it was already 10pm! And it took us about another 5 minutes to locate our guesthouse (Happy Family). We were so hungry by the time we got to our room but we were also tired so we decided to just look for food around where we stayed instead of going to the night markets. Alas, all the shops nearby our area were already closed hence in the end, we bought our dinner from the Family Mart (Taiwan's equivalent of 7-11).
Our rather pathetic dinner on our first night in Taipei.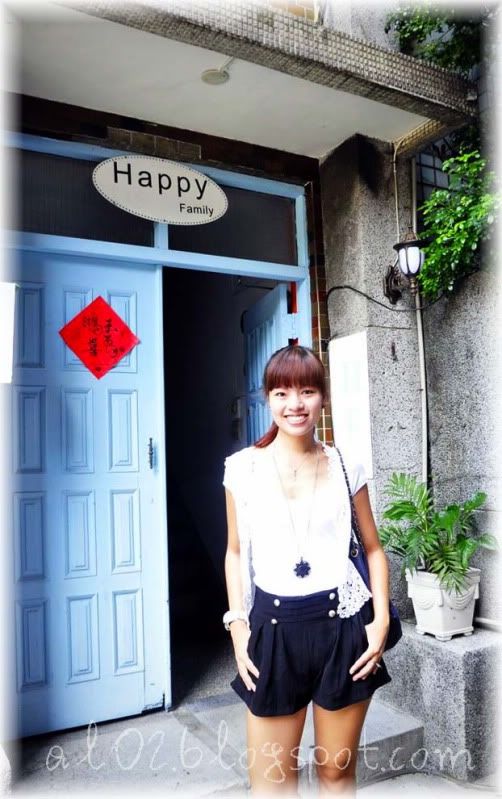 Our pretty basic but clean and strategically located guesthouse.
Our room for 3 which was located on the 5th floor!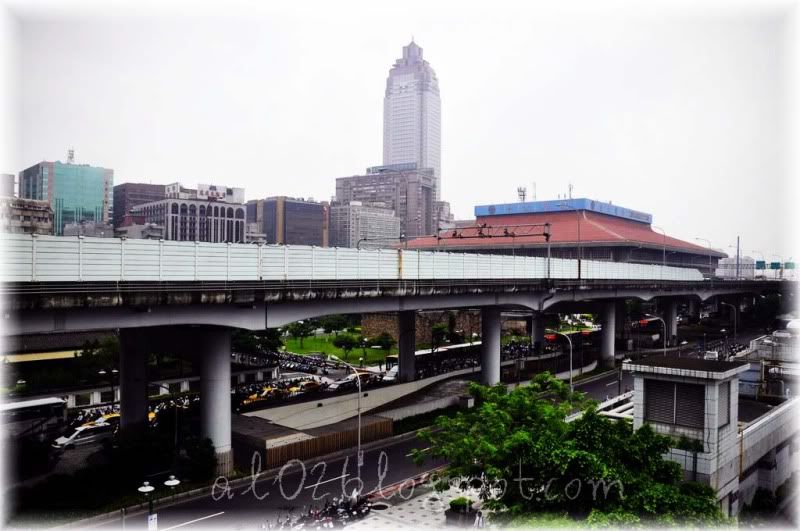 Taipei main train station from the balcony of the guesthouse.
The busy street of Taipei in the morning.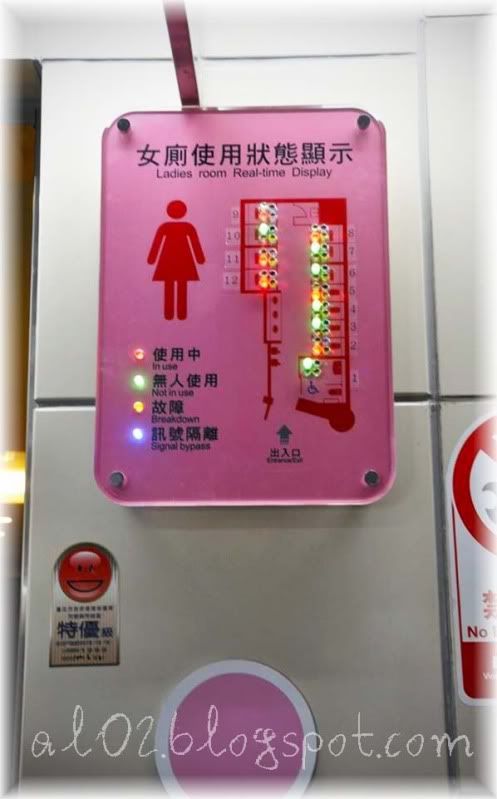 How cool to have a real time display on the ladies washroom.
Taipei really takes the effort to try to keep us females safe. In case you are wondering what's the difference between this waiting zone and the rest, a female waiting zone will have more cctv's watching over compare to the rest (according to my Taiwanese friend).
Our first mission in Taipei was to go soak at the hot springs of XinBeitou. I know, it is summer in Taiwan right now and at average daily temperature of 35 degrees, soaking in hot springs sounded insane. But hot springs are one of Taiwan's pride and we thought we would just go try it out, you know just to have a feeling of what natural hot springs are like. Besides, the hot springs at Xinbeitou is one of Taiwan's 4 main hot springs and it is located so close in Taipei city itself. We took the mrt to Beitou before transferring on another train to Xinbeitou, home to the popular sulphur hot springs in Taiwan.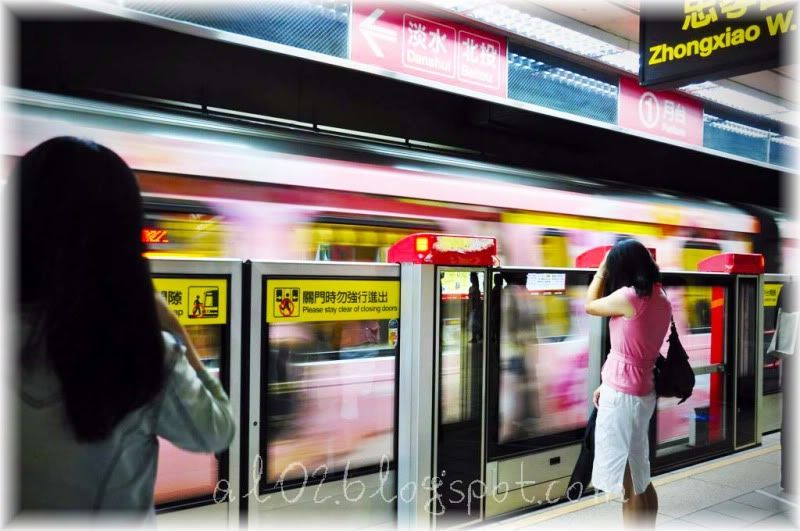 The mrt to Beitou.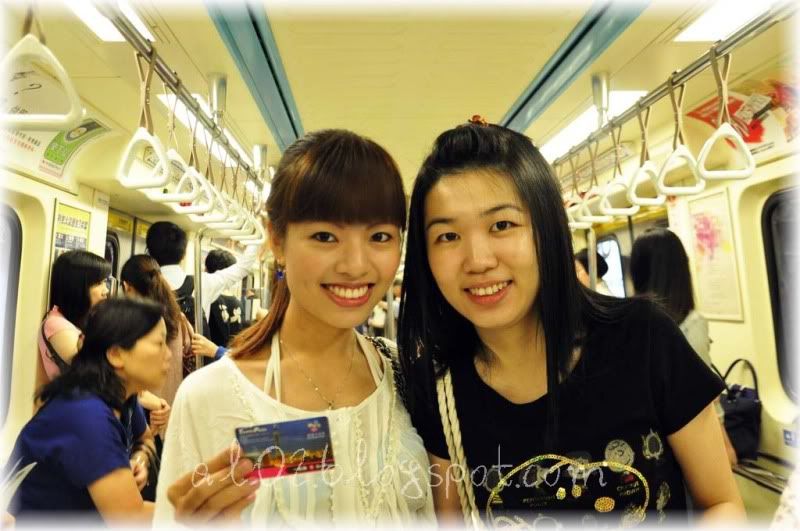 We bought the one day tourist pass at 180ntd which enabled us to take unlimited rides on the mrt and public buses for the day.
The mrt to Xinbeitou. So brightly painted.
All these cute figurines depicting the town of Xinbeitou. Even from the mrt station itself, we can already smell the odiferous sulphur.
Even the mrt to Xinbeitou has all these cute tubs with a computerized map in them.
It's about 15 minutes walk to the Beitou hot spring public bath.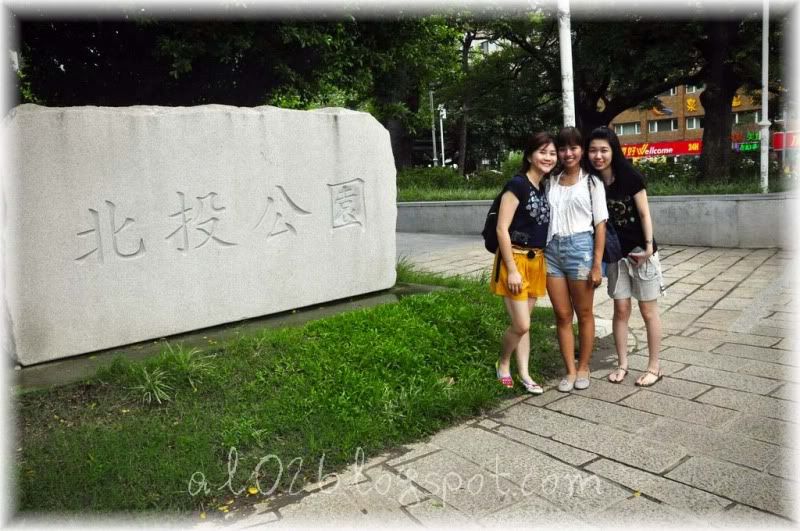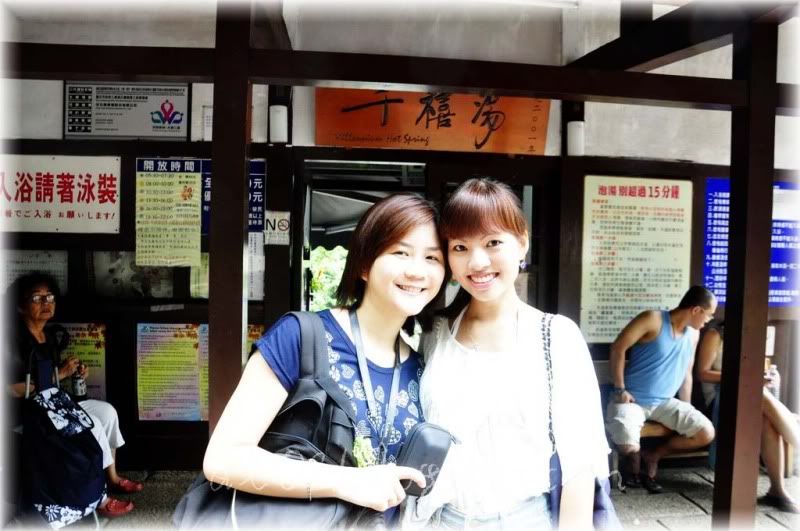 The Beitou hot spring public bath with an entrance fee of only 40ntd per person.
Photography were not allowed inside the hot spring area for the privacy of all users. Basically, the hot spring public bath is divided into a few sessions a day with each session lasting about 3 hours each. There are 3 main hot springs inside with the temperature of the water varying between each hot spring and there are also 2 cold pool inside, which is superbly useful to cool down the body especially after you feel all roasted from the hot springs. Unlike the hot spring in Malaysia, the Xinbeitou one is all au naturel and bathing clothes are required. They encouraged users of the hot spring to soak at a duration of not more than 10 minutes each time for health purposes.
We managed to stay in the first one for a full 10 minutes but we were already perspiring like crazy at the end of it. Still, we braved ourselves for the 2nd one and this time round, we couldn't take the heat anymore. The water temperature was only about 38 degrees but with the sun smiling generously down on us, I felt as though we were being boiled and baked inside the hot spring. My arteries were all dilating furiously and I felt my pulses really strong already. Hot springs are said to have beauty and rejuvenating purposes, so I guessed we only managed to beautify our skin for like 15 minutes that day. Hot springs are indeed relaxing and pampering, but definitely not during summer. It will have been most ideal to go soak in one during winter.
The Beitou hot spring museum with free entrance. There are many informative exhibits especially on the origin of the hot springs in this town but it's all in Chinese so unless you can read Chinese, you'll probably gain nothing out of it as well.
Can you all guess what building is this?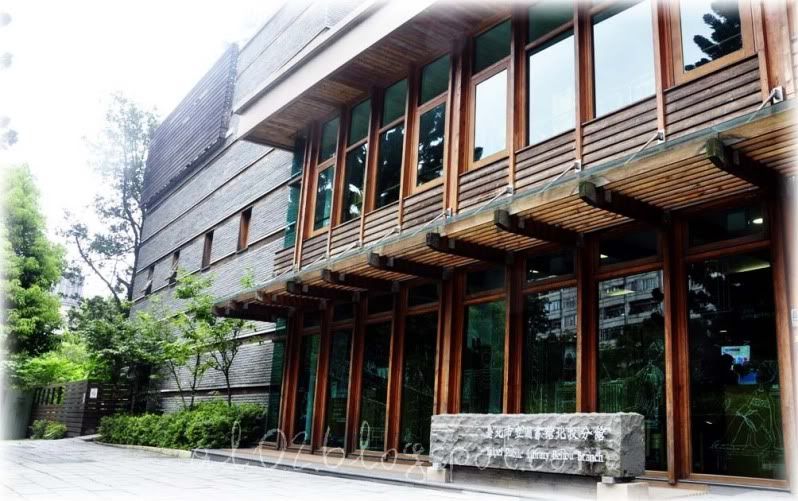 This is actually the Beitou public library! So beautiful can.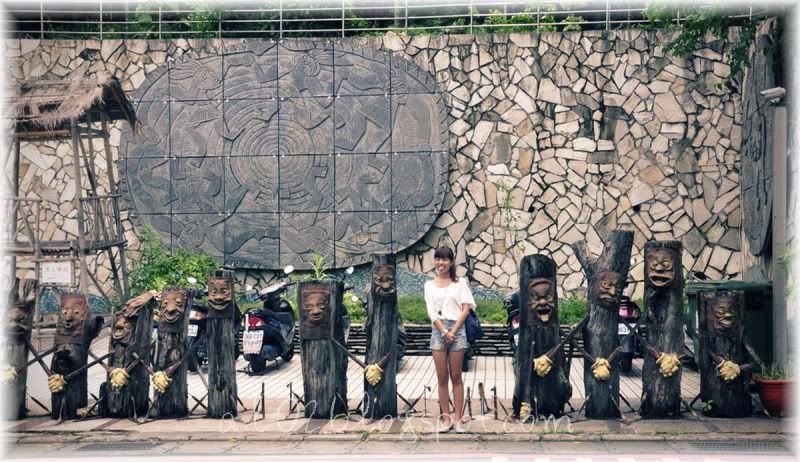 Attempting to blend in at the Katagalan cultural centre.
Alright, that's all for Taipei update for now. Mission two and so on in coming posts so remember to stay tuned to this space. Till then, nights everyone. :)