Remember somewhere in the mid of last month I posted a post about being in Laos? Well, I'm back for almost 2 weeks now and finally am going to start blogging about my experience backpacking the second leg of South East Asia; the first leg being last year covering Cambodia and Vietnam. This time, I decided to cover Laos and Thailand. Had intended to do more but I had to cut it short because of my convocation.

Anyways, in my previous post, I mentioned about getting our money change at the airport right? Well just a little advice from me : please DO NOT get your money change at the airport because we later found out that getting our money change at the money changers around Vientiane fetched us a far better rate than the airport definitely. No need to rush to get your kips at the airport because while most Laotian uses kips, they widely accepts USD as well. Seriously, we felt so ripped off by the airport. At the airport the rate was RM 1 to 2200 kip and at money changers outside, it was RM 1 to 2540 kip! Argggh! At least that was the rates we got from the money changers that lined Lan Xang avenue. And because of that 300 kip difference, we were paying more with every single cent spent that in the end we used far more USD in Laos which makes everything cheaper after conversion.

Since we were staying at the riverfront, we decided to spend our first day in Vientiane exploring the riverfront. The Mekong river is less than 5 minutes walk from our guesthouse.


It looks like the Mekong river is drying up.
The whole riverfront is kinda like a recreation park now. There were people of all ages jogging and cycling along the river, teenagers and young adults skate boarding, families and children playing in the playground and dating couples just sitting around waiting for the sunset.
Walking on the opposite side of street from the park, there were quite a number of stalls selling pretty crafts and souvenirs.
The Lao love a good ping (grill) so there are countless food vendors along the street selling everything grilled. These makeshift grilled pits are actually used kerosene barrels.
We walked and we walked until we finally reached the end of the stretch of the food and drink vendors. Honestly we didn't know which stall to go because everyone from every stall was trying to get us to their stall. Besides, all their menus are similar, selling same dishes at the same price so there was nothing competitive in terms of prices. Hence, in the end we picked the stall with the most number of locals.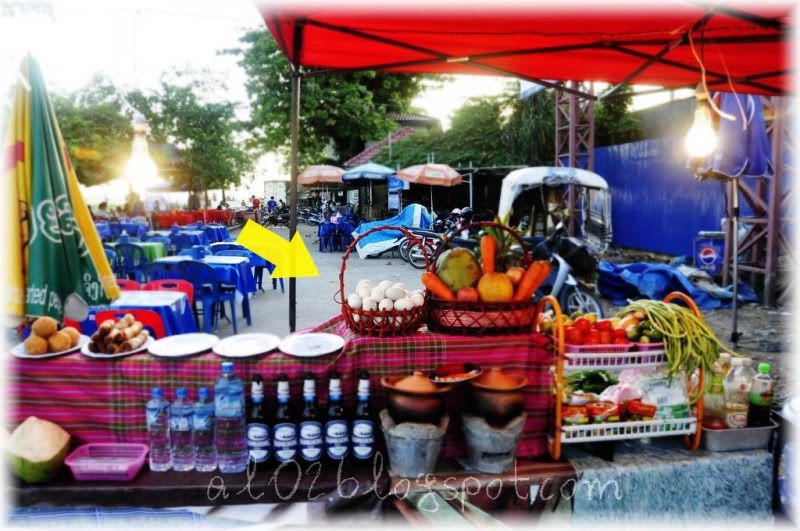 Notice those eggs the yellow arrow is pointing too? Apparently the Laotian love duck fetus eggs too! Seriously almost every table around us had a plateful of the duck fetus eggs on them and just like in Cambodia, they were happily gulping down their eggs as well. Only that the most Laotian take their duck fetus eggs with beer Lao.
The stall we ate from.
We ordered one grilled fish and one grilled chicken. The girl at the stall taught us to say fish and chicken in Laos. Fish is paa and chicken is kai which we later on found out was the same as the Thai language for fish and chicken.
Enjoying a coconut on a very hot day. The coconut was 7000 kip (RM 3). Even the coconut water was warm.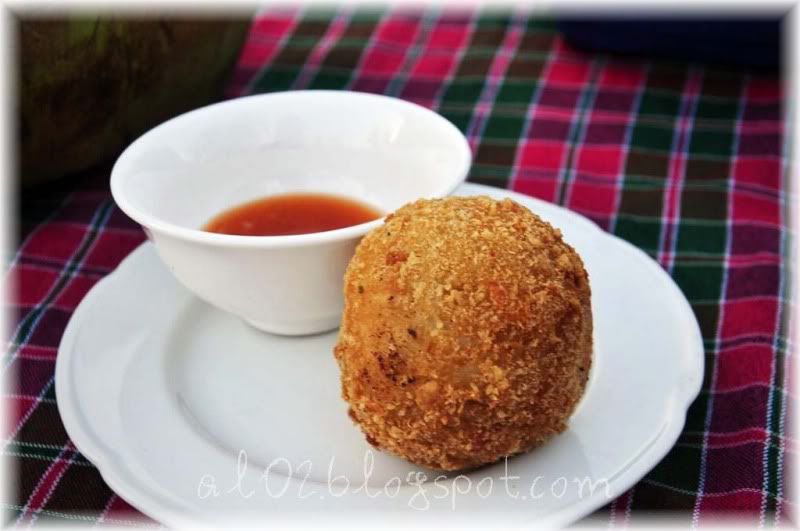 We had to wait like half an hour before our fish and chicken was ready because they were being slowly grilled over hot coals. So in the meantime, we decided to try this local street food which is called nam. It is really a fried ball of sticky rice and shredded coconut. 5000 kip (RM 2.30)
The fried ball cut opened. It's quite interesting to try because we never had such thing in Malaysia but perhaps because it was rice, I felt quite full even eating half of it.
A huge plate of sticky rice. In Laos, sticky rice is the preferred rice. Sticky rice is actually plain glutinous rice and is serve with a dipping sauce.
Our grilled Mekong fish. The Mekong fish along with the sticky rice is part of the Laotian staple hence we had to have at least one grilled Meko

ng fish.

The whole fish was bathed in thick layer of table salt with lemongrass stuffed down its throat through the mouth. Despite it's not so appealing look (I don't know but I find the lemongrass stuffed into the fish mouth like that not really appealing) and after clearing away all the salt, the fish itself was super fresh and huge. Not to mention the whole fish was only 35 000 kip ( RM 15)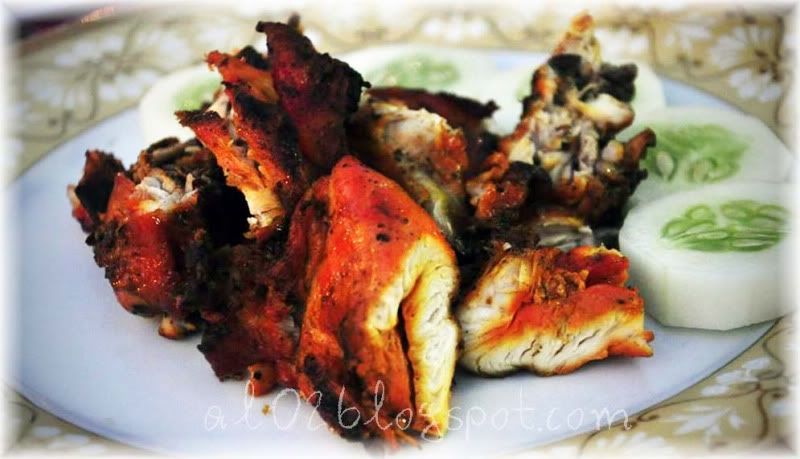 Our ping kai. Honestly, I felt it tasted kinda like our tandoori chicken. 20,000 kip (RM 9)
Everyone else also had a plate of this on their table so we decided to try one too. It's simply just fried maggi but unlike our maggi goreng, it is sweet and sour and had peanuts. If you like sweet and sour, you'll like this.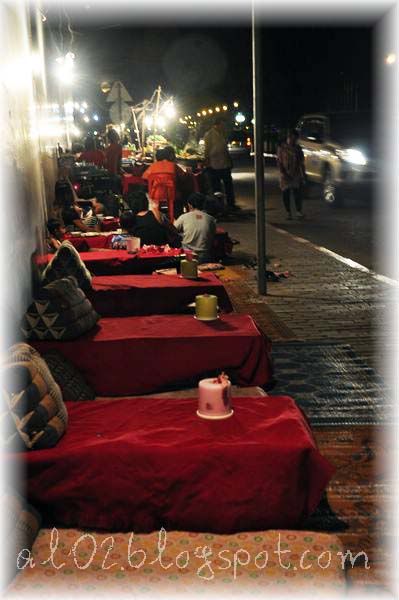 We initially thought this was some sort of street massage but turn out, instead of the conventional tables and chairs, this are the tables and chairs provided by some of the vendors in hope to attract customers.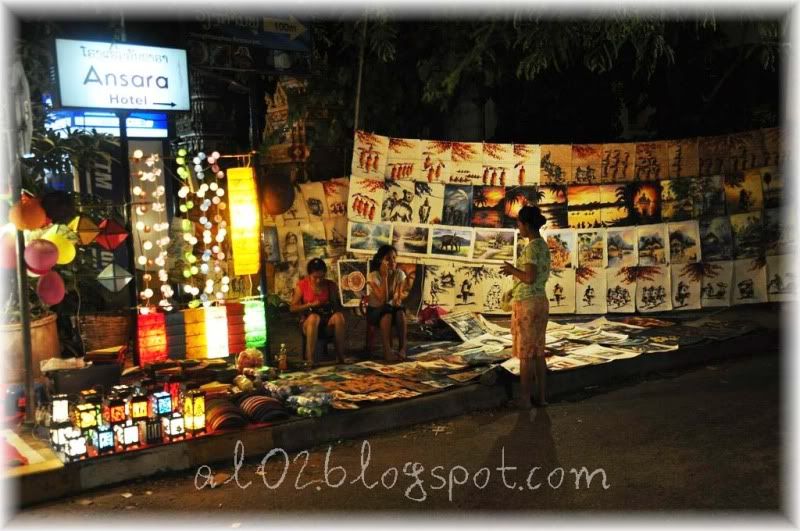 I realized they have a lot of this Saigon painting look-alikes and very beautiful lamps.
The riverfront is indeed a pretty neat place to go to sample some of the cheapest Lao street food in Vientiane. I was full to the max after our dinner because as I realized, the Lao people are extremely generous with their food portion. Everything is like super huge plate and even their fishes and chickens are like huge (for the price we were paying, we thought it was well worth it). If I had stayed in Laos for a month, I'm pretty sure with all their sticky rice and huge fishes, I'll definitely gain weight in no time! :)