On our 3rd day in Taiwan, we decided to travel out of Taipei and explore the largest city in the east coast side of Taiwan - Hualien. There's no high speed rail that connects Taipei to Hualien, hence we could only take the normal train. There's like 2 main train companies that travel Taipei-Hualien daily, one taking only about 2 hours and the other about 3 n half hours. We had wanted to take the faster albeit more expensive train (time is of essence) but the tickets were all sold out! So in the end, we could only settled for the 7.28am train (the train was so insanely punctual that it departed on the dot at 7.28am) and arrived Hualien station at about 10.30am.

It's nearly impossible to get around Hualien without your own transportation because unlike Taipei, public transportation in Hualien is still not advance. There's no metros and their buses are pretty much unreliable that they literally do not exist. Thus, I was very glad we had booked our very own private cab for the day through the minsu we stayed at. At 2500 NTD a day, we got ourselves our very own private driver who doubles as our Hualien guide who also doubles as our photographer.


The ride to Hualien
Takeaways like this are sold on the train. A pretty neat combination of meat and vegetables perfect to feed our rumbling tummies for 60 NTD
Our main destination in Hualien was actually Taroko Gorge, one of the most scenic and beautiful place in Taiwan with it's massive marble cliffs, blue stream and green forests. Therefore, our cab uncle wasted no time in heading straight to the Gorge upon picking us up from the train station.
*Funfact #1- In Taiwan, they do not address older males or females as 'uncle' or 'auntie'. They call them da-ge or da-jie instead*
*Funfact #2- Hualien is also dubbed 'City of Marbles*
*Funfact #3- Hualien is known for local specialties such as mua chi and peeled skin chllies (direct translation of 'bo pi la jiao')*
On our way to the Gorge, we passed by this corn stall and our da-ge decided to treat us to their local corns
Apart from the obvious colour difference (theirs is almost whitish yellow and the da-ge said they have purple corns too), we find local Hualien corns too starchy and bland. Now I finally understood why we Malaysians name our corns 'sweet corns' because our corns are seriously much sweeter, juicier and crunchier
'Bo pi la jiao' bottled up
We finally reached Taroko National Park after some 45 minutes
The beginning of our journey exploring Taroko Gorge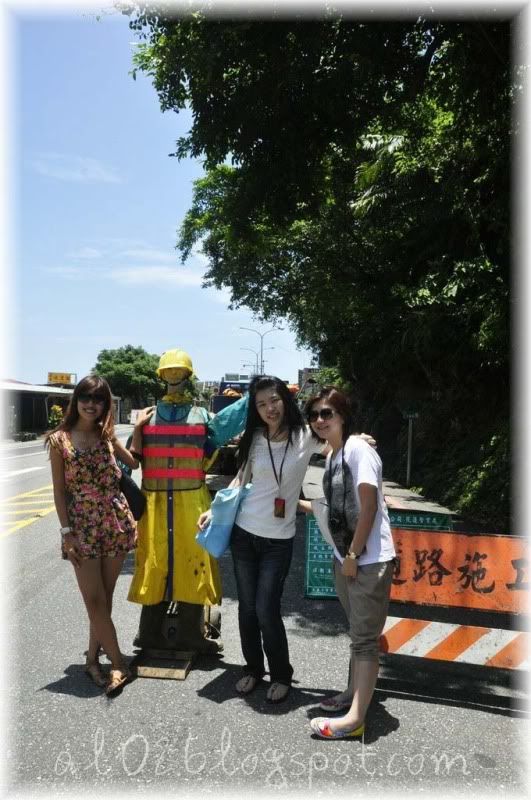 The mannequin signal man that looks so real
The much afame Tunnel of Nine Turns (
九曲洞 Jiuqü Dong) and Baiyang Trail (白楊步道) is close temporarily due to recent rock falls so we had no choice but to give them a miss. Nonetheless, the da-ge had replanned a whole new route for us to visit some other also famous sights around Taroko instead.
The Bridge of 100 lions. Each and every one of the lion is unique on it's own. There's no two lions that looks the same
Our first trail - Shakadang trail
This trail is built along the river cliff so we mainly marveled at the rock folds, clear water and vast plant ecosystem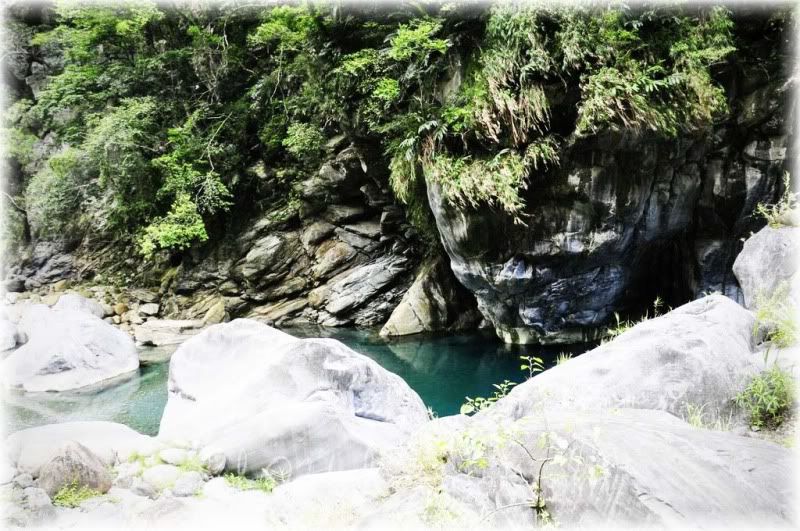 The water here looks really mesmerizing especially the deeper pools when it's so super crystal clear blue. The bluer the water, the deeper is it though so all visitors are restricted from swimming or going into the water
The Bridge of 100 lions from the Shakadang trail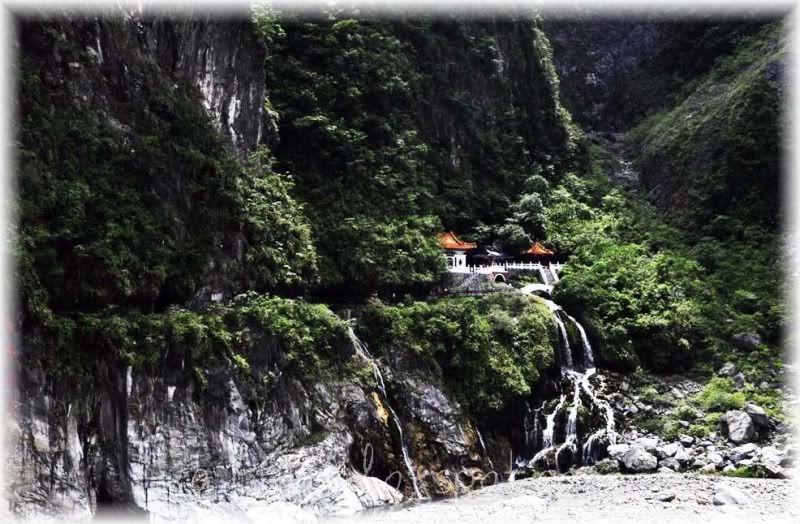 Our next stop was the Eternal Spring Shrine
(Changchun Shrine)
which commemorates the 225 personnel (military veterans) who died and another 702 injured during the construction of the Central Cross-Island Highway (1956~1960) making this the main historical and scenic attraction in Taroko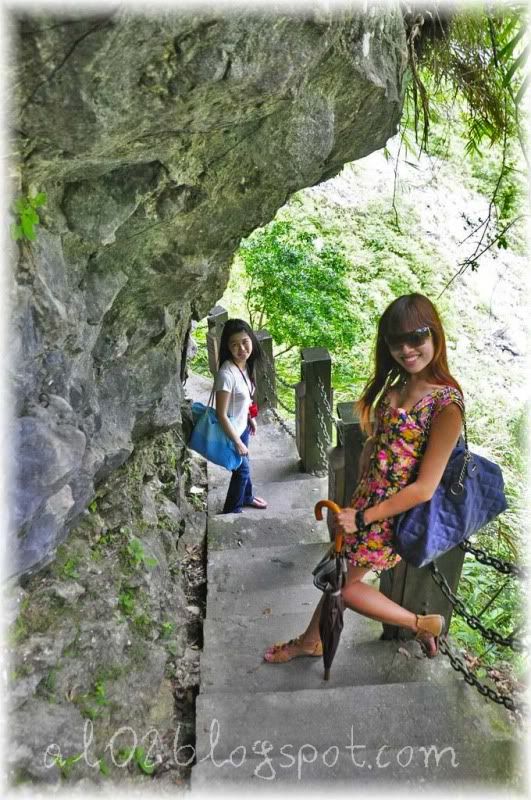 From the Eternal Spring Shrine, there are stairs leading to higher points where there are more towers and caves (and a more beautiful view) but those stairs are pretty steep and never seems to end. We attempted those stairs but aborted our plan halfway because we were drained off almost all our energy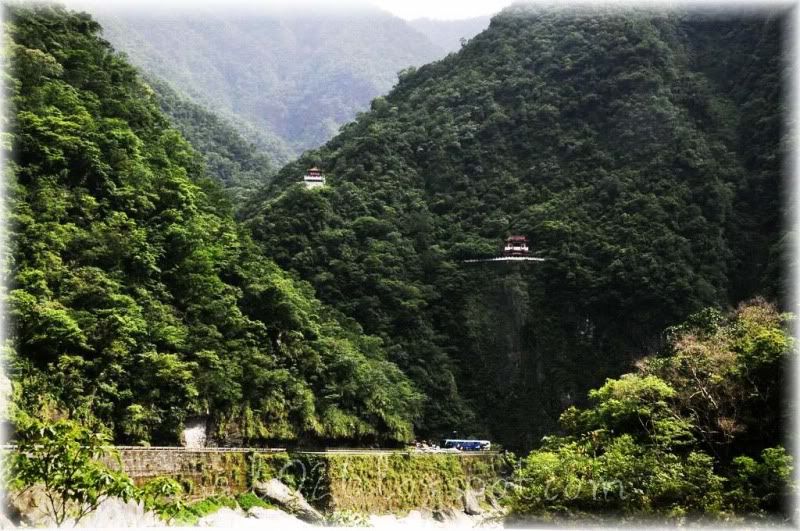 Those 2 are the higher points we could had got to if we had continued our hike up those steep stairs
The suspension bridge
The Swallow Grotto trail (Yanzihkou)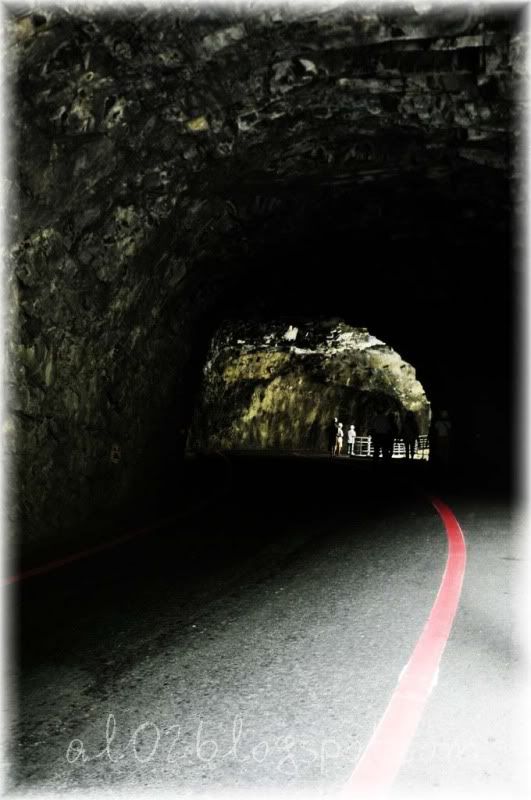 The pedestrian path
This trail that runs about half kilometer starting from the entrance to Swallow Grotto to the Jinheng Bridge, we can see the Liwu River running swiftly below, the potholes on the cliff faces and the springs sprinkled along the lower parts of the walls
The famous rock formation Indian "Chieftain's profile rock".
Ta-da! A closer side profile of the popular rock formation Indian "Chieftain's profile rock".
Buluowan - a settlement where the Atayal tribe originally lived. It is divided into the upper and lower terrace but it was raining when we were there hence it kinda dampened our motivation to climb up the upper terrace
This 'V' shape valley known as the Cihmu valley (Mother's devotion valley) or something like that is so name because it resembles one part of the human anatomy. Put on your thinking cap and see if you can get it figure out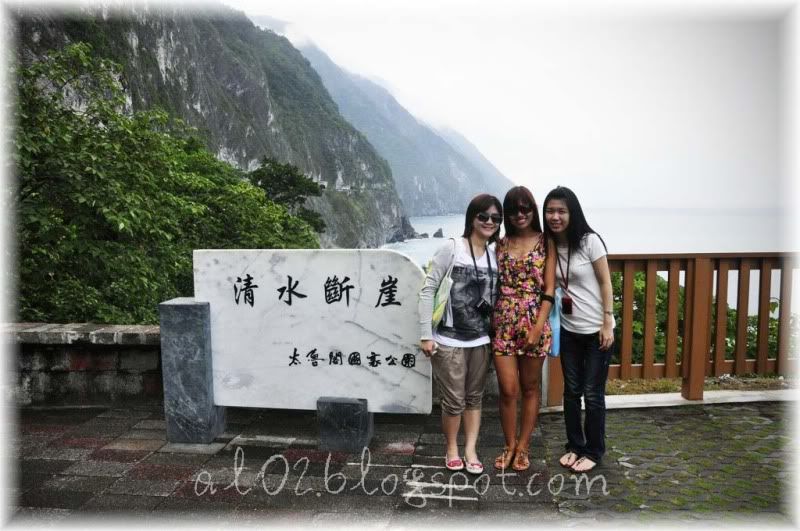 We also went to Qingshui cliff where it offers spectacular view to drivers driving along the road between it and the boundless Pacific Ocean below
It is indeed magnificent to enjoy the breath taking view of the the ocean extending across the horizon, the waves rolling in crashing against the enormous cliff and feel the cool ocean breeze against us
Before heading back to Hualien city, our da-ge decided to drop us by Cisingtan, one of the most beautiful beach in Hualien apparently. It is not a swimming beach but most people just come here to picnic, cycle, stroll or simply relax
It was almost at the end of dusk by the time we were there, hence our view of the surrounding was pretty masked by the darkness around
We finally got to Hualien city in time for dinner. There are two main night markets in Hualien, one the Nanpin night market that is located right beside the sea and as it coincides with some massive festival in Hualien at that time, there was free concert going on every single night by Taiwan celebrities and fireworks performances.
The other night market, the Ziqiang night market has wider variety of cheap and good food albeit it being the smaller night market. We were more attracted to the latter though because we were more of the gastronomers. I also met up with Sky there, my beloved friend from Hualien and it was really nice of her to bring us around the night market despite the fact that her national's exam was in one week.
This is one must try. This stall sells barbequed meat and we have to take a number to wait for our turn after taking our picks. The current number was 153 and our number was like 212 at that time. Imagine having to wait 50+ people just for few sticks of barbequed meat!
The selection of meats and other food stuff
We waited almost an hour for our barbequed stuff but honestly it was worth all the wait! The barbequed stuff was superbly heaven. They barbequed the stuff with some kind of sauce and every bite makes you just wanting for more. It tops the list of -food-I-miss-in-Taiwan' and my only regret was only picking 3 sticks out of the whole variety of food above. T_T
The barbequed squid that was like soooooooooooooooooooooooooooooooooo GOOD
Our other barbequed stuff - stuff fish thingy and pork blood. I'm not a fan of pork blood but Taiwan's famous for that and Kit and SY decided to give it a try
My beloved Sky whom I met in Japan three years ago. There are also many fruit juices stalls around these days and for only 50NTD, we could get a huge cup of fresh, pure fruit juice from a super wide variety too
I forgot whats this called but this is just as delicious. This is not found at Ziqiang though. Sky bought it for us from somewhere else in Hualien. It is kinda spicy with chilli powders on the outside but once you bite it, there's all these egg yolks oozing out.
The famous coffin bread. We could choosed our own fillings for the bread from sweet to savoury to a mixture of both. We decided on the Hawaiian one, which was a mixture of both sweet and savoury with pineapples, chunky chickens and coleslaw
Hitch a ride on Sky's scooter back to our minsu. Scooter is the most popular mode of transport in Taiwan and almost everyone in Taiwan has and knows how to ride a scooter. If you can ride a scooter, then you can rent one and that's your best way of getting around the country
A shot with our dearest minsu owner and our da-ge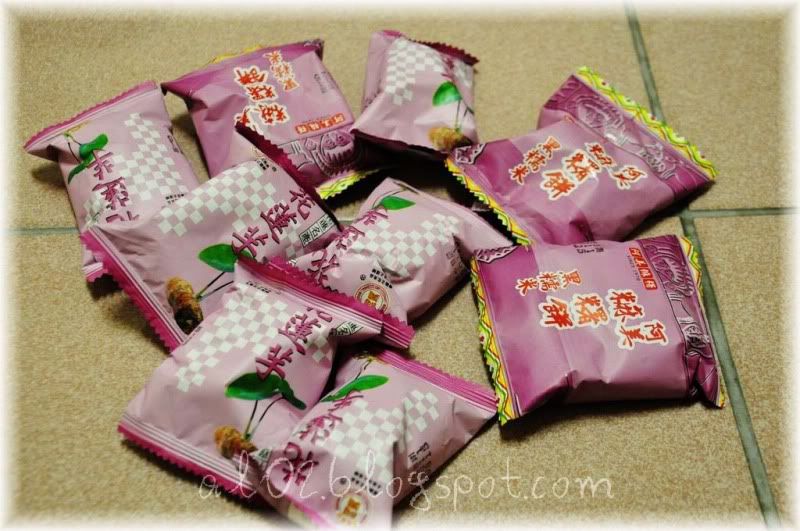 Complimentary candies and mua chis from Wan-jie, our minsu owner
Wan-jie even prepared these organic pumpkin sandwiches for us as breakfast the next day. So sweet of her
The minsu we stayed at. The only disadvantage being it a tad too far from the train station but really close to the beach
We only allocated one day in Hualien but it was a mistake because turned out, there was actually so much more to Hualien to explore and experience. We should had spent more days there especially in summer. For me, I personally love Hualien more than Taipei even though transport was pretty much a hassle but there's Sky, there's all those heavenly food, there's our very warm minsu and we could see the part of Taiwan that is different from Malaysia. Oh well, perhaps that calls for an excuse to revisit Taiwan, no? *grin* :)