Remember I said I was in Batu Pahat last weekend? Well, one of my close friend from school, Mich got hitched last weekend in Batu Pahat and I had the honor to be part of her band of sisters aka ji-mui aka bridesmaid. I was really excited especially since it was my first time as a bridesmaid and 'torturing' the band of brothers is one of the most 'fun' part of a wedding. I mean seriously, the guys do deserve some teeny-weeny challenges before they can finally get the bride, no? Else it will have been too easy on them. haha! There were 8 of us altogether and we convoyed up Batu Pahat on Friday night.


Camwhoring with the rest of the sisters with our same neon pink hairbands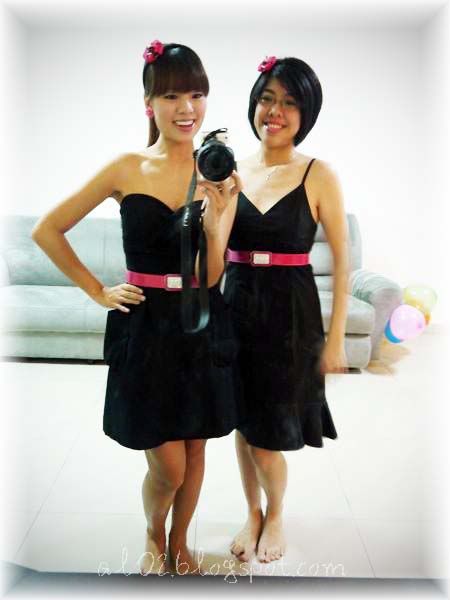 All of us ji-mui were in black dresses and the same neon pink belt and hairband that day
The guys were supposed to arrive at 7.30 am but we were down by the pool at 6.45am getting the place ready. In this game, we tied keys to the end of each balloon and disseminated the balloons all over the pool. The guys in return were to look for the right balloon with the right key that will open the door to Mich's room
We had quite a list of challenges at hand that the guys would need to get through before the groom can finally kiss his princess but they were actually late hence in the end, they escaped pretty easy with only a few of the challenges. Seriously, the guys called us their 'torturers' but if we were ever torturers, we must be one of the nicest and kindest in this world because they relatively had an easy time! :p
With time to spare, we started a little phototaking sessions of our own
Oh, and we had the same wrist band too. Hand made specially from our creative bride!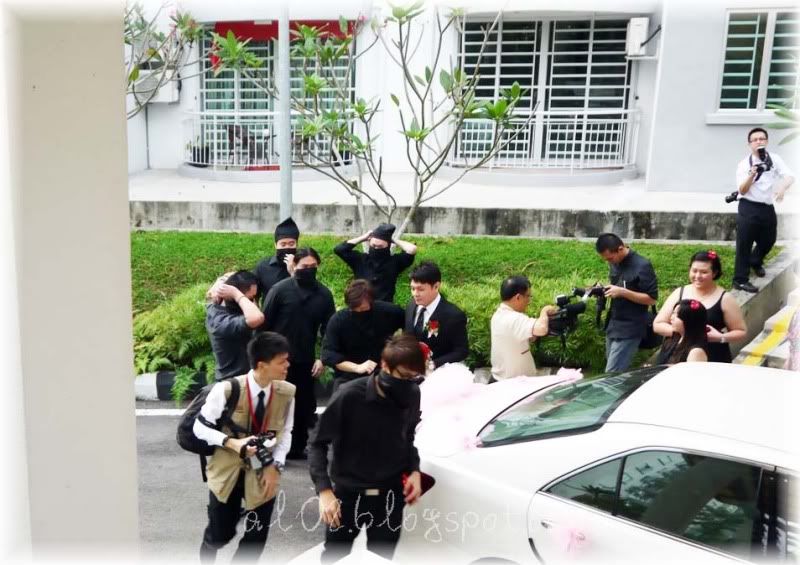 Finally the groom and his brothers arrived dressing up as ninjas
The lovely bouquet of flower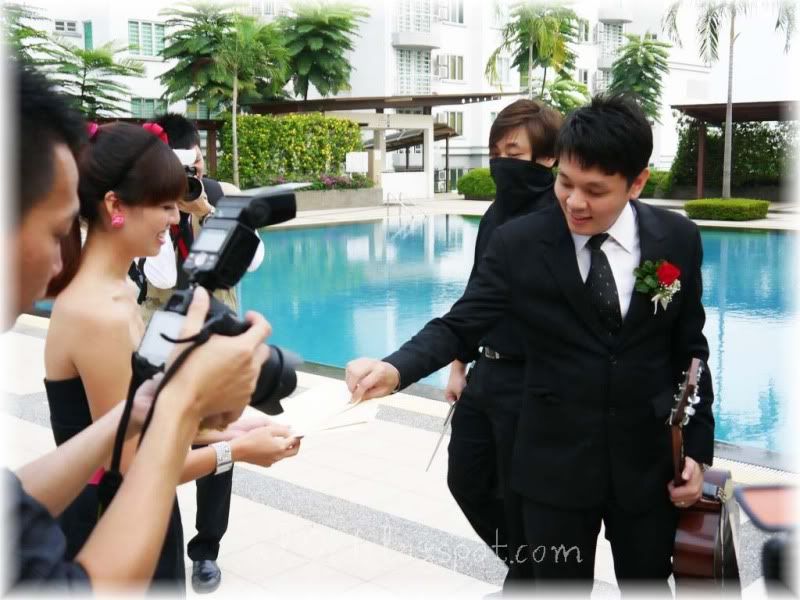 Let's kick it off with a little morning exercise
The ninjas came quite prepared apparently with their swords and all!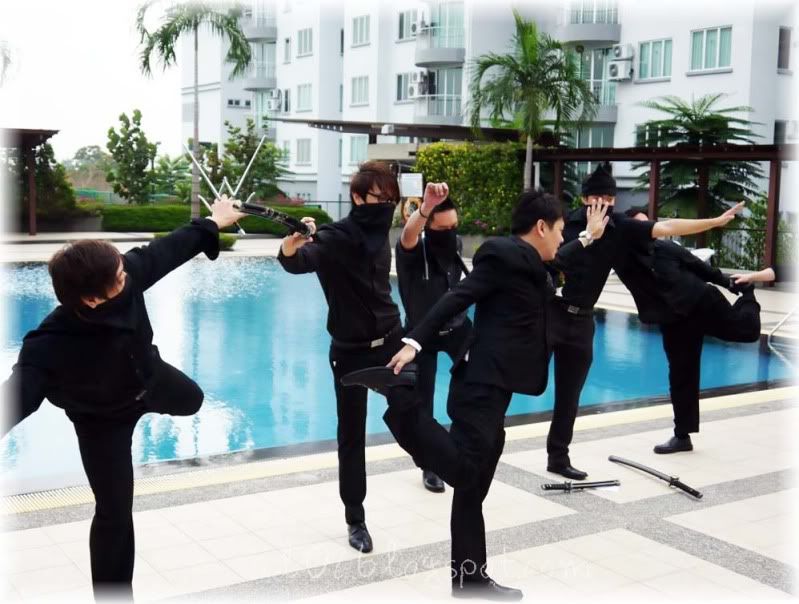 Oh yeah, a little yoga to warm up the day
They gave up on the second yoga exercise and hence, had to wax off some of their leg's hair as punishment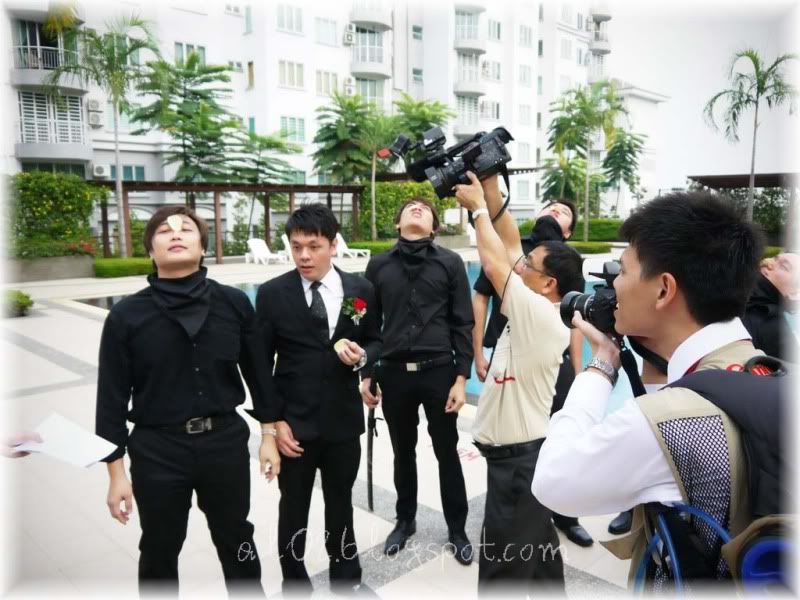 The second challenge! It's called bite-the-bickie but instead of cookies, they had to get potato chips from their forehead into their mouth without using their hands. It was a pretty funny sight as their face muscles twitched and turned just trying to get that piece of chip into their mouth
The ninjas smartly utilized their swords to hook up the balloons in search for the right key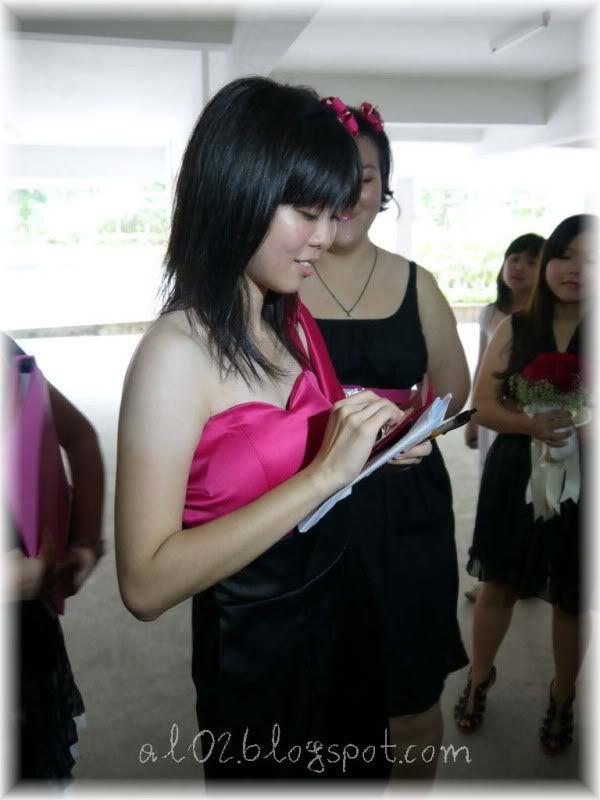 Let's count our ang pau and see how much bribed the groom had given. hehe!
Push-up cheat max but we still let them off because we sisters are nice like that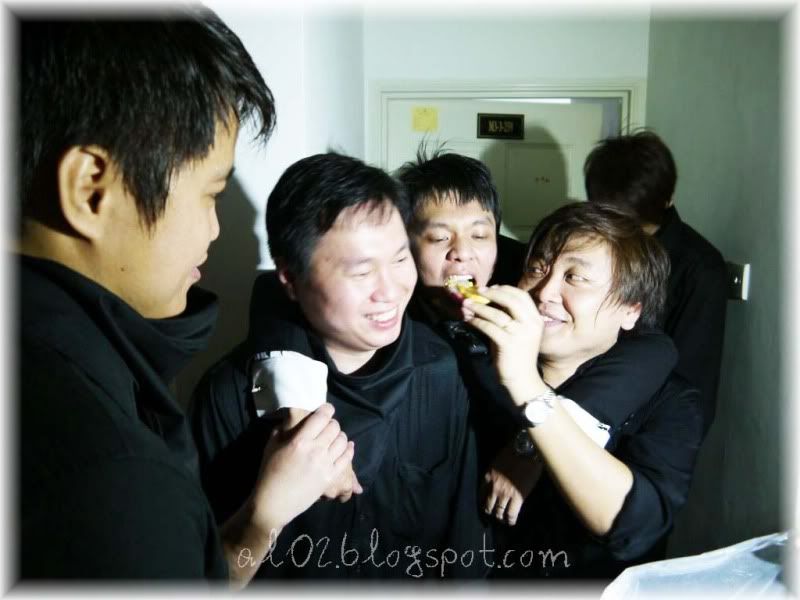 We knew the groom would be hungry from all those challenges so we decided to feed him some tarts even when he was being piggy back
The groom, Matt who is pretty much a banana had to expressed his sincerest love to our dearest princess in Chinese!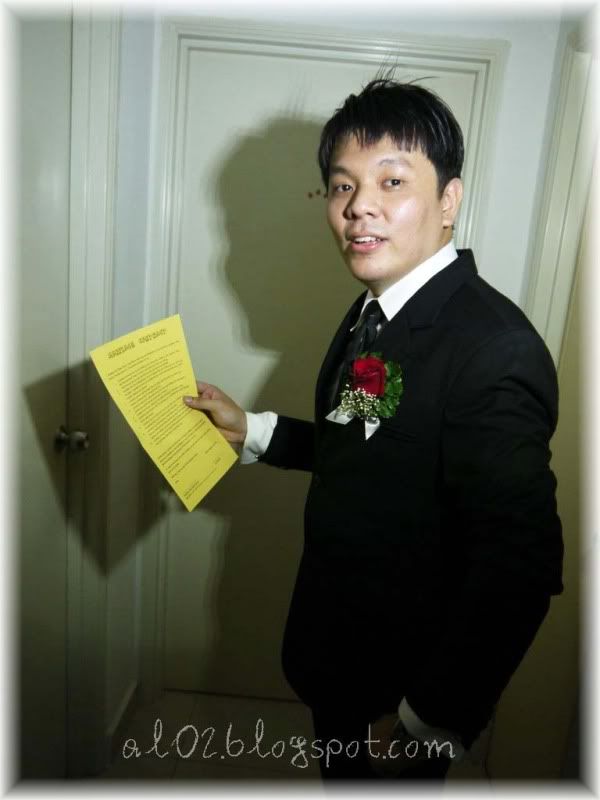 That's not all. Ah, yes getting the princess does not come easy! A marriage contract the groom had to agreed to first. Brilliant idea I would say *grin*
And finally, Matt had to serenade our dearest princess with a modified version of any song of his choice
Us sisters with the pretty bride
We even got to kiss the bride before the groom does. hahaha
At last, the groom got to kiss his bride. Awwww!
After all the fun at home, we moved on to the church for their wedding service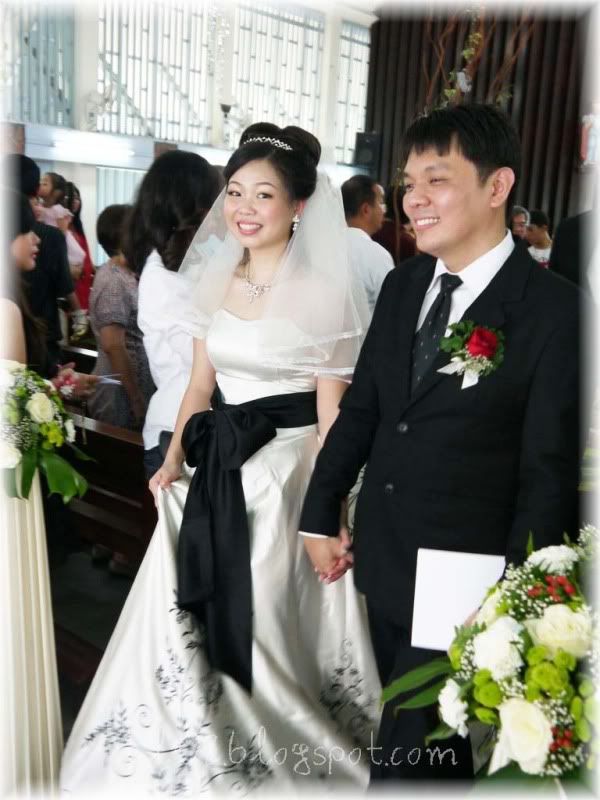 The newly wed
Epic posers
Our initial plan was to explore Batu Pahat after the church service, but we were too exhausted that all of us spent the afternoon napping away before heading back home.
Their wedding lunch was on Sunday and I was lucky I managed to get half day off to make it in time.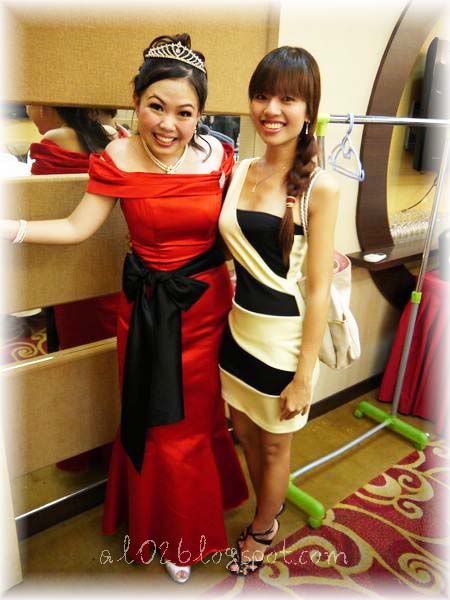 Mich, my pretty bride
Weddings are also one of those times when you get to meet some friends that you had not been meeting for a long time
The newly wed are very busy hence we got their life size poster as a substitute
Now a real one with the newly wed
One last one, all of us nice sisters with the newly wed
I definitely had an awesome time with the rest of the girls being part of the band of sisters in Batu Pahat. It was one fun road trip but the best part of it all is seeing another of my close friend getting happily hitched. Once again, congratulations to the M & M's, just like the chocolate, wishing the both of you a very colorful and fun marital life ahead. :)