I'm back from Batu Pahat for Mich and Matt's wedding! Had truckloads of fun and pics of course but that had to get sorted out first. Thus, for now, a travelogue post.

After spending only a day in Hualien (click to read previous post), our next destination in Taiwan was Kenting National Park, the extreme southern tip of Taiwan. I was very excited to visit Kenting because I have heard so much about how beautiful the place is and how everyone, literally everyone in Taiwan recommends that we should visit the place especially in summer. And honestly, between industrious and full of skyscrapers Kaohsiung and more laidback with generous sun, beaches and surfers Kenting, I choosed the latter anytime.

Hence, we left Hualien early morning and took the normal express rail to Fang Liao station which is really the station you should stop at instead of Kaohsiung if you want to get to Kenting from the east coast. The train took us approximately 3-4 hours and from the train station, we paid about another 750 NTD for a private cab to take us to Kenting which took another 2-3 hours. A cab isn't exactly the cheapest mode of transport, there's the supposedly public buses but certainly, a cab saved us more time than the buses.

By the time we got to our hostel, we were hungry max and the first thing we did was asking for the best places around to eat. The hostel owner recommended two restaurants to us, one a little too pricey and the other said to have the best beef noodle around. We were intrigued by the beef noodles as that was one of our must-eat-in-Taiwan food but honestly, I was disappointed after trying them. There was nothing to shout about and no offence but it tasted just like a very average bowl of beef noodle.


The said beef noodle with it's chunky huge pieces of beef and soup with very strong smell of beef
Our surfer hostel
This was the initial dorm we were supposed to stay in at 400 NTD a night until the owner decided to upgrade us FOC to a priave room for 3 later that night
A surprise visitor! This is Fei-zhai aka Fatty, a handsome Husky that sleeps almost all the time in our dorm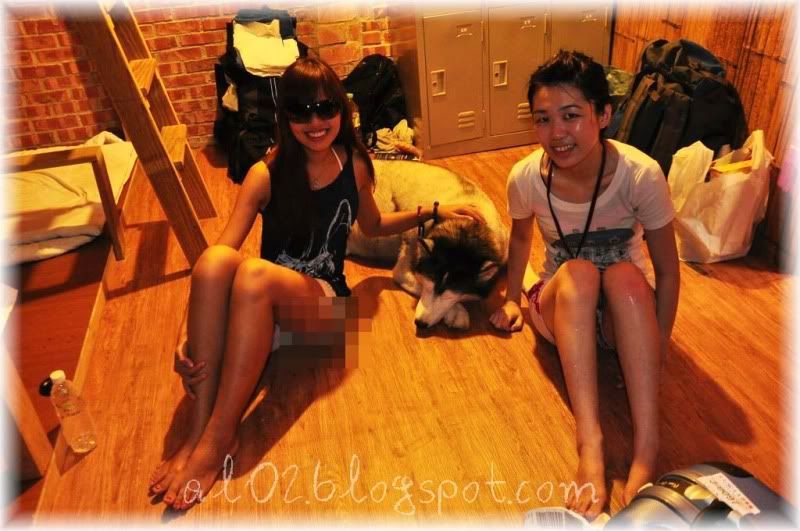 See, he's so soundly alseep he couldn't even be bothered with our presence. Seriously he would even snort if you make too much noise and disturbed his sleep.
Our hostel is located super near the beach, like just 5 minutes walk from Nanwan beach. Thus after lunch and freshening up, we decided to head down to the beach!
Most of the shops along the beach are just two-storeys high like this and selling a lot of beach wears and accessories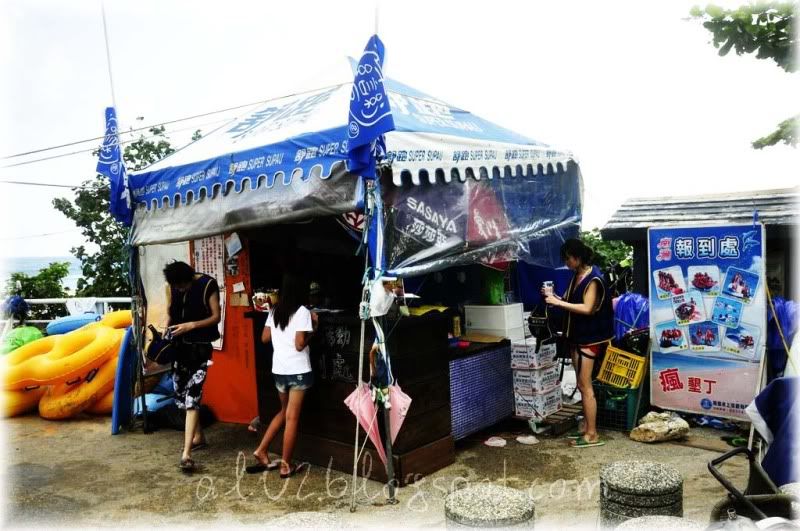 And water sports are abundantly available on this beach at pretty reasonable prices too. We signed up for a triple combo water sports package that includes jet ski, banana boat and this other Taiwan invention that pulls you on this inflated boat for only 600 NTD! One of the operator stall where you can sign up for the water sports
The beach is situated side by side along with a nuclear power plant which can be seen in the distance
Different umbrellas actually belong to different water sports operators so you can only sit under the umbrellas of the operator you signed up with and not the rest, else they will chase you away
They have all these cute little chairs under each umbrella instead of the usual long beach chairs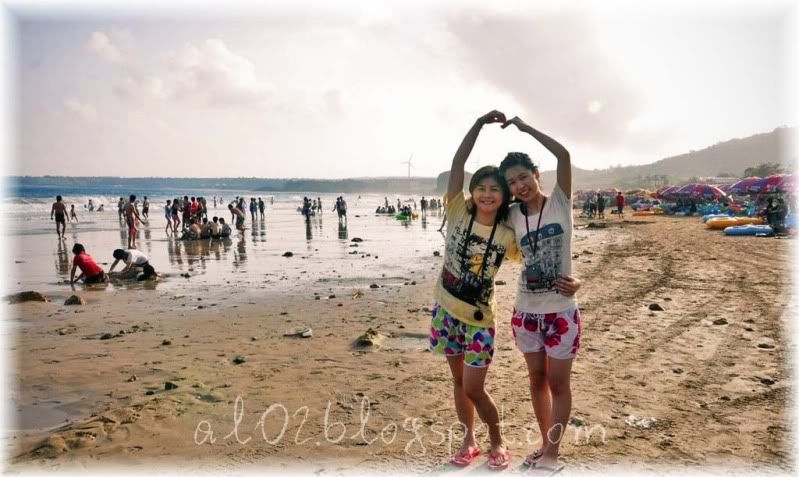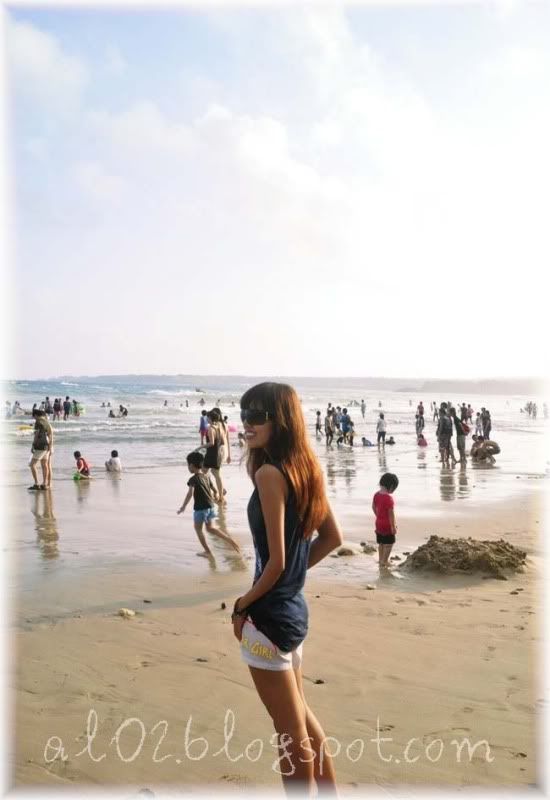 Surfers attempting to surf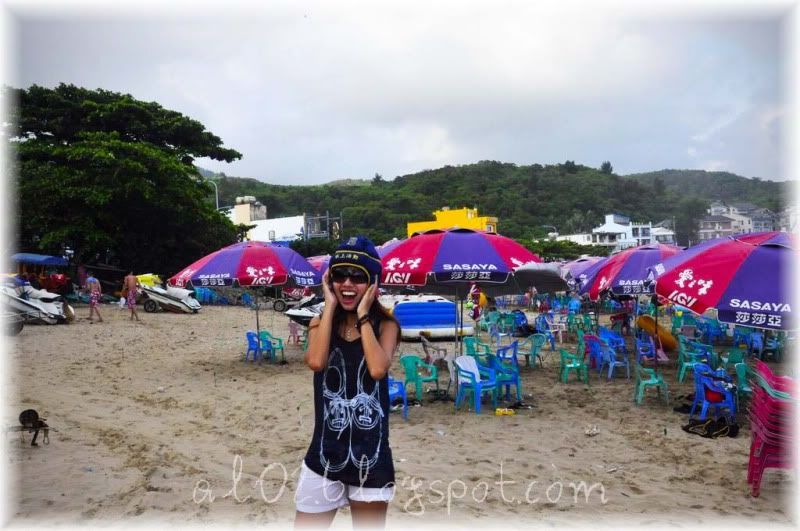 The helmet we had to put on aside from the life jackets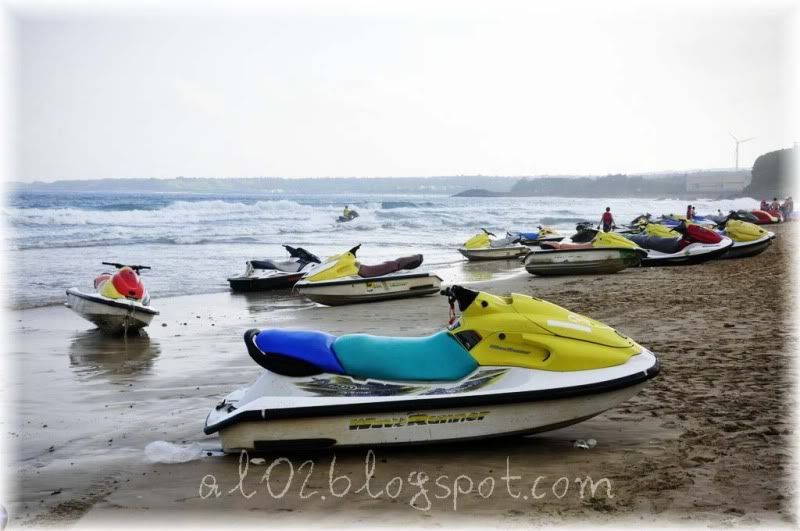 Jet skis everywhere on the beach
The banana boat and the inflated Taiwan version thingy
I love jet ski! It can get very bumpy and dangerous but it's thrilling
This was the best ride we all had that day. We could lie or sit or stand on that thing while being pulled around by a jet ski, something like a banana boat only faster, more exciting and fun
Honestly, I find Nanwan beach insanely dangerous because amidst swimmers, paddlers, surfers, sun-bathers and sand-castlers, tractors, ATVs and jet skis are actually weaving crazily in between them. Seriously, the jet skis are like just weaving pass swimmers by inches at times and it's horrfying. It's not even funny imagining the consequences if any one of the jet ski missed seeing a swimmer, surfer or children happily burying themselves in the sand and accidentally hit them. I mean if they are so into water sports commercialism, they should really segregrate the beach so at least all those motorised sports and tractors do not run drunkenly between people.
And of course, being laden with so much water sports could only mean that the beach is pretty much polluted. The sands are obviously no longer white and all disfigured by huge tyre tracks of tractors and ATVs. Even the sea breeze is intoxicated with waves of carbon monoxide.
Nanwan beach is definitely not one of the most beautiful beach in Kenting, but it is definitely one of the more closer to the town one and easily accesible thus making it a popular beach still among tourist and locals alike.
So if it's me, aside from going to Nanwan beach for water sports, I don't see why I would want to go there to sun-bathe/paddle/surf/swim actually knowing the fact that I can't really sun-bathe/paddle/surf/swim in peace for fear that a jet ski might just be weaving pass me possibly missing me by my nose only any minute! I did enjoyed myself with the water sports that day though especially since we managed to persuade SY to try all those water sports for the very first time in her life. :)