Planning for a trip is all fun but can be crazy at the same time. I'm going to Bali next month and had been searching for accomodation all day but it seems the more I search, the more I'm bedazzled with choices that its almost nerve wreaking! So anyone that had been to Bali and will like to help me out by recommending places to stay, any strategic location in Kuta or Legian is very much welcome. :)

Anyway, I'm gonna continue from where I left of about Taiwan; Kenting (click to read) to be precise. We were only in Kenting for 1 and the half day strictly speaking but amazingly enough we managed to cover most of the places of interest around Kenting. After spending our first day at the beach, we rented a car + driver for 2500 NTD (~ RM 270) to take us around the rest of the place the next day. Of course, the best and most economical way around is really the scooter but as none of us know how to ride one, we opted for the car instead. There's one thing about renting cars + drivers in Taiwan that I realized was that they charged by hours block. So to rent a car + driver for half a day, it really means you only got 4 hours for the car + driver (of course subjectively some nicer ones don't go strictly by the time) and for a full day, it means only 8 hours.

Our first destination for the day was to Sail Rock, apparently getting it's name because of a rock that supposedly resembles a sailboat set to sail from a distance.


Well, imho I think the rock resembles the side profile of an ape's face more, no?
After some quick shots, we moved on to Shadao, which is just a few minutes from Sail Rock. Shadao is a 220 m long shell beach and is a conservation area in Kenting. Without permission from the national park headquarter, the public is not allow to enter the beach area.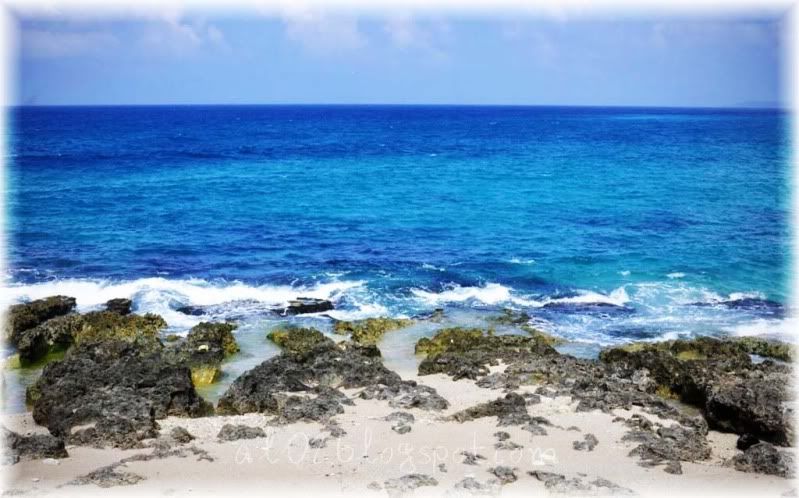 Shadao shell sand beach
There's a shell sand exhibition hall next to Shadao with shell sand, microscope, magnifying glasses and light boxes to help tourist understand about the shell sand. I never quite realized these until the visit to the exhibition hall where we were told that the beaches around the whole of Taiwan are made up of different types of sand. The unique thing about beaches in the south such as Shadao is that their sand are made up of mainly shells including corals and other shell debris. It takes more than thousand years to form shell sand, hence the Kenting national park decision to declare Shadao as an ecological conservation area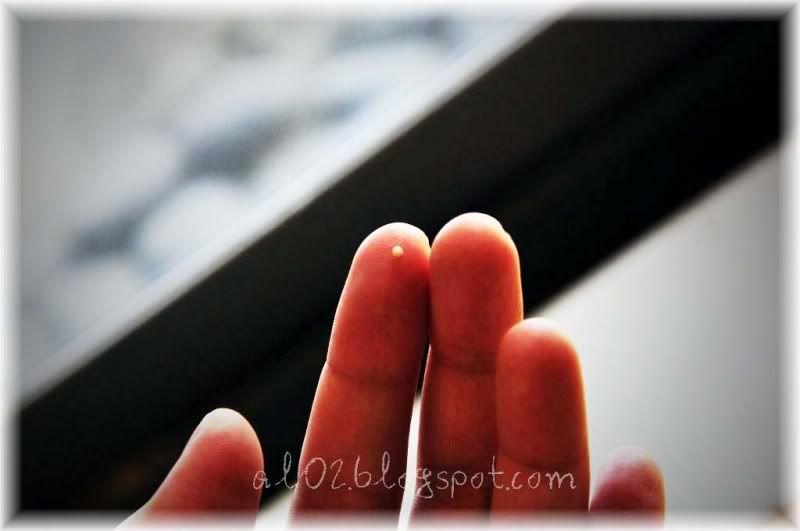 This is actually a type of shell organism that lives within the shell sand. When the guide at the exhibition hall first showed it to us, we thought it was just part of the sand!
Next in line was to the MOST SOUTHERN POINT of Taiwan.
After walking about 500 m under the big hot sun, we finally step foot at the most southern point of Taiwan. Honestly, the point is nothing more than a geographical landmark declared by the governement of Taiwan complimented with a blue sea view
Kenting is also very well known for their scenic view thus our subsequent destination was to Longpan Park, a grassland uplifted with unique coral reefs limestone and slumping cliff landforms, sinkhole and fissure facing the magnificent Pacific Ocean. Honestly, Longpan Park offered us such tranquility by just taking in the spectacular view across the horizon. I totally love just admiring the calm ocean crashing against the green grassland.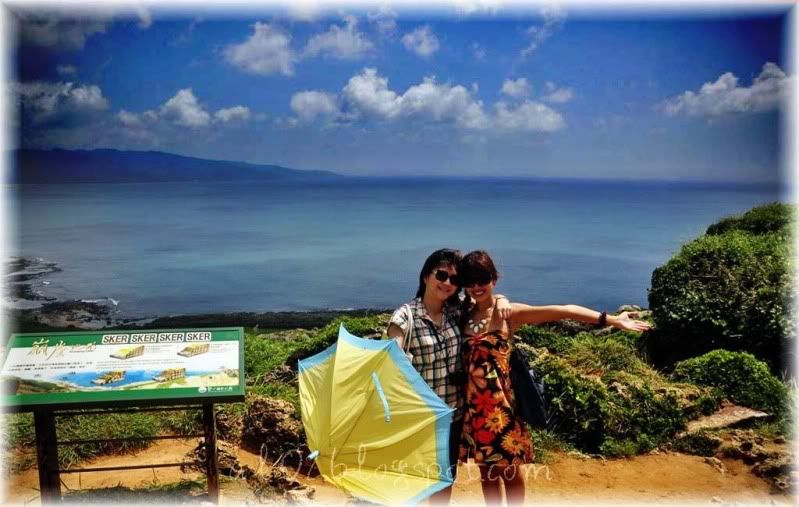 The gorgeous Longpan Park. Please excuse the umbrella. It was really hot that day and our umbrella kept us from turning into cooked lobsters.
Doing my fav jump shot
Our driver decided to stop us a few minutes away from Longpan Park for this equally gorgeous view of the Pacific Ocean
After feeding our eyes with those gorgeous views, it was time for our creative side to take charge as we tried making out the unique rock shapes at Jialeshui. Thank God they have tram services that took us along the 2.5 km long stretch of beach as we tried guessing out the rocks, else we might had fainted from heatstroke. Due to the constant erosion by the sea and strong wind, the terrains here form unique rock shapes which the Taiwanese creatively name after whatever the rocks resemble. Jialeshui also faces the Pacific Ocean and it is more well known among surfers because they claimed it has stronger and bigger waves here but perhaps because it was close to noon and too infreakingsanely hot when we were there, we didn't get to see any huge waves nor surfer boys. haha!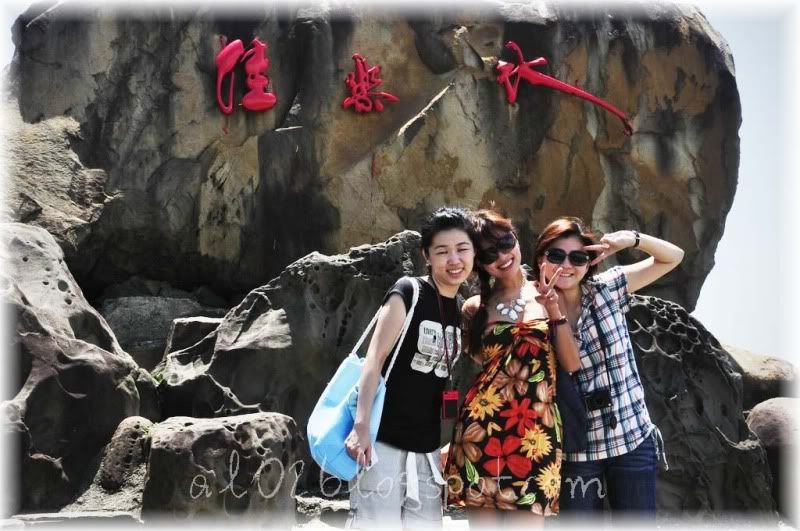 We paid like 80 NTD just to go look at rocks. Well, it's time to exercise those creative cells in you now. See if you see what the Taiwanese sees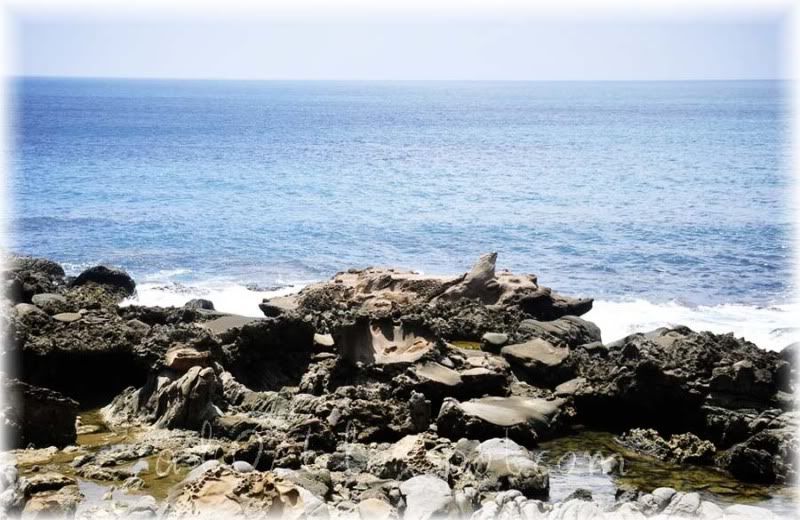 Rock #1 - The rhinoceros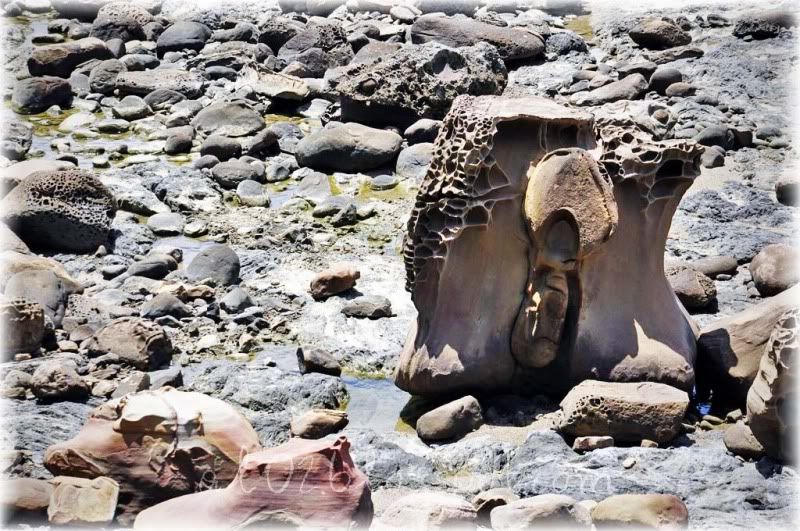 Rock #2 - The virgin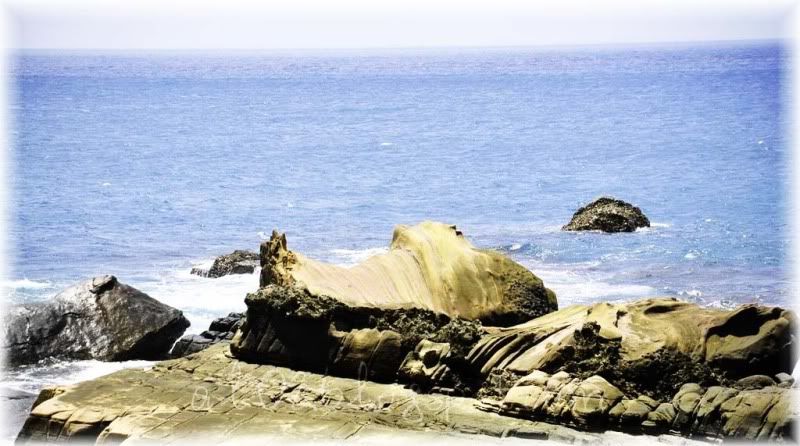 Rock #3- The snail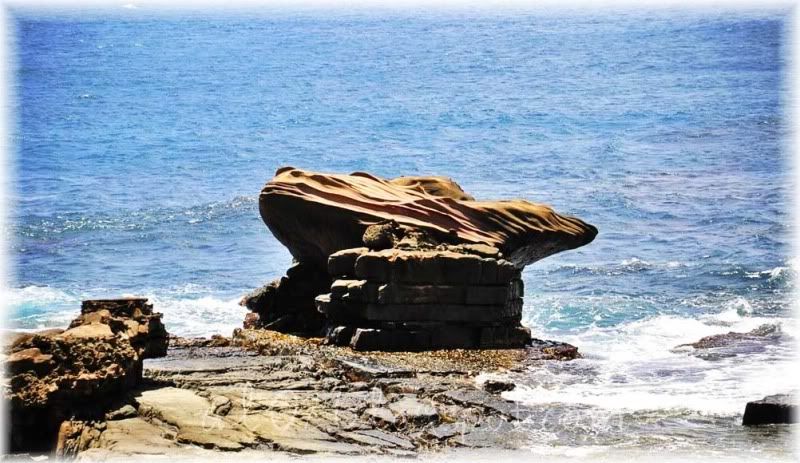 Rock #4 - The frog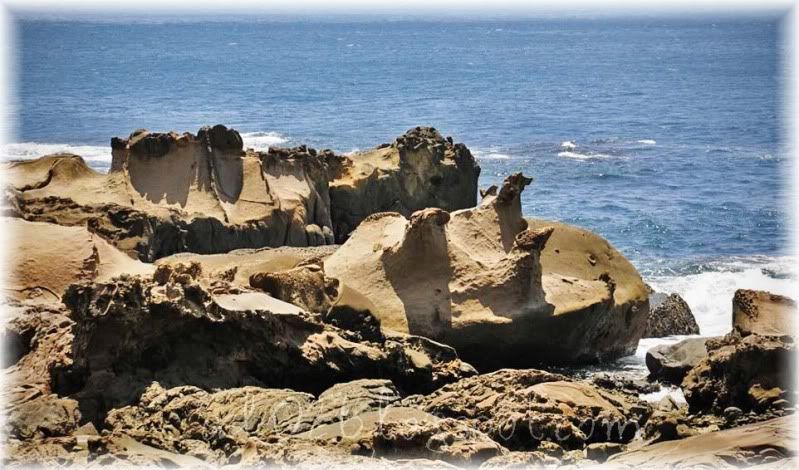 Rock #5 - The dead pig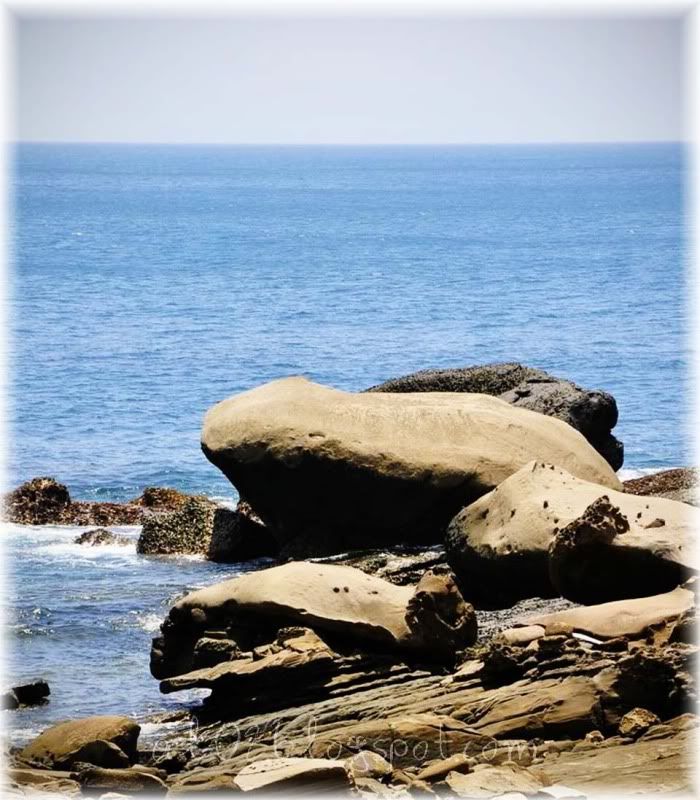 Rock #6 - The toad
Rock #7 - The sea lion
Rock #8 - The wild boar
Rock #9 - Taiwan army base
Rock #10 - Taiwan (as in the shape of the country Taiwan)
Rock #11- The human face. It somehow resembles a very sad human face though
Despite the ultimate hot sun, the wind was actually very strong at Jialeshui, see so strong it blew my hair all the way up like in a shampoo ad :p
Before finally heading to lunch, we stopped by one of Hengchun Old Town most unique treasure, Chuhuo which literally translates to releasing fire in Mandarin. The place is known as Eternal Flame in English and like it's Chinese name, the uniqueness of this place lies in it's distinctive flames, fueled by natural gas that rises through cracked mudstone under the earth surface throughout the year, rain or shine.
We had to walk a little before reaching the magic flames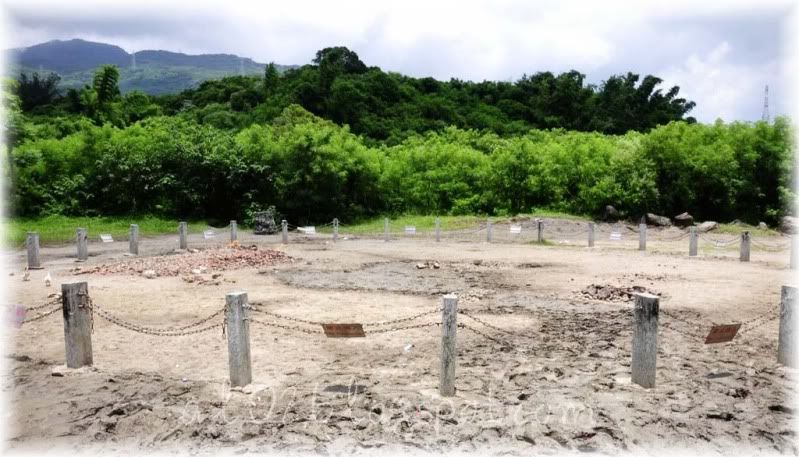 The area sealed off where the flames naturally rises. Seriously, there's nothing too spectacular about the place apart from watching another of earth magic creation. In fact, there were a little too much rubbish around which kinda ruin the view of the place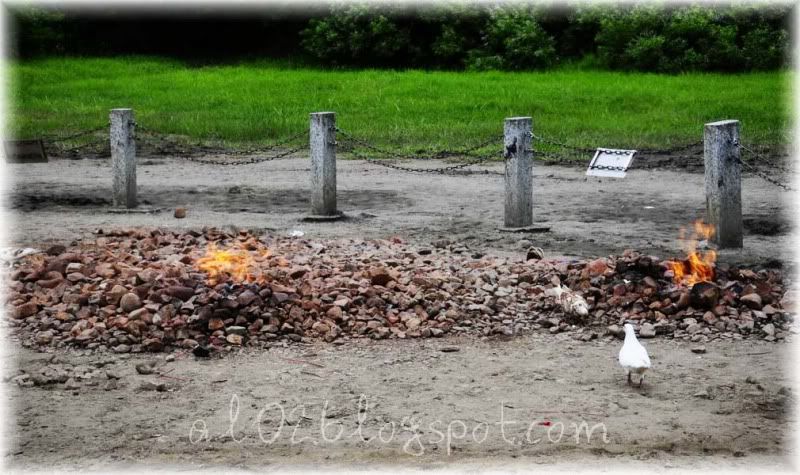 Eternal Flame
Our driver brought us to these super tourisy restaurant somewhere in Checheng of Pintung County (20 mins from Kenting national park) for lunch which I wasn't keen on visiting but gave in nonetheless as he claimed there was nowhere else in that area that we could eat at. The restaurant is a beef noodle restaurant opened by 3 sisters with PHD (in cooking beef noodles perhaps? They advertised it hugely on their signage that they are PHD holders) and from the minute I stepped in, I knew it is one of those restaurants that target only tourist. I didn't bothered taking any picture of the beef noodle because it was so horrible that as much as I hate to waste food, I couldn't even bring myself to finish the entire bowl.
Our last destination in Kenting was the National Museum of Marine Biology and Aquarium. Our driver in Hualien highly recommended this place, citing that it is a must visit in Kenting. We were very excited to explore the museum because we really love to meet those cute and adorable fishes and marine animals. The museum, located in Checheng of Pintung County, boast the biggest underwater tunnel in Asia, measuring 81 meters long.
The museum then features 3 main exhibition areas, including Coral Kingdom Pavilion, Waters of Taiwan, and World Waters Pavilion where each area offers different exhibits. There's also a number of shows a day like the fish feeding, penguin feeding, seal feeding etc.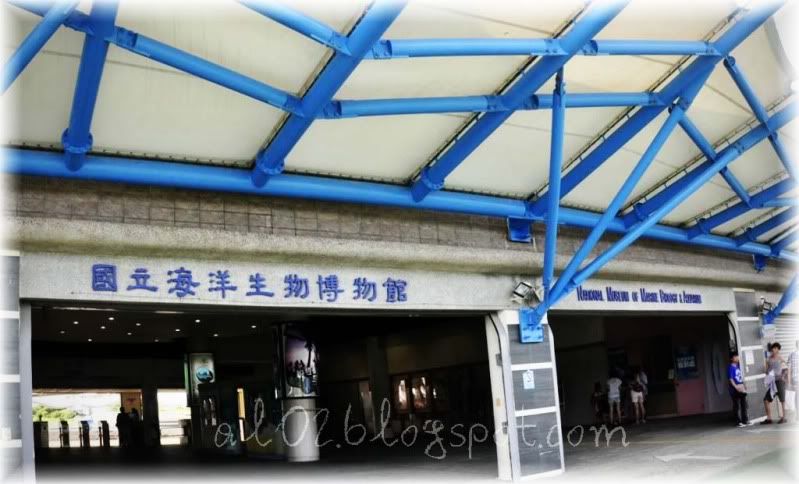 The entrance
Our entrance tickets
The outdoor water park, said to be the largest water park in Taiwan
The variety of coral reefs
The most adorable fishes - my fav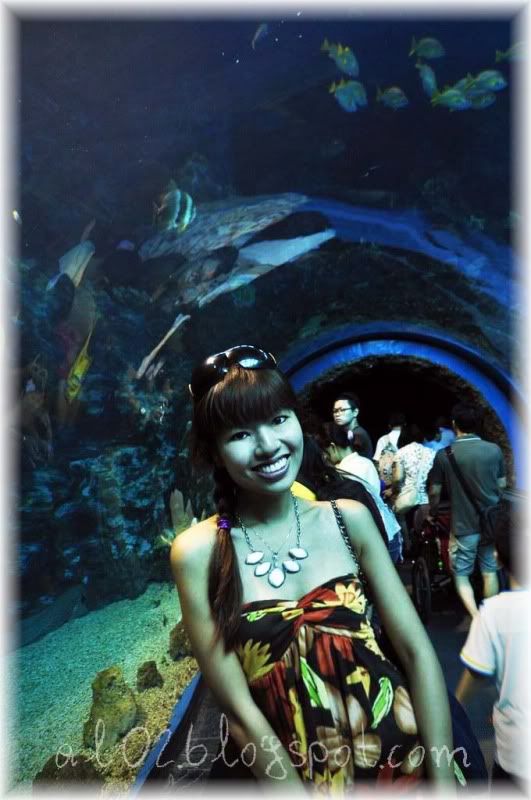 Moving along the underwater tunnel surrounded by the many fishes swimming around
Can you believe this is actually a kind of fish too? It looks so much like a snake from afar! Seriously they even wiggle like a snake. *cringe* I was actually very relieved knowing that such fishes exist because I think I saw some of these while snorkeling at Lang Tengah island a few months back and I nearly went into MI thinking it was some sea snakes when they wiggle towards me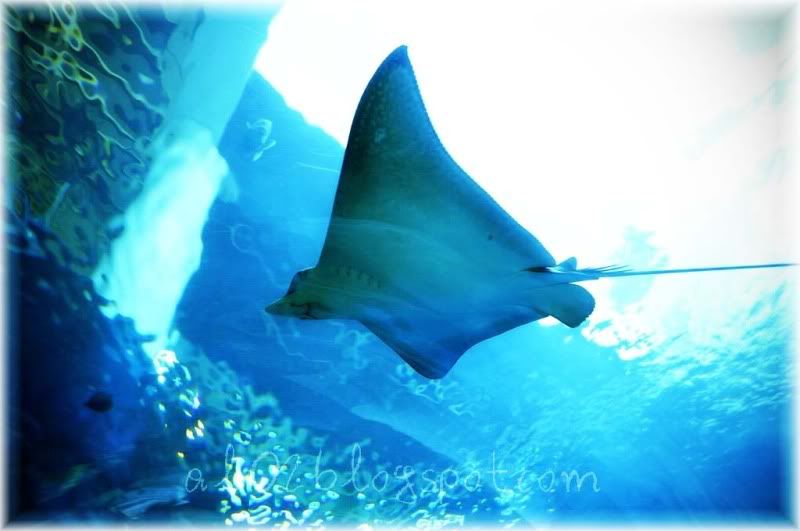 Hello, Stingray!
Araipama - the smaller version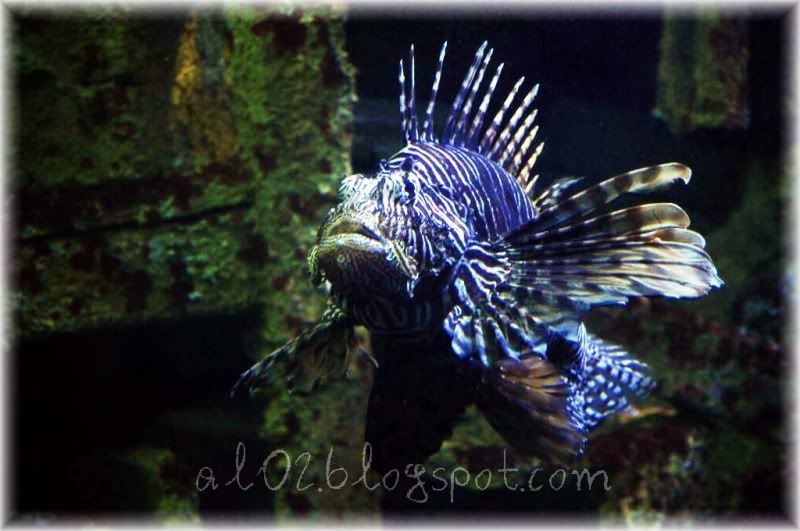 The lion fish. This is one fish that kills with it's beauty. Their beautiful fin rays are venomous and can be lethal to human life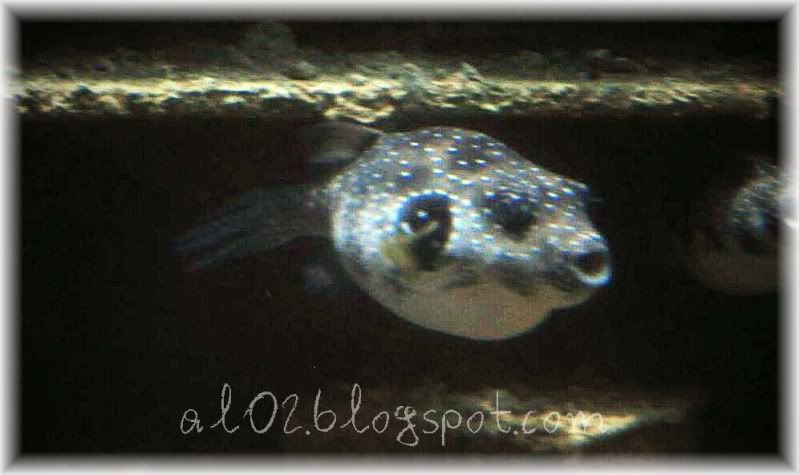 Super cute pufferfish. Look at those cheeks!
The beluga whale - it is super adorable as well
Well, I must say my favourite part of the day was watching the penguins
.
I mean the penguins are like so seriously cuteeeeeeeeeee I want to cuddle one home. I wish I could be Mr. Popper for a day. haha!
I just find them like one of the cutest animal around second to dogs. Speaking of which, I can't wait for Happy Feet 2 already.
Look at them, waddling around chubbily and greedily feeding on the fishes
Aww... like human, they love
And get into arguments as well. Really, they were screaming deafeningly at each other
Soooooooooo cuteeeeeeee ♥
We left the museum at about 5pm and went back to our hostel where we packed and waited for the shuttle van to Kaohsiung (paid 350 NTD per person). The ride to Kaohsiung was about 3 hours and I slept throughout the journey. We decided to take the high speed rail back to Taipei as it is much more time savvy and convenient. We had initally purchased the high speed rail tickets for an earlier date but thank God, the Taiwan high speed rail allows exchange and refund so we managed to exchange our tickets instead of wasting over RM 160+ per ticket.
It was my first time taking a high speed rail and I was impressed even from the train terminal itself. The Zuoying high speed rail train terminal is well maintained complete with potter service. Then there's MOS burger where we had our dinner by the way. Our train to Taipei was at 8.54pm and again, they were so infreakingsanely impressively punctual. With the high speed rail, it only took us about 1 and the half hour to travel from the south of Taiwan to the north (approx 250km). The ride was also really comfortable and the best part, food is allow on board. And between cabins, there's sufficient washrooms and alternately, there's even vending machines and public phones.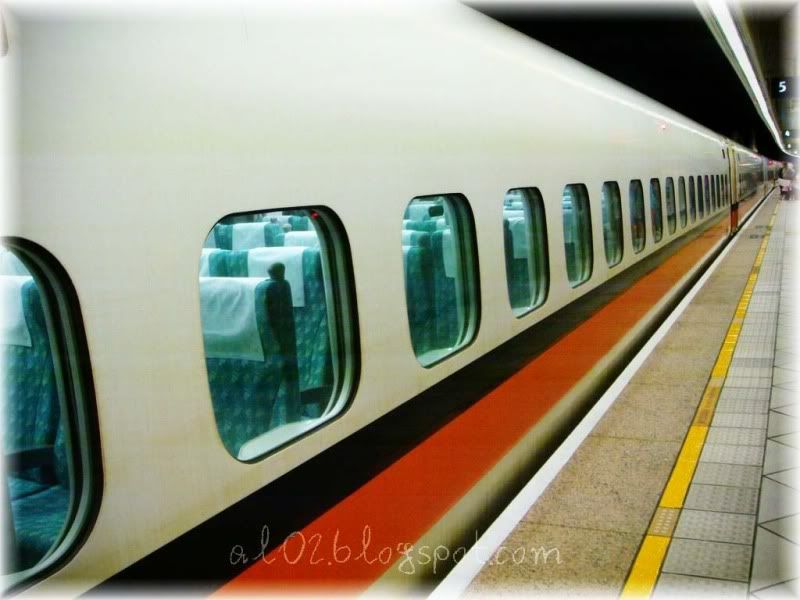 The HSR
The seats - spacious and comfortable. We have seat numbers too
My lovely company
It was a long day and we were thoroughly exhausted by the time we got back to our guesthouse in Taipei. Although we didn't went to Kenting street nor the filming site for the movie Cape No. 7 though those 2 are like also the must-visit places in Kenting, but it was an enjoyable short stay in Kenting. Despite seemingly having a pretty tight schedule, it was in fact one of the most relaxing time during our trip to Taiwan. The only thing I didn't like about Kenting was the lack of good food. Like for the 2 days we were there, our best meal was probably the breakfast which was bacon sandwich with red milk tea that our hostel provided. But then again, it was most likely due to the fact that we never explored Kenting street where more options for food is available. All in all, Kenting is beautiful on it's own, a nice place to relax and getaway with it's unique creative rocks, vast gorgeous ocean, natural magic flames and a marine biology museum like no other. :)