I'm seriously missing my backpacking days. All these long hours of non stop working, lack of sleep and the need to complete and compete for procedures makes me missed those carefree, easy and fun backpacking days even more. I always believe that if everyone was given a fair chance, we would all have our opportunity at attempting and practicing various procedures. Unfortunately, whenever there's a time-limit, there will always be people who will not play fair or develop hyperkiasu-ism syndrome and thus, creating a vicious cycle where usually the poor more junior ones in the rotation will lose out most.

Anyways, the most fun thing about backpacking is that there is no time limit or whatsoever. You give yourself two weeks and you start hopping into any country/ state you like, stay for as long/ as short as you pleased, meeting fun and adventurous backpackers alike from all over the world and then leave the country/place when you have enough of it. And the fact that South East Asia countries are all neighbouring to each other and easily accesible from one to another makes backpacking South East Asia really convenient and affordable. While backpacking, you get to learn and experience new cultures, languages and interesting things every single day. You walked a lot, you eat a lot, you visit a lot of places and you have a lot of fun.

My first leg of backpacking South East Asia was to Cambodia and Vietnam and it took me 2 weeks. My second leg was from Laos to Chiangmai and Bangkok and that took me two weeks too. Every country is simply unique on it's own and as I traveled through Cambodia to Vietnam to Laos to Thailand, I experienced the difference in culture, economy and social status of each country. Seriously, if there's any country you want to start backpacking with, start with South East Asia. I cannot tell you how amazing it is being an Asian and to travel through fellow Asian countries. Even though we may experience the same type of weather or the same type of fruits, vegetables etc, but you know the saying, 'same same but different'. And you won't be surprised to see that most of the backpackers traveling through South East Asia are caucasians and westerners so much so that at some places, the caucasians and westerners actually seemed to outnumber the locals.

After my last post about Cambodia, I realized I totally lost track of all the other posts. Been too caught up with exams, more traveling and of course work to realized how much interesting story of my amazing experience are still left untold. However, as I looked through all the pictures, all of it brings back vivid memories of the good times I had and I just can't helped but to share it here even as part of my very own memories.

Phnom Penh is this part of Cambodia where most people usually spend less time compared with Siem Reap simply because Phnom Penh is more historical and in a sense a less happening. However, because we had 4 days in Phnom Penh (which is really long compared to the average 1-2 days stopover most backpackers make), I think we had visited all touristy and even non touristy places in Phnom Penh; from genocidal centre to genocidal museum to markets to various Wats to museums to national palace to vocasional schools, we had visited it all.

And today, I'm going to introduce the main markets around Phnom Penh. I mean seriously, I don't go to shopping malls to shop whenever I traveled unless the malls have something so super unique we cannot find in Malaysia. Otherwise, my fav shopping haunt whenever I travel is definitely their local markets. The local markets are like the best places to bargain and to experience the locals.

The New Market

This is probably their largest and most visited market in Phnom Penh. Located in the heart of the town, this market seems to have the most choices and amount of stuff. This is where you can find most of the souvenirs, gold and super cheap Lonely Planets perfect for backpackers.

You can also find many local street food or snacks in their markets actually but most of them doesn't really attract me as I'm not as brave hearted as to try food that I'm not familiar with such as snails, larvaes etc.



The pathogonomic yellow dome of the New Market you wouldn't miss even from afar.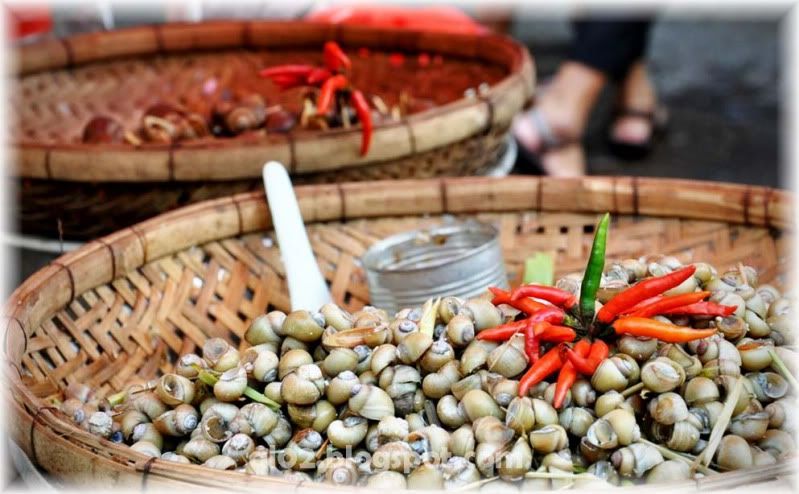 This is like some sort of snails that the locals eat as snacks. They eat these just like how we eat our popcorns.
They also sell clothes but take it from me, the shopaholic - clothes in Cambodia are NOT exactly worth buying simply because most of them are like those Korean and Taiwanese style clothes that you easily find from online blogshops and perhaps because they know we are tourist, the prices they offer for their clothes are not cheap at all (say like a very normal dress still needs RM 50. It's expensive considering it's sold at places like a market in a country like Cambodia). So save your money and shop in Bangkok because among all the South East Asia countries, Bangkok still has like the cheapest and some of the most trendiest clothes.
The market is divided into the indoor and outdoor section. Part of the outdoor section sells drinks and food to locals and tourists alike.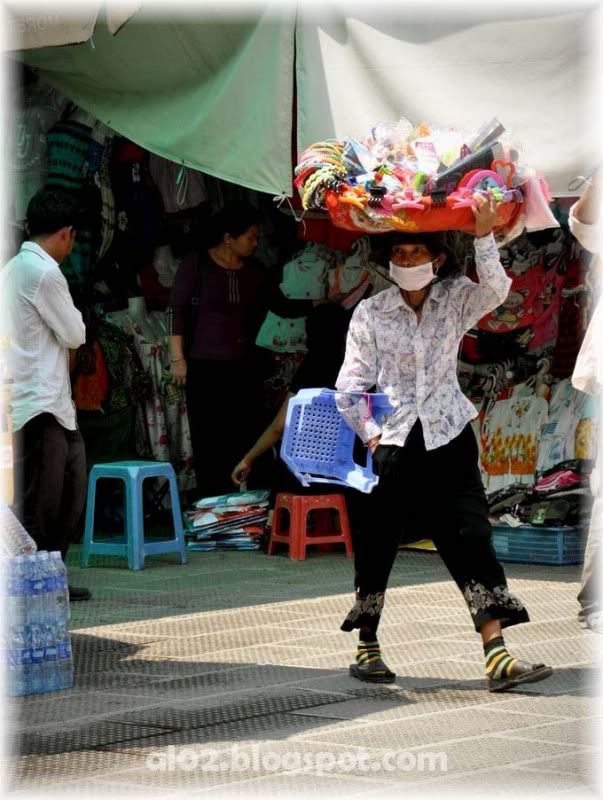 The Cambodians also have very strong head. Look how strong their head are being able to support all those weight. This is a very common sight in Cambodia seeing men and women alike transporting their goods on their head.
Handicrafts, trinkets and silverwares like these are also very common.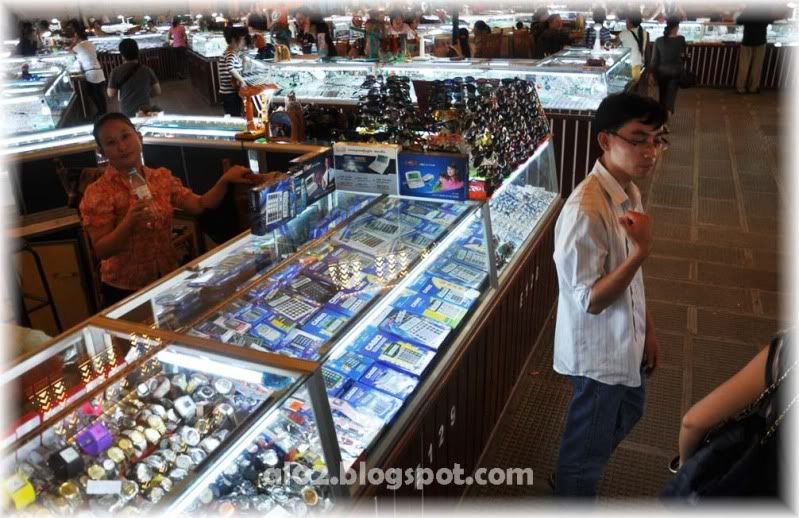 Right at the heart of the interior of the market, they sell lots of gold, watches, sunglasses and electronic stuff.
Bags!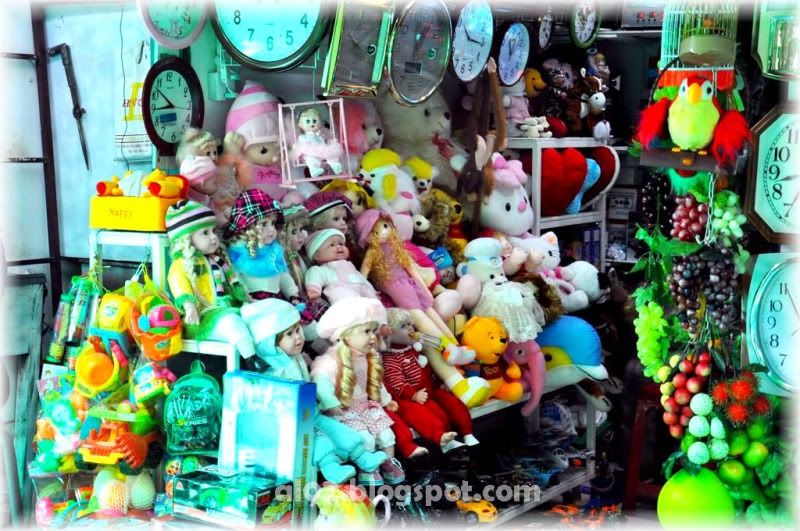 Soft toys and souvenirs.
Kitchenwares.
Lonely Planets - the backpackers bible. Selling at only USD 6 one, these are the most affordable LPs ever. But of course, these are not original LPs but photostated ones. I bought a few and to be honest, aside from their poorer paper quality, you barely noticed any difference from the originals as these are really high grade good quality counterfeits. The New Market is definitely the place to go if you want to look for cheap LPs for your next self planned holiday.
I'm not sure why this is name the Russian market, but this market is as Cambodian as it can be.
The beginning (or end) of the market is filled with hardwares and inside the market, there's plenty of souvenirs, trinkets and clothes store too. But like the New Market, their clothes are similar and similarly not worthy of buying imho. Then, on the outside the market is the wet market part where vegetables, fruits, poultries and local snacks and food can be found in abundant.
I don't quite fancy the Russian Market because I find it very congested. We just briefly scanned through the market and left without buying much.
At the Russian market.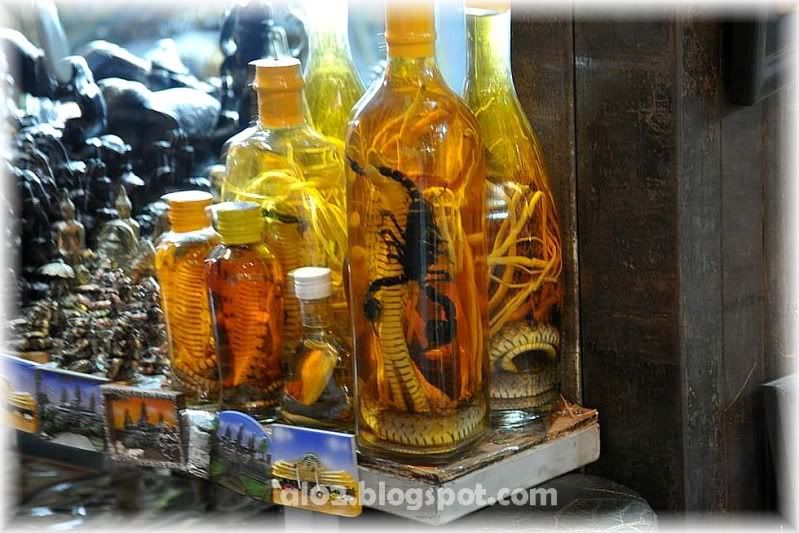 Snakes and scorpions wine can be found in abundant in this part of SEA. Claimed to be able to boost vitality and energy, those who desire more vitality might want to give this a try!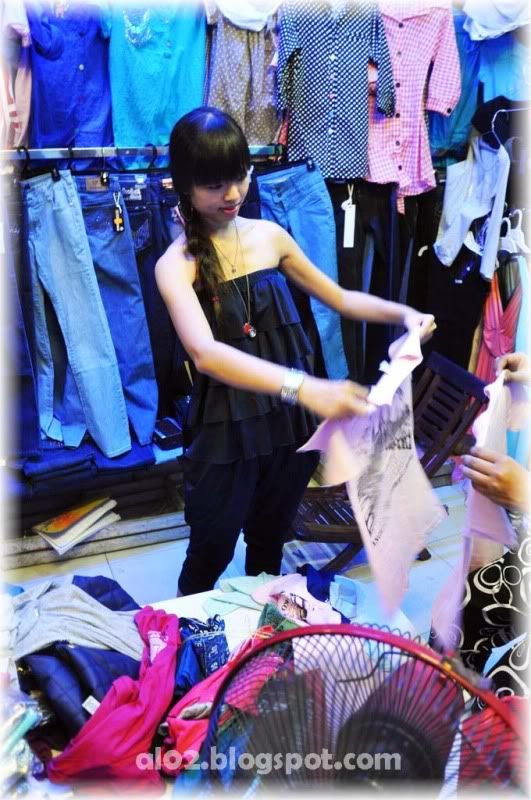 The next time you backpack SEA, don't bother bringing any clothes at all. Cheap souvenir tees can be found almost anywhere and it's only like USD 3-6 (depends on your bargaining skill. haha!) per piece.
Souvenir tees like these with the Angkor
Wat, the Cambodia mine field, beer shirt or alphabet shirt are almost everywhere in Cambodia
We also noticed that the Cambodians love to go around in their pajamas. Seriously, from the first day I arrived in Cambodia, I see women and children especially going everywhere in their pajamas.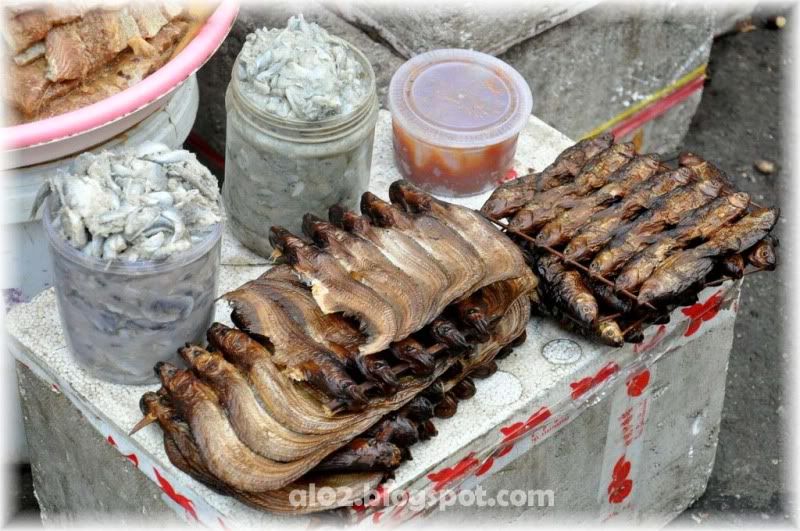 This is like a type of their local snack. It's like the fishes are first grilled then sun dried.
Guess what's this?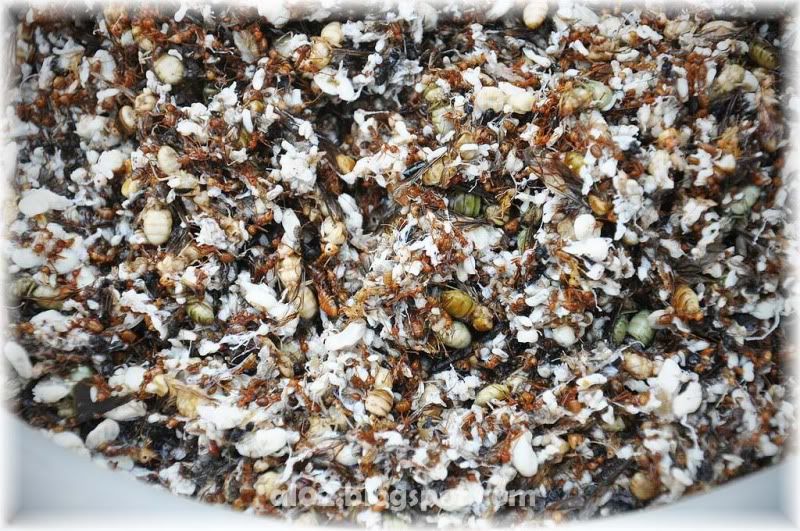 Ants larvaes!! Seriously.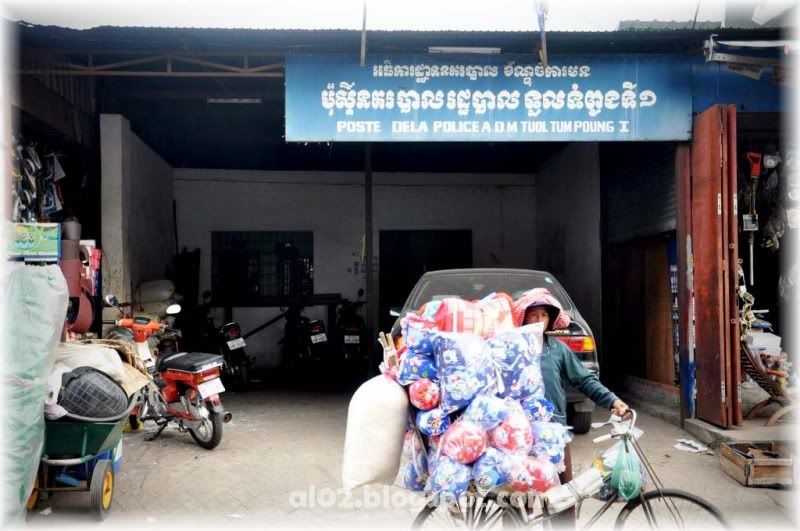 Their police station.
We went to one of these coffee shop which is one of Napich's favourite place to eat for dinner.
I must say I like the fact that below each table in their coffee shops is a waste paper basket so customers can directly throw their tissues and waste into the basket rather than have it thrown all over the floor.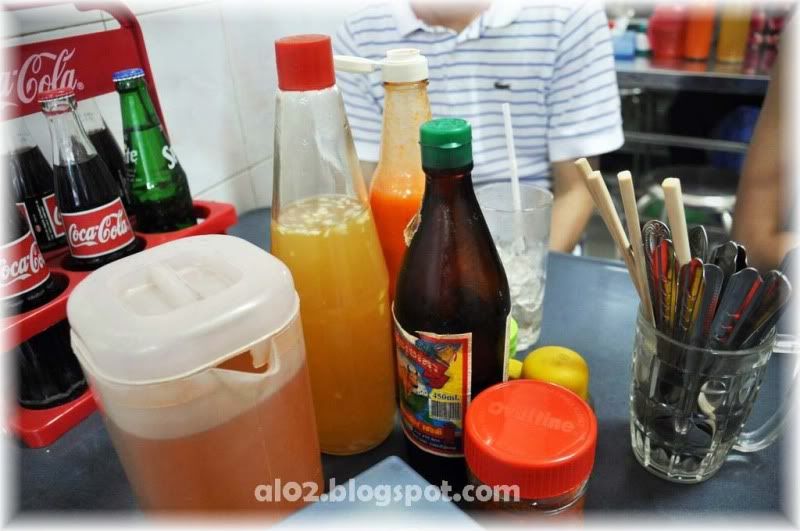 Free iced tea and sauces like this are a common sight on every table in their coffee shops and hawker stalls.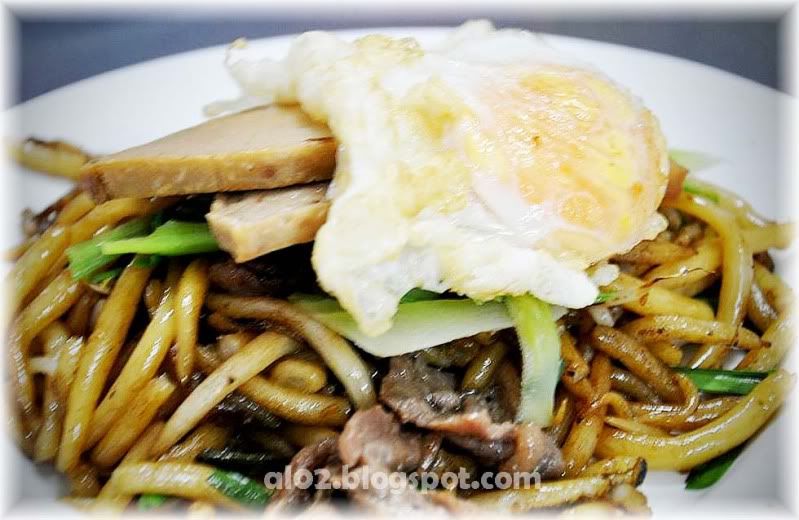 This is something like fried lou shee fun with beef and egg but it just taste totally different from ours perhpas because of some sort of local fish paste they usually use to fried their noodles with.
The Riverfront Night Market
Every country, every place has a backpackers area. And in Phnom Penh, the backpackers area is the riverfront. If you want to look for cheap and strategically located accomodation, just stay anywhere near the riverfront. Our guest house is in the riverfront area and the night market is about 15 minutes walk.
It's like our pasar malam just that they have a performing stage at the centre of the market which attracted a rather huge crowd of young locals.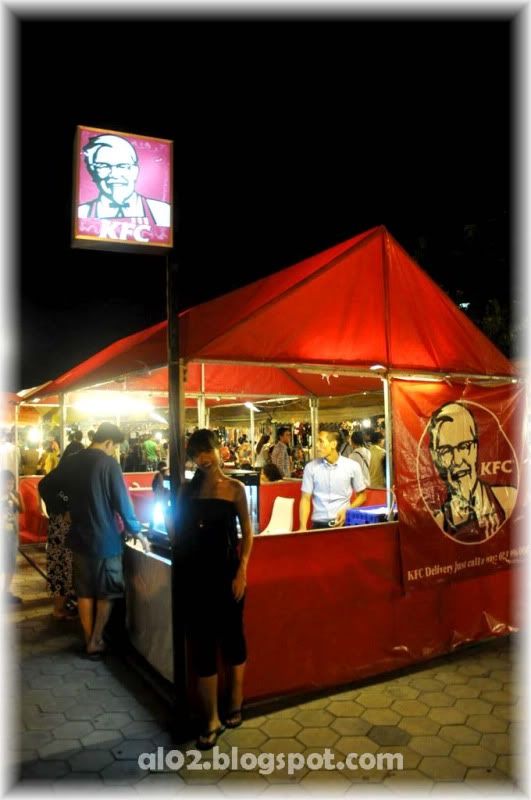 The one and only KFC in the whole of Cambodia. I'm not kidding you.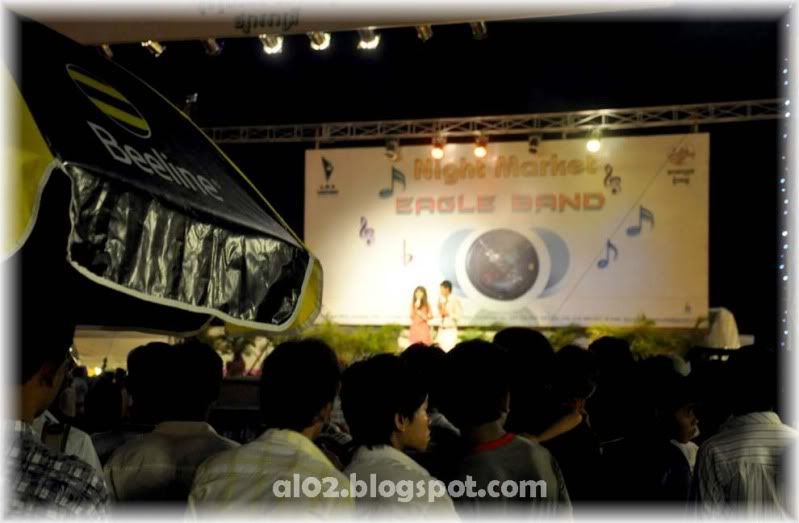 The band performing to eager crowds at the night market.
Another thing to be careful while traveling in Cambodia is posing with kids for pictures. The kids are cute and sometimes they will go up to unsuspecting tourists, hold their hands, be friendly and tourists usually in return will take the opportunity to snap a picture or two with them. The kids will pose the cutest possible for your picture BUT after everything, they will ask you for money for taking picture(s) with them. In another words, they charge you for taking pictures with them but you are not told or warn beforehand. And I had saw how they kept pestering tourists for USD 1 to USD 2 even up to USD 10 for a picture. I was really lucky because these kids never ask me for any money.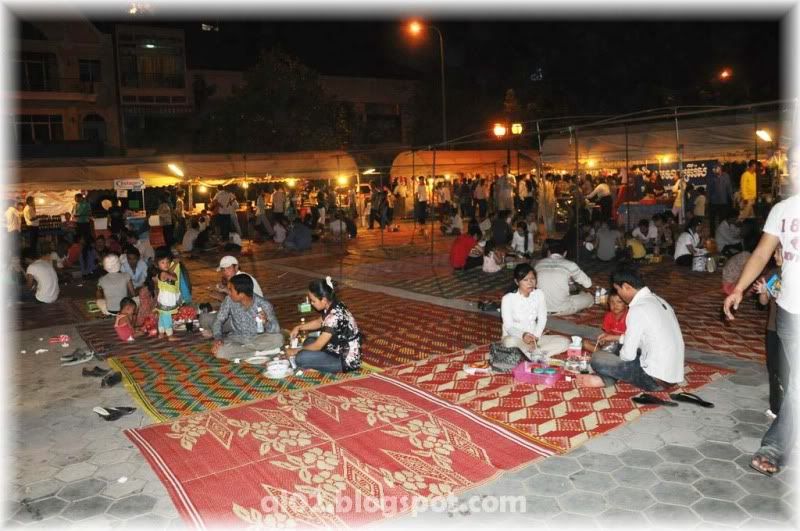 At the food side of the market, they have mats all lay out and the locals were sitted everywhere across the mat enjoying their food under the shining stars.
We went to get a spot on the mat too and ordered some local drinks.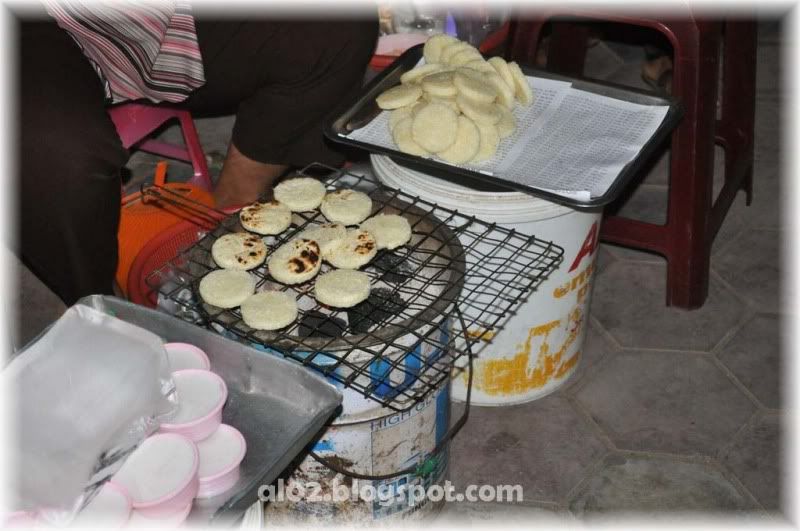 Baked potatoes.
Like our lok-lok!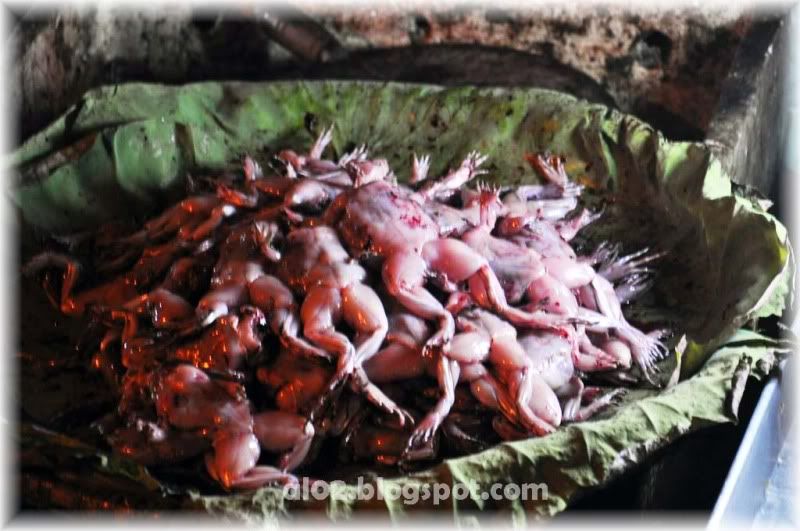 Who wants some frog for dinner?
After exploring the night market, we continue strolling down the riverfront and came across this ice cream shop and decided to hop in to try some local ice creams. It was a perfect way to end a hot day, chilling down with some nice local ice cream in a relaxed atmosphere.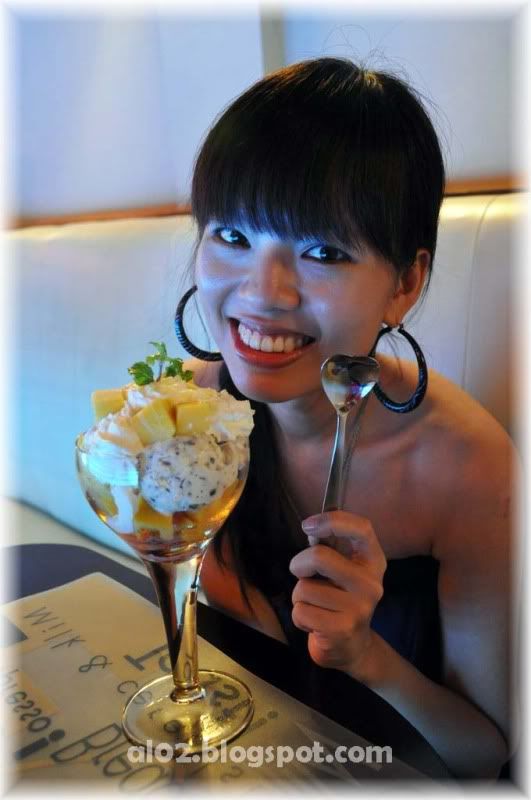 Chocolate chip ice cream with mangoes. But what amused me even more is their heart shape spoon. Wished I could bring one home.
So, that's about all the main markets in Phnom Penh. Even though some of the things they sell are similar among the markets, but the designs and prices can vary. Being markets, these are the best places for you to practice your haggling skill. The more you manage to haggle, the more bargains you get. Of course, do be reasonable with the prices you offer too. And seriously, don't start haggling or asking for discounts unless you are absolutely interested in buying the things you haggle for because once you haggled and bargained and if they agreed to the price you offer, you MUST buy whatever you had haggled. It's kind of their pantang if you haggled and bargained all day and when they finally agree to your price, you back out. They can turn from very friendly to very aggresive and go from verbally cursing/ scolding you to even taking actions like throwing slippers at you or who knows even worse.
There will be more SEA stories coming your way after this. So, watch out this space from time to time as I'll bring you through SEA from the eye of an Asian as long as I had time to do so. Till then, ciao! :)