In my current department, every fortnight, we will have one week of night shift which is super tiring for me. I dislike the night shift because it messes up with my biological clock for the whole week. And being deprived of sleep the whole night means I spent the rest of my day sleeping which means for the whole week, I would be literally unproductive outside of work. But the good side of it is that, we will have an off day at the end of the week. Coincidentally, I was also having off yesterday which meant I had two days straight off so me family decided to head up to Kuantan for a short family roadtrip.

You can read about my previous Kuantan and Sungai Lembing posts as below :
Kuantan Food Hunt 1
Kuantan Food Hunt 2
Sungai Lembing 1
Sungai Lembing 2

Kuantan is about 4 and the half-6 hours from Johor Bahru and we took the Mersing east coast road up. We stopped over for lunch at Rompin, at one of the local Chinese coffeeshop (Restaurant Rompin smt) but I wouldn't recommend stopping by at Rompin at all for any meal because a simple fare of fish, prawns and vegetables cost us RM 90 +! The fish is like one super small fish that weighs 300 g at most and they only gave us 5 prawns and a tiny plate of vegetables. Totally hate it when business people are being dishonest and overcharged customers. Seriously, why so stupid to overcharge people and lose long term business instead of being honest and gain more in the future?

Anyways, we arrived Kuantan at about 4 pm and we checked into our hotel, the Vistana Kuantan which is a really nice hotel, with friendly staff, clean rooms and at a strategic location. The anti-Lynas rally had ended by the time we reached Kuantan, so everything was very normal and peaceful. Seriously, it'll be such a pity to think of what will happen if the peace of the town get destroy by the development of the radioactive waste plant in Gebeng.

We spent the evening strolling and enjoying the sea breeze at Teluk Cempedak beach before heading for dinner. And since the east coast is so popular for their stuffed crabs, we decided to head to Pak Su Seafood restaurant, the supposedly most famous stuffed crab restaurant in Kuantan for dinner. A lot of blogs and reviews had given Pak Su very high rating for their stuffed crabs, so I kinda had high hopes and anticipation for their stuffed crabs.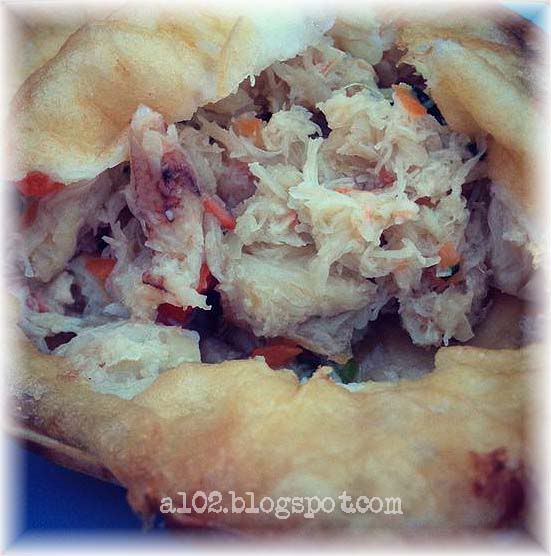 The contents of the stuffed crab - a mixture of crab meat, vegetables and some other condiments deep fried.
The stuffed crab- before it's topping gets invaded.
So how does the stuffed crab fare? Having tried the one at Restaurant Tong Juan in Kemaman, the only obvious difference to me is the contents of both stuffed crabs. While the ones in Kemaman had a mixture of pork and crab meat, the ones at Pak Su is purely crab meat (Pak Su is halal btw) aside from the vegetables and the rest of the condiments. Otherwise, both taste are pretty similar and equally oily. And they are even priced the same at RM 7 per stuffed crab. I wouldn't say they don't taste good, but it's not something that will make me crave for very much. While stuffed crab is convenient, (having all the crab meat removed and placed into the shell), I still love my crabs cooked ala black pepper, chilli or with basil leaves more.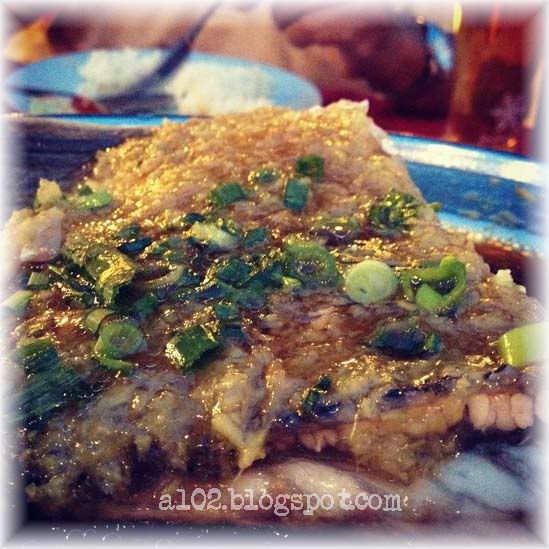 Some other dishes we ordered at Pak Su - their garlic steamed fish which had an overly generous sprinkle of salt which makes the whole dish extremely salty.
Fried prawns Vietnamnese style- more like kam hiong prawns.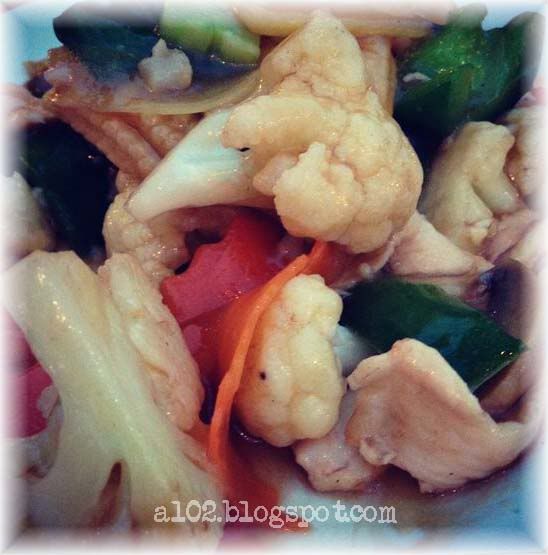 Vegetables to complete the meal.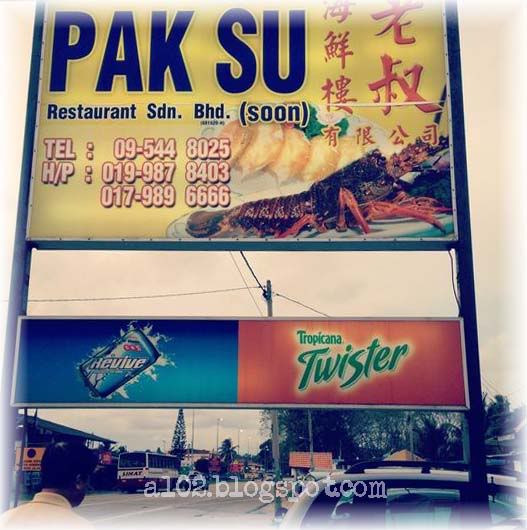 The huge signboard to look out for. Overall, the food is okay (not super fantastic or what but still okay) and the price reasonable. Besides, they are pretty honest with their pricing, so I will still say, it's worth a visit if you really wish to try out stuffed crab in Kuantan.
Pak Su Seafood Restaurant,
No 4/1417, Batu 6,
Lot 922, Kg Bahagia Beserah,
26100 Kuantan,
Pahang Darul Makmur
Tel : 09- 5448025
Teluk Cempedak beach still looks the same from my last visit, only more crowded since it was a Sunday evening.
Teluk Cempedak beach
This beach is dotted with so many huge rocks so much so huge rocks should be their trademark.
The next morning, we woke up at an unGodly 5 smt in the morning just to make a detour from Kuantan to the quiet, little town of Sungai Lembing for their famous mee, yong tau foo and beancurds of course.
Sungai Lembing is about 45 minutes drive from Kuantan town and it's certainly worth a detour. We later found out that the 'Sisters' yong tau foo and beancurd stall in the market
closes at only 10 smt in the morning so there's no need to rush there at like super duper early. (I initially thought the stalls closed at 8 smt there because the last time I was at Sungai Lembing, all the stalls seemed to be closing at around 8am!)
Yum :)
The whole bowl of the smooth, silky beancurd made with their mountain water. Double yum :)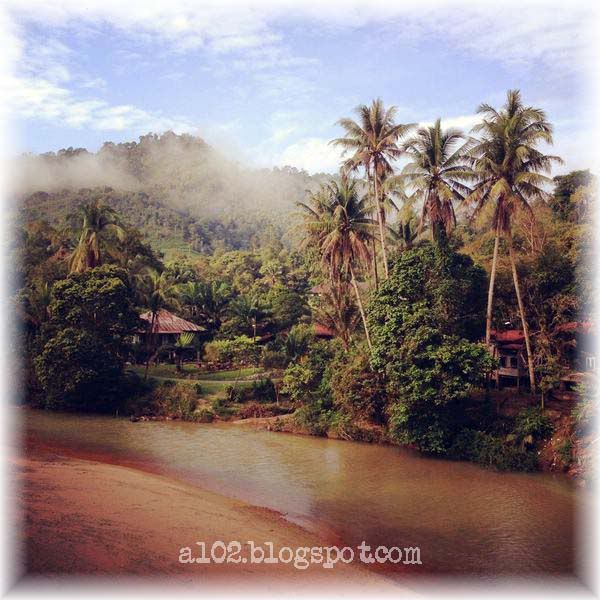 My fav shot - Sungai Lembing village
We also went to some other places that I had blogged about previously in my Kuantan posts so I shall not repeat those places. I ate so much over the two days that I felt like such a glutton. We took the Kuantan-Segamat- North South highway way back and perhaps due to truckloads of timber trucks slowing down cars, it took us almost the same time to travel from JB to Kuantan via the Mersing east coast road. Anyways, although we only spent a pretty short time in Kuantan it was a good short breakaway, not forgetting the priceless family time spent together. :)
*All pictures were taken with the iPhone 4s*