Cambodia post.

The very last bit of Phnom Penh, the more historically rich city of Cambodia before we moved on to Siem Reap.

Honestly, the best thing in Phnom Penh (aside from having a local friend which adds more joy and meaning to the whole trip) is their AMOK. If you ever visit Phnom Penh, please try the amok. Although you can also find them in Siem Reap but the ones in Phnom Penh is still the best.

While in Phnom Penh, we also visited their National Palace which beautifully exhibits the skillful and delicate craftship of the Cambodians. Seriously, all around the palace; be it the roof, wall, handrails, pillars, statues etc are all decorated with such intricate and beautfiul carve works.


N, me and HT at the National Palace.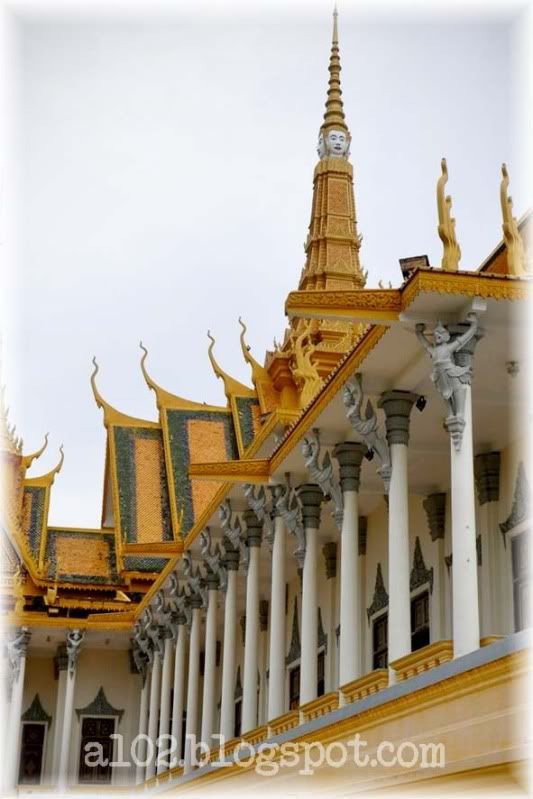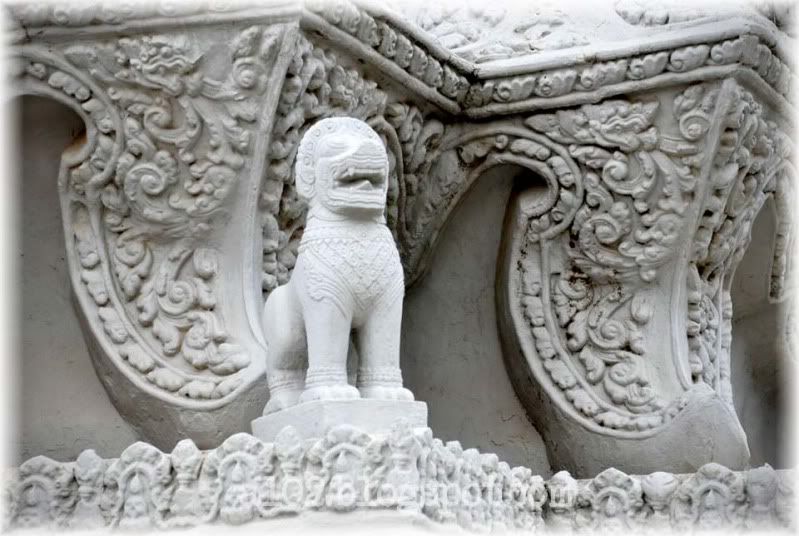 Some examples of the beautiful craftmanship around the palace.
Some random shot on the street - super big keropoks! Imagine each of them the size of a flattened football.
Notice what's wrong with this pic? Our tuk tuk driver is actually driving in the incoming traffic lane. Seriously the car is actually coming straight into the direction of our tuk tuk! Apparently it's not wrong to drive in Cambodia like this. Our tuk tuk driver only drove into the outgoing traffic lane when he was face to face with that car. No wonder they all drive very slowly around if not I shudder to think of the dire consequences!
We had so much time to spare we even went to the Silver Pagoda. It's basically just like it's name - a temple with a silver roof located at the hilltop of a mini hill in a park not far from the riverfront.
A closer view of the front of the Silver Pagoda.
The back of the pagoda.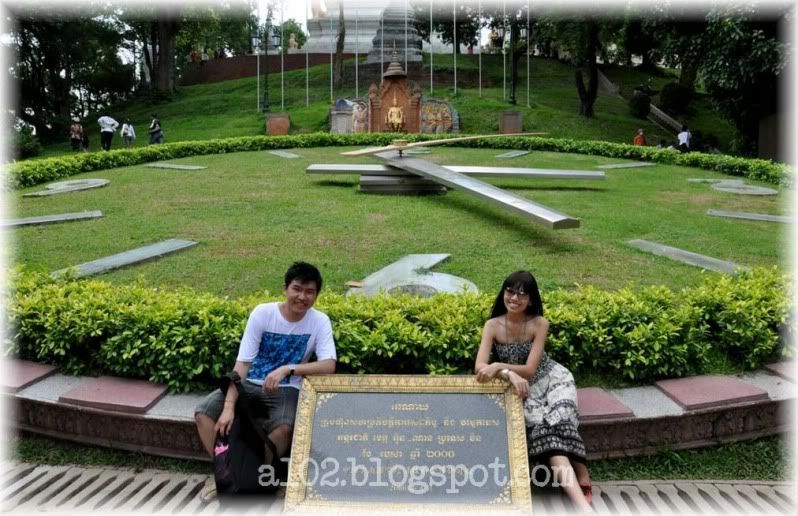 The giant clock made of grass!
We spent our last evening in Phnom Penh just lazing by the riverfront, watching the daily life of the people goes by and the tourist boats cruising the river.
The riverfront in Phnom Penh is very much like our Gurney Drive in Penang. Seriously it reminds me a lot of Gurney Drive, just that theirs is by the river while ours is by the sea.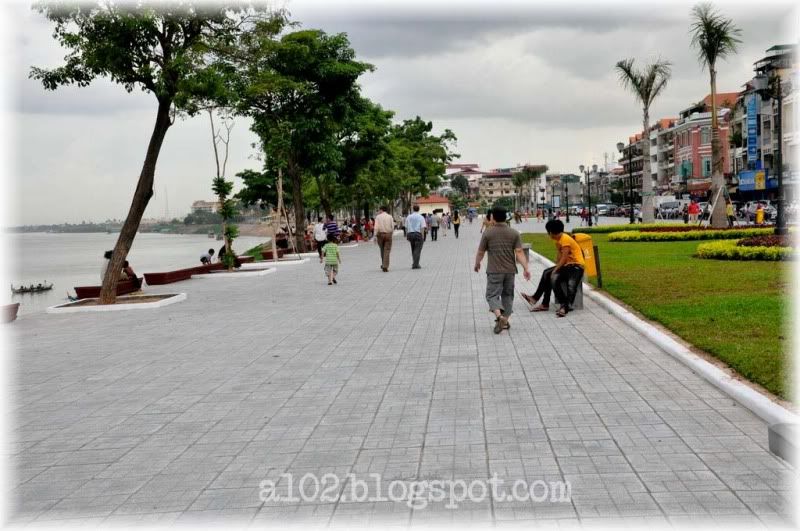 Towards the evening, more and more locals flock the riverfront too; some exercising, some simply strolling, some fishing, some just sat there watching people like us while some spend their time searching for any 'valuables' (clothes, food, anything useful) that anyone might had dumped by the riverfront (which is not uncommon by the way)
Just like how this little boy found an unwanted pair of pants by the riverside and happily made it his own.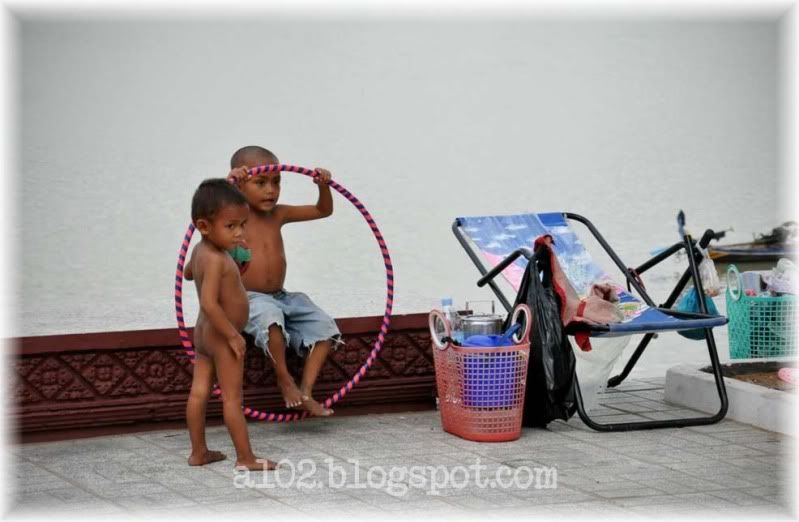 Or kids can just go around in their birthday suit.
Since it was our last night in Phnom Penh, we decided treat ourselves to a decent dinner and of course, to savour the last of Phnom Penh's amok.
Finally, we settled for this restaurant by the river which turns out to serve pretty good Cambodian food. Restaurants like this are already consider pretty mid to high end to the locals so most restaurants like this have very few locals and more foreigners instead. Luckily for us, it is still very much affordable to dine at restaurants like this in Cambodia.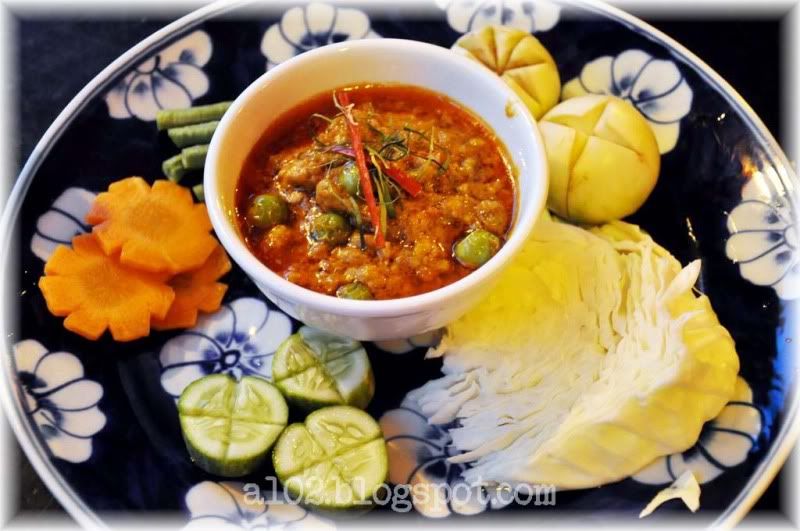 This is pro-hok kriss which is actually fried minced pork with fish paste, coconut milk, roasted peanuts and dried chillies served with fresh raw vegetables- USD 3.00
Lok Lac
Amok - the best choice is of course fish (most of the Cambodian fishes are fresh water fishes that they caught from the many rivers surrounding their country) in curry paste with coconut milk, lime leaf and 'white cabbage' - USD 3.50
Kok Kong shrimp served with their unique kok kong sauce which tasted very good - USD 4.00
So much feast for two.
Alcohol lovers will probably rejoiced being in Phnom Penh as well because alcohol is seriously cheap there (compare to Malaysia of course). For example, 1 liter of Absolut Vodka which can be found easily at most of their convenient store is only USD14.60!
1 liter of Chivas Regal for only USD 24!
For the 50 mls one, it's only USD 2.00 per bottle!! Now I think I know why so many men in Cambodia are alcoholics. The downside of having booze so cheap.
The guest house I stayed in when I was in Phnom Penh is known as the Nomads Hostel. It's a rather basic backpackers hostel but most importantly it is clean and has a good location. I mean seriously I don't mind it not having air-conditioner and with such super hot weather in Phnom Penh, I found it bearable to shower without the heater too. Besides, the owner is a really friendly guy who takes care of the safety of his guests pretty well. I only paid USD 4 a night at that time but currently, the price have been increased to USD 6 a night for the dorm stay (which includes breakfast and laundry).
Our journey to Siem Reap started the next morning as the earliest bus leaves at 7.00 am. Apparently there is no night bus traveling in Cambodia probably for the safety of the passengers as well. The journey from Phnom Penh to Siem Reap was 6 hours and I shall continue with more story of Siem Reap, the more happening and popular city of Cambodia next. Till then, take care and have a good week ahead everyone. :)