4 months had past swiftly and now it's time to bid O & G goodbye. It felt pretty soon like it was just not too long ago I sutured my 1st episiotomy and delivered my first baby. This 4 months had been nothing short of challenges but the greatest satisfaction that I had (aside from seeing the patients leaving happily with their newborns) is earning the trust of my bosses. Seriously, this is not a department where your bosses trust you easily and I can understand why but scrape by scrape you prove your worth and capability and when your bosses finally trust you enough to made decisions and to do things, that kinda satisfaction is undescribable. Of course, I also enjoyed working with those good colleagues who not only taught me alot but also the teamwork that we had build, helping each other out in difficult moments making things easier.

Anyways, since I'm having a little time off before I start my next rotation, lemme continue on my Cambodia travelogue.

It was a little past 2pm by the time our bus arrived in Siem Reap. It's almost a 6 hours drive from Phnom Penh to Siem Reap and I was glad we still had half a day to spare in Siem Reap. Excited, we got off the bus and I quickly looked around for the tuk tuk driver that we had earlier booked before arriving in Siem Reap. The tuk tuk driver of course is more than just our tuk tuk driver in our next few days stay in Siem Reap. Like many tourist drivers in the world, he also doubles as our guide, informer, photographer and most importantly, a friend. I got his contact from another friend who had just returned from Siem Reap not too long ago and we had contacted through email. So, when we finally found our driver among the mob of other tuk tuk drivers surrounding the tourist bus, we quickly made way to our tuk tuk and drove to our first destination in Siem Reap- a local restaurant to feed our rumbling tummies.


Sophea, our tuk tuk driver who I highly recommend to anyone visiting Siem Reap. It's always convenient to have a local guide and driver and having one that is honest is definitely something we all look for. After all, the last thing we want is having dishonest people overcharging us making us pay exorbitant fees that wll ruin an otherwise amazing trip. This guy is like so superb honest, helpful, humble and nice that all of you should contact him and book him as your driver if you visit Siem Reap. He's very popular though so if you are going during peak season, be sure to book with him early!
Our first destination in Siem Reap was the famous Tonle Sap Lake which is about 2 hours from the town of Siem Reap. The lake, during the wet season is one of the largest freshwater lake in Asia (about 12000 km2). However, during the dry season, the lake will shrink up to as small as 2500 km2. That's just how unique the lake is.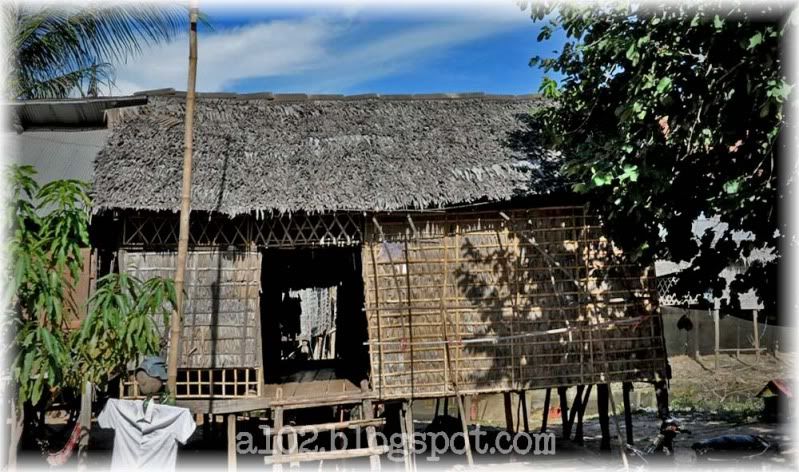 Atap houses like these can be seen all along the way to the Tonle Sap
The boat dock at the beginning of the lake. Once we arrived at the jetty, plenty of boat drivers approached us, each offering different price to take us out to the lake and to visit the unique floating village of the Tonle Sap. There are actually several floating villages on the Tonle Sap but the one nearest and most easily accesible from Siem Reap is the Chong Kneas floating village, which consist of differing Khmer and Vietnam communities. Sophea couldn't accompanied us to the jetty to look for a boat driver as he said it was their local protocol that tuk-tuk drivers should not interfere with the 'business' of the boat drivers at the jetty but he cautioned us of the usual reasonable price we should pay. And with his warning, we managed to pay only USD 9 per person for a boat, driver, a guide, a visit to the crocodile farm and to watch the sunset out on the lake (you pay different price for sunset and without sunset).
Their boat
Fishing is one of their main source of livelihood
The Gecko information center
A floating church sponsored by the Korean community
Sampans are their main mode of transportation connecting them from their village to the outside world
The Chong Kneas village from a distance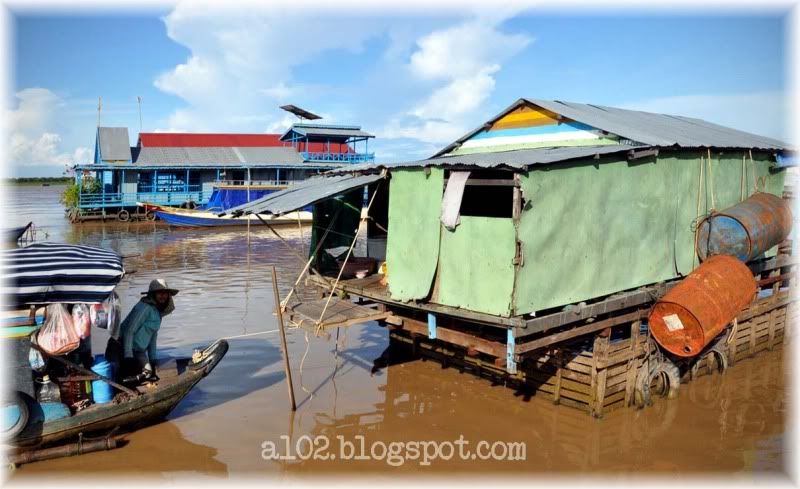 In the village, they have their very own floating houses, floating shops, floating markets, floating schools, floating places of worships, floating crocodile farms, floating clinic and even floating police station. It's certainly an interesting sight to witness how these people carry out their daily activitis all within the vicinity of a boat or on a house build on stilts, wooden planks and discarded tyres. I wondered though how they actually sanitizes their water or how their sewage system actually works
Row, row, row a kuali, gently down the Tonle Sap lake
The floating school. We decided to hop by for a visit. Our boat driver encouraged us to bring some 'gifts' over for the children which I love to do so as well. The only problem being out there in the middle of the vast lake, the cheapest gift we could find was a dozen of 2B pencils selling for USD 6. We knew they were obviously overcharging us but we took it as a donation to their local community and bought the pencils anyhow. However, I wish they would wisen up and stop doing things like that as slowly, it will turn tourist away and they will lose even their most lucrative income from tourism. I don't mind giving donations, just not 'cheat donations'.
The double storey boat school had a pretty simple and humble setting but it's sufficient to provide an opportunity to learn and to have fun for the children all thanks to the contributions made by the many kind people around the world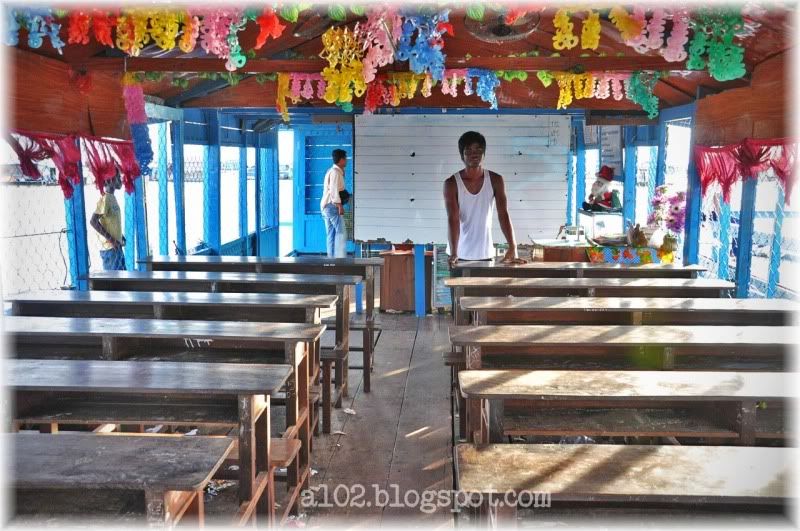 One of their teacher. It's really heartwarming to see young people like him dedicating himself to staying back and teaching the children of the village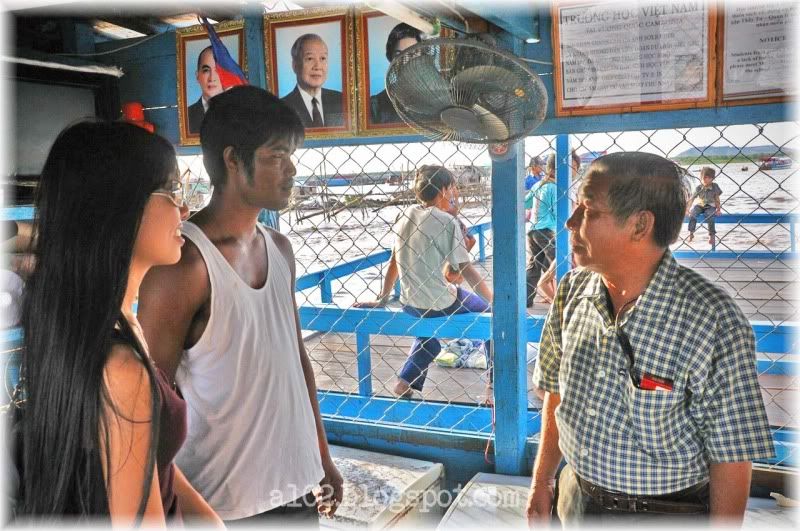 Having a talk with the teacher and principal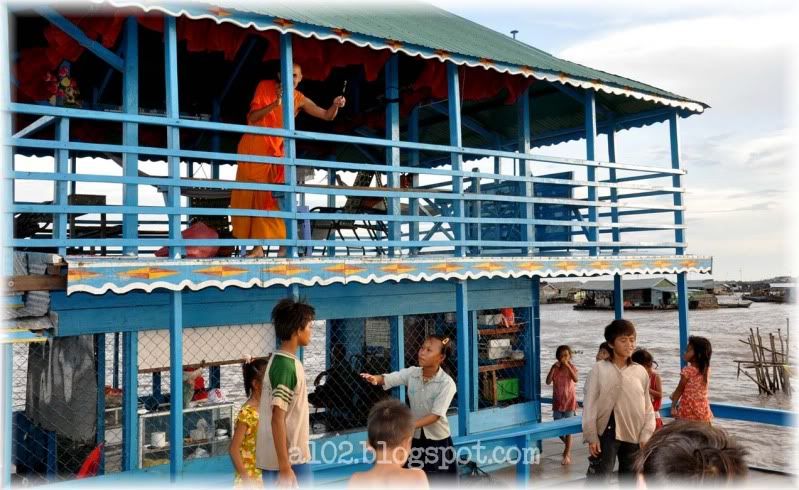 Class sessions had ended and it was playtime for the children
The older kids having their games
So cute!
The younger kids love playing the 'hitting' game
Peace -V-
We then moved on to the crocodile farm where it's their standard place for bringing all tourists to while waiting for the sun to set across the wide horizon.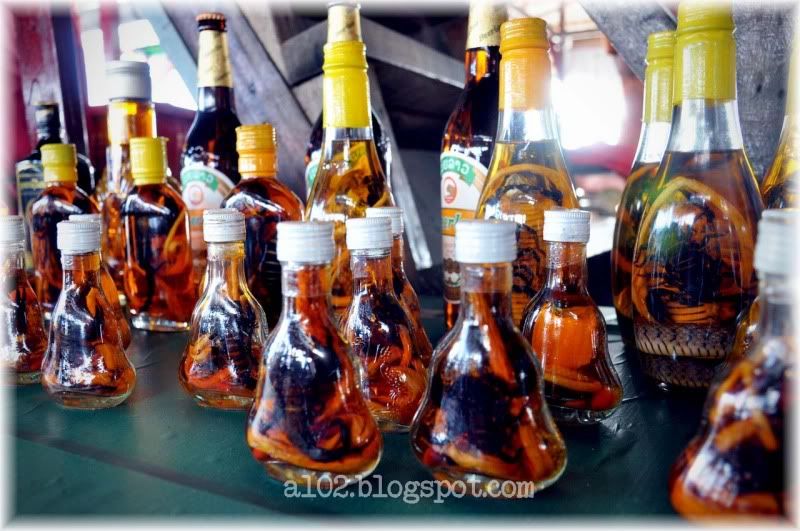 Scorpion and snake wine! *gulps wide eyed*
Free phython photography session. This is the closest I will ever get to having a phython over my shoulder.
Another thing to watch out for on the crocodile farm are the kids who jump in and poses for your photos. These kids will pose with all their creativity for your photos and entertain you BUT after you are done with the photography or playing with them, they will ask you for a fee. And their fees don't come cheap. They ask for USD 10 and if you are not willing to pay, they will cut down their price to USD 1. We paid them Riel 10 in the end simply because we didn't want to encourage them. I mean seriously, we never never ask for them to be in our photos and it's at the last minute before the cameraman clicks, they jump in on their own accord and for all the fun of it, we didn't mind them in our pictures but to be demanding for a fee after was just too much.
Brave little boy with his phython
Hungry crocodiles sunbathing. You can also try feeding the crocodiles but at a nominal fee
Om nom nom nom
At the rooftop overlooking the rest of the village below
Finally, the sun began setting. It was one very beautiful sunset though as the golden orange glow of the last rays of the mighty sun falls across the village
Leaving Chong Kneas village after the beautiful sunset
Even the stars were especially bright and shiny at that part of the world
It was another 2 hours back to Siem Reap town and as we traveled in the darkness with the wind chilling us gradually, I can't help but felt total respect and admiration for those who chose to stay back and serve the people of the floating village. It's not something that most of us are willing to do, to live admist a tough and difficult life to provide medical care, protection or education but there are still extraordinary human out there willing to do all these, unrecognized. :)