Cambodia post!

We decided to spend our 3rd day in Siem Reap exploring the magnificent temples of the Angkor Archaeological Park, located about 6 km from the town of Siem Reap. We woke up at an unGodly 4am just so that we could reach our first temple of the day, the Angkor Wat in time for the sunrise. I know, we just caught the sunset at the Angkor Wat the day before and now we were catching the sunrise from the same spot. Truth is, the temple of Angkor Wat is oriented to the west so theoritically that makes it a more famous sunset spot but imho, catching both the sunrise and sunset at the Angkor Wat was just as beautiful. However by the time we arrived at Angkor Wat, it was already about 6.30 am and the sun was already halfway rising across the horizon. Thus, we only managed to catch half of the sunrise. :(

Just a brief introduction, the Angkor Wat, built by King Suryavarman II in the early 12th century was his state temple and capital city. It is the first Hindu, dedicated to the god Vishnu, then turn Buddhist temple. The Angkor Wat is designed to represent Mount Meru (home of the devas in Hindu mythology) with a moat, outer wall with three rectangular galleries and the central five towers. Being the national pride, a depiction of the Angkor Wat can be found on the Cambodia's national flag.


The Angkor Wat with the sun already peeping halfway across the horizon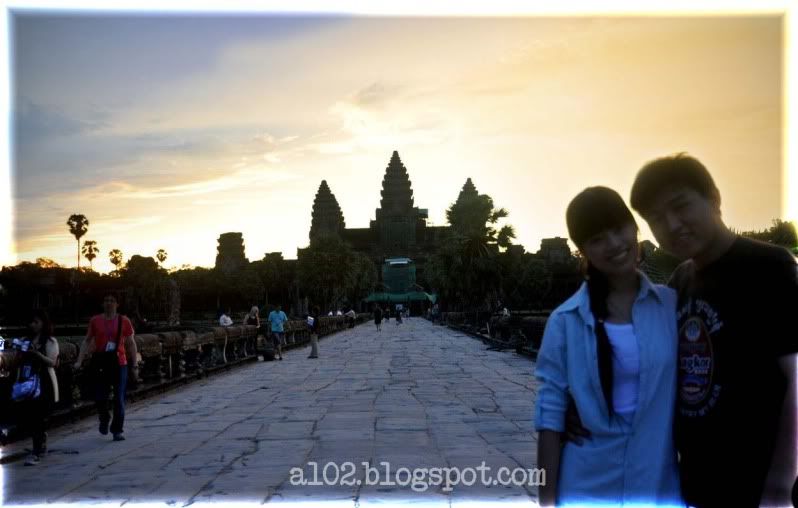 The pride of the Khmer people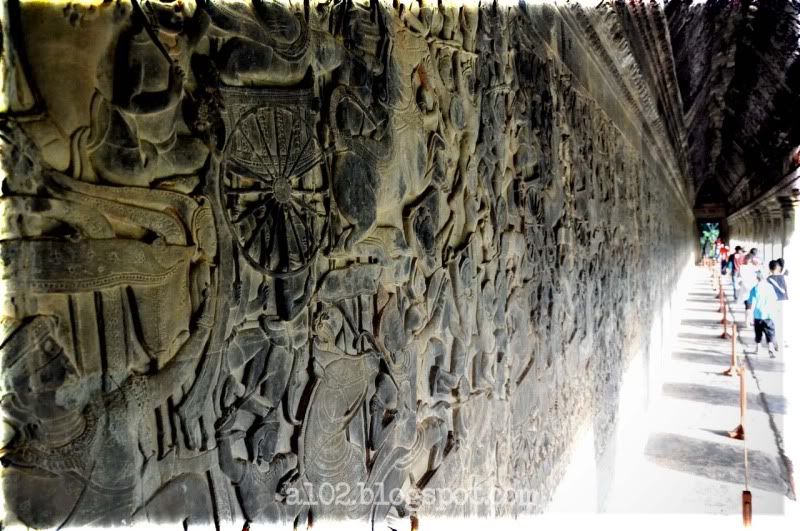 Most of the decorations of the Angkor Wat takes the form of the reliefs that are sculpted so excellently. In each gallery, the reliefs sculpted are depicting various episodes of mythological stories and historic events. In this gallery, this is an episode of Mahabharata, a renowed Indian epic tale
The central courtyard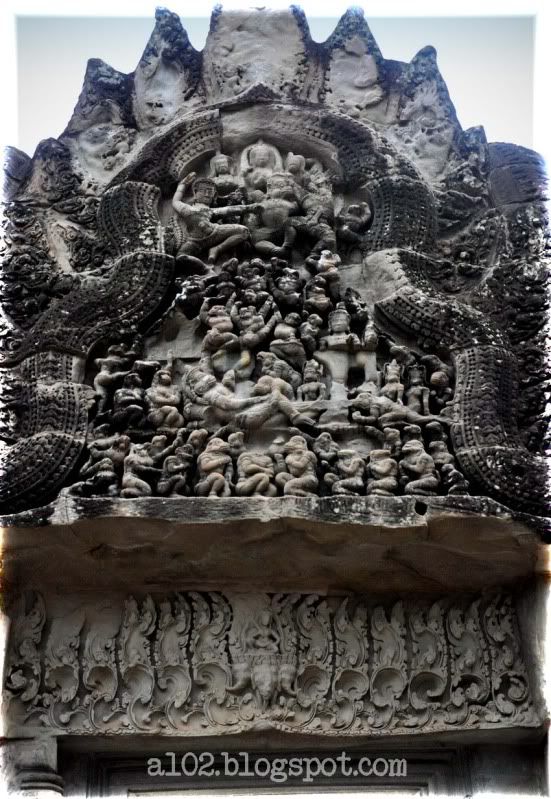 Such intricate artwork done so exquisitely
The Apsara, a common mythical figure found cropping out repeatedly around the temple. They are celestial nymphs, always bare-breasted and dancing, representing an ideal of female beauty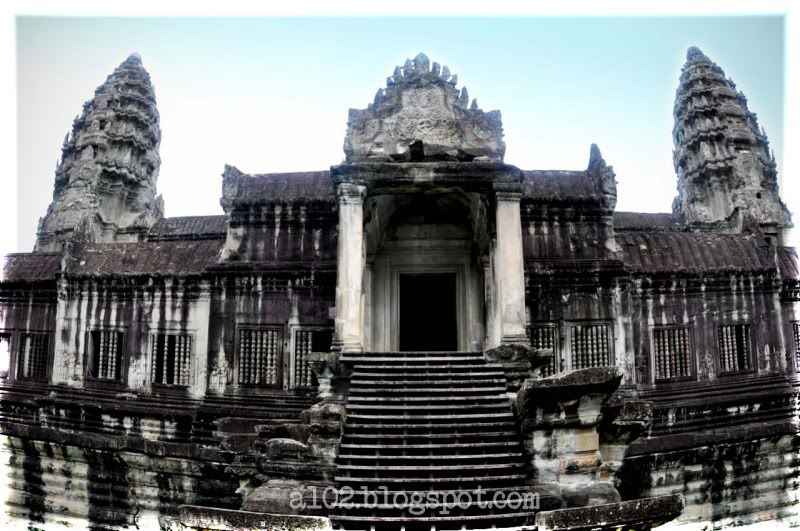 One of the many entrances into the temple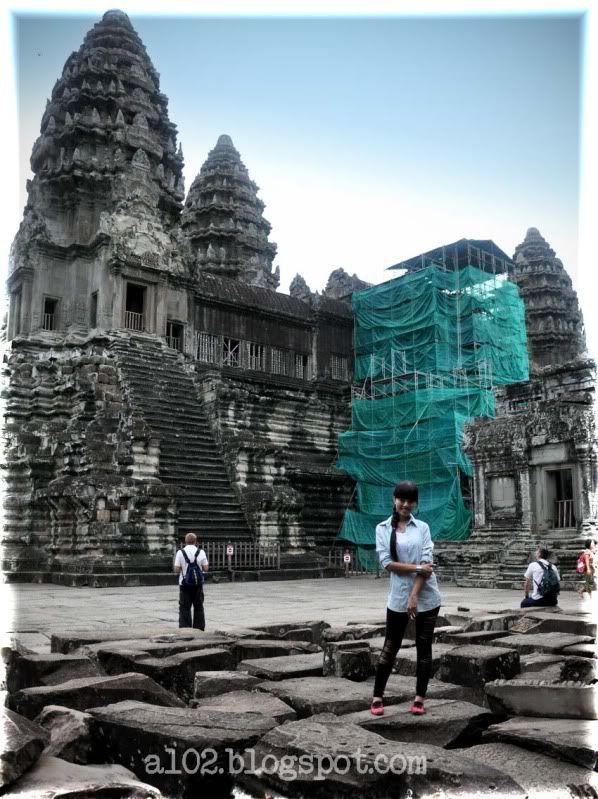 The popular central five towering gopuras. The towers were closed for renovation when we were there, hence not allowing us to climb into the quincunx of towers
Ala the Apsara dancers
I ♥ U, Angkor Wat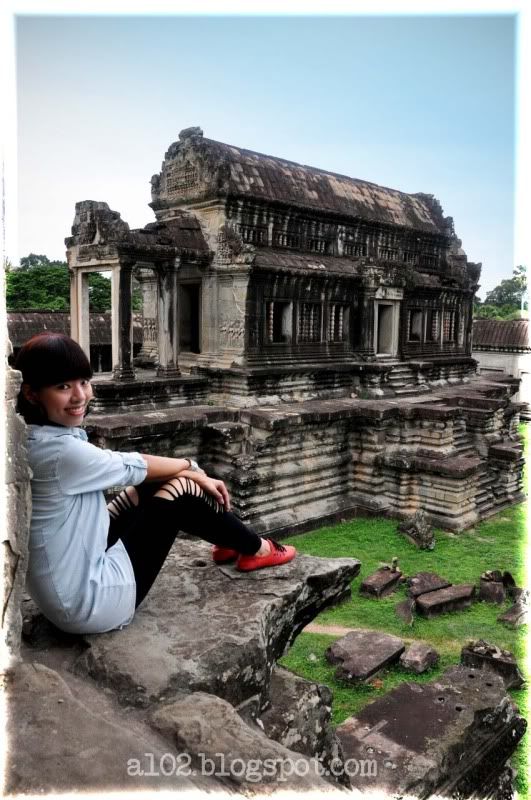 It felt so liberating to the mind to sit at a corner of the huge temple, away from the crowd and slowly take in the gorgeous surrounding with the gentle morning breeze brushing against our face and the birds chirped in a distance
I just super ♥ their corridors. It's somehow so nostalgic and fascinating walking through them as if I had been walking through them all my life
Haha!
Catch me if you can
The Naga - the many headed mythical serpent usually found on the guardrails
Angkor Wat, certainly worth being dubbed the eight wonder of the world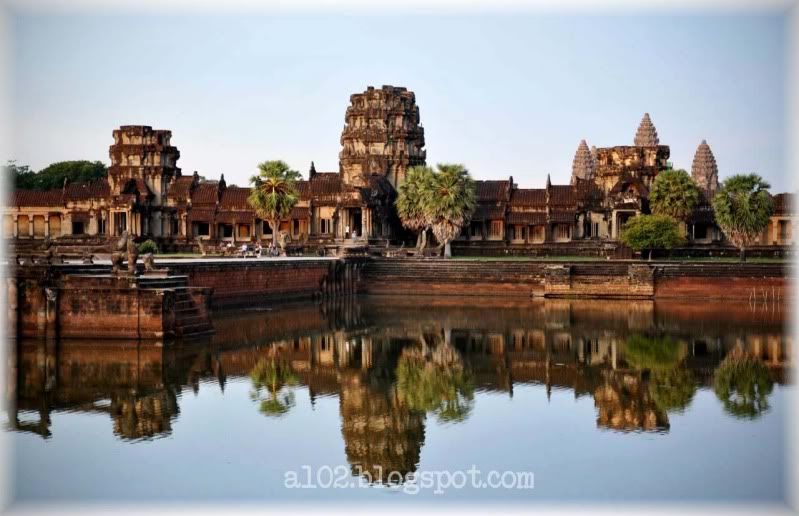 A last picture of the Angkor Wat taken at sunset the day before
After spending about 2-3 hours at the Angkor Wat admiring its majestic and grandeur architecture in harmony with its exquisite and extensive bas reliefs and devatas adorning its walls, we were ready to move on to our next temple. The Angkor Wat is definitely one very admirable and statuesque temple despite the fact that there were many renovations and scaffolding around during our visit. None the less every one of the temple within the Angkor Archaelogical Park are unique on it's own, hence we were equally excited to check out our next temple. So, do stay tuned for my next update as I bring you the next magnificent temple on our list. :)