Cambodia post!

Anyways, in case anyone haven't already watch the Avengers, do go catch it! The movie is as awesome as it can get. Totally love how it is an action-packed movie yet hilarious at the same time.

Next on our list of temple hopping at the Angkor Archaelogical Park after Angkor Wat was the Banteay Srei temple. Located about 25 km away from the main group of temples, Sophea decided to make a de-tour and bring us specially to this jewel of the Khmer art. From afar, this temple already stands out for it's unique coloration Although unusually small in size compared to the rest of the main Angkor temples, it is so called the jewel of the Khmer art due to it's outstanding quality of sculpted decor, carved from red sandstone. The Banteay Srei is popular for it's vast variety of style, it's divine population from the Hindu mythology, the many noteworthy devatas and dvarapalas carved into the walls and awesomely gorgeous motifs found on it's colonnette, pediments and lintels. Built in the 10th century, this temple is dedicated to the Hindu God, Shiva. Banteay Srei consists of three rectangular enclosures with a pathway connecting the outer gate (gopura) to the innermost enclosure.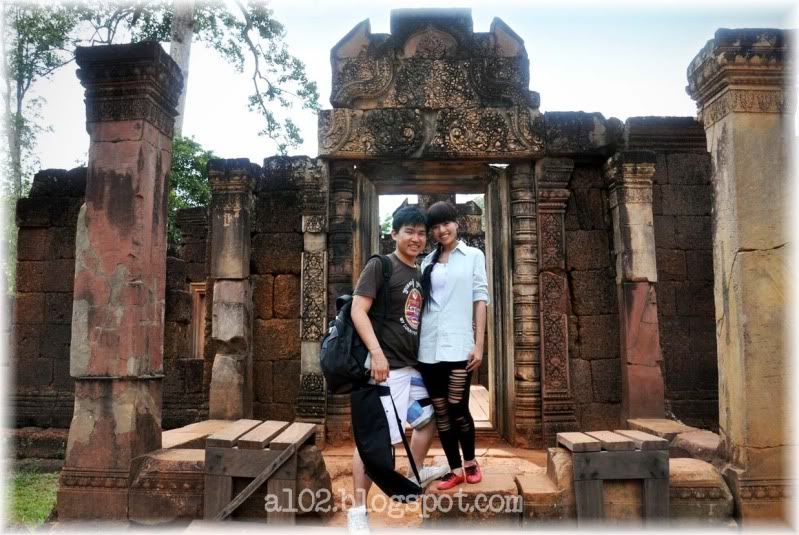 #1- The outermost gopura (gopura simply means entrance into a building but at Angkor, ALL of their gopuras are very impressively done with their lintels and pediments often decorated and guardian figures carved on either side of the doorways)
#2- A peep into the outer enclosure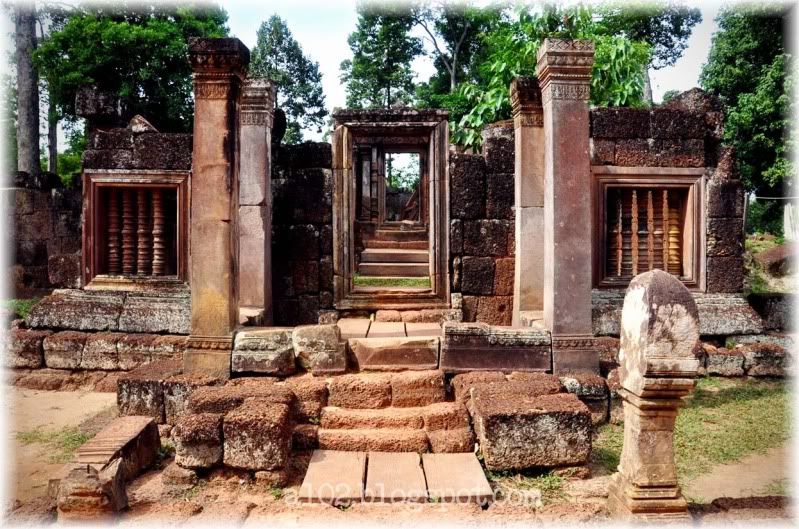 #3
#4- Where art thou?
#5- One of the many decorated pediment. This for example is known as the Baphuon style pediment found on the ground
#6- Motifs on pillars are also a common sight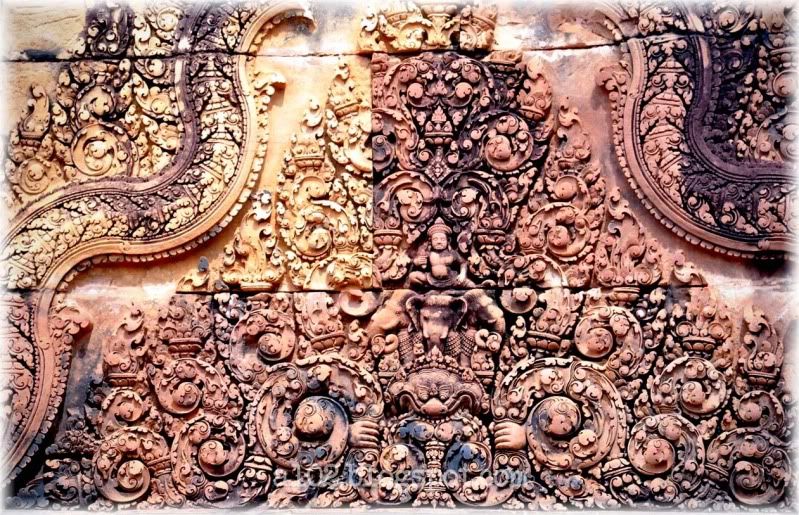 #7- I'm ever amaze at their intricate artwork on most of their pediments and lintels. How complex yet so beautifully done. This is Indra, the king of Gods in the Hindu mythology on his three headed elephant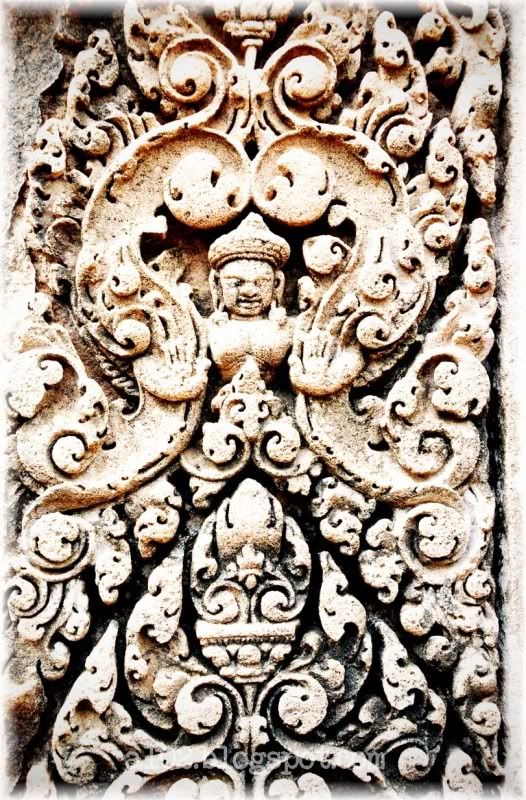 #8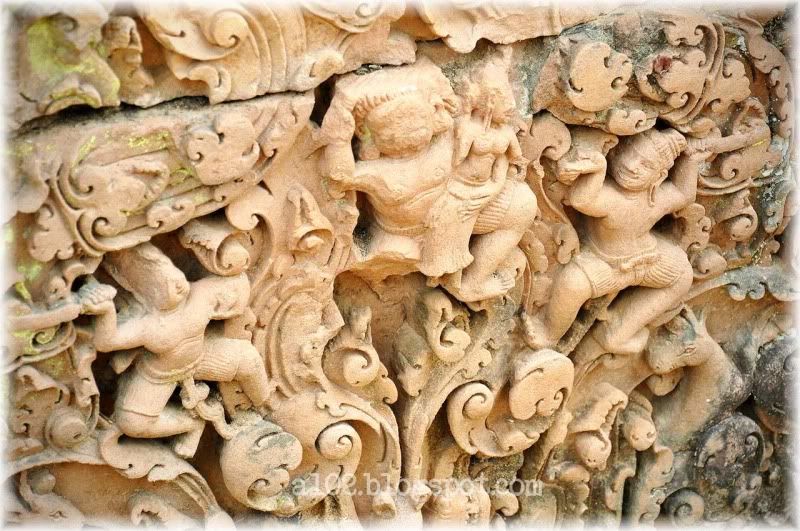 #9- Another pediment depicting the abduction of Sita
#10- A pediment above one of a gopura with Lakshmi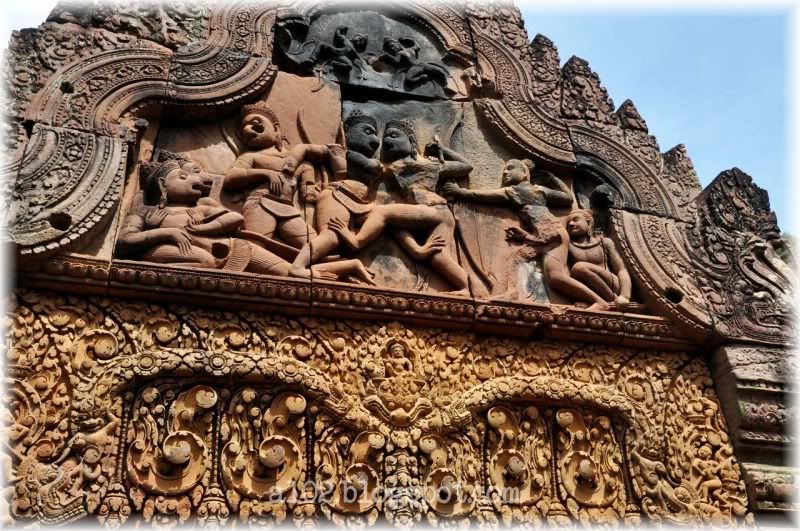 #11- A bas relief depicting the combat between Vali and Sugriva on one of the gopura in the second enclosure
#12 - The famous Siva Nataraja depicted on the gopura in the inner enclosure wall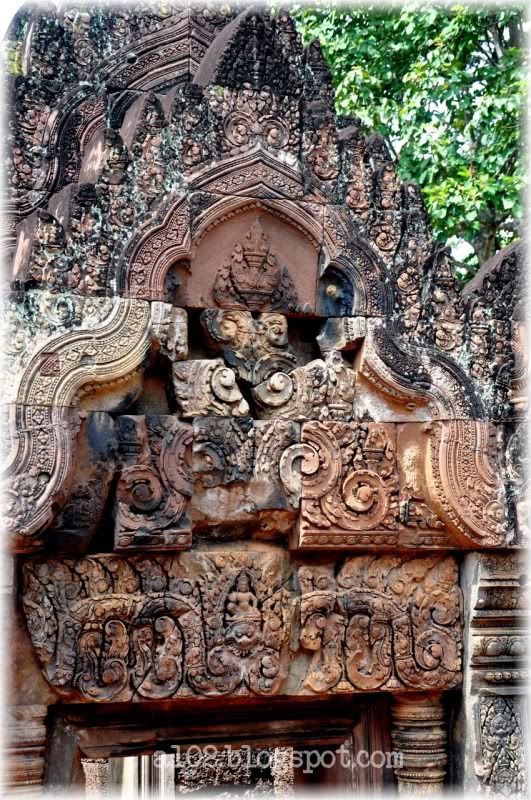 #13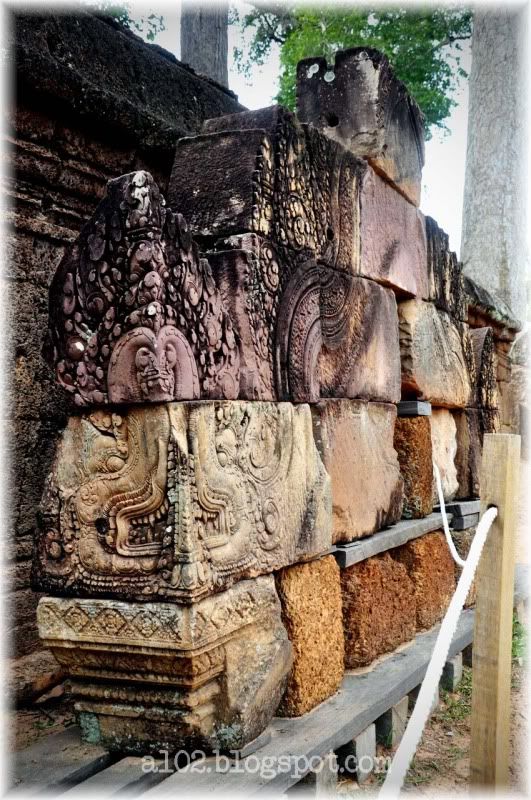 #14
#15- The gopura of the second enclosure with a pediment of the Banteay Srei style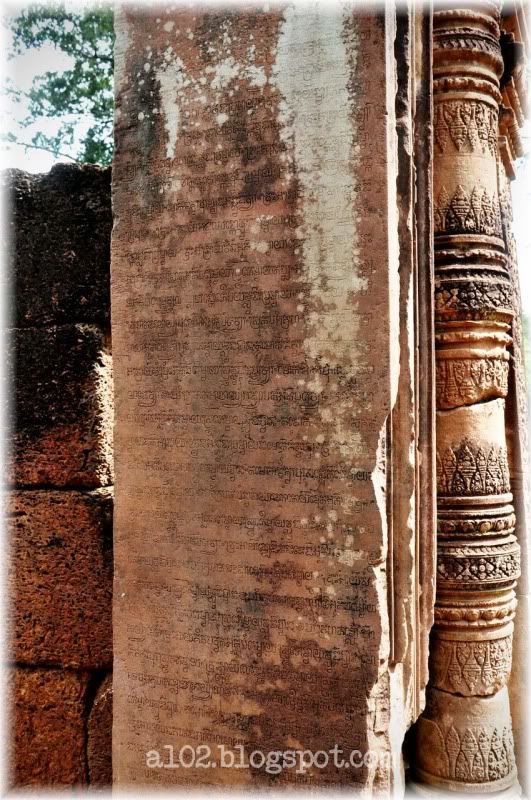 #16
#17
#18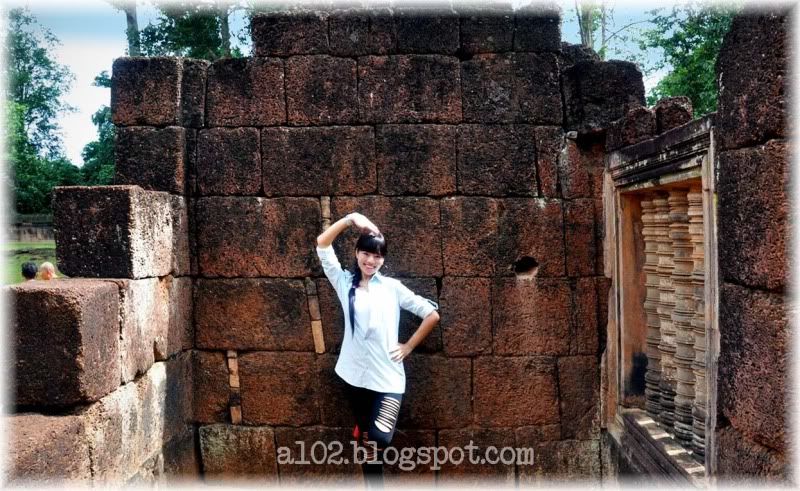 #19
#20 - The first or inner enclosure that consists of a santuary and two libraries with each of the library having two pediments
#21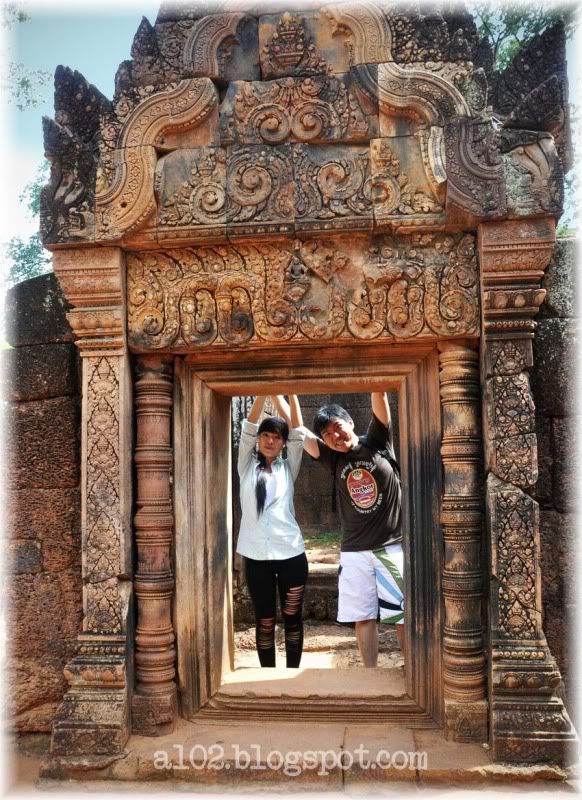 #22- Notice how small most of their doorways are? Most of their doorways are only about 1 meter in height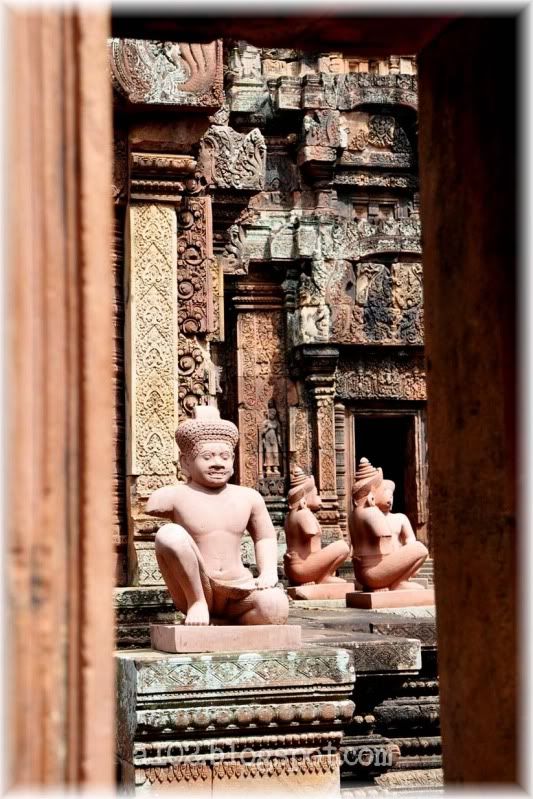 #23- Kneeling statues guarding the stairway leading up the platform into the towers. Most of these statues are replicas though now; the original being stolen or removed to museum
#24- The santuary of the inner enclosure consists of three towers and a mandapa (entrance chamber with a corbelled brick roof)
#25 - Among the three towers, the tallest being the centre tower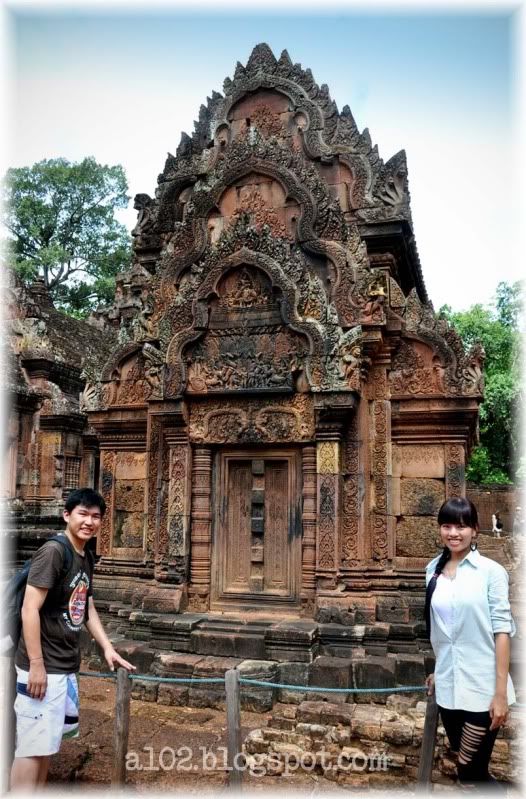 #26 - The false door (for spirits) on the south tower
#27
#28
#29
#30- The inner enclosure with it's outer walls
Banteay Srei truly amazed me with it's delicate and beautiful carvings of devatas, dvarapalas, Gods of the Hindu mythology and intricate motifs covering most of the niches of the temple walls, the pedimets, the lintels and even the pillars. Even though it is located slightly further than the rest of the major Angkor temples, this is one little jewel that is definitely worth a de tour to. Besides, the lesser amount of tourists means less crowd and more bliss and peace enjoying the gorgeous reddish architecture. :)