Back to more of Cambodia post! Writing about my travels helps me to destress and certainly just thinking back of those stress-free days makes me happy. Again lately, HO issues have been making headlines and causing quite a stir. Yes, it's about us HOs again, the usual harping from the fact that we now work less (and learn less) with shorter working hours, how we are pampered with our shift system, about how HOs these days are getting less competent etc. As a HO myself, I wouldn't say those complains are ALL true or untrue. There's some degree of truth in it definitely and I do agree that HOs these days have a much better quality of life compared to our seniors. I truly salute the fact that doctors in the past could survived the drill of 36 non stop working hours. Working 20 hours non stop is already killing for me. But it's not like shorter working hours means the compromise of the quality of doctors these days or like the whole health care system is jeopardise just because HOs quality of life is improve.

And it's not like all HOs these days are hopeless. There are many that are still responsible and willing to learn. And really, it doesn't matter at all where one graduates from. I think it's very discriminative and unfair of senior doctors and specialists to keep highlighting the fact that seems to point more at the fact that graduates from some "dubious" local/ foreign unis are the only incompetent ones. I mean seriously, come on. I had worked with local so-considered non dubious graduates and there are downright lazy and irresponsible ones as well. At the end of the day, it is the attitude and spirit of the HO per se that matters. One who graduate from those so called dubious local/foreign unis can be as good as a local non-dubious uni graduate as long as they are humble, willing to learn and study. I had seen foreign graduates from some of these so called dubious unis performing as well as the local graduates.

Well but then again, it's not totally untrue that quite a number of graduates from some of these dubious unis are really incompetent. But one reason can be due to the teaching environment they are exposed to. For eg I have a colleague who graduated from country X and during her first week in the O & G department, she was completely blur and definitely seen as incompetent. That's because in reality, in country X where she studies, they have very little chance to have practical exposure to the O & G dept and hence resulting from this severe lack of experience that most local med students had the privilege to enjoy. But as soon as she adapts and pick up our Malaysia system, she gradually improves and subsequently is on par as everyone else. Even some local non-dubious unis graduates who are plain lazy are just as incompetent as well. So at the end of the day, it's the ATTITUDE of willingness to learn and work of an individual that matters.

Anyways, enough of the deviation. Let's travel back to Siem Reap. Being in Siem Reap, the one thing that no one should ever missed is visiting the Angkor Archaelogical Park where some of the most famous temples in the world like the Temple of Angkor Wat, Angkor Thom and Bayon temple with it's countless beautiful sculptural decorations and carvings are found.

Stretching over some 400 square kilometers, including forested area, Angkor Archaeological Park contains the magnificent remains of several capitals of the Khmer Empire of the 9th to the 15th centuries, including the largest pre-industrial city in the world. (source : Wikipedia).

So the passes into the Angkor area can be divided into 1 day pass (USD 20), 3 days pass (USD 40) and 7 days pass (USD 60). We decided that we just want to visit Angkor Wat, Angkor Thom, Bayon Temple and do the Little Circuit which consists of major sites to the east of Angkor Thom so we bought the 1 day pass.However even with the 1 day pass, we could still earn an extra sunset at the Angkor area so we could have 1 full day and 1 free sunset. :p The secret is to simply purchased your passes AFTER 5 pm and you could enter the Angkor area free of charge to catch the sunset. And the most famous place to catch it is of course the Angkor Wat itself because that's the nearest and being the most famous.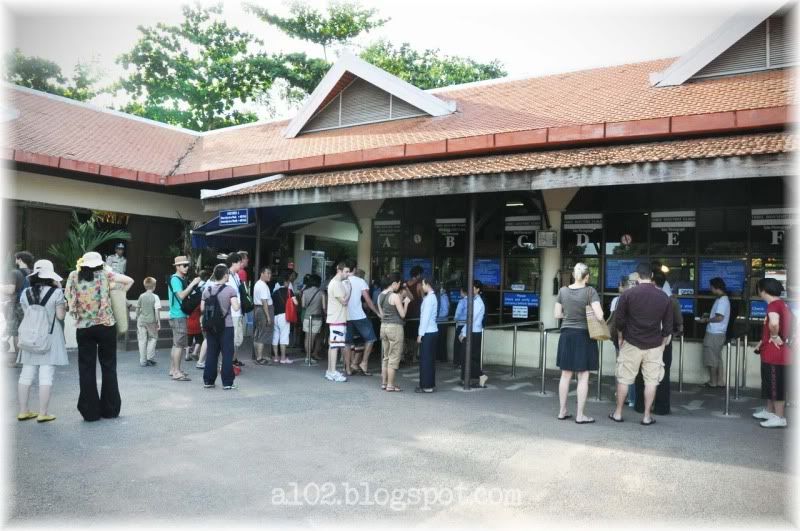 The frontgate. There are actually a lot of people who already knew this secret and like us, were there to purchased their passes after 5 to earn that extra free sunset!
Having my pic taken for the pass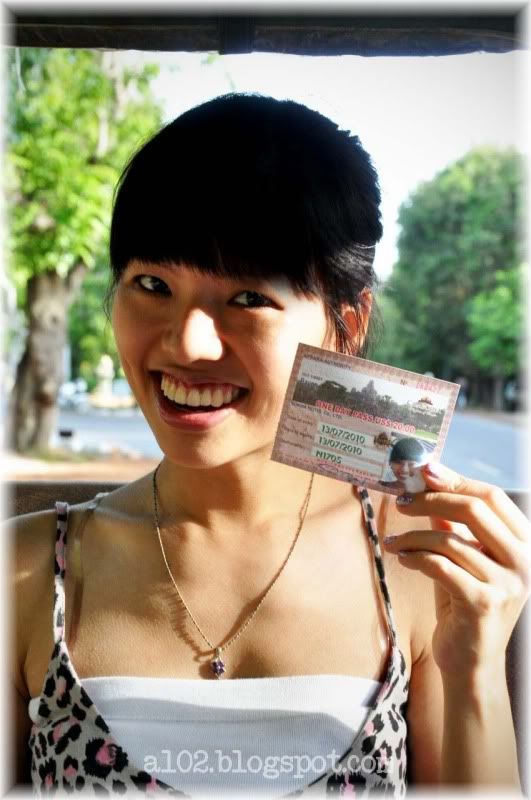 My one day pass
The Angkor Wat was actually the place I was most looking forward to visiting in my backpacking to Cambodia. And as I stood right in front of the magnificent architecture, I was struck with momentary paralysis. The Angkor Wat is just like what I saw in a lot of pictures, but it's certainly a 100x more beautiful in real and there's just something about that place that makes me want to rush in and see the rest of it. However, there were some upgrading and renovation going on when we visited so there's a lot of scaffolding around that kinda ruin an otherwise perfect view of the magnificent and majestic Angkor Wat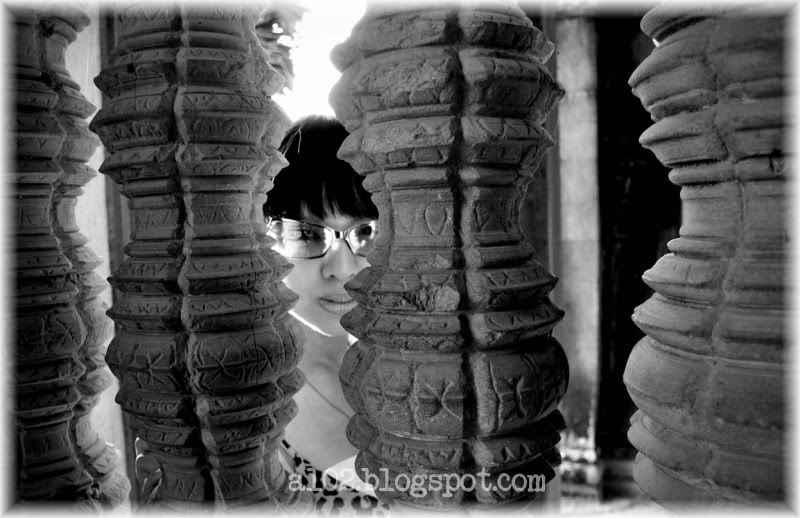 Inside Angkor Wat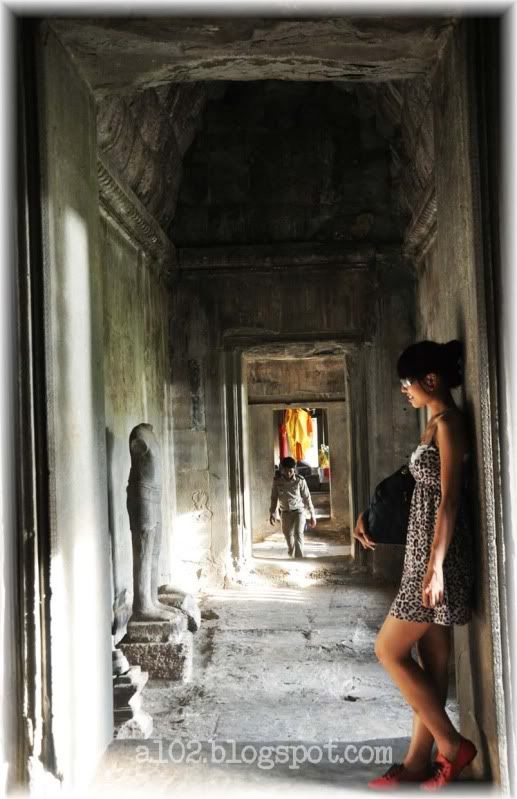 The last few glimpse of sun at the Angkor Wat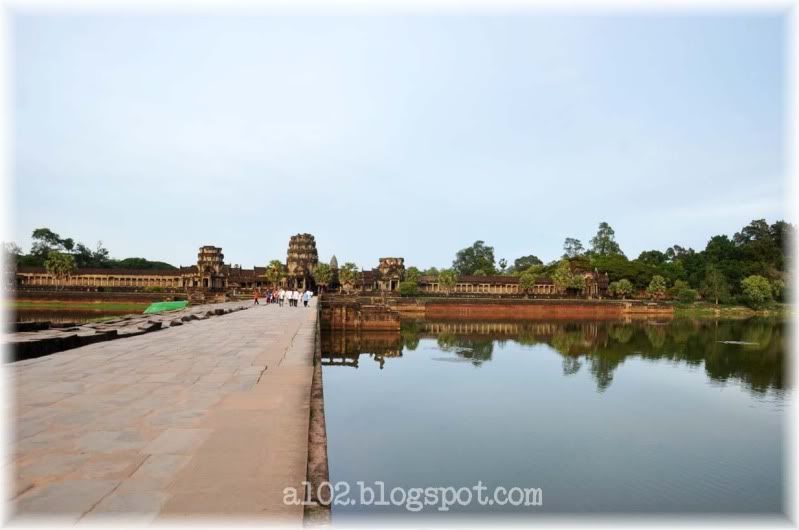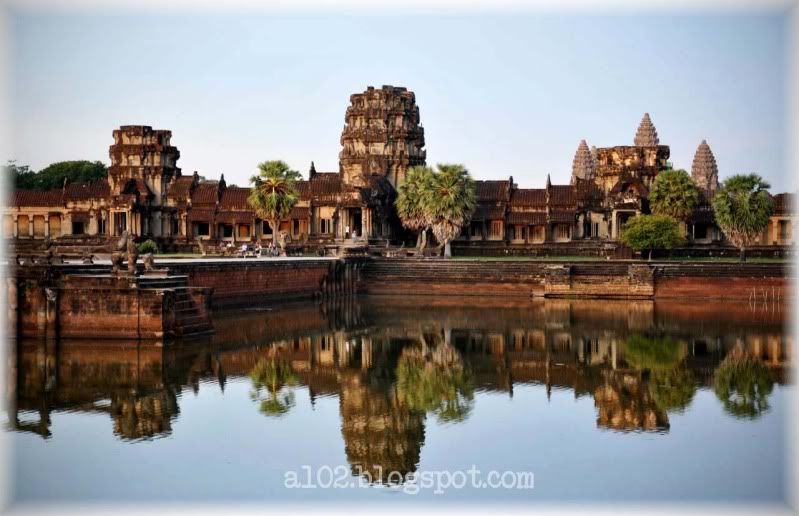 Angkor Wat at sunset
We spent around an hour at the Angkor Wat, waiting and admiring the sunset. It was a very beautiful moment seeing the towers of the Angkor Wat bathing in the warm orange glow of the last rays of the sun. Angkor Wat and also the rest of the Angkor temples are definitely very photogenic spots with almost every nook and inch of it being a good photography background. We took like more than 1000 pictures itself during our visit to the Angkor Archaeological Park because they are all so beautiful and unique like that. Till the rest of the Angkor Archaeological Park, have a good (or whats left) week ahead and take care! :)