I'm already one week into my current new rotation (Surgery) and all I can say is aside from the lack of teamwork from some ppl, I'm loving it. I'm definitely loving the working hours and I'm beginning to believe that I'm more of a surgical-based than a medical-based person so I do pretty enjoy my work right now. :)

Anyways, at the end of my previous rotation, I had a few days off and so we decided to head up to Tioman for a short island escapade. The islands have always been one of my favourite place to unwind simply because we get to be whizz away from the busy and crazy life of the concrete jungle to a paradise where it's calm, beautiful and literally the perfect place to practice the art-of-doing nothing. And living in Kuala Terengganu for the past 3 years had made me addicted to the islands; I'm swept away by the beauty of the islands off Terengganu so much so that I need at least a yearly island escapade now to made up for my craves for the warm glowing sun, soft sandy beach, clear blue waters and amazing underwater world.

Tioman Island is in Pahang but the jetty is in Mersing and Mersing town is like 2-3 hours drive from Johor Bahru. From the jetty, it took us another 2 hours of ferry ride before we finally caught glimpsed of our little island paradise. However, unlike the Terengganu islands, Tioman is like 10x larger and consist of eight main villages with each of the village secluded from the other and unless you trek through the jungle, you can't walk from one village to the other. While they do have jungle trekking, you will need a guide and of course, time. The other alternative will be the water taxis that will take you village hopping but I heard they are pretty expensive so we never bother asking anyway.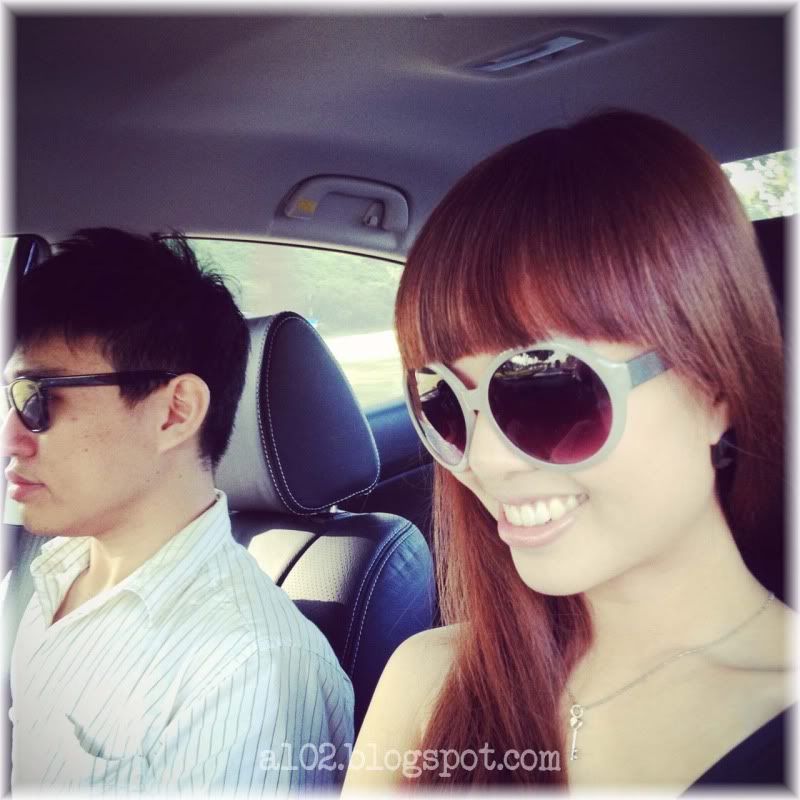 All set for an island escapade. I simply ♥ how Instagram makes my hair so reddish here. ☺
We stayed at Paya Beach Resort which is obviously at Kampung Paya (Paya Village) so our next few days were spent literally walking up and down the entire 15 km or so stretch of beach. We were all totally confined to that one part of Tioman so all my pictures are only representative of Kampung Paya in Tioman and not the rest of the island. They have a duty free shop in Kampung Paya, so stuff like chocolates and alcohol are sold relatively cheap there. I had only edited a few of my fav shots because I don't really have time to be editing like 1000 pictures these days. T_T
Kampung Paya is a pretty quiet village situated right in the middle of the island and is not as populous as Kampung Tekek in the north. And the yellow man (aka Digi) could not be found anywhere on that part of the island so for the few days we were there, we had no phone coverage and being internetless, we were really shut off from the outside world.
Hello, Tioman ☺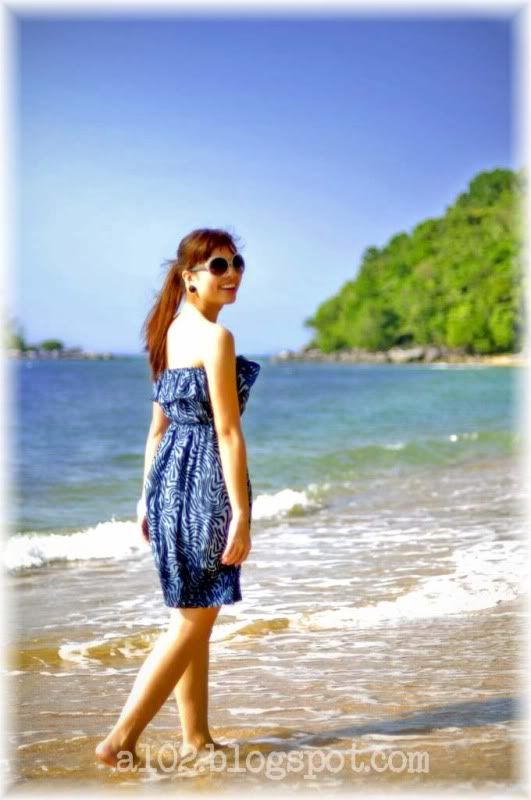 Let's go strolling
This is where they sell Ramly burgers actually. And Ramly burgers there are only like RM 5-6. Pretty reasonable for island price if you ask me
My favourite past time on the island is to sleep on the beach while listening to my fav tunes with the cool sea breeze against my face, the cold sea water gently teasing my feet occasionally and the sound of crashing waves in the background *bliss*
A new header perhaps? hehe
The only thing I dislike about Kampung Paya is the fact that the sands are actually brownish there and not as soft as the ones up in the east coast *I miss my white soft sands*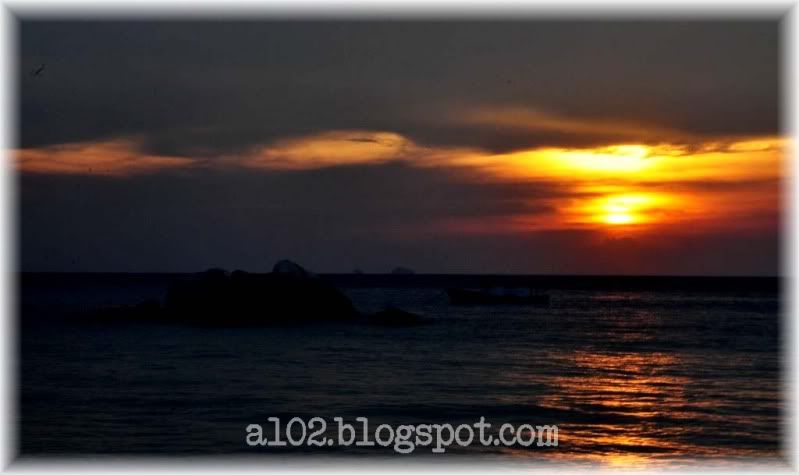 Catching the sunset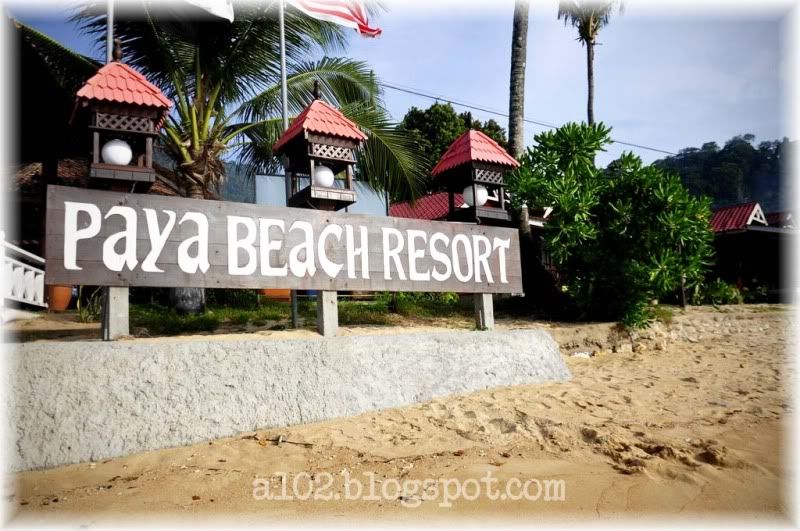 Where we all stayed
Seaview rooms
You can have dinner by the beach here at night while enjoying a drink or two. Their bbq seafood are pretty ok too (at least comparatively to the complimentary hotel food provided)
Try guessing what am I snacking on? No prize for the right answer. *lol*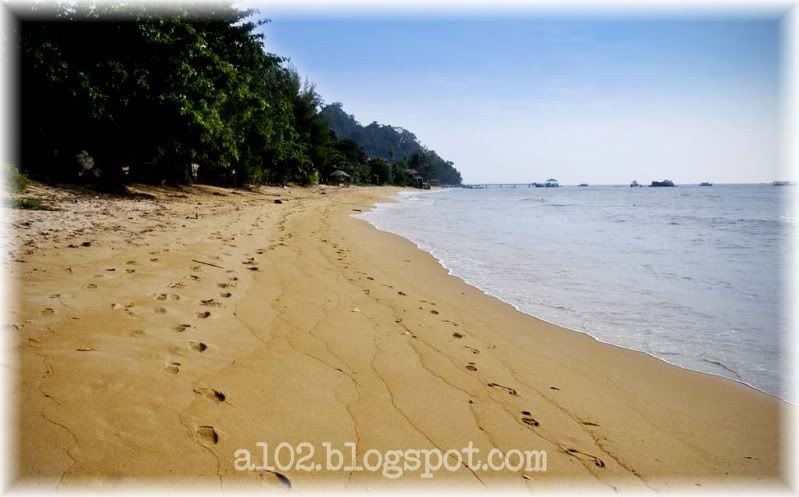 Footprints in the sand of time

Panaromic shot of the island
At the end of escapade, I was pretty reluctant to leave actually. In all honesty, I still find
Redang
,
Perhentian
and
Lang Tengah
much prettier. None the less, albeit the brownish sands, their water are still pretty clear and I definitely enjoyed swimming with the abundant of Nemos aka clownfishes found there, sleeping on the beach with the sea water tickling against me, reading with the natural sound of waves crashing, feasting my eyes on the surrounding lush greeneries and of course, the greatest company. I can't wait for my next island getaway already but till then, I'm kinda missing Tioman now. :)