The PADI open water diving licence to be exact. Which means I can now officially dive until a depth of 18 meters or 60 feet! :)

I just came back from Tioman Island again last week with more sun kissed skin. I was there at the end of March (click to read post) and was back there again sooner than I thought. But my purpose there this time though was to complete my open water diving course.

Learning to dive and to obtain a diving licence have always been something I had wanted to do for a looooong time but there were always some limitations somewhere. I have always love doing water sports so diving is like my ultimate aim. There's no specific reason to why now, it's more to now is a good time because we finally managed to find time together.

The usual way of obtaining an open water diving licence, which is the most basic and the first step anyone will have to take before they can proceed to further advanced diving courses will be to spend like 3-4 days on an island, doing the theory part, both the confined water dives (where you learn to breath and float in shallow water so you be confident enough to then go into deeper water) and open water dives altogether.

But well with work and everything, it's not that easy to sometimes apply for 4 days off straight in a row. So, the good thing was I found this diving centre in JB that allowed us to complete our confined water dives first in JB itself before we proceed to the island and stay there for another 2-3 days to complete our open water dives and theory. And the most flexible part is, we can actually do all of these at different times according to when we are free.

And so, my journey into becoming an open water diver begins actually at the beginning of this month when I had two days off and I used them to learn my confined water dives in a swimming pool at a sports centre near my workplace. I don't actually mind doing it in a swimming pool because that's like the very first time where we actually breath and float underwater and I feel quite safe being in a pool. *laugh*. Only about 2 weeks after completing our confined water dives, we went on to Tioman for our open water dives. In fact, I'm beginning to feel glad for the fact that Tioman Island is actually so big that they are divided into several villages and that it is such a close getaway from JB city.

We departed for Mersing at one of the most unGodly hour, at 4.00 am and managed to reach the Mersing jetty in 2 hours time. Our boat to Tioman Island left at 6.30 am but by the time we reached Kg Salang, the north tip of Tioman, it was already almost 8.00 am.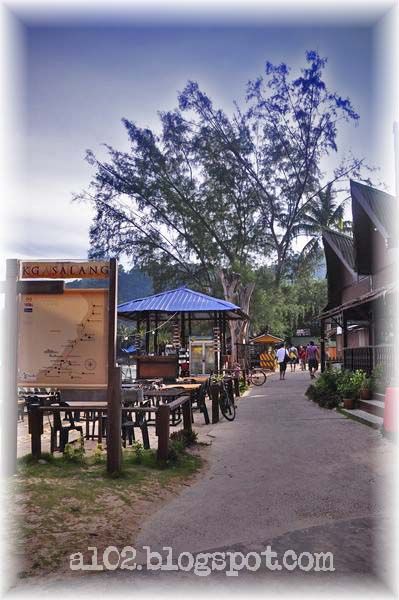 Since we stayed at Paya Beach Resort at Kg Paya the previous time, we decided this time to stay at Kg Salang instead. One of my boss recommended that Salang is the most beautiful part of Tioman Island and it's one of the best places to stay in Tioman, so I was keen to see the place for myself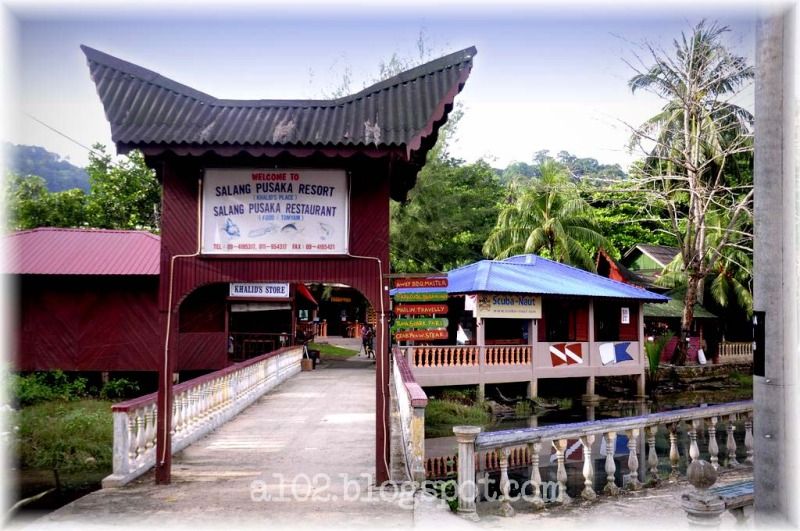 Salang Pusaka Resort- where we stayed. The room I stayed in was like a super basic room with just a bed, a simple mirror, a dressing table and a rather dim light. But amazingly enough, they have a refrigerator, air conditioner and water heater. The rooms are not sparkly clean but clean enough. The down side of this place though were the fact that my room had this musky smell (which gradually resolved fortunately) and that the walls are super thin. So even though we had individual chalets, I can hear clearly what my neighbours were talking if they forgot to keep their voices low
We spent our first two days diving basically, doing two dives on the first day and another two on the seond day. We swam to our spots, around the Salang House Reef which were about 50 meters from the shore for our first two dives. My first ever dive in an open sea was only to a depth of about 7 meter but honestly, my heart was pounding with a cocktail of excitement, partial nervousness and thrill as I made my descend to the seabed. And as pressure increases, my ears started to hurt and for a second I was almost sure my ear drums were going to rupture. But luckily, Mark (my dive master) was there to remind us to equalize constantly and that certainly save me from potentially losing my hearing for good.
Our last two dives were even more exciting because we got to do boat dives (where we learnt how to roll backwards into the sea!) at Fan Canyon and Soyah Island; we dived to a depth of 18 metres and 15 metres respectively. I was really relieved that I can at last equalize and control my buoyancy ( that's how divers get to go so close to corals, fishes, seabed etc without touching them) properly by the end of all my dives.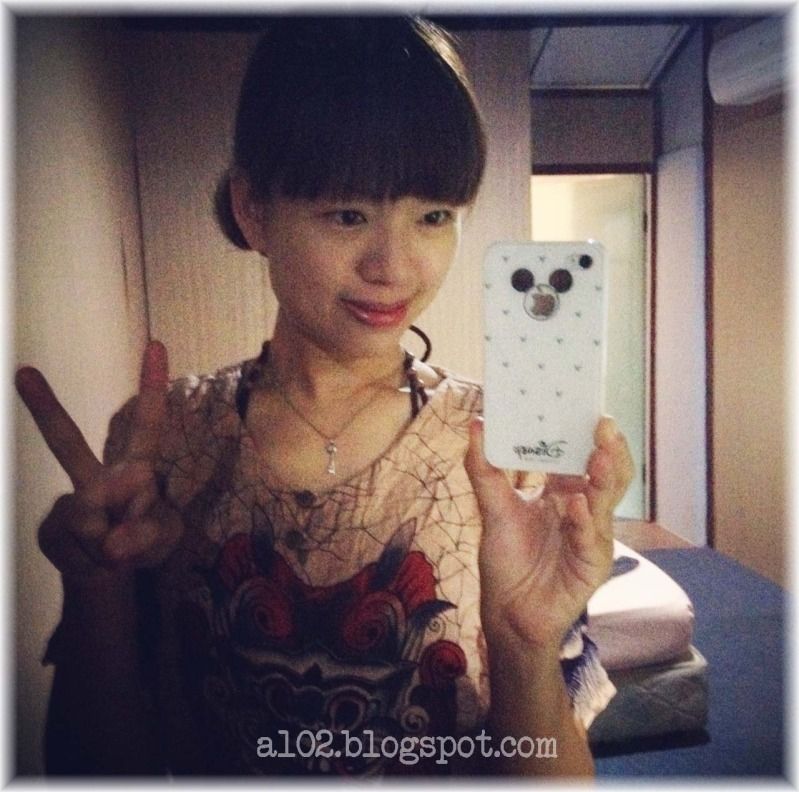 Pre-diving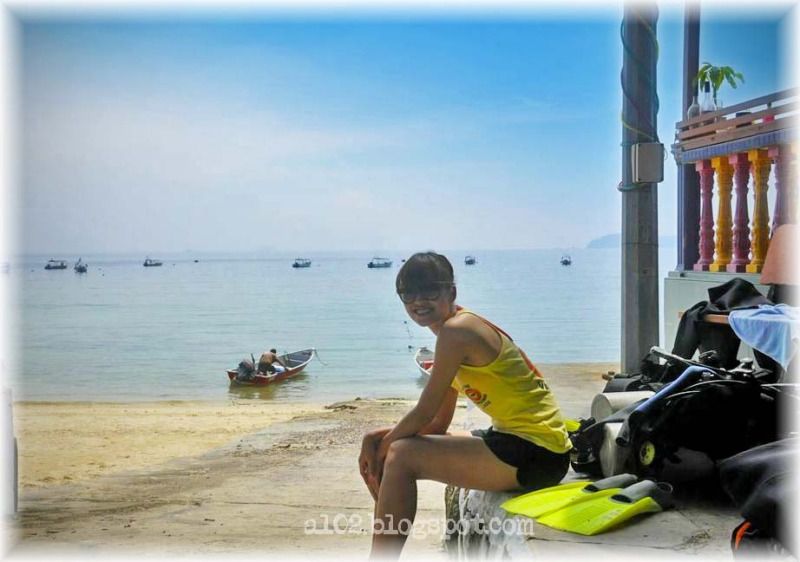 Resting between dives with my dive gears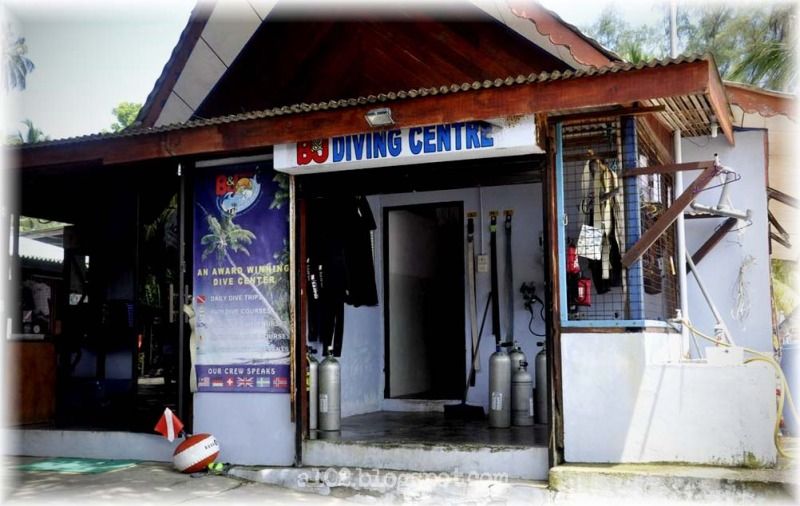 Our diving centre
We in our wetsuits
Strike a starfish jump
After dive with Mark, our fun-loving and cool dive master
The only thing I seriously dislike about boat diving is the sea sick part. I don't usually get sea sick, not when boats are moving, no matter fast or slow but they gotta keep moving but if they remain static at a spot rocking left and right while the waves hit against them, my vestibular system starts going haywire and that's it - sea sick :(
After my first boat dive, I got sea sick real bad and it was really disgusting. Thank god after a rest and my vestibular system readjusted on land, the second boat dive was so much better.
We had to study these too. Of course you will want to read it actually because it is your life that you are putting on line while diving, so if you don't read, you don't know and that will endangers your own life underwater
One of the things we do when not diving - hanging out at the dive centre using their wifi (trust me, wifi is extremely precious on islands so you don't get them at much places plus Digi totally died on us so it was good we had a spot to go online for free) and reading, a good time to be reading the manual *hehe*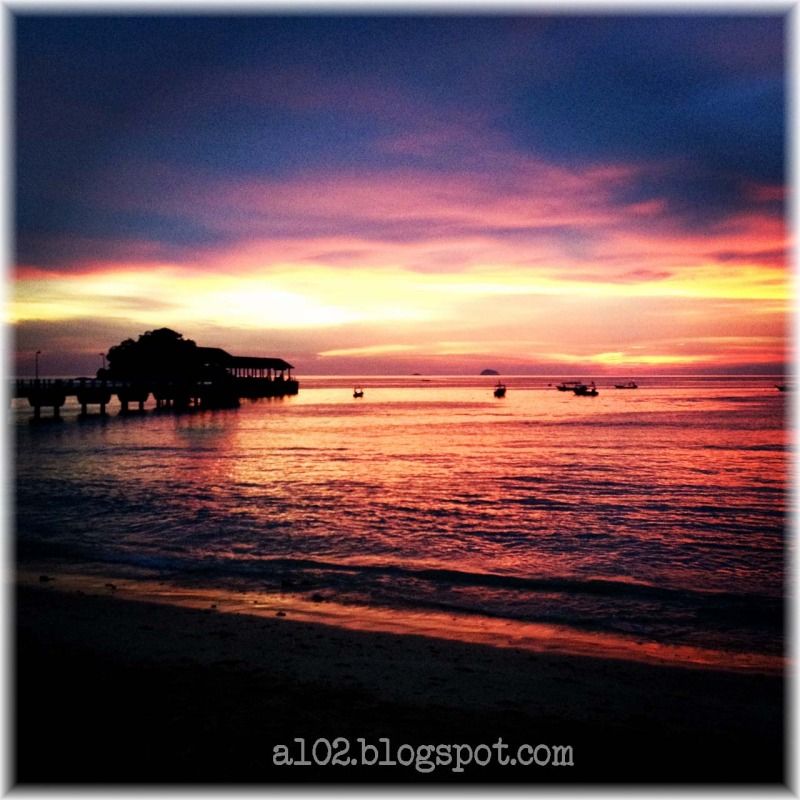 Sunset. The sky was a beautiful mixture of colors as the golden ball of the sun sunk into the horizon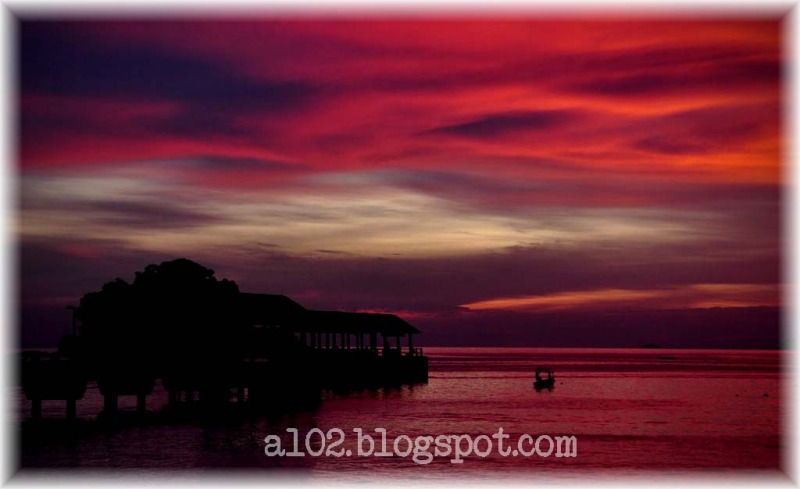 Just for fun, the exact sunset but this taken with the D90 instead
Salang at night
Salang at night is definitely more happening than Paya, almost like a mini Perhentian or Redang. While Paya goes total quiet after dark, Salang still have restaurants open and places to chill.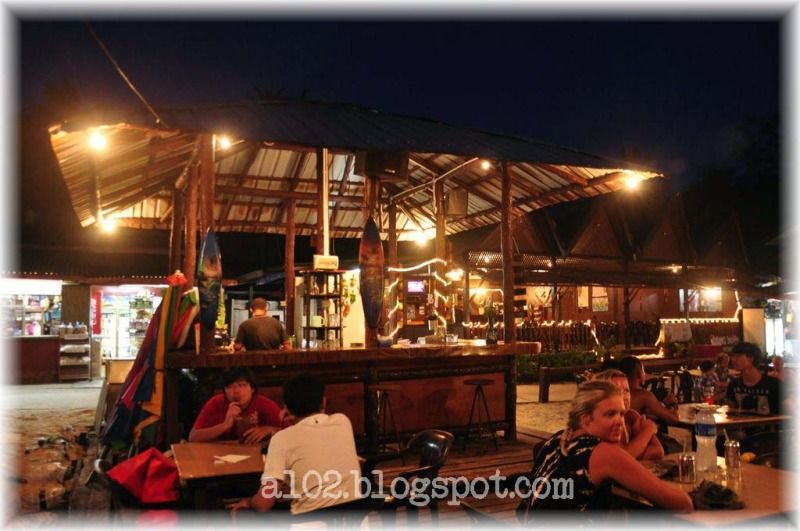 We tried this restaurant on our first night. They have a nice setting where you can have your meals by the beach and soothing beach songs playing but the food is so-so only. Their roasted chicken is my best recommendation here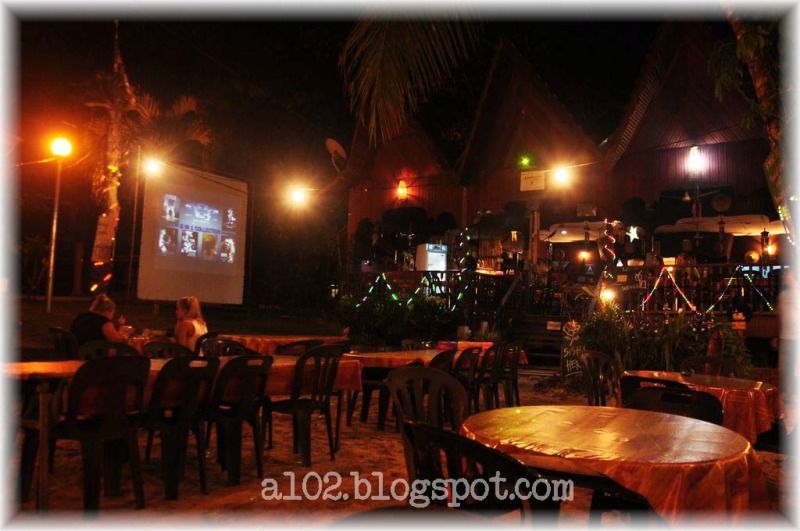 On our second night, we ate at the restaurant at Salang Pusaka instead. They have movies playing every night too and they were playing Blood Diamond (a really good movie btw if you have never watch it) that night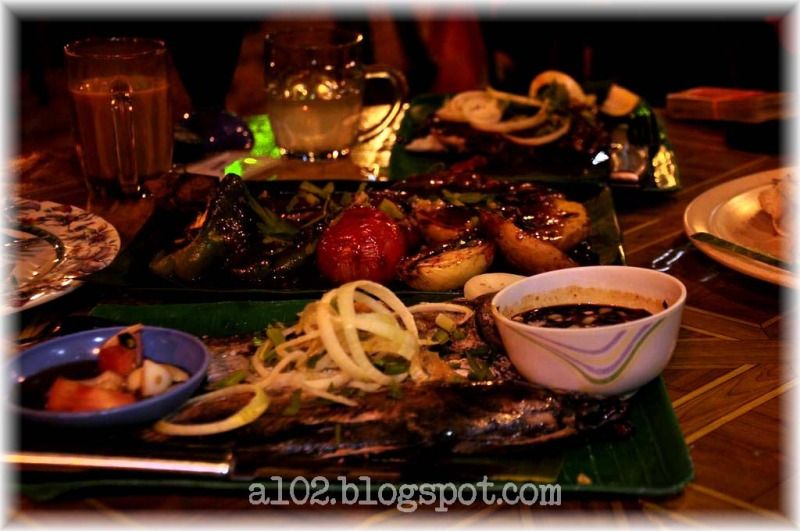 We ate mainly from the bbq-ed corner there and honestly, I think their bbq-ed fishes are pretty good and the prices reasonable too
The rest of our time were spent just strolling the beach and absorbing the relaxing, stress-free atmosphere
Those chalets on the hills there were actually abandon hotel chalets. They looked so pretty from afar and we had thought they were opened initially until another of our dive friend told us the place is as abandon as it can be now and perhaps even haunted
AJ, another dive master based at Tioman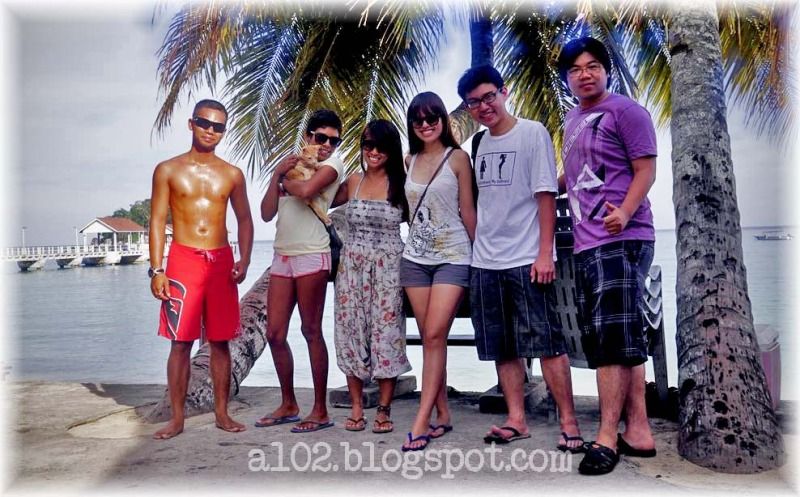 New found friends
Panaromic shot of Salang, Tioman Island
Officially divers on the 19th - with Mark, Fiona and their handsome little boy Keane at their dive centre in JB
One last pic of a lengzhai - A sulky Keane (still looking so cute, just like me *hahaha* kidding. Our similarity being I used to sulk when taking pics as a kid too)
Salang is definitely a prettier part of Tioman with more activities. I can't say for sure it is the prettiest until I'm done with all the villages but the water is clearer and bluer and they have white sands on this part of the island that I really love. But their accomodation is not as luxurious though, more suitable for backpackers alike. The one thing that I prolly don't quite like about Salang are their abundant monitor lizards but as long as they don't terrorize me, I'm fine with them sunbathing and joy swimming within their own community.
Diving can get pretty exhausting especially when you are carrying some 20 kg oxygen tank at your back. Of course, it is also a dangerous sport/ hobby (not forgetting expensive); just imagine all the risks you can get while diving; burst ear drums, sudden malfunctions of equipments, strong currents, narcossis etc. But the returns definitely outweigh the risks which makes diving worth it. It was simply amazing swimming 18 meters below water with all the fishes truly swimming with me, gliding past the rest of the underwater livings, with Nemos aka clownfishes being only about 2 cm from your nose you can literally smell them, looking above me only to find more circles of fishes right on top of me and listened to the sound and movement of the sea creatures. That kind of experience and euphoric feeling is something only can be felt through diving. I totally love diving and I certainly look forward to be doing my next dive already. :)