Since tomorrow is Mother's Day, some of you might still be having last minute dilemma on where to bring that special one woman in our life to tomorrow for a treat. So I thought tonight I will deviate from all the temples in Cambodia and talked about this restaurant me and HT went to last Sunday to celebrate our 4 years of being together. We had turned one, two , three and now four!

I was working that day, hence we could only go for a dinner date. We decided to visit this restaurant in Johor Jaya called Matterhon Bistro. We heard about it from a couple of people and since some of them told us that the food there could be quite pricey albeit good, we thought celebrating our anniversary was a good excuse to go check out the restaurant too. It was a drizzy night but that certainly did not spoil our mood for a celebration.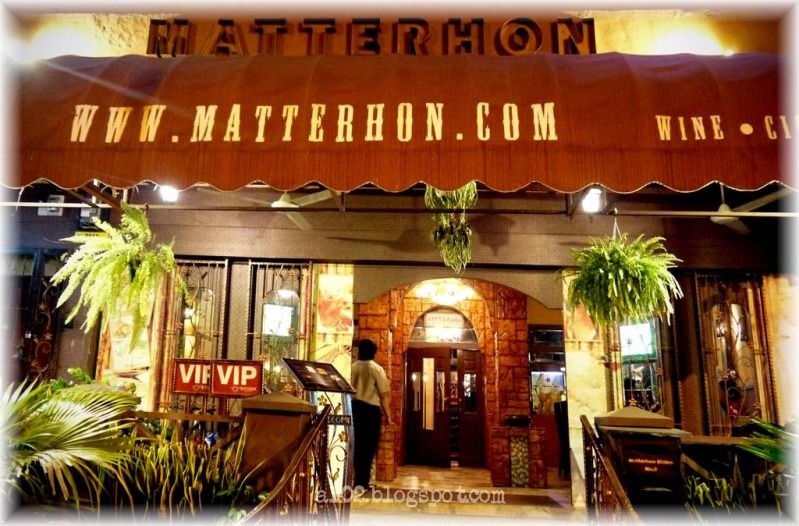 The exterior of the restaurant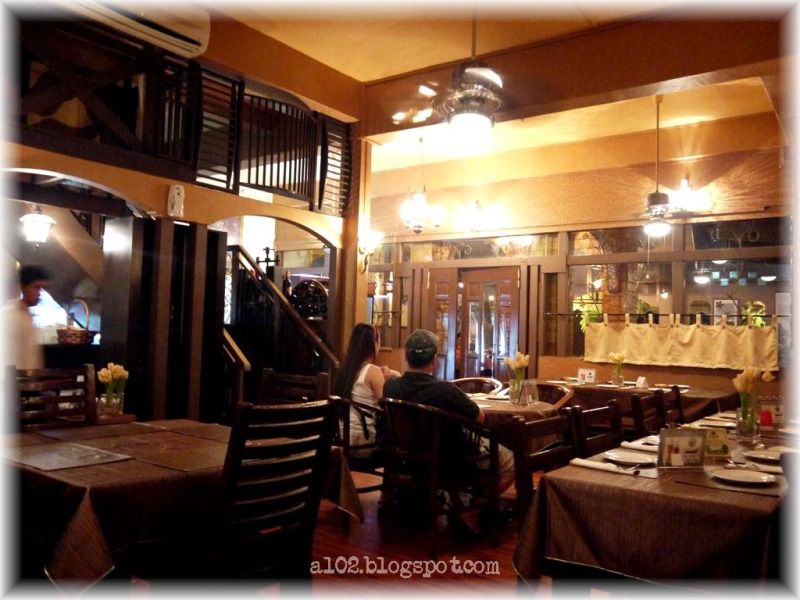 The interior of the restaurant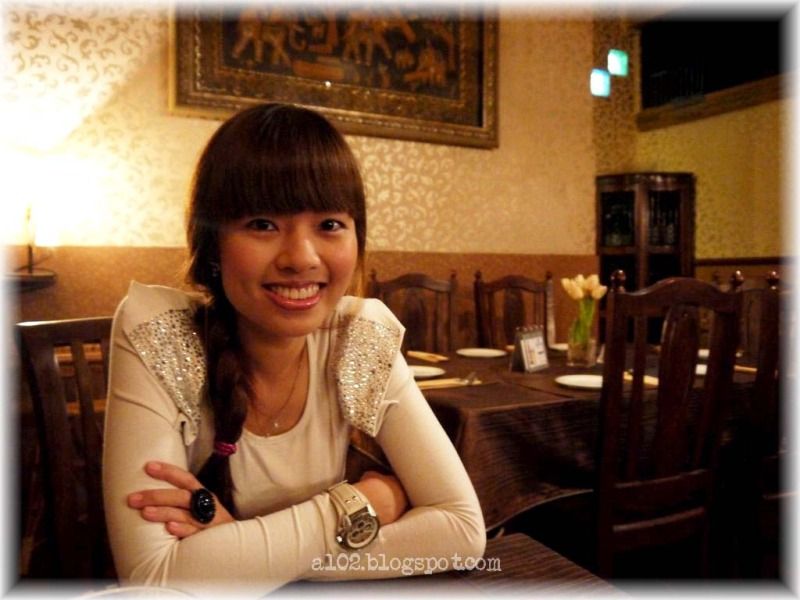 Me :)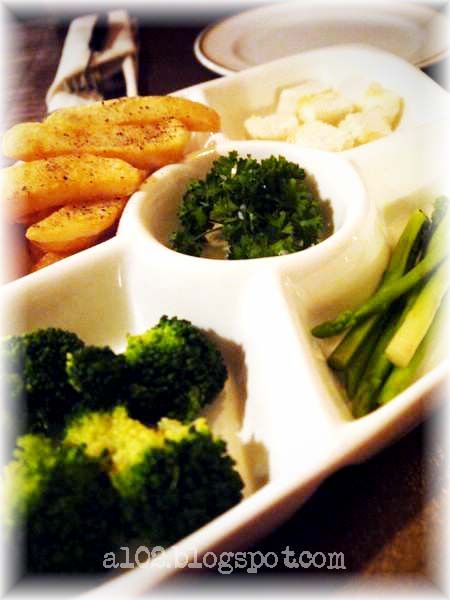 I was really happy to see that they actually have cheese fondue on their menu. Such ♥. Without hesitation, we ordered that as our appetizer. Their cheese fondue comes with fresh cooked brocolis, asparagus, peppered wedges and bread pieces to be dip into the cheese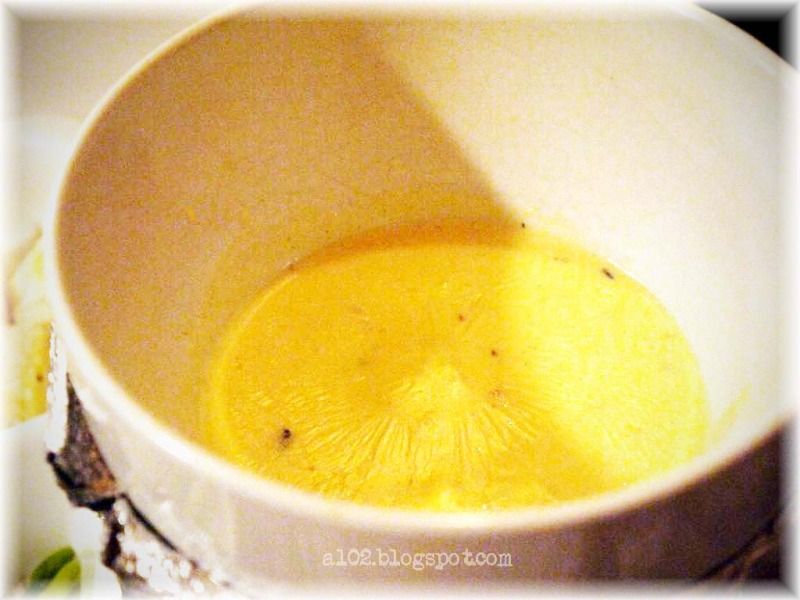 Cheese goodness. Yum!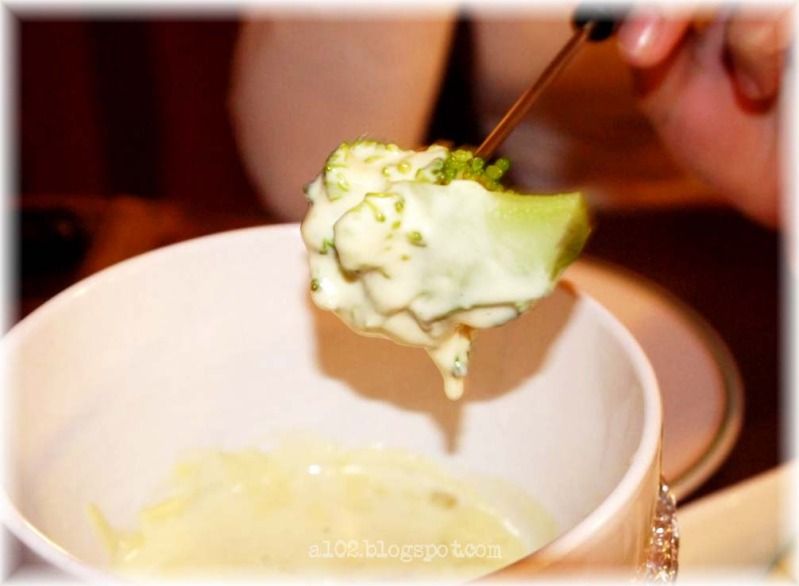 Seriously, their cheese fondue is really really good. I'm totally in ♥ with it and the taste of the melted cheese that goes so well with those side dishes still lingers. Super yum. RM 32.90
Main course #1- Chicken Ala Kiev. This is like one of their signature dishes so HT gave it a try. It's something like chicken cordon bleu except that in this, the breaded fried chicken was stuffed with seafood goodiness. RM 33.90
Main course #2- Grilled cod with mash potatoes and vegetables. The cod might look a little thin in the picture, but honestly that's quite a big piece and it was being nicely grilled that each bite was a little crispy on the outside and juicy on the inside. RM 49.90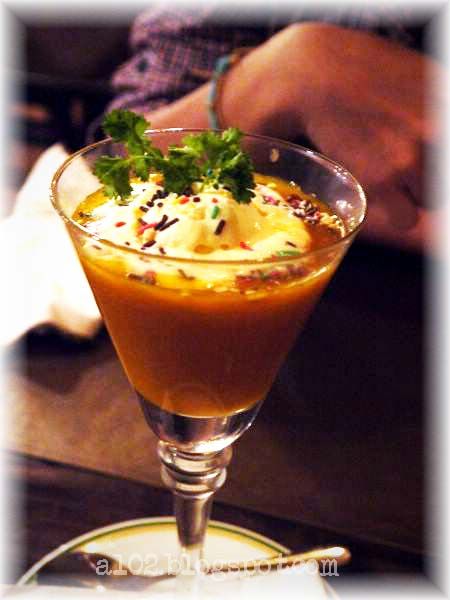 We decided to break our tradition this year and instead of going for 4 pieces of cake, we summed them into a glass of hot pumpkin mousse with ice cream. Their mousse was neither light and fluffy or creamy and thick, but it has a texture of partial creamy thickness; soupy-like and sweet. It was definitely a very unusual mousse and we were technically 'drinking' up our mousse. RM 9.90
Happy 4 years old! XD
Overall, I find the Matterhon a pretty good restaurant with warm nice ambience, friendly staff and delish food. I had included the prices so you can judge for yourself if it's pricey anot. To me, the prices are pretty reasonable for Western restaurant like this except perhaps for the cheese fondue which I felt was a little too overprice for the amount and choice of side dishes they provide. But nonetheless, since the melted cheese tasted so good, the price is forgiveable.
We certainly had an enjoyable dinner that night, satisfying both our savory and sweet tooth. The Matterhon is certainly one of those restaurants around Johor Bahru worth considering a visit, doesn't matter if it's for celebrations, dinner dates or just for the plain hungry.
Lastly, just like to say a very Happy 4 Years Old to HT once again and to all pretty, unique mummies out there a very Happy Mother's Day! ♥
Matterhon Bistro,
3, Jalan Ros Merah 4/14,
81100 Taman Johor Jaya,
Johor Bahru, Johor
Tel : 07-352 2288
Disclaimer : This is not a paid review/ advertorial. This is an independent review and all opinions are from yours truly POV only. Hence, yours truly is not responsible for any discrepancy in taste or opinion. :)