On our second day in Ho Chi Minh City, we decided to do a day trip to the famous Cu Chi tunnel, located about 2 hours drive away from the city. However, as it turned out, the tour company that we booked our day trip with suggested we visit the Tay Ninh Holy See temple too since the temple and the tunnel are located along the same way. Well, but what actually convinced us to pay another USD 6 for a detour to the temple was the fact that it's no usual temple. The Tay Ninh Holy See is a temple for the Cao Daists, the third largest religion in Vietnam.

Yeah, so what exactly is the Cao Dai religion? (As far as I understand, Cao Dai is kinda like 1Religion, where believers of the world religions principle is to find peace with each other and harmony in the world) None the less, as stated on their website,

The noble effort of CaoDai is to unite all of humanity through a common vision of the Supreme Being, whatever our minor differences, in order to promote peace and understanding throughout the world. CaoDai does not seek to create a gray world, where all religions are exactly the same, only to create a more tolerant world, where all can see each other as sisters and brothers from a common divine source reaching out to a common divine destiny realizing peace within and without.

Cao Dai is a universal faith with the principle that all religions have one same divine origin and one same ethic. They draw ethical perception from the Confucianism, theories of karma and rebirth from Buddhism and organizational hierrachy includes a pope, cardinals, bishops, priests etc from the Roman Catholicism. Their diversity of saints includes Buddha, Jesus Christ, Muhammad, Julius Caesar, Joan of Arc, Victor Hugo and Sun Yat Sen among others. Their God is the Divine Eye, represented in a triangle.

At 12 in the afternoon daily, the priests and worshippers will come together for their daily ceremony/ prayer which lasts about 30 minutes. Hence, the temple was super packed with tourists right before noon, lining the balcony of their second floor with the hope of catching a glimpse of the unique Cao Dai ceremony.


The Tay Ninh Holy See temple. Cao Dai actually means 'high tower'
The Divine Eye, in a triangle. It is a left eye because God is Yang and Yang is the left side
At 12pm sharp, the priests dressed in yellow, red and blue and their worshippers in white slowly entered the temple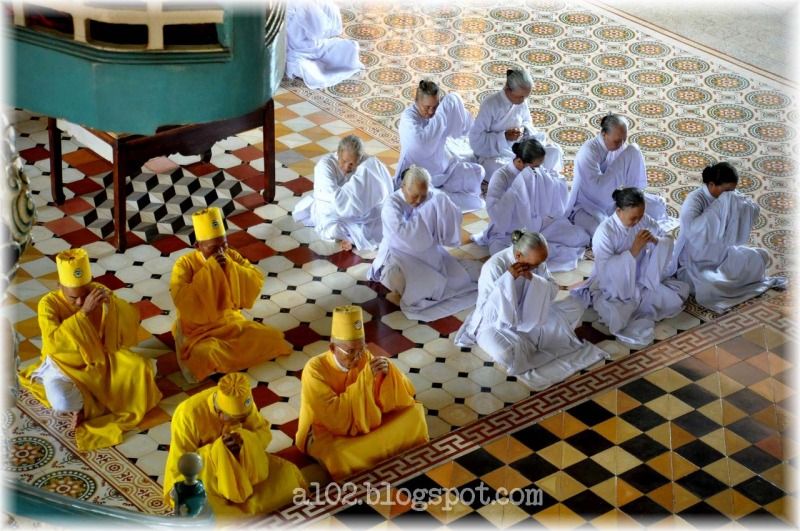 Prayer time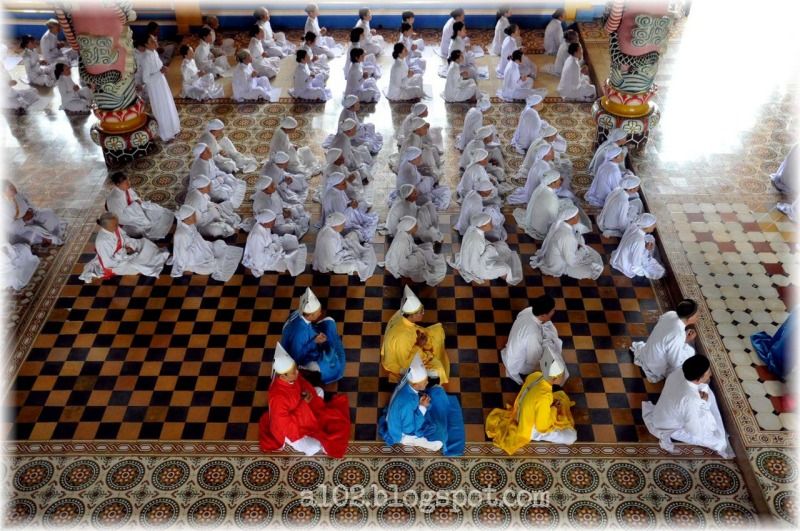 The Divine Eye on the altar
The live band playing the music for the prayer ceremony
Below is a short video of the Cao Dai ceremony. Enjoy! :)