Cambodia post!

The very last to wrap up my entire Cambodia travelogue. The Pub Street is one of my favourite street in Siem Reap as it is so conveniently accessible (only about 10 minutes walk from where we stayed) and there's such a wide range of eating and drinking options available at mostly really reasonable prices; one can get a very good meal there for less than USD 10. Located at the Old Market area, the place is vibrant and alive at night and just as happening in the day. On hot afternoons especially, when I feel lazy to go anywhere else, it was simply bliss to just chill at one of the restaurants around there, enjoying a cup of cold milkshake while people watching.

The Cambodian food can be divided into those that can only be found in restaurants and those that can only be found right up from the hot wok of a hawker stall at their unassuming alleys. At Pub Street, the food are mainly restaurants type that seems to target tourists. Hence, the street could be over touristy for some as mainly only tourists hang around there and half of the restaurants around actually served international or American food as well instead of just local Angkor dishes. Another point to note is that, not all of the restaurants there are own by the local people. Again almost half are own by foreigners actually, and the other half either by the Cambodians or collaboration between a Cambodian and a foreigner.

But worry not if you are a pro for supporting the local industry and is worry that you might accidentally walk into one own by the foreigner as almost all the restaurants here have signage that magnify their ownership, their various awards achieved (if any) and even their recommendation in the Lonely Planet!

My favourite restaurant on this street was the Temple Club and there was a bakery called Blue Pumpkin that sold everything for only USD 1.00 after 8pm each night, so as you can probably guessed, we were their regulars after 8pm each night and to top it, their breads and buns are pretty good too.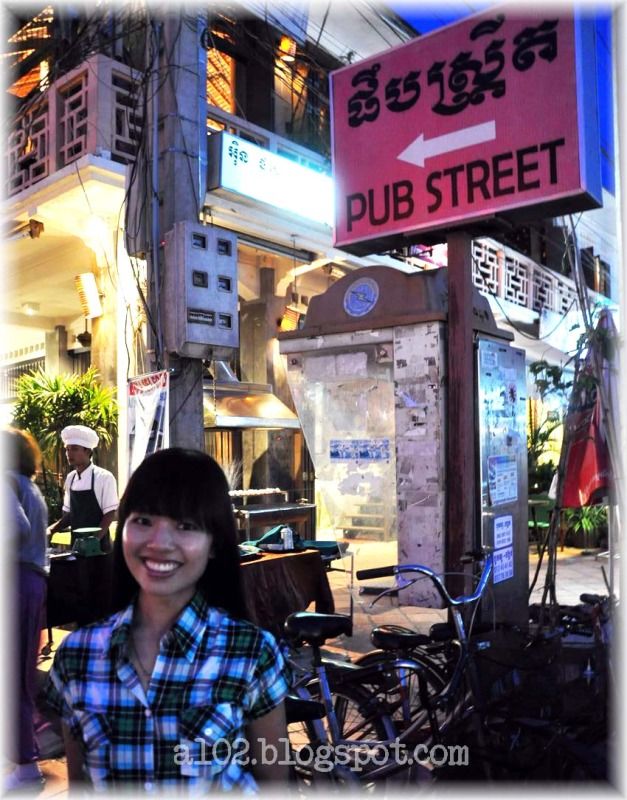 The alleyway near the north part of the street are filled mainly with bars and pubs while the southern side are more saturated with bustling restaurants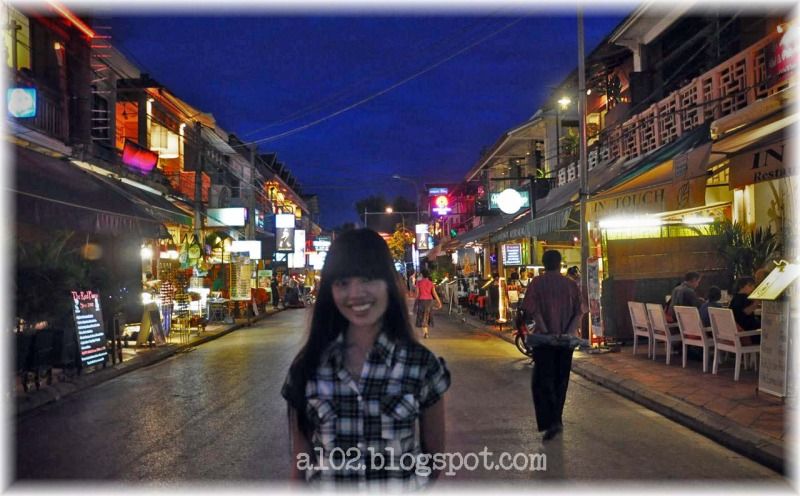 Only after dusk, the street is close entirely to pedestrians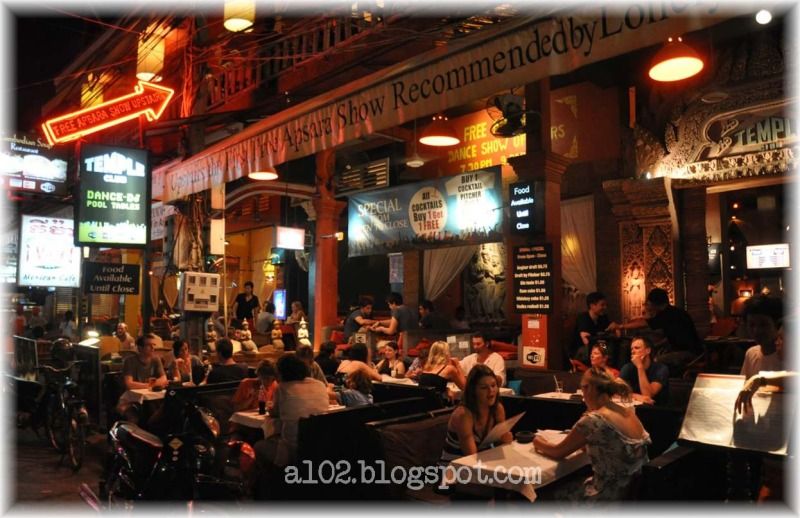 The Temple Club - our favourite restaurant in Siem Reap. Contrary to it's name, the emphasis there is very much on food as opposed to drinking. We picked that restaurant because aside from having free Apsara shows for customers to watch while enjoying dinner, they have very nice ambience and good food. I think we were one of the few rare Asians there. We were surrounded by so many angmohs that it didn't felt like we were in Cambodia at all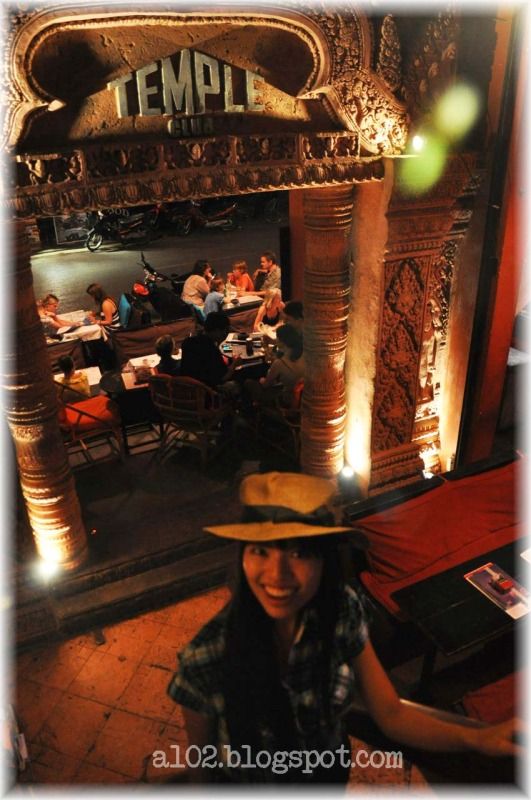 Their entrance have designs that mimic the famous Angkor temples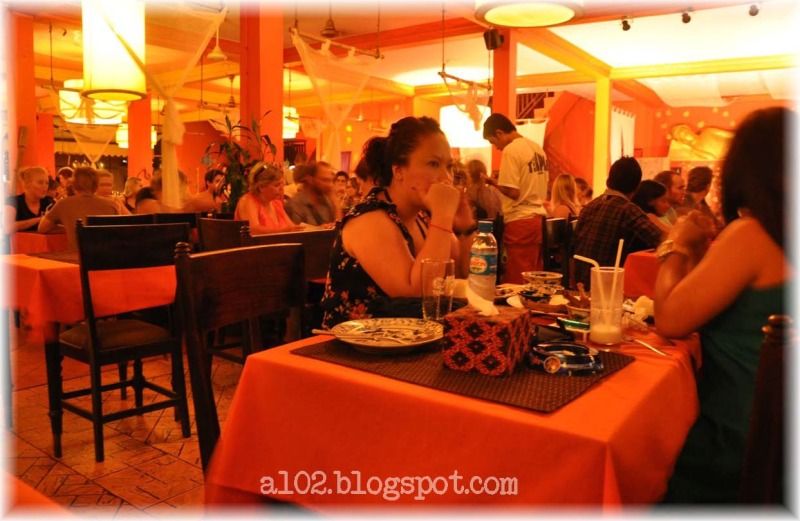 The upstairs of the restaurant. The only other 2 Asians around (I never meant to catch that lady in her most unglam pose seriously).
The Apsara dance began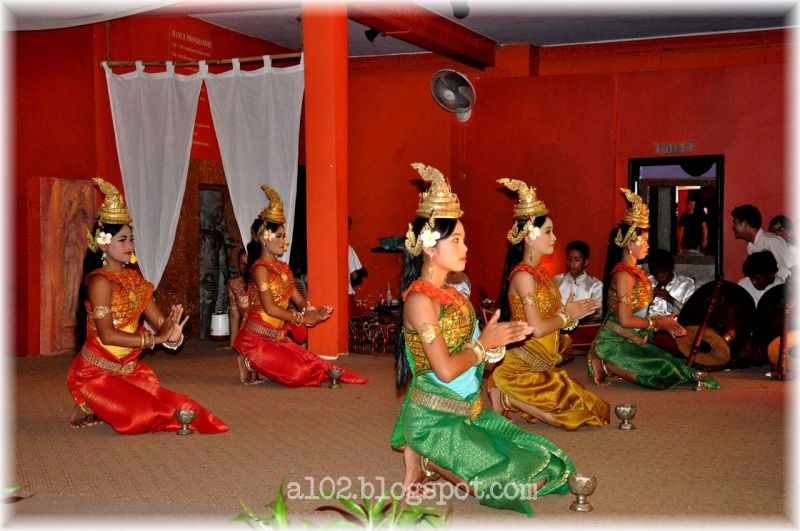 Samlor Majew Greung - a soup with pork ribs, morning glory, tamarind and basil, garlic and Khmer spices. A combination of sweet sourish with a tad spicy which definitely opens up appetitie
Stir fried cucumbers with shrimps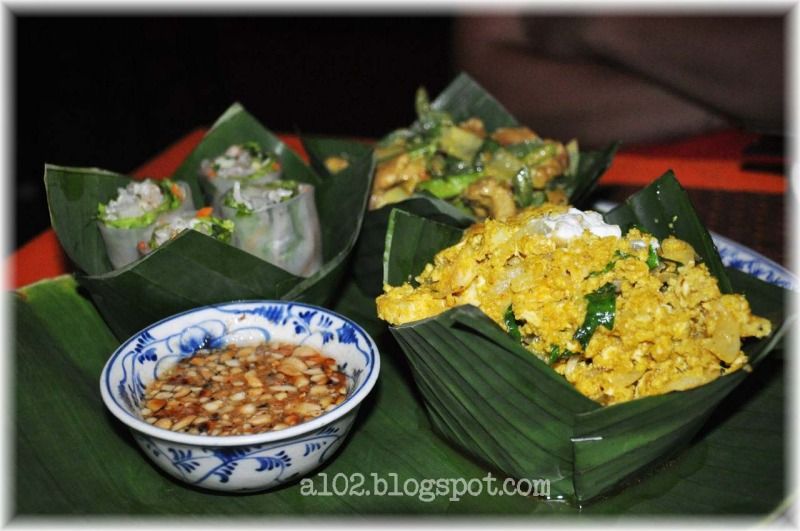 The Temple set consisting of Amok fish (fish cooked in their Cambodian curry paste),
Cambodian spices beef and fresh spring rolls. But as I had mentioned earlier, the Amok fishes in Phnom Penh is still the best especially the one I ate at Rong Doeung
A view of Pub Street from Temple Club. We only paid like USD 15 for a meal for 2 that night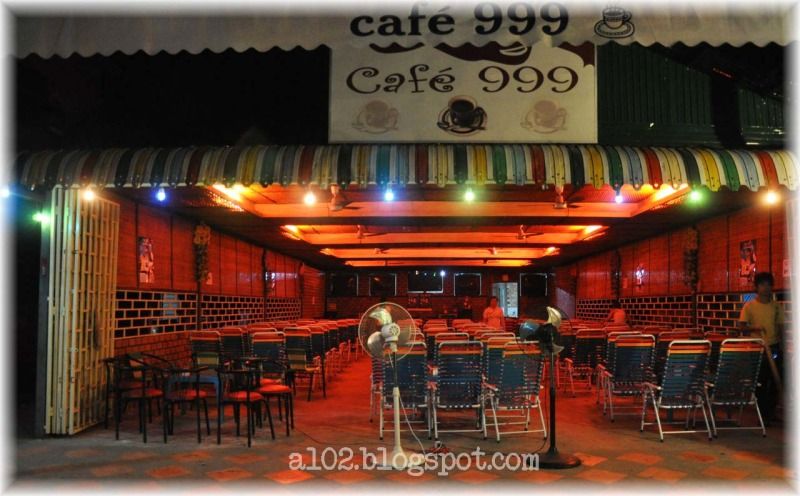 The Cambodian cinema. Yes, there's no multiplex cinemas or any cinema at all for that matter in Cambodia. They only have shops like this where people gathered to watch movies/ videos together. So old school
We spent our last day in Siem Reap exploring the Old Market area basically. We went to the Old Market which didn't attracted me much, chilled and ate at the restaurants at Pub Street, walked the other streets perpendicular and parallel to it and pampered ourselves with a massage.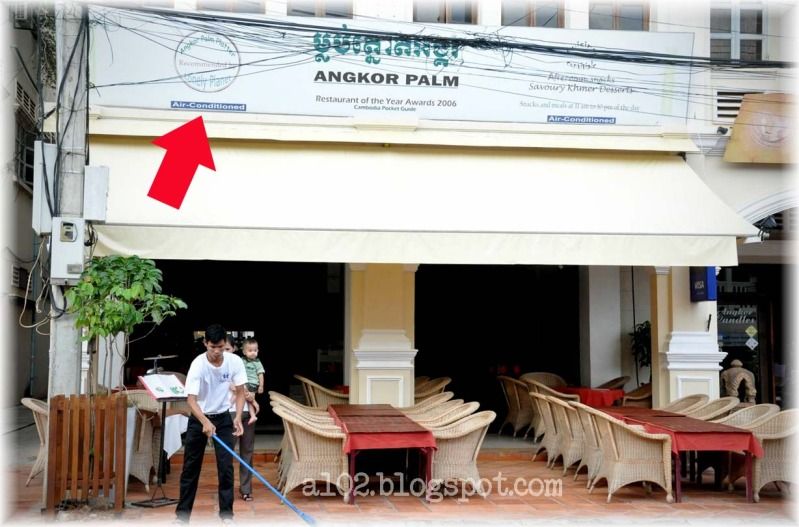 The restaurant of our choice that day - the Angkor Palm. Note the red arrow; the 'Recommended by Lonely Planet' sign on their signage. Seriously, competition must be very strong there for all of them to have let their reputation made known huge on their signage itself
Warm and cosy interior of the Angkor Palm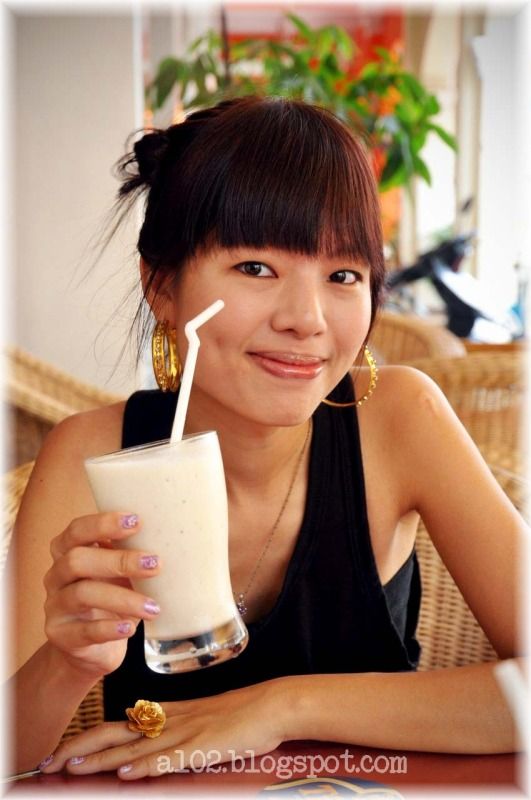 Milkshakes are another must-try in Cambodia because they are SO CHEAP. One glass of thick concentrated yummy milkshake only cost USD 1 in Siem Reap. It was so worth it to drink milkshake there that I drank milkshake almost all the time I was there. My favourite is the banana milkshake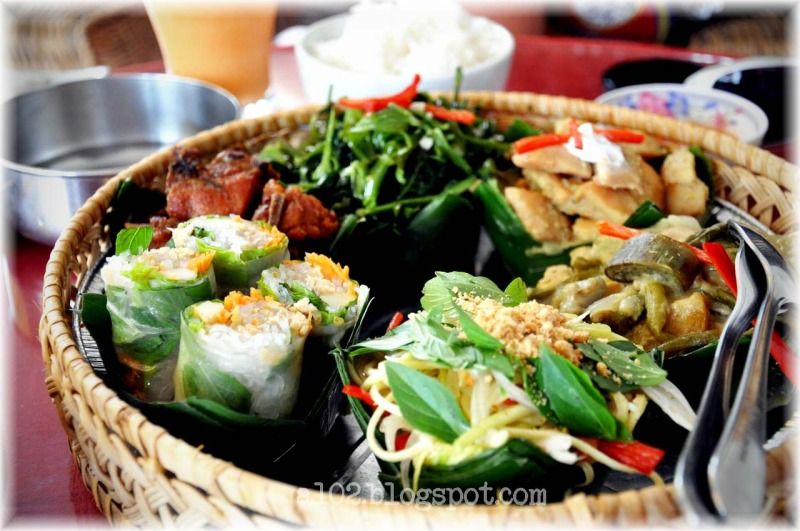 As recommended by Lonely Planet, the Angkor platter consisting of fresh spring rolls (notice how their spring rolls are made up of translucent shiny skin), mango salad, local spare ribs porks deliciously roasted with honey and spicy sauce, fish amok, homemade green chicken curry, cha ta kuong which is stir fried water spinach with oyster sauce; all served with steam rice and dessert.
Overall, it was all pretty good. We enjoyed the dishes but all these restaurants also makes me realized while they are certainly not the best restaurants around to sample true local taste, they are a safe choice because they are agreeable to be above average and at the same time reasonably price.
There's a lot of tuk tuks hanging around the area awaiting customers. Just a word of caution, beware of some of the tuk tuk drivers as they tend to overcharged customers (well I learnt that in their opinion, all tourists are 'rich', doesn't matter if you are the backpackers or those luxurious ones, anyone who can travel are rich to them). So it's best to roughly enquire about the price first from your hostels/ guesthouses/hotels, then negotiate the price with the tuk tuk drivers before hopping onto the tuk tuk. And real licenced tuk tuk drivers in Cambodia are required to wear a vest like the one Sophea constantly wore actually. Those without are most likely the dubious ones
After lunch, we spent our time walking around the other streets in the area and we came across one massage shop that offered us full body, foot and shoulder massage for USD 4 per person. It was a real bargain so we went for it. I'm always afraid of those dodgy massage centres but that one was a clean one with no dodgy business.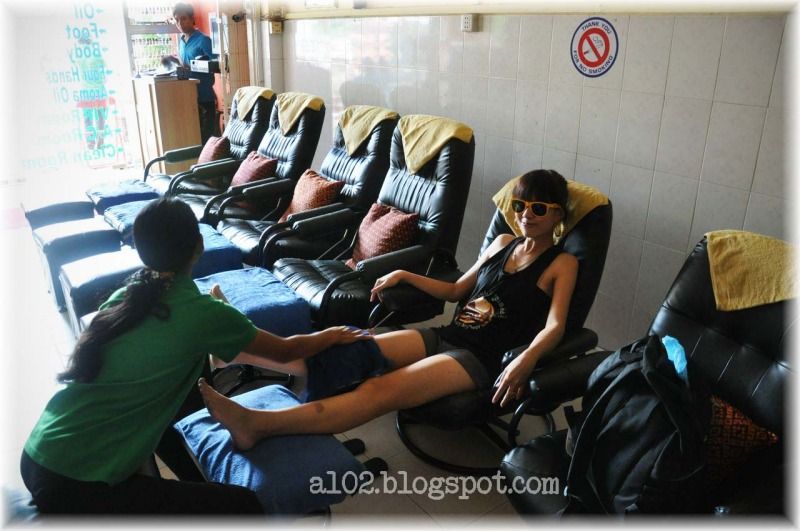 Starting with the foot massage
The little boy was so cute, being the only faithful customer adoring the tricks of the street performer so intensely
This managed to draw the attention of more people. A floating glass? hmm
Fish massages were very popular back then and there's plenty of make shift pools fish massages around
Aside from eating, drinking, massage, temple hopping and enjoying performances at the cultural village, one very noteworthy thing to do in Siem Reap is donating blood. Seriously, a lot of hospitals in Siem Reap are in severe shortage of blood (although that happens anywhere in this world I believe) but it seems the hospitals in Siem Reap are in an even critical shortage. And right around the Pub Street area, the Kantha Bopha hospital is available to those interested to donate blood.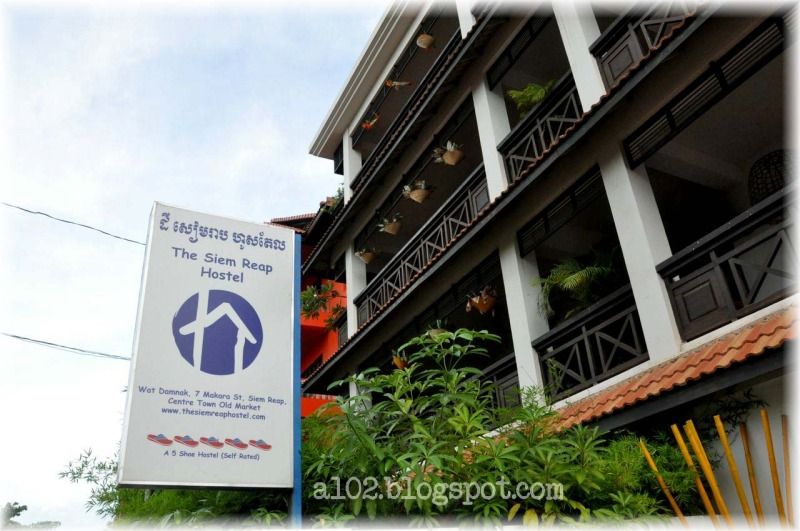 The Siem Reap hostel. At USD 8 per night for their dorm, I have to say it's extremely comfortable, safe and clean to stay there. Their beds are soft and comfortable, the toilets and rooms clean and they have a safety lock right below each of our bed to store our luggages. There's also a swimming pool and a cosy common area. Internet are available for free but at really slow speed. But honestly, you can't blame their slow speed, not especially after the creative people of Siem Reap hostel have notices put up that read 'Sorry for the slow speed. We are a backward country hence our internet is also backward.'
Since our bus to Ho Chi Minh, Vietnam only left at 12 midnight, the nice people of the Siem Reap Hostel not only allowed us to store our luggages for free, but they allowed us to extend our check out time to 6pm free of charge, so we could at least have a proper and good shower before departing. I will definitely go back to the Siem Reap Hostel if I visits Siem Reap again.
We had our last Cambodian meal (dinner) at one of the Mexican theme restaurant around Pub Street, which also served Cambodian food. Honestly, I do really missed the Cambodian food. I think Cambodian food are really unique. They are a combo of a tad sour, sweet and spicy that is flavourful enough to keep your palates happy. It's really a pity we do not have any Cambodian restaurants at all here in Malaysia.
Pork ribs rice . Succulent, juicy pork ribs in Cambodian spices that was so good it makes me drool just thinking about it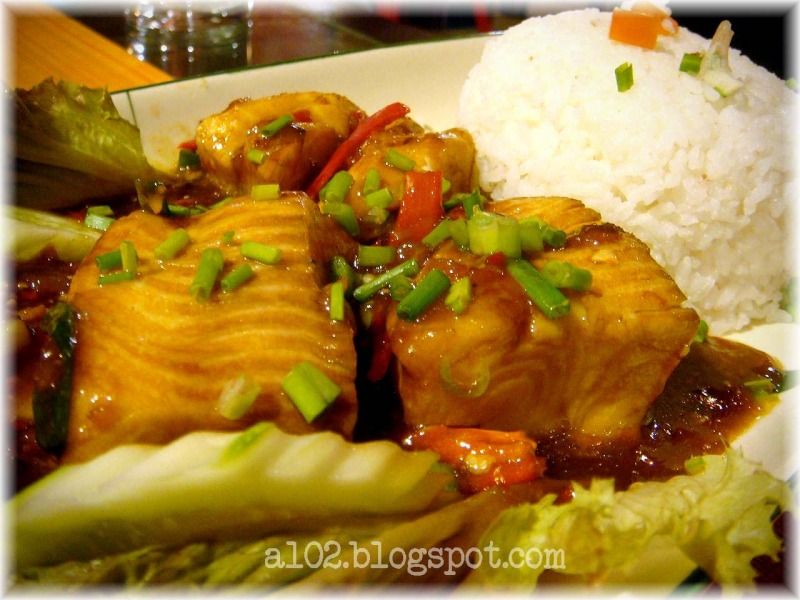 Cambodian fishes with rice. The Cambodians eat more fish than any other meat because fresh fishes are so easily and abundantly available in their country
Chumriep Leah Cambodia! I definitely miss you.
We spent a total of like 8 days in Cambodia, exploring the two most major city in the country; from history rich Phnom Penh to world-renowned heritage site Siem Reap. None the less, if you are planning to cross border from Cambodia to Vietnam like us, the more time savvy way is to travel from Siem Reap to Phnom Penh then out to Ho Chi Minh instead (because Phnom Penh is located closer to the border between Cambodia and HCMC, Vietnam). 8 days might sound like a pretty long time to some but in fact, I was glad we took 8 days because we could really absorbed and enjoy the local culture and way of life at a very relaxing pace. The Cambodians are also such a humble bunch of people who even said 'Thank you' with a smile to their customers despite you asking for discounts and still refusing to make a purchase thereafter (such thing will never happen in countries like Thailand and Vietnam, or even Malaysia for that matter).
It is true that Cambodia is still pretty much behind time, their current condition is pretty much like our country 30 years ago, no thanks to the
Khmer Rouge regime
. But well, they are certainly catching up fast and I truly believe they will be on par as the rest of us in no time. Aside from their delicious food, cheap milkshakes and magnificent architecture of the Angkor temples, I was truly touched by the humbleness and friendliness of their people that makes our entire stay in their country a very pleasant and good one. Cambodia is easily my favourite country in South East Asia because there's so much to the country that had left me with very
emotional
, inspiring and beautiful memories.
And once again, I really want to thank Napich for bringing us around Phnom Penh, allowing us to savour authentic Cambodian dishes and life just like the locals. For those of you that are itching to go Cambodia but still hesitating, I will say go ahead and book your flights now. If history, heritage, culture, charity (volunteering) and a little (or alot, depends on how you look at it) party is what you are looking for, you will definitely not regret visiting Cambodia. :)